Latest news: For the most recent Paphos Post news, click here.

Nominations open for the ninth Paphos Hearts of Gold Award
By Bejay Browne

The nomination process for the ninth annual Paphos Heart of Gold Award is now open, and two new categories have been added this year.
The philanthropic, community-based awards aim to recognise those who have shown tremendous courage, strength and determination, worked tirelessly within the community or for charities, overcome tragedies with a smile or have simply been a great help and support to neighbours and friends.

The ninth annual Paphos Hearts of Gold Award ceremony will be held at Palia Ilekriki Cultural Centre in Paphos on Friday December 11. Nominees and their families will be invited to attend the ceremony.

Marios Joannou Elia, Ambassador of tourism for Cyprus, has been named this year's Patron, for a second year. The Paphos Zingers will provide a festive welcome and snacks and drinks will be available at the venue after the ceremony.
"It is an honour to be the patron of this important philanthropic community-based award for the second year, which promotes courage and courageous behaviour, as well as ethical values. All these are indicators of our cultural status," Joannou Elia said.
He continued: "Last year's awards were extremely successful, with close to 40 nominees. This year is going to be even more special, as two new awards have been added. I am very much looking forward to meeting the nominees and their families at the event."

A charity worker who has devoted her life to caring for and supporting others, and a budding young dancer who helps other people's dreams come true, were the winners of last year's awards.
Sally Unsworth and teenager Nina Christodoulou were chosen by a panel of ten judges and announced by the Patron.
The Junior Heart of Gold award is open for those under 18, and the Heart of Gold award is for adults.
This year, organisers are also introducing the Paphos Heart of Gold Lifetime Achievement award for outstanding dedication to the community; this award may also be given posthumously.

The Paphos Heart of Gold Jasmitha Singh Award for Courage will also be presented for the first time, and is open to children under the age of 15 who have shown determination, resilience and strength when faced with difficulties.
This award is in honour of a previous winner of the Junior Heart of Gold award, Jasmitha Marharjasingh, who recently passed away aged just 15. The award will be presented to the winner by her mother, Sathiya Singh.

Members of the public are now invited to put forward names of both adults and children that they feel are deserving of this year's award. The awards are open to everyone who is a resident of Paphos, of all ages and nationalities and winners are chosen by a panel of ten judges.

Aphrodite jewellers in Paphos each year donates a hand crafted gold heart on a pin, which is the winners' to keep. This year's adult winner will also receive a weekend break with dinner at the five star Almyra hotel in Paphos.
Nominations should be between 50-150 words and include contact details of the nominee, along with the person nominating them, to ensure conformation of receipt

Nominations can be made by email to: - paphosheartsofgold@mail.com or written ones Paphos Hearts of Gold 2015, PO Box 64142, Paphos, 8072, Cyprus. The award also has a dedicated Facebook page.

The closing date is Saturday December 5. The Paphos Hearts of Gold Award 2015 is supported by Sunshine Radio, the Paphos Post, the British High Commission in Nicosia, the Paphos Municipality Social Welfare Committee, Aphrodite Jewellers, Massiva printers and Palia Ilektriki Restaurant.

Yeroskipou seafront due for upgrade
By Bejay Browne
Plans to upgrade the coastline and municipality beaches in Yeroskipou in Paphos are underway, according to the mayor.
Michalis Pavlides said that the construction of a further six wave breakers in the sea off the Yeroskipou coast will commence at the end of the year.
"These six will run from where work in the sea stopped three and a half years ago and continue to the east of Yeroskipou. We already have six wave breakers in place and the new ones will cost three million euros."

The funding for the project has been granted by the government and aims to make the area safe for sea goers, said Pavlides. Their purpose is to prevent erosion and help to create safer areas for those using the sea. The twelve wave breakers will cover the area from the Phaethon coast to the Esouza River.
"The area is already better than before and it will improve still further after the construction and completion of the wave breakers. There are strong currents here and after the work, the beach will be safe and will help to keep it sandy."

The mayor noted that the council is also waiting for the relevant permissions to be issued by the government to allow them to construct two further snack bars in time for next year's tourist season. These will be placed along the stretch of coastline which runs from 'Riccos' beach. They will be complete with toilets, changing rooms and other facilities, said the mayor.
Pavlides said: "Riccos beach will also be demolished and rebuilt and he (Riccos) will probably still be running it as the previous government granted him a priority licence."

The mayor said that these plans to upgrade the area come with a one million euros price tag, and added that the municipality is hoping to be granted all of the relevant permissions for the projects so that work may begin at the end of the year.

The redevelopment of the municipality seafront area will also include a new designated parking area and a 'kids club', which will have numerous activities and a play area, along with staff to look after the children.

Pavlides also noted that disabled people are a priority for the municipality.
"We already have a special chair to help disabled people get in and out of the water and we want to help them further by trying to make more things in the area which will make being at the beach and in the sea, easier for them."

Volunteers launch Christmas gift appeal for underprivileged children
By Bejay Browne

Volunteers in Paphos are hoping to match last year's success and are appealing to the public to help fill hundreds of shoeboxes with gifts and raise cash for the 'Gift of Love- Solidarity' appeal.

Last year the venture successfully raised over €4000 in cash donations, and collected close to 1,000 shoe boxes stuffed full of gifts for children of all ages. The idea is to decorate a regular shoe box and separate lid, and fill it with a selection of toys for children. Boxes must be clearly marked if they are for boys or girls and the age category.

The Christmas Gift of Love venture has been organised by volunteers Mikka Heaney, Dikla Smith and Theodosia Christodoulou, for a second year.

Dikla Smith told the Paphos Post that this was only made possible by the overwhelming support of the public and local businesses, who fully supported the idea and came together as a community.
'Gift of Love – Solidarity Shoe Box Appeal' is an annual effort that raises funds and collects gifts for children from underprivileged families which are either registered with Social Welfare or Solidarity Paphos. Solidarity was set up in 2012 and helps all those in need, of any nationality or background.

The gifts are collected from various drop-off points across Paphos and are either delivered by volunteers to the doorstep of the families on Christmas Eve, or handed to parents when they are collecting their food parcels prior to Christmas at the Solidarity office.
All of the gifts are either purchased by members of the community or by members of Gift of Love – Solidarity, through donations and sponsorships. The gifts must be of a suitable size to fit into a shoebox.
"We would ask people to wrap the lid and box separately and not tape them together, or wrap it as one piece. We have to open each box and check that the gifts are suitable and that they are fairly distributed."
Smith said that each shoebox contains around 15 euros worth of treats.
"We would ask people to include things which children might need like a toothbrush and toothpaste, toiletries, socks, hats, gloves, a toy and sweets of biscuits, or a chocolate Father Christmas, for example. We are collecting for both boys and girls from 0- 18 years."
The age categories go up every two years, such as 0-2 years, 2- 4years and so on. Each box should be clearly labelled if it's for a boy or girl and the age group it's suitable for.

In addition, this year a number of promotional items have been prepared for sale in a bid to drum up more cash, including a key ring, a pack of 6 Christmas cards and a fabric bauble, which is sponsored by members of the Kamares Quilting Club.

These items will be sold at 5 locations across the district: Peyia Medical Center, Paradisos Hills Hotel, Aphrodite Rock Brewery, Revolution Hair Salon and Revival Fashion Store.
"We also have a number of raffle prizes including an overnight stay for two with breakfast for at Paradisos Hills Hotel. Raffle tickets will be available at a number of venues in Paphos which will be announced on the Gift of Love- Solidarity Facebook page."

Boxes can be dropped off at collection points, including Revival Fashion store and Peyia Medical Centre, from November 1st until December 10th.
"From December 1st we would be grateful for as many volunteers as possible, to help us check all of the boxes," she said.

For further information: - Dikla Smith 97 789 099, Mikka Heaney 96 462 558, Theodosia Christodoulou 97829504
www.facebook.com/GiftOfLoveSolidarity
www.gift-of-love-solidarity.org

www.solidaritypaphos.com


Hope ahead for Land of the Kings
By Bejay Browne

As upgrading work gets underway along the Tomb of the Kings road in Paphos, a busy tourist hub, questions are being raised about the future of a complex, which comprises 122 apartments and 11 shops.
Officials and residents say that the Land of the Kings projects a shabby image for the area, made worse because it is situated directly opposite the entrance to the Tomb of the Kings, a protected UNESCO site. This was once a thriving, bustling and successful holiday complex, used by a number of different holiday companies.
Thomson and other tour operators used to promote the venue, and it was used as a destination for holidaymakers between 1985- 2007.

Since its heyday, it has become run down. Many apartments and shops have lain empty, the swimming pool has been abandoned and there are piles of rubbish and unsightly graffiti.
A spokesman for Paphos municipality said that the Land of the Kings was built in the early 1980s and was a remarkable project for its time.
"There were restaurants, shops and apartments that were operating very successfully. However, several problems led the 'Land of the Kings' into gradual desolation," he said.

According to Tasos Coucounis, a lawyer representing a number of buyers of the apartments, the flats are no longer being rented out as holiday apartments, but a number are now being rented out as residential flats.
Coucounis said that buyers bought their flats in the 1980s and after 30 years of fighting for their title deeds, they had only been issued lately.
"The owners of the flats appointed a management company to organise it into tourist apartments and look after the contracts. It started as a holiday venue in 1985 and this was the case until 2007," he said.

Coucounis said problems arose when the registered owner of the land, who had also retained some of the apartments, did not want to continue using the management company and wanted his flats back.
"This led to the other apartments no longer being rented out, an inevitable result," he added. "The owners are very unhappy about the situation, but their main concern was the title deeds. Title deeds are a huge problem in Cyprus."

The lawyer said the main concern for his clients was to get ownership. "Once they get this, hopefully they can sit down and think about how to improve their flats," he said. "The hope is that it will once again become a gem for Paphos."


Complaints over illegal motorbike race track in Paphos
By Bejay Browne

Disgruntled residents near an idyllic beauty spot in Paphos are up in arms over the attempted construction of a make shift motorcycle race track which was created on Turkish Cypriot owned land.
A local resident, who wishes to remain unnamed, contacted the media in desperation to try and prevent the track from obtaining a licence.

The race track is in the Turkish Cypriot village of Meladeia, an area of stunning countryside in Polis, close to the villages of Peristerona and Lysos.
"We could clearly hear bulldozers at work from our house, which is approximately 1 km away from where the track has been created. It was very loud and we could hear the screeching motorbikes as well," the resident said.

She added that after investigation, it was apparent that workmen were flattening the land in order to create a motorcycle racetrack, and even had a number of motorcyclists test it out.
The resident said that she is not alone in her concerns and many other horrified residents are appalled and have appealed to local authorities to step in and prevent a noisy eyesore from being established.
She stressed that the main concern of villagers is the negative impact and enormous disruption which this type of development would have on their normally peaceful lives.
Andreas Kaponides, community leader of Peristerona where the land is found, said that as far as he is aware, permission for the racing track has not been granted.
A spokesman for Paphos district office said that the matter would be investigated.

Paphos mourns the 'Angel of Cyprus'
By Bejay Browne

Paphos is mourning the death of a courageous 15-year-old girl who captured the hearts of the public and survived a brain tumour and heart surgery when she was only six.

Jasmitha Marharajasingh was taken to Paphos general hospital with breathing problems and later transferred to Makarios Hospital in Nicosia.
However, despite the best efforts of the doctors – some of whom had known Jasmitha for years and who had spent time with her when she was being treated in Israel – her condition deteriorated and she died on Monday September 21st.

Her mother Sathiya and a former teacher and godmother, Kathleen Houliotis, who was instrumental in starting the fundraising for her treatment at the time, didn't leave her side.
When she was six years old, Jasmitha, underwent 14 months of gruelling treatment – most of it in Israel – including ten hours of surgery to remove 90 per cent of a malignant brain tumour, followed by chemotherapy, radiation treatment and heart surgery, with an attitude that prompted doctors in Israel to christen her 'The Angel of Cyprus'.

She later underwent a heart operation because of the effect of the radiation on the tissue, causing the heartbeat to slow down and an excess of fluid to build up.
Her treatment cost around $200,000, which was raised from donations from well-wishers from Cyprus and all over the world.

Jasmitha attended the International School of Paphos, and was awarded a full scholarship, which would have lasted for the duration of her education at the school.
She was a popular student and was determined not to let her health issues slow her down. In 2010, she met and received a personal blessing from Pope Benedict XVI at the Church of Agia Kyriaki Chrysopolitissa in Kato Paphos, where she was christened. She said that she was so excited that she didn't sleep the night before.

Aged 8, she was awarded the Paphos Heart of Gold award for her courage, strength and inspirational attitude and has been nominated for the award every year since then. The teenager had much to contend with in her short life, her father was diagnosed with cancer a couple of years ago and died shortly afterwards.

Jasmitha loved music and was a huge fan of boy band 'One Direction'. Her huge dark eyes and chatty, caring and friendly nature, ensured that she captured the hearts of all who met her.

Teachers and friends, who are heartbroken by her death, described Jasmitha as a very special girl, bright and intelligent, with an infectious giggle and an aura of inner strength and understanding.

Second night market to help feed needy a success
By Bejay Browne

A second night market to help feed needy families in Paphos was held in September and followed on from the success of the first.
Hundreds of visitors flocked to the market which was floodlit and organised by the Paphos Post team. Around 50 stalls sold a variety of items and each stall holder paid a €15 fee, €5 of which went towards the 'Matthew 25 feed the hungry in Paphos' project, which is run by the Paphos Christian Fellowship International PCFI.

Matthew 25 also had a stall selling bric-a-brac and all proceeds went towards feeding the hungry. Hundreds of people attended the first event and €1,500 was raised to help feed the needy in Paphos.
The night market was buzzing and took place in the large car park adjacent to the main coastal road which runs from Paphos to Coral Bay and in front of Revival fashion store and the Paphos Post office.
Stalls offered all sorts of items including local crafts, books, vinyl records, jewellery, beauty products, home and décor, fashion, homemade cakes and pies, wines, beers, snacks and lots more. A number of local businesses were also present and teas and coffees were served. Tables and chairs provided an area for people to relax and enjoy the atmosphere.
There was also a fantastic and popular street dance show by "Young Stars".
The Matthew 25 project has around 50 families registered with the programme and provides staple foods, dried goods and necessities such as bread, pasta, rice, cereals and tinned foods, as well as nappies and toiletries every week.

Akamas consultations underway in Nicosia
By Bejay Browne

A series of meetings with the agriculture minister concerning plans for the Akamas region got underway in Nicosia. The purpose of the meetings is a bid to weigh up all opinions before submitting the final management plan for the area, according to minister Nicos Kouyialis.
"I would like to hear from all of the major stake holders before a major decision is taken," he told the Paphos Post.
The Akamas was named a protected natural habitat by Natura 2000, a network of protected areas within the EU, a move which displeased many of the residents who own land within its limits.

In the last 25 years, various governments have repeatedly presented the land owners with expropriation proposals but have been rejected every time. Land owners and residents have argued that it is unfair not to allow them to develop what is now classed as prime real estate.
Conservationists oppose any development within the natural reserve.
"I will also hear from NGOs and environmental organisations," he said.
According to the Kouyialis, a ministerial meeting scheduled for November 14 will discuss the management plan.
"The plan for the communities which Antonia Theodisou has devised and all the proposals from the communities will be discussed," he said.
The minister added: "By the end of the year I hope that the ministerial committee will have a proposal for the council of ministers."

Sam Bailey X Factor winner in Cyprus
By Bejay Browne

X-Factor winner Sam Bailey flew to Cyprus for two live concerts and hopes to return to the island to perform again soon.
The 2013 contest winner, who impressed the UK judges and audiences with her powerful voice, saw her debut single 'Skyscraper' shoot to the top of the charts, making it a Christmas number one. She has since supported celebrity artists such as Beyonce on her UK tour and Michael Bolton.

Bailey's album reached number one in the charts, she has undertaken a live tour and released an autobiography. This year she supported Engelbert Humperdinck on his UK tour and she has recently appeared as a guest presenter on the popular daytime TV show Loose Women.
She performed at the St. John's School Amphitheatre and on Saturday night at the Pissouri Amphitheatre.
On her arrival she said: "I am so excited to be in Cyprus. I used to come to Limassol on a regular basis when I worked on the cruise ships, and I've missed this place. To be back and given the chance of performing in my own show in a beautiful amphitheatre is like a dream come true."

She added: "I feel honoured to be able to perform for our British troops and their families and most of all I look forward to meeting some of the children at the school when I visit for a workshop. I'm hoping that I will be able to return to Cyprus and perform many more times in the near future."
Bailey was joined on stage by three support acts including the Achord Ladies Community Choir, and comedy vocal acts Steve Walls and Mark Bolton and Louise B.

Supreme Court decision on Marina pending
By Bejay Browne

A Supreme Court hearing concerning a proposed marina in Paphos was wrapped up in September but the decision was reserved.

According to the head of the Paphos Chamber of Commerce, Andreas Demetriades, he doesn't expect a judgment to be issued for a couple of months.
Demetriades said that the construction of the marina, which has been plagued by litigation, is imperative for the economy and tourist product of the coastal town and will create many new jobs.
"The project has been frozen since litigation began after the project was awarded in 2008 and the marina development is a very important and crucial project for Paphos. This is not least due to Paphos' geographical position, and the demand already shown for the facility is great," he said.

The chamber head noted that following the announcement of the tender for the project in 2007, it was awarded to a consortium headed up by the Leptos Group in 2008. However, the other two consortiums who had bid for the project challenged the award, at various stages, and it has since been in limbo.
According to Demetriades, the Supreme Court had, after an appeal, revoked a decision of the Tenders Review Authority and ratified an initial tender decision. That Supreme Court decision was then appealed and is pending.

If the marina is finally built, it will have a capacity of 1,000 berths for boats and would be located in the bay of Potima in Kissonerga in an area 155,000 square metres. The project will take approximately three years to be completed.
Cyprus a top holiday choice this season
By Bejay Browne

The island's tourism is seeing positive movement as the season gets underway, officials said, as they focus on reducing the loss from the Russian market.
Cyprus Tourism Organisation (CTO) chairman Angelos Loizou said: "We are in the middle of a tourist season and we see some positive trends and reversals taking place after quite a few years but we are not resting."

Loizou, who sat in a board meeting of the Cyprus Hotel Association (PASYXE) said that for the last six months, following an attempt to encourage traditional markets, such as the UK and Germany, that positive results were being experienced.
One of the CTO's main objectives was also to extend the winter tourist period.
He said there were new markets for Cyprus to explore, like France, Poland, Israel and other Arabic countries.

According to the London-based World Travel and Tourism Council, tourism makes out roughly one quarter of Cyprus's economy.
Tourist arrivals rose 11 per cent in April compared to a year before to 201,495 mainly from the UK and Greece, the statistical service said. The UK is still Cyprus's largest market.


Singer Alesha Dixon films new music video in Paphos
By Bejay Browne

Alesha Dixon has teamed up with First Choice holidays and was spotted in Paphos filming for her new music video.

The 'Britain's Got Talent' judge filmed the music video for her new summer single "The Way We Are" at a number of locations and First Choice resorts in Paphos, according to the all-inclusive holidays website.

Spotted at the Sea Caves area in Paphos, the pop star, in a first for the UK, filmed three different endings to her video and will let fans choose which one is used, by voting on the First Choice website from May. The move is part of the company's, "Summer of music" campaign, for which she is the 'Music Headliner' for 2015.

The single is the singers first offering since 2010, and the website quotes her as saying: "Music is such an important part of any holiday whether it's listening to the latest summer tracks by the pool or turning on the tunes as you get ready for a night out. So I'm delighted to be headlining First Choice's Summer of Music and helping to give holidaymakers the ultimate soundtrack to their summer.

Music lovers can create their own 'soundtrack' to their holiday using the 'Summer of Music Playlist Generator'- on the First Choice website. Created in association with Spotify, the generator uses a bespoke formula to pick tracks for every stage of the holiday.

Luke Gaskins, Head of Music in First Choice resorts is quoted as saying that the campaign is designed to remind people that with a First Choice holiday the food, drinks, activities and now the music, are all included.

The former Mis-Teeq MC took to the stage to showcase her new single in front of her co-judges Simon Cowell, Amanda Holden and David Walliams on the third live semi-final of the ITV talent show. She met with rapturous applause. The single is due to be released on June 21st.


New park in Anavargos inaugurated

By Bejay Browne

Paphos municipality invited local residents to attend the inauguration of a park and playground which held in Anavargos village in Paphos.

The park was officially named after Aristides Tziamalis, lauded as a hero, who originated from the occupied community of Massari near Morphou but spent his final years in the Paphos village where he died in 1968. Many of his descendants still live there.

Eleftherios Antoniou, the president of the council of Massari said that the village is proud that Anavargos is naming their park after such a great man.
"We are very proud that one of our villagers is finally being recognised after giving so many years of service to his country. We have been trying to get a monument or park named in his honour for some time, to express our thanks," he said.
"There is still a strong connection between Paphos and our community because of him. We have a common history through Tziamalis."
The park was inaugurated by the mayor of Paphos, Phedonas Phedonos. The previous council took the decision to name the green space after Aristides Panagiotis Tziamali (1876-1968), who took part in some of Greece's toughest struggles in the early 20th century. These included the Macedonian Struggle (1906), the Balkan Wars (1912-1913) and the First World War (1914-1918), where he was wounded twice.
The modern playground cost around € 35,000 from its budget. The equipment meets European safety standards and is suitable for use by infants aged 1-3 years and children up to 12 years.



Paphos deputy mayor refuses to sit with SAPA suspect
By Bejay Browne

A recent council meeting in Paphos was disrupted after the deputy mayor refused to sit in session due to the presence of a councillor facing corruption charges.
Makis Roussis exercised his right to leave the meeting in protest at the presence of AKEL municipal councillor Giorgos Shailis, who is currently in court facing charges of corruption in the Paphos sewerage board scandal (SAPA), according to Andreas Chrysanthou, also a councillor.

The court adjourned until June 5 to give time to three of the defendants – including former mayor Fidias Sarikas – to respond to the charges.
The defendants face 58 charges in total including bribery, money laundering, and abuse of authority. Shailis and former DISY municipal councillor Giorgos Michaelides also asked for more time.

Former DIKO municipal councillor Eftathtios Efstathiou and former AKEL municipal councillor Vasos Vassiliou pleaded not guilty to all charges. They will appear before court on September 24.

So far disgraced ex Paphos Mayor Savvas Vergas and the head of the sewerage board, Eftychios Malekides have been convicted in the case and are currently serving prison terms. The Paphos municipal council is set to file another case against former mayor Savvas Vergas, relating to the demarcation of plots in the Kato Pervolia area of Paphos.
Chrysanthou said: "Mr. Roussis has said he will not be present whenever Shailis is and he will walk out. This has been his position from the beginning."

Mayor of Paphos Phedonas Phedonos appealed to Roussis to remain, said the councillor, however he refused. Chrysanthou said that the council had already examined the law and regulations pertaining to this situation to see how it is pertinent in this case.
"The law has no vision in such circumstances and it's up to the accused to exert their own discretion to appear on the council or any other boards or committees to which they have been elected. Even if the council unanimously decide that we didn't want a councillor present, we can't do that, we have no power over this. He is an elected official and as long as he's not convicted, we have no say."
Initially, Chrysathou said that Shailis had said he wouldn't appear but he appeared to have changed his mind. Shailis is also on a number of committees, including town planning.
"It's up to the individual if they feels that it's unethical to have a city councillor who's in court present."

Chrysanthou said that at the meeting, the council also voted to suspend the chief financial officer for three months on half pay, pending a police investigation into corruption charges.
Roussis said: "I will continue to protest in this way. If a councillor is implicated in a corruption case, he should step down until his name is cleared."


Call for direct bus route to Paphos old town
By Bejay Browne

A recently formed association which aims to attract people to the old town of Paphos is accusing the local bus company of ripping off customers by forcing them to purchase two tickets for what they say should be a simple ride into the area.
The bus company, OSYPA, rejected the accusation.
Kyriacos Kyriacou, head of The 'Friends of Paphos Old Town', claimed that the government and the bus operator are attempting to squeeze as much revenue out of customers as possible.
"It isn't currently possible to travel from the west or the east of Paphos to the old town in one trip. The way the routes are organised now means that if you are coming from Coral Bay for example, you will be taken to the station at the harbour where the route terminates," he said. "You will have to get another bus to the old town and this means that you have to purchase two separate tickets."
It would make more sense if a number of current routes only used the harbour as a stop and continued on to the old town, terminating routes there instead, he said.
He added : "The government has allowed some or our main tourist areas to be destroyed, such as Ayiou Antoniou Street — known as bar street, and also Ktima- the old town. It's embarrassing; they are supposed to support the tourist product."
Kyriacou said he had received numerous complaints from the public and hoteliers about the service which he described as a "rip off".
He said that the complaints fall on deaf ears, as the government wants to reduce its losses for empty busses which are running.
"The government subsidises these companies by around fifty per cent. They give the companies around €3 for every kilometre travelled, whether they have passengers or not."
Supporters of the old town have long been campaigning to move the central bus station back to the area.
OSYPA operations manager Andreas Rodosthenous, said that the company hasn't received any complaints from customers, adding that they are pleased with the service provided.
"The feedback we have had from our evaluation forms has been very positive. People are really happy with our routes and they understand that the station at the harbour is a hub for all of our routes. Every line is connected here and people can get connecting busses to wherever they want."
Rodosthenous said OSYPA is following orders from the ministry of transport and noted that ticket prices are set by the government.
It costs €1.50 for a single ticket from coral bay to the harbour and another €1.50 from the harbour to the old town. A day ticket is €5 and it allows passengers to travel all around Paphos, he said.
"We cannot directly connect every destination with one trip. As it stands every line is connected to another through the Kato Paphos station."
He concluded: "To make direct routes to the old town would require a study, it's a big issue and I can't say if it would be better or worse than it is now. The current system works."
Paphos is ideal for holidays

By Bejay Browne

Local tourism officials are promoting Paphos as an ideal destination for domestic travellers to encourage them to holiday in the district this year.

Paphos took part in the tourist exhibition 'Taxidi' (journey) which ran in Nicosia at the end of April, according to Nasos Hadjigeorgiou, the head of the Paphos regional board of tourism.
"Along with hoteliers, we are promoting the district as a quality tourist destination to attract locals and foreign visitors. We are encouraging residents to spend the summer holidays in Paphos this year. We are also trying to attract visitors not just for August, when most locals take their break, but also to highlight Paphos as an excellent short-break destination."

Hadjigeorgiou said that Paphos district has much to offer as a quality destination, with numerous activities, all sorts of accommodation from agro tourism to five star luxury hotels, beautiful rural areas and clean waters.
"Paphos is well known for its pristine beaches, beautiful nature, rich cultural heritage, high quality accommodation and a wide range of activities and experiences. We have twelve blue flagged beaches, a quality coast award and accommodation to suit any budget."

He said that so far, there is no indication as to where locals will holiday this summer, as many leave booking a break until the last minute.
"Because of the competitive prices of the airlines flying to neighbouring countries, some people prefer to travel overseas rather than stay on the island. We will have a better idea in May as to relevant figures."

The tourism head added that this year, they are working more closely with the 'Pafos 2017' cultural capital campaign that were also be represented at the Paphos exhibition stand. "We are working to promote the title and to provide information about upcoming 2017 events," he said.
He noted that there are a number of special hotel packages for local residents now available.
He also said this year's opera, the seventeenth for the 'Pafos Aphrodite Festival', which will present Gioachino Rossini's popular 'La Cenerentola' (Cinderella) which will take place in the harbour on September 4, 5 and 6, will be a spectacular event.

The holiday promotion's slogan is: "Summer in Paphos … unique choices, unique moments – visit Paphos and get to know our island," said Hadjigeorgiou.


Maltese band Red Electrick perform live on Sunshine Radio
By Bejay Browne

The popular Maltese rock band Red Electrick took time off from their busy schedule to drop in for a chat and perform their latest hit single: "Young Love" live on Sunshine Radio Cyprus.
The band has a string of number one hits in Malta and were in Cyprus filming Cyprus Tourism Organisation (CTO) videos to promote Emirates Airlines flights between Malta and Cyprus. The aim of the videos is to encourage people from Malta to holiday in Cyprus.

Band members, Peter Borg, Matthew James Borg, Ivan Borg, Jonas Delicata and Robert Spiteri, have been working on their latest album which is due to be released later this year.
"Music is our life and we are very passionate about it. We are taking a slower approach to finalise our new album."

Nominated for the Best Band and the Best Song categories at 2014 Malta Music Awards, Red Electrick have previously won eight Malta Music Awards. They are a band with a genuine love of music and are influenced by both 1970s rock and a more contemporary rhythm, encompassing the Mediterranean sunshine that reflects in the upbeat feeling of their music projects.
Red Electrick's latest single "Young Again", with the participation of the Malta Philharmonic Orchestra, has been one of their greatest hits.

Sandy Beech Brand & Content Director of 90.8FM Sunshine Radio said: "They were fantastic and we'll be adding this song to the Sunshine Radio playlist."



Paphos pushing for wave breakers

By Bejay Browne

Paphos municipality is pushing for the creation of a number of wave breakers in a deadly stretch of sea of the Paphos coastline which has claimed fifteen lives in the last decade. Their aim is to make the water safer and avoid any more deaths, as summer approaches.

Head of the Paphos municipality beaches committee Nikos Simillides said that the safety of the area is a priority for the municipality but as the cost of a project to create four wave breakers in the sea will be close to two million euros, "the town cannot afford that kind of money."
"The economics in Paphos are not easy at the moment. My priority is to save people but at the same time, anything to do with the safety of the beaches is the government's responsibility. We are pushing them to make this project," he said.

The deadly stretch runs for about three kilometres from Chlorokas to Kissonerga in Paphos in a popular tourist area where numerous hotels, hotels complexes and holiday units are found.
It is known for its rip currents and high waves. The most dangerous area to swim is the Venus Beach which is not an official public beach and therefore has no lifeguard stationed there.
The deadly stretch claimed its 15th victim last year and there have also been hundreds of reported near-drownings. Most of the victims were guests staying at hotels and tourist apartments in the area.

Simillides said that although the sea can be very dangerous for swimmers, it is not permitted legally, to tell people not to enter the sea.
"We cannot legally tell people not to visit the beach as it's against the law, but I urge people to pay attention to the signs and the flags. The sea can be very dangerous here."

He said that Paphos municipality has already put seven large warning signs in four different languages in place, as well as red flags, buoys and ropes in the sea to aid those who get into difficulty. He said that no other preventative measures could legally be put in place, which underlines the need for the wave breakers.

Suggestions were made in 2010 that the beach should be closed off but legal obstacles prevented this. The Paphos District Office said access to the beach could not be restricted. Simillides said that Paphos municipality's only option is to pressure the government to proceed with the breakwater project.
"We have spoken with minister of communications and works, Marios Demitriades, and he has promised to meet and discuss the matter with the hotels in the area. He suggested that the cost could be split between the government, hotels and the municipality. But the cost for the municipality is nearly half a million euros, which is too much."



New route for Paphos

By Bejay Browne

Thomson and First Choice will introduce a new route for local holidaymakers in the summer of 2016, connecting Norwich and Paphos, according to a Norwich International Airport announcement.
Tickets for the new route are now on sale.
Thomson and First Choice said the introduction of the new route to Paphos was part of the holiday company's strategy to provide UK customers the ability to fly from their local airport and stay at the best hotels in some of the most exciting destinations.

The head of the Paphos regional board of tourism, Nasos Hadjigeorgiou, welcomed the news, adding that the first steps must ensure that such flights gain in popularity, sustain satisfactory load factors, and help the market grow further.
"This is another positive development and it recognises that the UK market has more potential to grow. This flight fills the gap from this UK region and we are very happy to welcome this new route," he said.

Holidaymakers travelling on the new flights will also have access to some of Thomson and First Choice's most popular flagship hotels including Thomson's Sensatori Resort Aphrodite Hills in Cyprus, which is new for summer 2015.
Karen Switzer, Director of Aviation Planning for Thomson and First Choice, was quoted as saying: "Following the success of the additional summer 2015 flights, we know that further demand is there. Expanding access to our portfolio of destinations and hotels is a key part of our overall strategy and we hope that this move will enhance the holiday experience for our customers."

Richard Pace, operations director and general manager of Norwich airport, said: "We are delighted that Thomson and First Choice have announced the new flight to Paphos, Cyprus for summer 2016 offering local holidaymakers more choice from their local airport. This decision further demonstrates their commitment to the airport and reflects the high level of demand from customers wishing to fly from Norwich."


Clean up after earthquake

By Bejay Browne

Paphos was left cleaning up the mess after an earthquake measuring 5.6 on the Richter scale caused disruption and left residents and visitors reeling.

A number of supermarkets, shops and other outlets suffered damage to goods as they were flung off shelves during the earthquake. It took staff a number of hours to clear up.

Kyriakos Kolokasides, the owner of La Bodega Premium Cellar in Paphos said he couldn't believe his eyes when he watched CCTV footage recorded in his shop during the earthquake, which destroyed dozens of bottles of wine, some collectors' items.
"I wasn't in the building, but my staff were terrified and many bottles smashed in our first-floor store room. I couldn't believe it when I looked at the footage, it was as if the bottles and boxes were jumping off the shelves, he said.

He added that although he was pleased no one was injured and no major damage was reported, he was upset to lose a number of precious wines from his collection.
"The damage to goods lost will be over one thousand euros, but I'm insured so I hope that will be OK."
The Geological Survey of the Ministry of Agriculture, Natural Resources and Environment noted that the earthquake which occurred at 11.25 am was centred in the sea 3 km west of Kissonerga and 8 km northwest of the town of Paphos at a depth of 25 km. The quake was strongly felt throughout Cyprus and especially in the Paphos district. There were 20 smaller aftershocks recorded up to 1pm.

Social media was swamped with photos of people's experiences and hundreds of comments from people who felt the quake, ranged from 'scared' to 'terrified.'
Apart from a number of buildings suffering cracks, a stone wall collapsing in a field and objects reported falling from supermarket shelves, no major damage or injury was reported.

NEW MAYOR OFFERS OPEN HOUSE
By Bejay Browne

The newly elected mayor of Paphos has extended an open invitation to residents of the town in a new initiative to promote a more modern approach to governance.

The action, which is already underway, is titled 'Time of the Citizen', and Paphos residents who wish to speak to Phedonas Phedonos will be given the opportunity every Friday afternoon.

The new initiative is taking place at the mayor's office at the town hall in central Paphos every Friday from 4pm-7pm. During this time, the mayor will receive any resident without an appointment.
The drive is aimed at establishing a better relationship between the public and those in authority and also to promote transparency, something the mayor promised prior to his election.

An announcement said: "These direct meetings will enable citizens to speak with the mayor and discuss any issues that may be of concern to them or to make any suggestions they wish are being introduced by the mayor, and without an appointment."
Phedonos said that this idea was part of the new modern approach which he hopes will characterise Paphos municipality and its leadership from now on. He said Paphos now has a culture which desires the local authority to be closer to the people, as well as being approachable and open to dialogue.
This move is a marked change from the previous administration, where citizens and staff often complained that former disgraced mayor Savvas Vergas was unapproachable, uncaring and 'ruled the municipality with an iron first.'


Paphos carnival breaks all records
By Bejay Browne

This year's Paphos carnival broke all records with more than 4,500 people taking part. The King of the carnival was themed 'The Punisher' and was a satirical dig at the widespread abuse of power and corruption by disgraced officials which has hit the town in recent months.
Michalis Pavlides-the mayor of Geroskipou entered into the spirit of the celebrations, his municipality's entry was called 'VIP Prison'. He said, "We wanted to parody the news," he said.

Each year, the secretary of the municipality's cultural department, Ermina Mais, chooses the theme and said although this year's was humorous, it conveyed a serious message.
"As we have had so much bad press and keep hitting the headlines, the theme this year was 'The Punisher'; it's connected to Greek mythology. First comes the crime, then the punishment and then the catharsis. We have had all of these crimes and scandals and now we are in the process of the punishment of those involved. We are hoping for the catharsis to follow, to end all of this turmoil and then to turn a new page and have renewed hope."

Mais said that she believed people wholeheartedly embraced both the carnival and the theme this year as a way of coping with almost daily accusations of widespread corruption in Paphos. She noted that the aim was also to have fun, as it isn't a courtroom.
"We have to use sarcasm and humour and satire in order to cope with everything that is hitting us. To enable us to get on with our lives, we need a new start and a new beginning. We want the public figures and those still in service to receive this message loud and clear. The age of criminal activity is now over and nothing will go unpunished."


Paphos clean up underway
By Bejay Browne

Efforts are being made to clean up Paphos with new services being offered from the beginning of March.
According to, Nicos Simillides, the president of the Paphos municipality's environment committee, a new low-cost tree and shrub pruning and collection service will be provided by the municipality in a bid to prevent dumping on waste ground, ravines and other areas.

Simillides said: "This is a good idea as so many people cut trees and bushes and throw away branches in parks, rivers and elsewhere. This is creating unsightly areas for the town and we are making efforts to clean up."
From March 1st, the service will commence with charges ranging from 10 euros to 30 euros depending on the volume of pruning and material and the service required, said Simillides.
"For cleared garden waste which fills a small truck it will cost €30. This will then be taken away. This is very reasonable."

The councillor said that all garden waste would be disposed of by the municipality at a nearby dump. He said that Paphos municipality was now inviting residents to contribute more actively and effectively in the collective effort for a clean Paphos. This objective is a shared responsibility and obligation of both the local authority and citizens, he said.
"A cleaner Paphos has to start from our own houses and then expand from there," he said.

The councillor, who also heads up the beaches committee, said that in an effort to keep Paphos beaches and parks clean he has formally requested extra temporary staff.
"I have sent a letter to the council so that we can be more organised and present a better face. If people visit the beaches and parks and they're not clean, this is then the image they will have of Paphos."
Simillides said that he has requested ten temporary staff to help keep these specific areas clean. They would be required to work for six months between April and October.
"The government has said that no more staff can be employed, but I hope that we will put a case forward for temporary staff."

He said that none of the current staff are able to take on any more work as they are already working flat out.
"Many of the staff in the cleaning division have worked continuously seven days a week for the last six months. It's impossible to expect people to continue to do this."

Residents who wish to receive the new pruning and collection service can contact the Information and Citizens Service Centre: – 26822355.



Paphos Marathon dedicated to legendary runner

By Bejay Browne

This year's Paphos marathon is dedicated to the memory of legendry marathon runner Stelios Kyriakides, and the overall winners will be presented with gilded olive wreaths from marathon in Greece, by his son.

On Sunday March 8th a record breaking 650 runners will take part in the 17th annual Paphos marathon, which consists of the Paphos Marathon/ half Marathon and 10k races. This year the event is being sponsored by Logicom public Ltd. and has been renamed the Logicom Cyprus Marathon, as of this year.
Race Director Stavros Kakourides said that this year's overall winner's trophies are spectacular.

"The first male and female overall winners will be honoured with a wreath made from olive leaves straight from the Marathon in Athens, which are immersed in gold, silver and bronze. They are the same as those presented to the winners of the Cape Town Marathon and the Boston Marathon," he said.

He added that the presentation will carried out by Dimitris Kyriakides, son of the legendary Paphos born 1946 Boston Marathon winner, Stelios Kyriakides, and Paphos mayor Phedonas Phedonos.

More than fifty per cent of the runners are from overseas; entrants from 20-25 countries usually take part. Kakourides said around sixty per cent of those are from the UK this year.
The event traditionally attracts amateur runners from all over the world. All runners are welcome, said Kakourides, from fast club runners to occasional runners.
Kakourides said last year's winner Romanian Raphael Igrisianu is hoping to make this year a hat trick and aims to beat his last year's finishing time of 2:48:20. The previous year he also took top place, with a time of 2:44:50.

The Marathon starts from Aphrodite's Rock at 7.30 am and finishes at Paphos Castle at the harbour. The other two distances will have a staggered start at around 8.30 am and finish at the castle.
From 11 am- 12 noon there will be traditional music and folklore dancing. The trophy presentation will take place at 12.30pm.
As well as fruit stations dotted along the race course, refreshments are also provided at the finish line.
"There will be plenty of beer for everyone as well as juice, water and seasonal fruit. The social aspect of this event is also important to us," he said.

The Logicom Cyprus Marathon 2015 will be held on Sunday March 8.
For race information: – Stavros Kakourides 22370396 /+357 99436826/+357 99788929

run@cyprusmarathon.com

Record bookings for summer but Cyprus airports still too costly
By Bejay Browne

Ryanair officials were in Paphos to celebrate the low cost airlines 30th year of operation.
Ryanair's Chief Commercial Officer, David O'Brien, said that the airline, now Europe's biggest, was also celebrating record advanced bookings for the Paphos summer schedule which includes a route to Rome Ciampino- there are now ten in total- and extra flights to Athens and London, which will deliver over 650,000 customers per annum and support 650 'on-site' jobs at Paphos airport.

However, he added that prices were astronomically high at both of Cyprus airports, which deters airlines.
"Cyprus is a good example of what not to do. Excellently run airports which are operationally excellent, they look good, but they are too expensive. There are many markets which want developing ones such as Poland, but we will have to consider where we will allocate this capacity."
Paphos is the Cultural Capital 2017, which according to figures from previous title holders, will see an increase of around 20-25 per cent more passengers to the city. But O'Brien warned that although there was a published incentive scheme for the airports, it was restrictive and costs remained high. Airport costs would have to be slashed, as the Chief Commercial Officer said it would be foolish to allocate capacity to a high price location.

"Pricing in Cyprus is going to have to change, there is no point in having 20 per cent more passengers if it's very expensive to us. Carrying 20 per cent more is a serious consideration as we would have to put extra aircraft capacity to Paphos. We would do this, but at the right price."
Ryanair's Paphos summer schedule 2015 will see two aircraft based at the airport and 53 weekly flights.
"We are going to carry approximately 650,000 passengers this year, a 12 per cent increase on last year for Cyprus. We will continue to put low fares in the market, in a time of turmoil in aviation in Cyprus, Ryanair is a constant," he said.

O'Brien, said he was visiting all significant markets and bases and from as far west as the Azores, the airlines newest base, to their most Eastern base in Cyprus.

He said that in the last year, the airline had invested heavily in a new research and development department and set up Ryanair laboratories. The company has employed 120 highly skilled developers and programmers to work on projects, he said.
"Their job is to make us the best when it comes to airline and travel digital platforms. We will be producing a new mobile app in March and we will have further improved our website by April."

This new website will also include a price comparison feature which will show other airlines fares alongside Ryanair's.
"This means there is only one website that people will go to for of their travel needs and we will be happy for a user to move from our website to someone else's to book with them if they're cheaper; but we're confident this won't happen as we 're always going to be the cheapest. It's also a way of keeping us honest."

O'Brien also highlighted the company's 'Always getting better programme' which he said was a sign of the airlines continuing commitment to improve.
"There were three key things that people wanted to change and help us to get better and we are listening to our customers. We have improved our website, passengers are able to have a second bag and we now also provide allocated seating."

The Chief Commercial Officer also noted that the airline had moved into new sectors and they now offered family discounts for children, as well as a business product.
He said the airline was broadening its appeal, the implementation of the 'getting better programme' is bringing positive results.

Ryanair currently has 72 bases and 189 airports and has more coverage than any other airline in Europe, which he said was important for Paphos, as their bases presented a range of possibilities.
Paphos welcomes new mayor
By Bejay Browne

Paphos has a new mayor and he's promised to clean up the scandal hit town. Fedonas Fedonos said he is fully aware of the huge weight of responsibility on his youthful shoulders.
The new mayor of Paphos is tasked with cleaning up the scandal-hit municipality and preparing the town for its prestigious spell as the European capital of culture in 2017, just two years away.
In the wake of Fedonos' recent election win, employees were busy clearing out desks and cupboards and removing sacks of rubbish and new offices were being prepared. Fedonos says that under his disgraced predecessor, Savvas Vergas – who is facing a number of charges for alleged financial wrongdoing and corruption - councillors didn't even have a desk to sit at or computer to work on.
As an anti-corruption crusader who played a leading role in exposing the town's sewerage board scandal – and received death threats as details emerged – Fedonos should be a huge morale-booster for the municipality's 219 employees. In turn, he expects them to deliver.
"They are employed to work for eight hours but often 'real' working hours are around only four. This must be increased – I want to get the best performance out of everybody," he says briskly.
He is keenly aware this is essential with just 23 months left to get Paphos ready for its coveted role as cultural capital. Seven large structural projects to rejuvenate the town need to be completed, including the renovation of the town centre, the municipality square, the Makideio theatre, the old Othello cinema, Moutallos square and the municipality market.
With his can-do attitude, he is confident this can be achieved and appears to relish the challenge. At 36 he is one of Cyprus' youngest mayors – which he counts as an advantage – along with having "an open line and good relations with all political parties and decision makers".
He is committed to working closely with all those involved in giving Paphos a vibrant town centre, clean roads, renovated buildings and a good public transport system by 2017.
To smooth his path, he insists he will treat council members with respect – in stark contrast, he suggests, to his predecessor whom he clearly regards with contempt.
"The ex-mayor created an unpleasant atmosphere of conflict; that has all changed now."
Fedonos now wants the people of Paphos "to stop feeling angry" and "to believe and trust again". He promises that the municipality will now operate with full transparency.
"My two main aims are to clear the municipality from all of the corruption and to implement structures and procedures to avoid the same terrible things happening in the future."
Tenders, for example, "will be open to anybody" and awarded to those best qualified for the job. "Gone are the days of carrying out things behind closed doors and making promises in return for money which is being given under the table."
And he warns: "We will supply all of the information to the police in order to arrest any culprits and stop them and ensure all of the stolen money is clawed back."
Winning back trust in the municipality through transparency will be a key to restoring the battered pride of the people of Paphos in their town – as well as securing money for its renovation.
Paphos has now formally applied for finance from EU funds and expects to learn how much has been awarded on March 15.
"We are applying for a total of 22.5 million euros from the EU funds.
I believe we have a good chance of taking around 18-20 million euros and will be left with a relatively small deficit."
Further funds – 3.2 million euros – are being sought for a separate project to create a pathway, which includes a bridge to connect all of the main archaeological sites in Kato Paphos.
While Fedonos brims with confidence and optimism and wants the public to know that things have changed, he is also realistic about what can be achieved in the remainder of his short-term. It will be impossible, he says, to solve all of Paphos' problems during his remaining two years in office.
"Paphos needs €100 million or more to undertake various things" and doesn't have this kind of money. But if we start with 20 million, it will encourage investment from the private sector. If we upgrade the centre of the town, investment and renovation of the buildings will be encouraged, this will promote acceleration for development. We need to find our way back to a new era of development in the correct way."
He also has a refreshing attitude to the 'poor cousin Paphos complex', displayed by so many other local officials who constantly moan that their town loses out on state funds and projects which they say are mostly awarded to other towns.
"This situation is 90 per cent our responsibility," Fedonos says. "Paphos goes to the government or ministry without being properly prepared.
For example, we request three million for a project, the response is- 'ok do you have architectural plans?' We reply 'no.' 'Do you have a feasibility study? 'No.' And so on. Who is in the wrong? We are; we must be more professional and better informed."
Fedonos, who studied economics in Athens and has a Masters degree, entered politics in 2002, working as an advisor to DISY MP Costas Constantinou.
He also has experience in the private sector, and two years ago began studying law at Neapolis University in Paphos.
But as mayor, he stresses, "I don't do anything else, so there is no conflict of interest."
Fedonos also has a busy home life. His wife Louiza is expecting a son on February 5 and the couple already have a three-and-a-half year-old daughter.


THOUSANDS RAISED FOR HOSPICE

By Bejay Browne

A Paphos business has raised over twenty thousand euros for the Friends Hospice by operating a daily raffle during December and putting on an adult pantomime.
This is the second year the owners of the 'Outlet Store' have undertaken the 'Madvent' raffle which sees daily prizes drawn on Rock FM during the run up to Christmas.
The store's Colin Fender, said that all 62 prizes, which had a total value of 8,000 euros, were donated by businesses islandwide.
"The top prize was donated by Amathus Travel and Emirates holidays, which has a value of just under five thousand euros," he said.
The prize was drawn live on air and Joyce Harrold, a resident of Chlorakas in Paphos won return flights for two people to Dubai. The prize includes transfers to the Atlantis Palm hotel where she will spend three nights with husband John, before they move on to the Hilton Dubai Creek Hotel for a further three nights.
Fender said that the aim was to improve on the first year's total and so they decided to also put on a pantomime to raise further funds.
The adult version of Aladdin ran for three nights and all five performances were in front of packed houses in both Polis and Tremithousa.
Fender said: "We are working on this year's fund raising already. We have got another panto in the pipeline and we're hoping to beat this year's total. The shows raised a considerable amount of money and they were lots of fun."
Last year's Madvent raffle raised more than €10,000 for the hospice, this was exceeded this years with extra funds from the pantomime boosting the coffers by over 7,000 euros. Altogether this year, the business raised over 20,000 euros for the facility.
Chris Jones, president of The Friends' Hospice Foundation expressed his thanks.
"We are extremely grateful for the enormous financial support from the Outlet Store which will help us greatly in our palliative care work for patients in the Paphos region. We rely entirely on donations and fundraising to maintain the hospice and so without such generosity we would not be able to continue."
The Friends' Hospice – which is now found in a dedicated wing of St George's Polyclinic in Paphos, started operation in 2006 and has offered free palliative care to patients with life limiting illnesses and their families. They have helped more than 950 terminally ill patients of all faiths and nationalities.


BRIT PENSIONERS FIGHT FOR WINTER FUEL ALLOWANCE

By Bejay Browne

British expats living in Cyprus are joining forces and bombarding the UK Works and Pensions committee with emails questioning the move to stop their winter fuel allowance because Cyprus is too warm.
The British government is tabling legislation before parliament to introduce a benchmark temperature test. The British government's new test will see pensioners living in Cyprus, France, Greece, Malta, Portugal and Spain lose the right to claim their winter fuel allowance payments. The new legislation is expected to come into force in time for winter 2015-16.
The new test is aimed at stopping payments being made to British residents of countries where the average annual temperature is higher than the warmest region of the UK – the South West at 5.6C (42F).
Temperatures in Cyprus during the recent cold snap have dropped below zero in some areas, especially at night.
Around 8,000 expats living in Cyprus look set to lose their allowance, which will reportedly save the British government £1.4 million in payments.
Tala councillor, John Moffat, said that an email is 'doing the rounds' urging people to send emails to the Department of Work and Pensions (DWP) in the UK to prevent the restriction of the payment being made to pensioners residing in particular EU states.
Moffat explained that the email states that there might be a possible loophole in the statutory instrument, the legislation which the British government wants to use to take away the winter fuel payment.
EDMs – Early Day Motions – against statutory instruments are known as a 'prayer'. The email which is circulating is urging that a 'prayer' is laid before parliament before January 24- 40 days after the Statutory Instrument was laid, he said.
The email states that the Statutory Instrument 2014 No. 3270 which was laid before parliament on the December 15, 2014 restricting payment to pensioners residing in EU countries, incorrectly described as 'hot' by the Department of Works and Pensions – should be annulled. After the general election, the matter may then be appropriately reconsidered by the new parliament, it reads.
Supporters have also suggested an e-petition the British Prime Minister directly.


SICKENING CASE OF ANIMAL CRUELTY IN PAPHOS
By Bejay Browne

Paphos police are investigating another sickening case of animal cruelty involving the skinning and stringing up of a male cat which was discovered close to a children's play area in a small Paphos village.
A Paphos police spokesman confirmed that the case is under investigation and described the incident as sickening.
"We are taking this matter seriously and are making enquiries with the aim of bringing the culprit before the court," he said.
An appeal is also underway to find the owner of the black and white Persian mix by Paphiakos and CCP animal welfare group, the charity which local residents originally contacted for help.
The cat was discovered in the small village of Koloni close to Geroskipou in Paphos, at a Futsal and playground area. He was strung up by one of its back legs and hoisted to the top of a 20 foot flag pole, skinned from its neck downwards. Only a small amount of fur remained on the back part of its body and its tail. The head, although still covered in fur, is described as "a complete mess with blood leaking from nose, mouth, eyes and ears."
A Paphiakos' volunteer driver was sent to attend the scene. He had previously worked in the British police force and in animal rescue and said he had never seen anything like it.
"This cat was hung in a public area obviously to be seen; it is the worst case of its kind that I've witnessed. The 18-year-old female volunteer that accompanied me was very distraught and in tears. It was a horrific experience."
The body was taken to Paphiakos where the cat was examined by veterinarians who said it was hard to put an exact age on the cat but that it is male and over five years old. He also sustained a puncture wound to the stomach which probably means that it was stabbed and this was most likely the cause of death. Although it is unlikely that the cat was skinned alive, they cannot rule out partial skinning before the animal succumbed to his injuries.
The charity said that they are determined to find who carried out this heinous act and have been assured by the police that all avenues will be investigated.
The Cyprus Animal Party – APC – described the case as extremely distressing, saying the culprit was a psychopathic killer. But Party chairman Kyriakos Kyriakou warned against offering a reward for information leading to the perpetrator. He said people could murder animals and then pretend to give information.
Paphiakos and CCP animal welfare on 26946461


THREE NEW DIALYSIS MACHINES AT PAPHOS RENAL UNIT
By Bejay Browne
Three new dialysis machines have been installed at the renal unit of Paphos general hospital, thanks to the efforts of a Paphos based charity. This brings the total number of new units to five over the past few months.

The Cyprus Kidney Association (expats), has gained support throughout the community with three machines recently being donated by betting chain OPAP, according to association chairman Graham Brown.
Brown said he was also hoping that the government would supply three more.
Until recently, there were 11 ageing dialysis machines in use at the hospital and one available for spares, with all working to capacity. The Paphos renal unit was finding it hard to keep up with the demand for the life-saving treatment as new patients were registering every month.

Brown said that the five online hemodiafiltration (HDF) units' which are now up and running, enable patients to receive the best treatment possible. Each comes with a price tag of €25,000 and have the potential to reduce the mortality rate of patients by 30 per cent.

He is now one of many patients who need regular dialysis treatment for five hours, three times a week, to keep him alive.
"There are around 200 patients waiting for dialysis treatment in Paphos and it is only offered to patients who are at a critical stage. There are 53 people receiving life- saving dialysis three times a week at the unit."

The charity has also converted a large store room within the unit- purified water and the mechanics have already been set up- which will enable 8-11 new patients to be taken off the waiting list and receive treatment.
Five 'chair beds' at a total cost of €12,000 will be the next addition, said Brown. As soon as they arrive, two of the older machines will be set up in the converted store room.

This year's fundraising will include afternoon tea at the Annabelle Hotel, a summer ball, regular raffles at concerts held by Kendall and Morrelli, a sponsored walk, a fun day and a charity event at Elea golf club.
"We would appreciate any help people can give us, and if someone would like to take on the role of handling our advertising with the media as I'm now struggling, please get in touch," said Brown.
Since 2000, the association has also bought oxygen masks, blood pressure monitors and a crash trolley. More recently, they donated specialised beds, an ECG machine, specialised patient weighing machines and a portable scanner.

www.cypruskidney.com
cypruskidney@gmail.com Graham Brown 99244679

Paphos church helps those in need

By Bejay Browne

A church in Paphos reached out to help those in need this Christmas by supporting a number of initiatives which are part of a project called 'Matthew 25', in reference to a chapter in the bible; and which is manned by volunteers.
Marina Gobbett of 'Matthew 25' said that the response from the community and members of the Paphos Christian Fellowship International (PCFI) who undertook the initiative, has been amazing.
"On December 23rd we gave out 60 bags of food to the needy; this included chicken, fresh vegetables, salad and fruit."
In addition, volunteers gave cakes, biscuits and bags of staples such as pasta, rice and canned goods.
"It was a beautiful experience and we are now forging new relationships, which is really important. We really want to thank everyone involved for their help."
The church which is found in Kato Paphos acts as a sort of community centre where members of PCFI help to feed the hungry, sell produce from the community garden and hold sales as well as other events, so that they can raise money and reach out to as many people in the community as possible.
"We are helping people of all nationalities and we want to try and help as many as we can to make their lives a little bit easier," said Gobbett.
The Matthew 25 project also held a children's Christmas party for fifty children of needy families on December 20th where Santa Claus handed out presents.
"The reponse has been overwhelming and often from people we don't know. One lady gave us a 200 euro donation, another man had collected 100 euros, and many donated gifts. People showed extraordinary levels of kindness. They love what we do and want to support us. Many families have now been helped," she said.
On Christmas day around forty or so people, volunteers and the needy, attended the PCFI to share a meal together.
"It was a huge meal, everybody bought food, so there was as array of dishes from many different countries, and it was a coming together of the nations."
Prior to the meal, the children had performed the nativity complete with Christmas carols.
The initiative will continue to grow in 2015 and is part of a PCFI vision for Paphos said Gobbett.
For more information about the Matthew 25 project contact Marina Gobbett on 96253145 or Pastor Allan Hodgson of Paphos Christian Fellowship International (PCFI) on 96 217416 or allan1mh@yahoo.co.uk


Gift of love 2014 a huge success

By Bejay Browne

Volunteers from a charity initiative in managed to collect more than 450 boxes for a 'Gift of love' following an appeal to the public to donate gifts or money to help fill hundreds of shoe boxes with Christmas presents for needy children in the area.

The initiative was started last year in co-operation with Solidarity charity which is currently struggling to feed hundreds families of the district.
This year the Christmas 'Gift of Love' was organised by volunteers Mikka Heaney, Dikla Smith and Soula Christodoulou.

They explained that the charity wanted to ensure that all children in families facing financial problems and needing support were provided with a gift for the holiday season.
"We have reached our goal and a huge thank you to everyone who has helped us. We have been overwhelmed by the amazing response which has shown that there are still good people out there and a great sense of community in Paphos."

Sunshine radio, which has only been broadcasting for the last six or so months, teamed up with Peyia medical centre and dental practice to support the initiative. Sunshine radio listeners and the clinics patients made close to three hundred boxes which were handed over to the charity live on air.

They also gave a 1000 euro cash donation, 750 euros from the medical centre and the rest from Sunshine radio. After hearing the radio interview, international tax and wealth management advisers, Blevins Franks, has also donated 500 euros which will go towards baby milk for infants of needy families.
The volunteers said that the International School of Paphos and Revival fashion store had also managed to collect a large number of Christmas boxes for the children. "Thanks to the efforts of the public, every baby and child in Paphos from newborns up to 18 years will have a special gift under the tree on Christmas day," said Heaney.

Solidarity was set up in 2012 by Pavlina Patsalou and George Sofokleous and helps all those in need, of any nationality or background.

Gift of love-Solidarity on Facebook, www.gift-of-love-solidarity.org
Contact Mikka Heaney 96462558, Dikla Smith 97789099, Soula Christodoulou 97829504


Paphos hearts of gold 2014 winners announced
By Bejay Browne
A charity worker who has devoted her life to caring for and supporting others, and a budding young dancer who helps other people's dreams come true, are the winners of the eighth annual Paphos Hearts of Gold awards.
The winners of this year's prizes were among 36 nominated and were announced at a packed event held at Palia Ilektriki cultural centre in December.
Sally Unsworth and teenager Nina Christodoulou were chosen by a panel of ten judges and announced by Marios Joannou Elia, the Patron of the award and artistic director of Pafos 2017.
The two winners were each presented with a solid gold hand-crafted heart on a pin, created and donated every year by Aphrodite Jewellers, as well as a certificate and a bouquet of flowers.
Winner of the adult award, Sally Unsworth, also received a two-night stay and dinner at the luxury Almyra Hotel.
Joannou Elia spoke about the importance of the community and commended all of the nominees.
"I am honoured to be a part of this award and see you all here today. So many of you are doing great things for others, either through your charity or voluntary contributions and others who are coping with difficulties, but with a smile on your face. For us you are all winners and I wish that I could give you all an award."
Unsworth volunteers at a number of charities and won the award for her work with the Cyprus Samaritans, of which she is national director, and the Paphos Bereavement Support Group that she set up and runs. She is described as a kind and caring person who puts everyone else before herself. Even though her husband Geoff died a few weeks ago, she continues to visit all the people of bereaved families.
Nina Christoudoulou, 16, is the winner of the junior section. She was diagnosed with a rare and incurable disease at the age of eleven, but is determined to become a ballet dancer. Nina is an extremely hard working student and a cheerleader at the American Academy in Paphos, and she also finds time to teach younger pupils to dance. During her summer holidays, Nina works at a summer camp in the U.S. with children with special needs and from unstable backgrounds.
Both winners said they were surprised but happy to be chosen.
Nominees, their families and friends, members of the judging panel, and representatives of the social welfare committee were all present at the ceremony which took place to a packed audience of around 200.
The Zingers, an amateur singing group who were also nominated for raising thousands for local charities, greeted guests with festive songs.
This year, 23 adults and 13 children were nominated by members of the public. The children in particular captured the hearts of the audience, said Joannou Elia. Many of the youngsters are coping with great hardship, with courage and a smile.
All of the nominees received a certificate and a flower presented by British Vice Consul Christina Smith and Fylactis Constantinides of the Paphos social welfare committee.
The community-based award aims to recognise those who have shown tremendous courage, strength and determination, worked tirelessly within the community or for charities, overcome tragedies with a smile or simply been a great help and support to neighbours and friends.
Pictures and a video of the event will be available at the dedicated Facebook page
The annual award is supported by the Paphos municipality social welfare committee, Aphrodite Jewellers, Massiva printing, the Paphos Post, Cyprus Mail, Sunshine radio, the British High Commission, Almyra Hotel and James Walton media.

This years nominees in the junior section: George Michaelides,11, Iordanis Demetrof (Dani), 3, Savvas Surailides, 16, Katerina Konstantinou, 8, Georgina Moakler, 11, Cameron Moakler, 13, Archie Habgood, 7, Rachel Parr, 15, Varvara Tikanova, 6, Nina Christoudoulou, 16, Zoe Dhull, 1 year 5 months, Jasmitha Marharaja Singh, 14, and Rosalia Ashiotis,16.
The youngsters either help local charities, cope with serious illness, or have shown tremendous courage, determination and spirit.
In the adult section nominees included: Michele Cook for her ongoing work with the British Guides, Brownies and Rainbow units which she also set up in Paphos; Brenda Backhouse, as the team leader of the 'hospital and clinic visitors of Paphos' and for her work with The Stroke Association; Graham Brown for his outstanding achievements with the Cyprus Kidney Association (Ex-Pats); John Moir for always helping others and being a good friend.
Sue Young was put forward for her efforts in running the Friends Hospice charity shop in Polis; Jakov Bouinak-Tarasov for being a supportive and loving father and husband through tough times; Ann Young for her ongoing support of animals in need and Terry Lupson, as the ex chairman of the Cyprus kidney ex-pats for all of his efforts for the renal unit.
Gaynor Georgiou was nominated for her love and care of Paphos stray cats; Cynthia Smith for her ongoing work and support of animal welfare; Marina Fylactou for her outstanding commitment to children and adults with autism; Julian Bukland for his fundraising efforts; Tom Handley for his ongoing work with the Cancer patients support group and Afroula Chrisostomou president of the Women of Paphos Association, for her unwavering support of needy children and adults of Paphos
The Zingers were considered for fundraising; Dawn Foote for her work with the Tala monastery cats; and Father Stylianos Sofokleous, for all of his efforts as president of the committee of the Margarita Liasidou Foundation.
Sally Unsworth was put forward for her work with the Cyprus Samaritans and the Paphos Bereavement Support Group; Alan Mack for raising thousands for local charities; and the entire team of the Paphos cancer patients support group were nominated; along with Matthew Harris and Peter Hamilton of PAWS dog shelter for their care and dedication towards unwanted animals. The Friends hospice staff and volunteers were also nominated.


Elections for a new mayor as Ex Mayor steps down
By Bejay Browne

Elections for a new mayor to serve Paphos will be held on January 11 2015, following beleaguered former Paphos mayor Savvas Vergas' 'resignation' from his post, bowing to pressure to do so, while in police custody.
Vergas and three other defendants recently denied charges relating to threatening text messages sent to witnesses in a land zoning case involving prominent businessman Theodoros Aristodemou, the owner of Aristo Developers.
Vergas, Maria Solomonidou, her husband, and her father, face 11 charges including conspiracy to commit felony, threatening, and intervening in judicial proceedings. Vergas is also facing suspicion of corruption in connection with the construction of the Paphos sewerage system. Vergas is embroiled in a number of separate cases including alleged abuse of power and financial wrongdoing. The ex mayor has also been implicated in the case of a concert organised in Paphos last summer featuring Greek pop singer Sakis Rouvas, which was allegedly misleadingly advertised as a charity event.
In the meantime, locals have expressed a mixture of shock and betrayal over the alleged level of official corruption that has been exposed in recent weeks.
The atmosphere is one of uncertainty and dismay as revelations implicate officials from all major parties, with the squandering of public funds reportedly running into millions of euros.
Whatever their response, residents are united that all those found guilty should serve prison time and public money repaid.

In an attempt to quell public negativity, the town's deputy mayor Makis Rousis, apologised to the community as he switched on the Christmas lights in December. "I feel the need to apologise to everyone here about what is happening in Paphos Municipality. But, we are certain that Paphos has the strength to overturn this climate and ensure that the municipality takes a new path, one of both sound administration and development prospects."

He added that recent dramatic developments highlighted the will and determination of the municipal council to continue and to intensify its work to promote transparency and accountability.
"We can achieve this through teamwork and hope to regain your confidence, momentum and optimism," he said.

Yet optimism is in short supply at the municipality itself with staff coming to terms with the realisation that rumours which were rife for a number of years, appear to have been correct.
Santa's helpers needed for a gift of love 2014

By Bejay Browne

Volunteers in Paphos are appealing to the public to donate gifts or money to help fill hundreds of shoe boxes with Christmas presents for needy children in the area and help deliver them on Christmas Eve.

The initiative is called 'A Gift of Love' and was started last year by two Paphos-based women, Jenny Kelly and Emma Yianni, acting on behalf of Solidarity charity .This year the charity venture is being headed up by volunteers Mikka Heaney, Dikla Smith and Soula Christodoulou .The charity is currently struggling to feed hundreds families of the district.

Solidarity was set up in 2012 by Pavlina Patsalou and George Sofokleous and helps all those in need, of any nationality or background.

Heaney said: "We have already collected a number of boxes and we need to keep going. We would like to thank everyone for their support and generosity. For anyone making a shoe box of their own, we would recommend toiletries, hats, scarves, gloves, toys, fashion accessories, gift vouchers; anything you believe that will make a child happy and excited about Christmas."

This year's age categories are staggered every two years, for example newborn- 2 years, 2- 4 years and so on up to the age of 18.

The idea is to decorate a regular shoe box and lid and fill it with a selection of toys for children. Boxes must be clearly marked if they are for boys or girls and the age category.

This year, the charity is also arranging for the gift boxes to be delivered to the children's homes on Christmas Eve and is looking for volunteers to help. Heaney said that volunteers to act as 'Santa's helpers' are urgently needed to deliver the gifts to all areas, including villages of Paphos.

Volunteers will also check all of the boxes to ensure gifts are age appropriate and they hope to deliver them all at sundown on Christmas Eve.

A number of groups, organisations and churches are backing the scheme including the Matthew 25 project, which is named in reference to a chapter in the bible and is an initiative of the Paphos Christian Fellowship International (PCFI).

The PCFI, which is found in Kato Paphos, is also acting as one of the drop of points for gifts, along with Revival fashion store and Solidarity charity. More drop off points are available across Paphos, details are available at the dedicated Facebook page or from volunteers.

The team hopes to reach a goal of 400 or so gifts boxes. A list of items which are necessary and fun for children, along with the age groups, suggestions of gift ideas and drop off points are available on the Facebook page.

All boxes need to be completed no later than December 18th.

Search for Gift of love- Solidarity on Facebook. A new website with all the necessary information will also be online soon www.gift-of-love-solidarity.org

Or contact Mikka Heaney 96462558 Dikla Smith 97789099 Soula Christodoulou 97829504

www.solidaritypaphos.com


Tree of love in aid of hospice

By Bejay Browne

A tree of love in aid of the Friends hospice in Paphos was launched at a local Christmas fair at the Elea golf club's Christmas fair in Yeroskpiou in Paphos on November 30th.

Hospice spokesman Colm Connolly said that the initiative which was launched two years ago in Paphos will enable people to remember loved ones in a special way in the approach to Christmas.

"For a small donation, people can place personal notes to friends or family who have passed away. This is a very emotional time of year for many and has proved more popular each year."

Connolly said that the tree is especially poignant for those whose loved ones may have been buried or cremated in another country.
'Some people don't have anywhere physical they can go to remember loved ones who have passed away and this is a good way to do that."

He added that more of the hospice's charity shops will be taking part this year and that for a small donation, people will write personal messages or thoughts on handcrafted paper angels which will then be attached to the tree.
"They can be folded over if people wish their messages to remain private," he said. The trees will remain at the shops during the festive period.

The huge response over the last two years means that the idea will include the Friends hospice charity shops at Yeroskipou, Pissouri and Chlorakas. The hospice shop in Kato Paphos will be offering a 'Wall of Love' where people will be able to place notes, due to a lack of space for a tree, he said.

Donations will go towards the general upkeep and running costs of the hospice, including medication and staff costs.

Since its foundation in 2006, The Friends' Hospice has provided palliative and respite care for close to one thousand patients suffering from life limiting illnesses. It also offers support to their families. Care is offered to everyone, regardless of race or religion.

www.paphoshospice.org


Paphos hearts of gold award 2014

By Bejay Browne

The nominations for the Paphos Hearts of Gold Award closed on December 5th.

The philanthropic community based award now in its eighth year and aims to recognise those who have shown tremendous courage, strength and determination, worked tirelessly within the community or for charities, overcome tragedies with a smile or simply been a great help and support to neighbours and friends.

The award is open to everyone who is a resident of Paphos, of all ages and nationalities and winners are chosen by a panel of ten judges.

All of the nominees and their families will attend the ceremony, which will take place at Palia Ilekriki in Paphos at 12 noon on December 12th 2014. The winners (junior and adult) will be announced and the awards presented by this years Patron, artistic director of 'Pafos 2017', Marios Joannou Elia.
Successful nominees will be presented with their solid gold handmade heart- created and donated by Aphrodite Jeweller's – winner's certificate and a bouquet of flowers.

This year the adult winner will also be presented with a two night stay and dinner at the five star luxury Almyra hotel in Paphos.

All of the nominees are presented with a certificate and a flower.

The annual award is supported by the Paphos Municipality Social Welfare Committee, Aphrodite jewellers, Massiva printing, Cyprus Mail, Paphos Post, Sunshine Radio and Almyra Hotel.

https://www.facebook.com/pages/Paphos-Hearts-of-Gold-Award/172641502817020


British High Commissioner meets ex pat volunteers

By Bejay Browne

British High Commissioner Ric Todd visited the Paphos cultural centre at Palia Elektriki and met with resident expats who are involved in various community projects.

He had earlier visited the Cyprus Samaritans and presented them with a cheque for €630, following a bid for funding from the Foreign and Commonwealth Office to help deal with the growing number of mentally vulnerable seniors in the Paphos area and the impact that alcohol has on dementia. The money will also be used to train volunteers.

Sally Unsworth, the Director of Cyprus Samaritans, said that a month ago, the charity started a 'drop-in morning' for the elderly every Thursday.
"We want to encourage people who are elderly and vulnerable and perhaps lonely to visit and bring their relatives," for an hour with family members able to have a break.

Todd said: "We really need to work with partners here in Cyprus to enable us to give the best help that we can to British people in Paphos and Cyprus as a whole. I'm very grateful for what you all do and we will carry to do the best we can."
The guest list at the meeting included resident groups, charity representatives, community councilors and hospital visitors. The aim was to community service volunteers and also help the High Commission Consular Service deliver assistance to the most vulnerable.

The High Commissioner also heard from local people about other issues concern to the community, such as the lack of a crematorium, burials on the island, property issues and participation in local councils.

The British High Commission is also offering continued support to the Paphos Hearts of Gold Awards. The presentation ceremony will take place in Paphos on December 12.



Tourism officials cautiously optimistic for winter season

By Bejay Browne

Tourism officials in Paphos are cautiously optimistic for the winter season and say more than half of the tourist beds in the area are in full operation.

Evripides Loizides of the Hoteliers association (PASYXE) said: "Bed capacity is reduced in Paphos during the winter months, as with other areas of the island due to a number of seasonality issues. But, if we can come up with a masterplan now, increasing annual visitor numbers to Cyprus to 5 million isn't difficult."

According to the Paphos regional board of tourism, official CTO statistics show a total of 910,000 visitors for 2013, with Paphos attracting approximately 38% overall.

Head of the Paphos regional board of tourism, Nasos Hadjigeorgiou said: "Figures show that over 50% of tourist beds in Paphos are in full operation, with a capacity to accommodate around 250,000 travelers between December 2014 and March 2015."

He noted that huge efforts are being made to increase visitor numbers for these months and extend the summer season to the end of November, and starting earlier, in March.

"We are making concerted efforts to attract more airlines to Paphos and increase the numbers of flights and destinations," he said.

Seven new flights a week operated by airline Germania were recently announced that will connect Paphos with five German airports from March next year. These are: Dusseldorf, Berlin, Hamburg, Bremen and Erfurt.
In addition, low cost airline NIKI will begin twice weekly flights from Vienna to Paphos in the same month. The airline has been flying between Larnaca and Vienna since January this year.

Loizides said: "These are important developments and further improvement in expanding the summer season can be achieved with forward planning. The number of British tourists to Cyprus stabalised last year and all signs for 2014 are suggesting an increase."

Loizides said that as it stands, some hotels are forced to close during the winter months in an attempt to curb inevitable losses.

He explained that a hotel with a capacity of 220 beds which closes for 5 months (from the end of November to April) will make a loss of between 100,000 to 150,000 euros. But if it remains in full operation it will make losses of around 400,000 euros. He said he believes the government could step in and prevent closures from occurring.

"If the government is ready to give the 9% VAT charges away, it could use this money to create an incentive to airlines. If the average ten day holiday costs 600 euros that's 54 euros in VAT. That could be offered as an incentive."

However, despite concerted efforts to increase Paphos flights, low cost carrier Ryanair recently decided to stop its Manchester- Paphos operation, but put this down to aircraft capacity and not to a lack of passengers using the flight. There is a possibility that the flight may be reinstated in due course.

Robin Kiely, head of communications for Ryanair said: "We are currently finalising our Paphos summer 2015 schedule, which will be launched shortly. Our Paphos-Manchester route will not operate next summer, due to a lack of aircraft capacity. However, our aircraft capacity will increase over the next five years as we take delivery of our 180 new Boeing 737-800 aircraft order."



Two new dialysis machines at Paphos renal unit and government promises three more

By Bejay Browne

A Paphos based association has raised enough funds to install two new state of the art dialysis machines at the renal unit of Paphos general hospital, with the government promising to foot the bill for three more.

Thanks to the efforts of the Cyprus Kidney Association (ex-pats), the unit now has two state of the art 'online hemodiafiltration (HDF) units' up and running, enabling patients to receive the best treatment possible. Each comes with a price tag of 25,000 euros and according to association chairman, Graham Brown, the government has also promised to supply the unit with a further three machines.

Cyprus Kidney Association (ex-pats is a non-profit association set up in 2000 primarily to raise funds to purchase equipment for the renal unit.

The Paphos unit is finding it hard to keep up with the demand for the life-saving treatment as new patients are registering virtually every month. Until recently, there were 11 ageing dialysis machines in use at the hospital and one available for spares and all working to capacity.

Graham Brown, 64, took over as the chairman of the Cyprus Kidney Association (ex-pats) in April, determined to raise the profile of the charity. He was diagnosed with a hereditary condition polycystic kidney disease and following the removal of one of his kidneys at a Paphos hospital, he started dialysis treatment at the general in November last year.

He is now one of many patients who need regular dialysis treatment to keep him alive. Brown, like many other kidney patients, needs to have dialysis treatment three times a week. It takes around five hours for the process to be completed each time.

Brown said the new machines have the potential to reduce the mortality rate of patients by 30%.

The association is also in the process of buying two new state of the art 'chair beds' for the dialysis unit which are being ordered from Germany at a cost of 3,000 each.

Brown said that as the profile of the Cyprus Kidnay (Ex Pats) has been raised over the last few months, the Cyprus government has promised the association a further three new machines. The funds have been allocated and the unit is just waiting for the paperwork, said Brown.

In the future, Brown said that the association is hoping to extend the renal unit at the hospital and the manufacturers of the machines have generously offered to pay 50% of the construction costs.

www.cypruskidney.com

cypruskidney@gmail.com

Graham Brown 99244679

Foundation steps in to donate final thousands needed for vital dialysis machine

By Bejay Browne

A charitable foundation established by a Russian businessman and his wife has stepped in to enable a Paphos based charity to purchase a much needed dialysis machine for the Paphos general hospitals renal unit.

John Adams, a committee member of the Cyprus Kidney Association (ex-pats) approached the Andrey and Julia Dashin Foundation in June this year, with a request for support in the purchase of a life-saving kidney dialysis machine.

The Paphos unit is finding it hard to keep up with the demand for the life saving treatment as new patients are registering virtually every month. There are 11 dialysis machines in use at the hospital and one available for spares and they are all working to capacity. The association is a non profit charity set up in 2000 primarily to raise funds to purchase equipment for the renal unit.

Adams said: "Over the past 5 months, through a variety of fund raising events, we have managed to raise just over 18000 euros towards the 25,000 needed to purchase the new machine. The Dashin Foundation followed our progress and has stepped in to make up the shortfall of 7,000 euros to enable us to purchase our first machine much sooner than we could have possibly hoped for."

Philanthropist and charitable founder Julia Dashin said: "We have numerous applications to consider on daily basis and we have made efforts to co operate with this association through various fundraising events. However, as time was running short, we were keen to support this worthy cause by offering a donation."

Graham Brown, 64, recently took over as the chairman of the Cyprus Kidney Association (ex-pats), and is determined to raise the profile of the charity. He was diagnosed with a hereditary condition polycystic kidney disease and following the removal of one of his kidneys at a Paphos hospital, he started dialysis treatment at the general in November last year.

He is now one of many patients who need regular dialysis treatment to keep him alive. Brown, like many other kidney patients, needs to have dialysis treatment three times a week. It takes around five hours for the process to be completed each time.

Close to 6,000 dialysis treatments were carried out at the facility last year and new machines are urgently needed.

Dashin said that the foundation is particularly open to those genuinely needing help that display high levels of effort and commitment. She said that the association had displayed enormous efforts and showed high levels of commitment, persistence and devotion to achieving their goal. "These were all a persuasive factor when it came to offering them support."

www.cypruskidneyex-pats.webs.com

Cyprus beat Greece in first for golf

By Bejay Browne

Cyprus beat Greece in the first international junior golf match held in Paphos in September.

The best six young Cyprus players – as well as managers' choices – were picked at the second Junior Charity Golf Tournament 'Our Children Matter', at Minthis Hills. They played a junior team from Greece- members of The Hellenic Golf Federation.

The junior competition took place over a weekend at Secret Valley and Elea Estate.

Cyprus Golf Federation's director of junior golf, Terry Scott said: "After 2 days of competition playing golf against Greece, Cyprus National Junior Team secured a narrow win. Just as important is the fantastic spirit in which the matches were played which means everybody has made new friends that could last them a lifetime."

Vast improvements have been made by junior players over the last two years and they are now the best that Cyprus has ever had, Scott said. The youngest player is just eleven while most others are around 15 or 16.

The Cyprus team received a trophy which will be played for every year with the next match being held in Greece, Scott confirmed.

For further information contact Terry Scott on 99 382561, www.juniors.cgf.org.cy, www.facebook.com/CyprusGolfFederation

New German flights for Paphos

By Bejay Browne

Seven new flights a week operated by airline Germania will connect Paphos with five German airports from next year.

The Paphos regional board of tourism confirmed that the flights would commence in March 2015.

A spokesman noted that the development is an important move for Paphos and has come about through the cooperation and efforts of the tourism board, the Cyprus Tourism Organisation- CTO- airport operator Hermes and airline Germania.

He added that the airline currently has a fleet of 23 aircraft and flies to 150 destinations. The new flight schedule which will connect Paphos International airport with Germany is expected to begin in March 2015 and includes seven flights a week from five airports, Dusseldorf, Berlin, Hamburg, Bremen and Erfurt.

He said: "We welcome this development which is very important and very promising since it greatly enhances the accessibility of Cyprus and Germany. It also contributes to the efforts to extend the tourist season, penetrates into a key market and aids the development of special interest tourism."

The spokesman noted that relevant promotions, public relations initiatives, advertising and other campaigns in Cyprus and abroad, are a coordinated effort with the airline to ensure success of the venture and possible expansion in the future.


Minister gives go ahead for Paphos projects
By Bejay Browne
The minister of communications and works has given the green light to a number of projects in Paphos that will greatly enhance the town, according to the mayor.
"The ministry is aiming to serve the best interests of all of Paphos," said minister Marios Demetriades.
Speaking after a meeting between the minister and town officials, mayor of Paphos Savvas Vergas said: "We held a very productive and successful meeting today and took some important decisions regarding Paphos."
Vergas added that reassurance was also given to city centre shop-owners who demonstrated outside the town hall during the meeting, over the possible new location of a bus station, which they say will kill off trade.
"We will hold another meeting on the subject of Paphos' bus stations in the coming days, no final decisions have been made and at present the terminals at Karavella and Kato Paphos will remain operational," Vergas said.
Shop keepers oppose the idea of creating a terminal close to the Kings Avenue mall, saying it will encourage shoppers away from their area.
Vergas said that two other projects were discussed: the ongoing works on the Tomb of the Kings road and the new road connecting Paphos airport with the coastal area of Kato Paphos.
"The minster has agreed to speed up work on the Tomb of the Kings road, with work also taking place on weekends, as will work on the new airport road. This will ensure that it's completed in 2015".
The mayor said that Demetriades had also agreed to the repair of the archaeological museum in Griva Digeni Avenue, necessary works at the Archaeological park, as well as infrastructure at Paphos harbour which would allow cruise ships to use the facility.
"He also agreed to look at ways to improve the area of Venus beach, which has a dangerous coastline and has seen many people drown there over the years."
Summer Music Academy culminates in Rome concert

By Bejay Browne

Young Cypriots musicians of the Cyprus Youth Symphony Orchestra are taking part in the annual Summer Music Academy, which will culminate in two concerts to be held in Cyprus and Rome.

This is the only chance that the best of Cyprus' young musicians will have to play with a full symphony orchestra, according to Yiorgos Kountouris, the artistic director of the Cyprus Youth Symphony Orchestra, CyYSO.
The ten day academy took place at the high mountain resort of Pedoulas - 1200m above sea level-and is followed by two concerts.

He said: "A selected number of the best Cypriot musicians and the best teachers from all over the world are attending the academy. It is a very intensive and competitive experience for the musicians and they will learn to play with a full symphonic ensemble, the only time they get to do this in Cyprus. It's a fantastic experience."

The mountainous village is now synonymous with the CyYSO and many tourists, both domestic and foreign are attracted to the area each summer by its musical connection.
Kountouris said that the summer academy will pay special attention to a raft of master classes, wind orchestra, sectional rehearsals and chamber music training, as well as preparing a symphonic programme.

This year, eighty young musicians aged between 9 and 26 years old will participate in the initiative and be guided by experienced teachers. The orchestra will also prepare the concert programme which will be presented at the school during an evening performance which will be open to the public.

The first concert will take place in Nicosia in September and the second in Rome in October.



NEWSBITES

By Bejay Browne


Paphos CID is investigating a fire that destroyed a €20,000 car in Paphos. Police said that the fire broke out at 9.15am in a car that was parked outside the 33 year old owner's house. Evidence was gathered at the scene.



The InterContinental Aphrodite Hills Resort Hotel, is to be rebranded into the Sensatori Aphrodite Hills Resort Hotel Cyprus, as of May 1, 2015, it has been announced.

The Sensatori Aphrodite Hills Resort Hotel Cyprus will be managed by Atlantica Hotels & Resorts.

The announcement noted that the hotel will undergo a winter renovation schedule, with the addition of swim-up rooms and suites, an adult pool area, purpose-built family rooms and other facilities.

The facility will be closed from December 7 to March 31 2015. The resorts other activities will continue as usual, such as, the Aphrodite Hills holiday residences, Aphrodite Hills golf, The Retreat Spa, the Annabel Croft tennis academy and restaurants and bars at the village square.

The chairman of Cyprus Airways, Tony Antoniou, has resigned over allegations that he charged personal expenses to the airline and had not followed proper procedures when assigning a project, according to a government statement.

His resignation was accepted by President Nicos Anastasiades despite an investigation which found no incriminating evidence against Antoniou.
The statement said: "It appears that Mr. Antoniou had not acted with malice or the intention to make personal gain."


EasyJet founder Sir Stelios Haji-Ioannou has announced the opening of the 6th competition Bicommunal Cooperation Enterprise Awards 2014 (Stelios Award for Business Co-operation in Cyprus).

The event is organised by the Stelios Philanthropic Foundation and aims to promote business cooperation between Turkish Cypriot and Greek Cypriots.

An awards ceremony will take place in Nicosia in October where Sir Stelios will award 10 industry groups $10,000 each. The deadline for applications to participate in the contest will close on 15th of September 2014.

For further information www. stelios.com




Tala cemetery full for ex pats

By Bejay Browne

A grieving British woman who has lived in Tala for a more than a decade was refused permission to bury her late husband in the village cemetery because the few plots left are being saved for local Cypriots.

The situation has deepened the widow's distress, led to accusations of discrimination, and reinforced long-standing demands for cremation to be allowed in Cyprus.

The woman said she wanted her husband – who recently died unexpectedly – to be buried in Tala because the couple and their adult children felt like part of the community and regard the picturesque Paphos village as home.

"We were asked to suggest three choices," the widow said. "Our first was Tala because we live here and know everyone, the second was the village of Anavargos and the third was the municipal cemetery in Paphos. We were told by the undertaker, 'sorry we can't put your husband in Tala as there is only space left for Cypriots.'"
The deceased was buried in the municipal cemetery in Paphos.

"I was upset as I've lived here for such a long time and I thought we were part of the community," the woman, who asked to remain anonymous. "If there was a crematorium we would have chosen that option."

John Moffat, a local council member, described the situation in Tala as disgraceful. He said that a recent extension to the existing cemetery was paid for out of taxpayers' money and should therefore entitle everyone to the right to be interred there.

According to Moffat, the new extension was created over a year ago and 27 plots were formed. Twenty-two still remain unused, he said.
"Why is it that only Cypriots can be buried here? I have been paying tax for more than 20 years and, like many others, I'm shocked by the discrimination shown against foreign residents."

However, Tala community leader, Areti Pieridou, rejected any charge of discrimination and said only 10 or so useable plots are left in the village's cemetery. Priority will be given to people who were born and live in Tala, she added.

Pieridou said that the situation highlights the urgent need for a new cemetery to be built to serve the entire community – a development she has been pressing for.

She argued that with space for just a few graves left, it would be wrong for the council to tell a local from Tala they could not be buried in their home soil.
"If we had allowed everyone to be buried here, we would be full by now," Pieridou said. "Where Cypriots are buried is a big issue for them, whereas it makes no difference to people who have come to live in Tala if they are buried here or somewhere else."

Pieridou insists she is not being insensitive. "I understand people feelings but there is nothing we can do until we obtain our permit for another cemetery," she said, adding that the old cemetery's title deed states that the land belongs to the Greek Orthodox Church community.

The Tala community board, Pieridou continued, will be sending out bills to help fund the new cemetery, payable by December this year. Each household will be charged €20 a year.
"We have earmarked a suitable plot of six donums of land but there are a number of obstacles to overcome.

Pieridou said that the lack of space highlights the need for a crematorium in Cyprus because it would solve many of the problems facing foreign residents.

Clive Turner, a Cyprus resident who has been campaigning for a crematorium for years, could not agree more. "Over the last ten years I have compiled a list of over 9,000 names of people supporting the building of a crematorium," he said. "But there doesn't seem to be any real recognition by the authorities or the Church that the community has vastly changed."

His growing campaign urges Cyprus to join the rest of the EU (Malta is another exception) by establishing a crematorium to serve the tens of thousands of people who are not Greek Orthodox.


Friend's hospice seeks new nurse

By Bejay Browne

The Friends hospice in Paphos is looking to employ an experienced palliative care nurse to join its team of dedicated staff as the facility continues to expand at its new location.

The hospice is an established charity which has been operating for 8 years providing free of charge palliative care to the community.

Chris Jones, president of the Friends hospice foundation said that since moving to Saint George's clinic last October, the facility has already treated over 100 patients. The hospice's self contained wing has six beds for patients, with a seventh available where necessary.

The hospice opened in 2006 with two allocated beds in the general ward at the Evangelismos Hospital in Paphos. In 2007, they moved into a separate wing and provided care for up to seven patients at a time, until July 2013.

Jones said: "We have looked after close to 1,000 patients since we opened in 2006.The new nursing position will bring the current team to nine; we have expanded since we started at the new premises."

The Friends hospice provides palliative care to patients with life limiting illnesses and their families and is funded through their shops, donations and fund raising events.

"Most of our income is funded by the income from our hospice shops."
They now have five shops, found in Chlorokas, Kato Paphos, Polis, Pissouri and Yeroskipou, which opened earlier this year.

Jones said that fundraisers, businesses and individuals also show tremendous support for the hospice.
He said: "We have around 130 volunteers' altogether and none of this would be possible without them."

The hospice foundation president noted that they budget for annual costs of 300,000 and noted that total costs are coming in at just under that amount. He added that the biggest cost is staff wages.

"In the past we have received an occasional small grant from the government of between 2,000- 5,000 Euros. This doesn't go very far."

Currently, about 50% of the hospice's patients are day patients. These are people, who meet the criteria for palliative care, who need treatments such as blood transfusions, rehydration or infusions. In some case their treatment may only take 15 minutes, said Jones, and they attend the hospice instead of having to travel to Nicosia on the PASYKAF bus.

"The equipment we use for these treatments is from the BOC oncology centre with which we have a close cooperation."

The hospice gives peace of mind to people and it's a privilege to be part of it, said Jones. "No-one wants to think about terminal illness but we are here when people need us."

He added that all of the staff ensures that people maintain their dignity and respect and are often able to go home to their family after treatment.

"We have never turned anyone away," he said.

Please send CVs to mail@paphoshospice.org or call 97789590
Baby Zoe celebrates first birthday

By Bejay Browne

A baby girl who underwent a life saving heart operation in Israel last year has celebrated her first birthday.

When the baby's desperate plight was covered in the press in 2013, the health ministry stepped in and offered to pay the costs of the heart operation.

Zoe Dhull was born at Paphos general hospital on June 25 last year, two days later she experienced severe breathing complications caused by a heart defect which had gone undetected during pregnancy. First time parents Virginia Taguinay, 32, from the Philippines and John Dhull, 31, had planned to leave Cyprus shortly after their daughter's birth.

Instead, the baby was rushed to the Makarios Hospital in Nicosia; her parents were given less than two weeks to raise the 15,000 euros needed to pay for a vital cardiac catheterisation procedure in Israel, as the operation cannot be done in Cyprus. The couple had no private medical insurance and was unable to obtain a state medical card, which would have covered the baby's medical expenses, as their visas had expired.

At just three weeks old Zoe underwent the procedure on July 7 at the Schneider Children's Medical Centre in Israel.

Her mother said: "We are so grateful for Zoe every day and we chose her name because it means 'life' in Greek."

Zoe is now crawling and being taught four languages by her parents, Greek, English, Hindi and Filipino.
.
Although she is doing well, Zoe may have to undergo a further procedure to keep a valve to her heart open, said Virginia. The one year old still has to visit the Makarios hospital in Nicosia every few weeks; her next scheduled visit is in August.

Her parents are still hoping that the ministry of health will grant Zoe a medical card to cover other costs of almost 7,000 euros which have been incurred due to the baby's poor health. These include hospital stays at both Paphos general hospital and Makarios hospital, as well as medication which kept the baby alive. The family has no way of covering these costs on their own.

The family is living on the poverty line, reliant on help from friends, a local church and Solidarity charity.
Despite their difficult living circumstances they said they remain a happy family unit and thankful for the gift of their daughter's life.


New flights for Paphos

By Bejay Browne

Budget airline NIKI will begin flights from Vienna to Paphos from March next year, expanding its stake in the Cypriot market.

The airline has been operating a similar flight connecting Larnaca and Vienna since late January this year.

The new route will be operated by the airline, also known as flyNiki, which was founded by Formula One racing legend Niki Lauda in 2003. He sold his stake to fellow shareholder airberlin in 2011.
The twice weekly flights will connect Paphos airport with Vienna, opening up even more routes to Cypriot travellers. Niki is the fastest growing airline based in Austria and the scheduled flights to Paphos every Tuesday and Thursday will be available to purchase at their website www.flyniki.com .

The new route will add a capacity of around 12,000 seats. The inaugural flight is due to take place on March 15, 2015. Although NIKI is often described as a low-cost option, it provides full on-board service, including free refreshments, newspapers and baggage


Family fun days and musical evenings in Paphos old town

By Bejay Browne

Events are underway in Paphos, organised by a recently formed association which plans to reinvigorate Paphos old town.

'Friends of Pafos old town' was formed a couple of months ago with the aim of attracting people back to the heart of Paphos, also known as Ktima.

Member Nasos Hadjigeorgiou, who also heads the Paphos regional board of tourism, said that many events will continue throughout the summer months.
"We want to create a more lively area and where visitors can meet the locals and experience all of the good things the old town has to offer. The committee is planning a number of initiatives in order to make Ktima more appealing to everyone," he said.

The association will offer a variety of events to attract all sorts of people until September and leaflets are being distributed all over Paphos, in particular in tourist areas and hotels. They were also given out to schools as many families visit the area during the summer holidays.

"Every Friday there will be live music events close to the breathtaking sunset spot, as well as wine tasting and beers festivals."

Paphos old town is a shadow of its former glory with shop keepers saying they are struggling, and many are on the brink of closure. They have long been campaigning for help.

A website is currently under construction, said Hadjigeorgiou and a Facebook page has been created to help with the promotion.

A new local gastronomy tasting centre will open in a few weeks and a large craft and cultural centre 'The Place' is aiming to open its doors to the public in August.

To support the area and become a member of 'Pafos Old town\ contact: – Kyriacos Kyriacou (m) 99 683686
https://www.facebook.com/oldtownpafos

Cat park overrun with kittens

By Bejay Browne

Ayios Neophytos monastery Cat Park in Paphos is currently inundated with kittens. Funds are needed urgently need to keep them healthy and find them good homes.

"Generally, the culture in Cyprus means that cats aren't being spayed or neutered and if things continue as they are, there will be serious problems in the near future," said park manager Dawne Foote.

The park has become popular with visitors from both Cyprus and abroad with the monastery cats gaining recognition world wide. The park is almost full to capacity, and Foote says that her biggest fear is that volunteers will soon be forced to start turning cats away.
"But this will only lead to cats and kittens being dumped outside the park and will cause complaints from residents and could lead to them being run over."

Volunteers at the cat park take one or more cats to be spayed or neutered on an almost daily basis

It costs in excess of 600 euros a month to feed the cats whilst vets bills are around 800 euros a month. A substantial amount comes from supporters and cat lovers in the UK, without whom, the sanctuary would not be able to operate. However, the park manager said that volunteers were finding it hard to keep up with the costs involved.

Contact Dawn Foote 99253430
www.facebook.com/talamonasterycats

Paphos presses for extension to lifeguard hours

By Bejay Browne

The head of the Paphos municipality beaches committee Andreas Chrysanthou said extending the lifeguards' working hours, is imperative to enable better supervision of the beaches and the sea.

"Many people, locals and visitors will be heading to the beach in the coming weeks will cool off in the sea. We are selling the island as a tourist destination, promoting the sun, beaches and the sea and it's crucial that we invest in the lifeguards and increase the budget for this service."

Chrysanthou said that countless people choose to swim in the morning or late afternoon to avoid the sun's strong ultraviolet rays, and he vehemently believes that lifeguards working hours should be extended for a further 3 hours a day across the islands beaches. He said his aim is to have lifeguards on Paphos beaches from 9am to 7.30pm.
"This would have to be done with the help of other authorities as this just isn't possible using only local municipality's budgets."

Currently, the summer working hours are from 11am to 5.30pm off season and 11am to 6.30pm during the high season of July, August and September.

Peyia municipality has three main beaches, Coral Bay, Corallia and St. George's. Coral Bay is one of Paphos district's most popular beaches, with up to 2,000 people visiting the area on a daily basis during the summer months, according to Peyia municipality beaches head Nicos Konnikos.

He described the current position as unbelievable.
"We were unable to place sun beds and umbrellas on coral bay beach on May 1st as there were no lifeguards or buoys in the sea. The government only seems to view the tourist season as running from June 1st until the beginning of October."

Konikkos said that despite the financial crisis, efforts must be made to allocate funds to extend the months and hours which lifeguards are working. He said that even placing supervision on beaches one hour earlier would be a great help.

Chrysanthou said that even without the financial backing of the local district office, there will be an extension to lifeguards hours on Paphos municipality beaches during July and August.

There are 26 or so lifeguards due to work in the entire district and 'Ta Bania' municipal beach in Kato Paphos is the only area to have a lifeguard assigned all year long, as it's popular for winter swimming as well.
Archangel Michael hospice to open in July

By Bejay Browne

A new hospice facility in Paphos will finally open its doors to patients in July at a cost of over 2 million euro's.

After more than a decade of fundraising, general manager of Archangel Michael hospice, Mona Skordi, said that the facility will be fully operational from July 7th.
She said: "We will celebrate the hospice's opening on July 4th, with VIP's such as ministers and supporters being invited. We will commence operation three days later."

Currently the only hospice facility available in Paphos is the Friends hospice which is situated at St. George's clinic. It treats patients with life limiting illnesses from all over the island.

Skordi said that the new state of the art facility situated in Mesa Chorio in Paphos, will be the only of its kind in Cyprus offering palliative care for children as well as adults. According to the manager, the hospice will initially open with nine beds being made available to patients, along with the children's wing, a cafeteria and reception area. A further floor below will remain unfinished at present but will not affect the hospices; operation in any way, she said.

"This floor is separate from the completed project and still needs to be finished. It's hope that it will house further beds for use in the future."

She noted that the hospice will offer free palliative and respite care to patients, regardless of age, nationality, religion or the nature of the illness.

The Hospice's Commissioning Group, which is chaired by Father Carlos Ferrero, is responsible for bringing the new building into operation and managing its funds. They are now in the process of recruiting vital key members of staff.

For further information: - mona@archangel-michael-hospice.com


Authorities warn swimmers to stay away from deadly seas

By Bejay Browne

The head of the Paphos municipality beaches committee has urged swimmers to stay away from a deadly coastline in Kissonerga and Chloraka, which has seen 13 people drown in the dangerous waters in the last decade.

Andreas Chrysanthou said: "This area is still not classed as a bathing area and no lifeguard will be assigned there. I have met with the coastal police and the CTO, in order that all of the precautionary measures may be taken again this year to warn people not to swim there. I hope that this year there are no tragedies."

The beaches head noted that here are huge signs in place all along the shoreline in multiple languages informing people of the dangerous rip currents, as well as red flags. Buoys and ropes in the sea to aid those who get into difficulty will be placed in the coming days. But despite the warnings, Chrysanthou said the only solution would be the construction of costly wave barriers.

In the meantime, precautionary measures will again be taken along the deadly coastline.


No domestic water cuts this year

By Bejay Browne

Despite facing one of the worst years of rainfall on record, the Cyprus government has assured that no domestic water cuts will take place this year. However, the agricultural sector looks likely to face water rationing and up to 14 million euros could be paid out to farmers in compensation.

Despite the lack of sufficient rainfall, Agriculture minister Nicos Kouyialis assured there wouldn't be an adverse effect on the supply of potable (drinking) water.

Water used for irrigation in Cyprus accounts for more than two-thirds of water consumption. In recent years, Cyprus has had to impose rolling water cuts and even had to import water from Greece. This was followed up with the construction of three desalination plants which are capable of producing 160,000 cubic meters of water on a daily basis. But this is a costly solution.

According to the water development department (WDD) only half of the expected rainfall has been recorded so far. A network of 107 dams operates in Cyprus and part of this is the Southern Conveyor Project which carries water from the South West to the South East of Cyprus.

Officials say that problems may be faced in the next couple of years if the amount of rain fails to increase. At present though, the dams are around half full, due to the amount of rain falling over the previous two years.

The minister noted that the government is now considering a long term strategy concerning waste water treatment and reuse.


Abandoned Paphos cinema gets a make over

By Bejay Browne

Plans to give a defunct Paphos cinema found in the centre of the town a 'make over' are being drawn up by the local municipality technical services. The project will form part of the town's Cultural Capital 2017 winning bid. In 2013, Paphos won the international competition to become the European Capital of Culture for 2017, a title it will share with Aarhus in Denmark.

Paphos municipality technical officer and architect, Christos Constantinides, hopes that work will get underway by the end of the year. He confirmed that renovations to the building would be undertaken sympathetically, with no changes being made to the exterior of the building.

He said: "The interior of the old cinema will be reconstructed and a number of separate rooms will be able to house a variety of workshops, lectures and seminars."
The plans are due to be completed within three months. The tender process will then be open to proposals.

Constantinides stressed the importance of the new project, which he says has been lacking in the historical town until now .According to the technical officer, the project will cost around 1.5 million euros.

The one story facility, which is double height, was initially used as the Attikon theatre. Around the year 2000, it was then utilised as the Othello cinema. For the past five or so years, the building has remained closed and unused.

Funds urgently needed for Paphos kidney patients

By Bejay Browne

The renal unit at Paphos general hospital is in urgent need of further dialysis machines to keep up with the demand for the life saving treatment which is being used by an increasing number of patients.

Graham Brown, 64, is one of many patients who need regular dialysis treatment to keep him alive. He is also the treasurer of the Cyprus Kidney Association ex-pats, a non profit charity set up in 2000, with the aim of raising awareness of the plight of local kidney sufferers and to raise funds to purchase equipment for the renal unit. He noted that the ex pat kidney organisation shouldn't be confused with the Cyprus Kidney Association, which was set up in 1984 and concentrates on looking after families of kidney sufferers.

According to Brown, each dialysis machine comes with a 25,000 euros price tag and the registered charity is hoping to raise enough money to purchase at least one in the coming months. The charity has already helped to kit out the facility with all sorts of other equipment, as it was initially operating without even the essential basics.

He said: "Since 2000, we have bought oxygen masks, blood pressure monitors and a crash trolley. More recently, we have donated specialised beds, ECG machine, specialised patient weighing machines and a state of the art portable scanner."

The charity has also provided computers and office equipment for the medical team as well as televisions for the patients to help relieve the boredom of their treatment.

Brown, like many other kidney patients, needs to have dialysis treatment three times a week, without it he would die within days. It takes around 5 hours for the process to be completed each time.

Such treatments clean the patients' blood, remove a build up of toxins and regulate potassium and electrolyte levels which are necessary for a relatively balanced life. These machines artificially perform the same job as healthy kidneys would.

Brown said: "Although the doctors and nurses are doing a fantastic job, there just isn't the money available from the government for the unit."

Instead, the three man association is attempting the daunting task of raising thousands more for the life saving unit. Brown says they are appealing members of the general public who would be willing to hold fundraisers or to help raise cash in other ways.
The association is also organising a sponsored marathon row and a summer fun day in the coming months to help raise a large chunk of the total cash needed.

Graham Brown- The Cyprus Kidney Association ex-pats 99244679
www.cypruskidneyex-pats.webs.com
Time running out to help Dani see

By Bejay Browne

Time is running out for the family of a Paphos toddler blind since birth, as they have just a couple of weeks left to raise the thousands needed to help him see.

The two-year-old was born blind and his family is racing to raise the final €5,000 they need to help give sight to the toddler.

Iordanis (Dani) Demetrof born in March 2011 has already been treated in Thailand at a cost of €28,000. He needs three such treatments and promises of funds to cover the shortfall of the final €5,000 for the second trip haven't materialised.

Family friend, Nadia Frangeskou said :" The family wishes to pass on their thanks to the public for coming forward to help Dani, as regular small donations are being made into the account and every little helps."

But, she added that despite promises to pay the outstanding amount by a company which was made after meeting the family and examining all of the relevant paperwork, the final 5,000 euros needed remains outstanding.

The family friend explained that although the operation isn't scheduled to take place until April, due to the bank restrictions, the family needs to raise the amount needed as soon as possible and send the 7,500 euros still owed in two separate payments, as no more than 5,000 euros can be transferred at any one time. So, if they send 2,500 now they must have the amount in place to know they can transfer it in March to secure the operation.

Frangeskou noted that the uncertainty of the situation is very stressful for the family as they are worrying that Dani may miss his chance. Initiatives have so far been organised by a variety of local groups and charities, including Children's Smile Cyprus, but this is still not enough.

Since his first treatment Dani's sight has slightly improved in one eye and he is now able to react to light stimulation. His family believes that by completing all three treatments, Dani will have a real chance of being able to see.

Rafaela Dimitrova, Dani's mother, said that just months after his birth he was diagnosed with severe optic disc hypoplasia by a specialist at Great Ormond Street Hospital in London.

Numerous tests at a specialist ophthalmic eye centre in Limassol discovered the baby was unable to 'fix or follow'. He also showed no response to bright light and had roving eye movement. More tests took place at Great Ormond Street Hospital in the UK where he was finally diagnosed as blind.

The first stage of Dani's treatment was carried out successfully in Thailand at a cost of around €28,000. The second phase will take place on April 20.

Family members have raised about €16,000 in total, while another €7,000 has come from fundraising events. The final €5,000 is urgently needed to ensure he gets the next phase of his treatment.

Dani's family members speak little English, but do have friends who are able to translate. They understand Greek.

To contact Dani's family email:- dany_boy701127@abv.bg

Donations can be made at Laiki Bank (this account is held at the 'good' bank after the split into good bank/bad bank) – Account number 35000511403



Paphos says goodbye to local writer

By Bejay Browne

Family and friends attended the funeral of UK born writer Sheila Hawkins at Neo Chorio church, amid tributes pouring in for the much loved local personality.

The author died at the Friends hospice.

Sheila Hawkins is best known for her 'Back of Beyond' trilogy, (comprising The Back of Beyond, Beyond Our Dreams and Beyond Compare) in which the author conveys her love of Cyprus, her family's experience with traditional Cypriot village life and the unspoiled nature surrounding the village she so loved. Beautiful illustrations are provided by her husband Harry Hawkins, a keen artist.

Spokesman for the Friends hospice Colm Connolly said: "I had the pleasure of meeting Sheila on a number of occasions. She did so much to help so many local charities, not just the Friend's hospice and she loved everyone. She had the ability to get on with all types of people, and for her everyone seemed important."

According to the author's background highlighted on her Amazon page, Hawkins was born in Torquay and went on to become a swimming teacher. She later met and married husband Harry and the couple had two children, Karen and Jeremy.

The pair first lived in Cyprus in 1971 when Harry- a Flying Officer in the Royal air force- was posted to RAF Episkopi. Following the invasion of Cyprus, the pair moved back to the UK where they remained until 1980.But a deep rooted love for the island remained.

The author's husband was again posted to Cyprus as a senior education and training officer at RAF Akrotiri.

Three years later, the couple bought a piece of land in Neo Chorio, close to the unspoiled area of the Akamas. It was here they later built their home and the author took up writing about her experiences.



Billions in foreign investment proposed for Yeroskipou

By Bejay Browne

A massive project being proposed by foreign investors could see around 7 billion euros being invested in Yeroskipou.

Mayor of Yeroskipou Michael Pavlides confirmed that the project titled 'Ra' after the Egyptian sun god could get underway by the end of the year- if all of the relevant permits and licenses are forthcoming.

Pavlides, who along with Yeroskipou councilors are backing the project said: "This is a very exciting proposal for Yeroskipou and Paphos as a whole, as it will help lift the local economy and create thousands of new jobs."

The proposed project will include; a marina for 500 boats, an art academy, an aquarium, three large hotels, apartment complexes and other buildings. The mayor pointed out that the investors have a proven tack record and have built a number of similar successful projects in other countries.

"During the construction period around 6,000 people will be employed and when the project is finished and up and running it will employ close to 10,000. It's an enormous project and a great opportunity," he said.

According to the mayor, the investors are currently undertaking an environmental impact study and the relevant government departments are examining the plans ahead of permits being issued.

"I believe the permits may be issued in a matter of weeks which means work could start before the end of the year. It will take four years to complete."



Zingers kick start fundraising for charity

By Bejay Browne

A Paphos choir which raised thousands for a local charity last year has vowed to beat it this year with the help of a dedicated calendar.

The Paphos Zingers collected €13,400 for the Paphos cancer patients support group- CSPG in 2013 and this year they hope to better this amount. The Zingers are an amateur Paphos based choir which was founded in 2010, they help to raise much needed funds for local charities.

Zinger member Karen Roe said: "This is the third year we're supporting the CSPG as they are a great charity, they aren't government funded and the work they do is close to all of our hearts."
Some of the choir members are cancer sufferers, or have family members or friends who have been affected by various forms of cancer.

The Cancer Patients Support Group supports the Cyprus Association of Cancer Patients and Friends (PASYKAF) through fundraising. They help to provide numerous services including free home care nursing, psychosocial support, travel to the oncology centre in Nicosia and a free helpline.

The forty- three strong member choir will kick off this year's fundraising programme in Paphos with two dates in March. They will follow this up with a special performance of their new show in Polis Chrysochous in April

"Stage and Screen 2" will feature new material including songs from West End shows to songs from the movies, said the Zinger.

Roe said: "We are hoping to raise at least 15,000 Euros this year- and as well as singing we will sell a Zingers calendar in aid of the charity."

The first performances of the new show will be held at the Kefalos Beach Hotel in Paphos at 7pm on March 21st and 22nd. Tickets cost €15.00, all of the proceeds going to the Cancer Patients Support Group. The Zingers will then take their performance to the Polis Cultural centre on Saturday 5th April; tickets are priced at 7.50 euros.

For tickets -Ruth on 99389073.

www.paphoszingers.com

www.cancerpatientssupport.net


Big hats for charity

By Bejay Browne

An Easter bonnet competition is being organised by a Paphos resident to raise funds and awareness for a local charity.

Mike Dawson, 58, decided he wanted to do something different to mark his late mother's birthday this year. Freda Dawson died in the UK of liver cancer in 2009 at the age of 83.

Dawson said: "When I realised that Easter Sunday is on April 20th this year-my mother's birthday- I decided I had to do something special to mark the occasion. We became very close during her final few months, which would've been unbearable without the care, support and kindness of the Macmillan nurses."

Although the Macmillan nurses are based in the UK, PASYKAF nurses undertake a similar home care nursing role here in Cyprus.

Dawson, who has lived in Paphos since 2005, runs the Paphos Folk Music Club, and says he also wanted to show his support for the Cancer Patients Support Group- CPSG- following the death of a close friend and well known local ukulele player.

The event will be held at the Phoenix Social Club in Paphos and will include an Easter bonnet competition and a variety show, based on 'The Good Old Days' format.' All of the proceeds will go to the charity.

Tickets, which will include the food and entertainment, will be ten euros for club members and eleven euros for non members

For tickets and information: - The Phoenix Social Club Paphos- 26272524

www.cancerpatientssupport.net
Devastation at Polis Chrysochous beaches

By Bejay Browne

Five million euros are being sought from the European Union to ensure breakwaters can be constructed following a catastrophic disaster which saw entire beaches disappear in Polis Chrysochous in a matter of days.

Scenes at the hugely popular Polis campsite-one of the two affected beaches- are shocking, as about 40 metres of the beach have literally been sliced away, leaving only a steep ledge leading to the sea.

What's left of the blue flagged beach stretches from the sea side café to the edge of the larger of two life guard towers- the second look out tower has disappeared altogether. The rest of the beach- about 40 metres according to the local mayor Angelos Georgiou- has vanished into the sea.

In addition, a second beach found close to the port of Latsi harbour has also disappeared.

Although officials say erosion of the coastline has been a recogised problem in the area for a number of years, the speed and devastation which has now occurred is hard to comprehend.

The head of the government's public works department' coastal engineers Stelios Zevros said: "There has been a problem with coastal erosion here for some time, but nothing to this extent. This is why there is a master plan in place to construct fourteen breakwaters to protect the coastline."

So far, only four of the fourteen in total have been erected in the sea by Latsi port; phase one was completed in 2010 and Zevros said phase two- which will run from the last breaker up to the campsite at Polis- should have commenced straight after.

"The crisis meant that funds weren't available for this and now it will be very difficult to undertake. We are trying to obtain funds from the EU- we need about 5 million euros- without this help we will be unable to go ahead with the plans in the foreseeable future."

Zevrou added that a team of coastal engineers will now carry out investigations and measurements to find out what exactly is happening.

He couldn't confirm that the devastation has been caused by a recent earthquake which occurred off the coast of Turkey, the after effects of which were felt in many areas of the Paphos district.


Thousands still needed to help Dani see

By Bejay Browne

The family of a Paphos toddler blind since birth is hoping to raise the thousands needed to give him his sight.

Two year old Iordanis (Dani) Demetrof was born blind and his family is racing to raise the final €8,000 they need to help give sight to the toddler.

Family friend, Nadia Frangeskou said: "The family will be very grateful and happy for any help which they can get. They speak Greek but not much English, but if people want to email them for further information, I or another of their English speaking friends will be able to translate."

Dani, born in March 2011, has already been treated in Thailand at a cost of €28,000. He needs three such treatments and his parents only have weeks left to raise the final €8,000 for the second trip.

Rafaela Dimitrova, Dani's mother, said that just months after his birth the infant was diagnosed with severe optic disc hypoplasia by a specialist at Great Ormond Street Hospital in London.

Numerous tests at a specialist ophthalmic eye centre in Limassol discovered the toddler was unable to 'fix or follow'. He also showed no response to bright light and had roving eye movement. More tests took place at Great Ormond Street Hospital in the UK where he was finally diagnosed as blind.

The first stage of Dani's treatment was carried out successfully in Thailand at a cost of around €28,000. The second phase will take place on April 20.

Family members have raised about €16,000 in total, while another €4,000 has come from fundraising events. The final €8,000 is urgently needed to ensure he gets the next phase of his treatment.

Since his first treatment Dani's sight has slightly improved in one eye and he is now able to react to light stimulation.
Initiatives have so far been organised by a variety of local groups and charities, including Children's Smile Cyprus, but this is still not enough.

To contact Dani's family email: - dany_boy701127@abv.bg

Donations can be made at Laiki Bank – Account number 35000511403


New Anglican priest installed in Paphos

By Bejay Browne

A new Anglican priest has been installed in Paphos at a licensing ceremony held at Ayia Kyriaki Chrysopolitissa church in Kato Paphos. His wife was licensed to officiate at the same time.

The Reverend Nic Denny-Dimitriou, took up the position of the Anglican Church of Paphos' new chaplain in a ceremony conducted by the Bishop of Cyprus and the Rt. Reverend Michael Lewis in front of a congregation of nearly 200 people.

The newly appointed chaplain's wife Julia, a journalist, is also an Anglican priest and was licensed to officiate in the Cyprus diocese at the same service.

Warden Gerald Payne said the new chaplain had been selected after the church advertised the position in the publication The Church Times last year.

Reverend Nic, as he likes to be called, is from South Africa and until moving to Paphos three weeks ago had no previous ties with the island.

The 53 year old chaplain says both he and his wife fell in love with Cyprus and felt a move to the island would be an amazing experience for the entire family. He has spent the last 11 years as rector of the parish of Hilton in South Africa. He says he viewed the position as an opportunity to move on, use his skills, and extend his Ministry; at the same time providing an adventure for the family.

The Anglican Church in Paphos was initially started up by a small group of worshipers around twenty years ago and has since grown to include three churches in the Paphos district; Ayia Kyriaki in Kato Paphos (by permission of the Greek Orthodox Church) , St. Stephens' in Tala and St. Lukes in Prodromi.



Animal owners targeted in Tala

By Bejay Browne

The head of the community board in Tala in Paphos is appealing to animal owners to adopt a more responsible attitude, as she says that numbers of stray dogs and cats in the area is mushrooming.

Arieti Pieridou, muktah of Tala village, said that the numbers of stray dogs in particular were posing a problem.

"Increasing numbers of dog owners are letting their animals go free as they don't want them anymore, for a variety of reasons .I believe some may be having financial difficulties. But many of the dogs are also used for hunting and on Wednesdays (hunting is permitted during specified periods in Cyprus on Wednesdays and Sundays) we have the greatest number abandoned."

In addition, the increasing number of dog excrement found on pavements and outside homes and businesses is increasing, she said, not only from stay dogs, but also from irresponsible owners failing to clear up their dog's mess.

"I have ordered some special bins specifically for this purpose which will be put around Tala."

The local council has also placed a number of warning signs around the village.

"If we see a dog and we are able to get close to it, we will ask around to see if we can find its owner; failing that we will take it to an animal shelter," she said.

But it's not only dogs which are causing concern for locals. The numbers of cats roaming the area is also on the increase.
"I would urge cat owners to spay or neuter their cats and to feed them on a regular basis. There are also a number of them are causing concern for businesses in Tala square."

Pieridou said that in particular, complaints had been made about an elderly local woman feeding a group of cats in the square. The matter has already been brought up twice at local council meetings, but an impasse has been reached.

The 70 year old local animal lover, who wanted to remain anonymous, says she feeds the group of cats as they are starving.
"I give them scraps from my home as well as food I buy myself. Along with another Tala resident, we often take the animals to Paphiakos to be spayed and neutered."

She claims that the animals aren't being properly cared for by their owners, who believe the cats can look after themselves by hunting for food.



Help me find my Cypriot Dad

By Bejay Browne

A mum of four has turned to the Cyprus media in desperation as her twenty year long search for her Cypriot biological father has so far failed to uncover his whereabouts.

Bev Gauntlett, 44, says she has been searching for her Dad- who isn't aware of her existence- since finding out she was adopted at the age of 24.

She said: "I found out that I was adopted by mistake. I had a 6 week old daughter and I wanted to frame our birth certificates. My mother kept all of my paperwork and she said she couldn't find it. I decided to save time and hassle, so I went to the local registry office and purchase a duplicate."

To her horror it was confirmed she had been adopted.

Bev, from Surrey in the UK managed to track down her birth mother, Linda Olive Millsom, who had never told her father that she was pregnant.
"She seems to have blocked this part of her life out, which isn't very helpful."

Bev say she found out that she was born on April 1st 1969 and her birth name was Mandy Ann Millsom.

"I am appealing to anyone in Cyprus who can help me to find my Dad. He has four beautiful granddaughters which he knows nothing about. If people were in London, in the West Ealing or Shepherd's Bush area in the 1960's, they may be able to help me."

She said her Dad, a Greek Cypriot, was known as both Christopher and Christos. He is described as a good looking man, about 5″ 6 dark with straight hair, dark brown eyes and an olive complexion. He would have been 24 years old in 1969, and at some point he worked as a chef at the Wimpy in Ealing Broadway.

"In my adoption file, he is described as Greek Orthodox and a very nice man who liked to joke and was always smiling. He had an older brother who was a taxi driver .I think my birth mother stayed at the YMCA for women."

According to Bev, her Dad also had a room in the Shepherd's Bush area and had a relationship with her birth mother for about 6 months. Despite her plight being highlighted in the local London press, so far she says she is no further forward in finding her Dad.

She said: "He is now believed to have left the UK and gone to live in Cyprus. If anyone can remember anything at all, or has any idea where my Dad may be, please contact me."

bevgauntlett@googlemail.com
Paphos hearts of gold winners 2013

By Bejay Browne

The winners of this year's Paphos Heart of Gold Award were a dedicated volunteer who is feeding the needy and a young girl who helps out at the same charity.

Pavlina Patsalou and Isabella Sergiou were chosen by a panel of ten judges and announced by the Patron of the award, Mayor of Paphos, Savvas Vergas, at a ceremony held at the town hall in December.

The two winners were each presented with a solid gold hand crafted heart on a pin, which is theirs to keep and which is created and donated every year by Aphrodite jewelers, a certificate and a bouquet of flowers.

Vergas said, "It is so lovely to see so many of you here today and I want to thank you all on behalf of the municipality and the council of Paphos for everything you are doing for our city. So many of you are doing wonderful things to help the community, such as fund raising and volunteer work .I also congratulate those of you that are coping with difficulties in your lives with a positive attitude."

He added: "Being involved with this award brings me great pleasure every year and it's a very special experience for me to meet you all. You are all an inspiration and you are all winners."

Winner of the adult award, Pavlina Patslaou, co- founded the registered charity Solidarity, along with Paphos councilor George Sofokleous about two years ago. Prior to founding the charity, she started out by helping one family and then operated a food drive out of her children's clothing shop. The numbers grew and Sofokleous offered to help. The charity was formed and they now help around 850 needy families in Paphos.
Patsalou continues to work tirelessly to feed the hungry and needy families of Paphos- ensuring babies get milk and nappies and adults have something on their tables to eat.

Isabella Sergiou was this year's winner of the junior section. Isabella is 8 years old and helps out at Solidarity charity every day after school. She hands out food, arranges fundraising at her school and collects clothes. She also goes door to door to sell tickets for fundraising events.

Nominees, their families and friends, members of the judging panel, and representatives of the social welfare committee and local councilors were all present at the ceremony which took place to a packed audience.

This year twenty three adults and nine children were nominated by members of the public.

The youngest ever nominee was also present. At just 5 months old baby Zoe Dhull, who underwent a life saving operation in Israel a few months ago, captured the hearts of the mayor and the audience with her beaming smile.

The community based award, is now in its seventh year and aims to recognise those who have shown tremendous courage, strength and determination, worked tirelessly within the community or for charities, overcome tragedies with a smile or simply been a great help and support to neighbours and friends.

The award is open to everyone who is a resident of Paphos, of all ages and nationalities and aims to recognise those individuals who are extra special in some way.

All of the nominees were presented with a certificate and a flower by Vergas, Christina Smith, the British vice consul, and Maria Zavrou, the president of the municipality social welfare committee, which also provided refreshments at the end of the event.

The annual award, now in it's seventh year, is supported by the Paphos municipality social welfare committee, Aphrodite jewelers, Massiva printing, the Cyprus Mail, Paphos Post, Rock FM and Nektarios photography.

Information and photographs of this year's ceremony is available at the Paphos Heart of Gold Award Facebook page.

https://www.facebook.com/pages/Paphos-Hearts-of-Gold-Award/172641502817020?ref=hl

Movember shave off raises funds for Friends hospice

By Bejay Browne

A charity event took place in Paphos which saw men get rid off their facial hair after a month of growth.

November or 'Movember' as it's now known worldwide- is the 'month of the big moustache'.
The initiative which is gaining momentum every year aims is to help raise funds, and increase awareness of men's health issues, in particular prostate and testicular cancer.

The Paphos event, now in its second year, sees funds being raised in support of the Paphos Friends hospice, which recently opened at a new location.

Chris Jones of the hospice said: "Since we have moved to St. George's clinic in Paphos in October we have already treated 20 patients. We are so grateful to the event organisers and to all participants that they chose to raise funds for us again this year."

The friends hospice is currently the only operational hospice in the district and provides palliative and respite care for people suffering with life limiting illness and support for their families. They have cared for more than 750 patients since they initially opened in 2006.

The 'Movember' event was organised by St George's Football Club, Hector's bar in Coral Bay and Rock FM.

Men taking part in the event gathered sponsorship to grow their moustaches for the month and then shave them off in aid of the hospice. More than fifty men took part.
Participants had their marvelous moustaches shaved off by Pete Jenkins, a Peyia barber, who also grew a moustache for the month.

Tony Theophanides of Hectors' bar, said organisers were hoping to beat last year's total of 3,000 euros which was raised for the hospice.

He said: "During November the men who are taking part in Movember are like a walking advertisement to help to highlight the need of regular medical checkups for us blokes. The whole process is a lot of fun and it's about the lads doing their thing."

A full day of entertainment was on offer with a two hour live radio broadcast by Rock FM, hosted by presenter Jason Collins – who had also grown a moustache for the month.
"I can't wait to have it shaved off, but it's all been for a good cause and I will defiantly do it again next year," he said.

The hospice is now situated in a self-contained, six-bedroom wing at St. George's clinic on Eleftheriou Venizelou Avenue in Paphos. The facility's services are free, which is made possible by cash donations, ongoing fundraising events and donations to the facility's four charity shops.


www.paphoshospice.org
and the Facebook page is www.facebook.com/FriendsHospicePaphos

Neighbourhood watch goes online

By Bejay Browne

The Peyia neighbourhood watch scheme- the first to be set up in Cyprus has launched a dedicated website to help fight against crime and unsocial behaviour.

Peyia Neighbourhood Watch-PNW- was the first such scheme to be initiated on the island almost three years ago. For administrative purposes, it is divided into 15 sectors, each with a coordinator and a deputy who liaise with householders about their security concerns and needs.

Keith Allen, Chairman of PNW, said: "This provides us with an important tool in our efforts to safeguard our homes and the districts in which we live. Already the site has had numerous hits, so it is obviously fulfilling a need for communication and information".

According to PNW, the website was designed by local resident Gill Allen, and it offers up to date news about break-ins in the municipality of Peyia. It also highlights warnings about potential risks to households, which PNW says is based on information supplied by Peyia police and local residents.
As well as detailed advice on protecting homes and property, the pages are clear and easy to follow and they offer vital details about how to contact various emergency agencies. There are pages in Greek, Russian and English.
PNW was the first such scheme to be set up in Cyprus in 2010. According to Allen, an initial membership of 200 households has grown to more than 700 homes registered for the free service.
Following its success, other similar operations are being set up across Cyprus. The initiative is also supported by community policeman Spyros Pentaras

www.pegeianeighbourhoodwatch.com


Free clinic in Paphos

By Bejay Browne

A free clinic to help those in need has officially opened in Paphos. The initiative is part of an island wide scheme being offered by humanitarian organisation Volunteer Doctors Cyprus.

Similar clinics are also offering free services in Nicosia, Limassol and Polis Chrysochous. Further clinics will soon be opened in other areas of Cyprus.

The first free clinic was opened in Nicosia in March, while the Limassol clinic followed in May and the Paphos and Polis Chrysochous clinics opened in June.
Although the Paphos clinic is operational, the official opening took place in December.

The clinics are operated by volunteer doctors and nurses who offer free medical services to people in need. The unemployed, those on a low income and pensioners are all eligible for a variety of medical services.

The organisation said that the clinics accept patients who are facing all sorts of medical problems including cardiology, pediatrics, pathology and general medicine.

Volunteer Doctors Cyprus is best known for its action all over the world, offering support to people who are suffering the effects of wars, natural disasters, chronic poverty and diseases, by offering them medical treatment. They recently announced that the economic crisis in Cyprus had led them to become active Cyprus by opening free clinics.

The free clinics programme is being overseen by Dr George Makriyiannis, who collaborates closely with the head doctors in each city. The doctor in charge for Paphos is Dr. Yioula Loizidou.
The Paphos clinic is situated next to Dasoudi Park, close to Carrefour supermarket.

Contact Numbers: Nicosia – Dr George Macriyiannis 99435735, Limassol – Dr Andreas Prokopiou 99448347, Paphos Dr Yioula Loizidou 99585033, Polis – Dr Marios Theodorou 99393226.

The Pancyprian contact number for the free clinics is: 70009990


Snake George discovers new snake in Cyprus

By Bejay Browne

A well known snake and reptile expert claims to have found a rare non- venomous snake in Paphos which has never before been seen In Cyprus.

Hans-Jorg Wiedl, who is better known as Snake George, is known for rediscovering the Cyprus grass snake, which was believed to have been extinct for the last 40 years. He also proved that the blunt nose viper lays eggs and doesn't give birth to live young as had previously been thought.

He now believes he has uncovered a species of snake which is new to the island.

He told The Post: "I have discovered a tiny snake which I believe to be a black- headed dwarf snake. This type is most commonly found in areas from Syria to Israel and a sub species has been seen in Turkey."

The expert says he doesn't want to announce exactly where the snake was found, as he is currently carrying out further research in the area.

Snake George, who has written a book about the snakes of Cyprus, was contacted by a British resident of the Paphos district, after he had examined the book and hadn't been able to identify the creature.
He said: "I often get calls to remove snakes from people's properties, so I wasn't expecting this to be anything special but it certainly was."

Once he examined the tiny creature, he says he remembered seeing the same snake in a museum in Syria in the 1970's.

The reptile expert say that the female snake is tiny, measuring about 11 cms, he says she will grow to no more than 30cms.He added that its impossible that the creature was transported to Cyprus in someone's luggage or by other means as she is so young.
"This resident only has one neighbour, the surrounding area is in a natural state, and neither of these people has travelled recently. So they couldn't even bring her in to Cyprus accidently in their luggage."

He noted that the surrounding terrain is a perfect habitat for the snake and he hopes to find more examples of the species in the area.

Snake George is caring for the snake whilst studying it further and feeding is with ants, baby termites, grasshoppers, spiders and praying mantis.

Snake George 99 987685

Unique project to celebrate women gains momentum

By Bejay Browne

A Paphos based artist is looking to the public to help with a project which aims to share stories of extraordinary local women who have made a contribution to the community in some way. Although it's gaining momentum, artist Mary Chojnowski, 40, who came up with idea, says more people are being encouraged to get involved. The project will see women celebrated in a unique mosaic workshop project.

She said: "I started this project a few months ago and it's really coming together in exciting ways. It's lovely how it's drawing together women from all over Paphos; different groups with very different ideas."

The artist, who speaks both Greek and English, says she still needs help from all members of the local community, individuals, groups, schools and clubs. She is well known locally for her work with community groups and has also produced numerous mosaics for public areas.

The aim is to gather interesting stories, especially modern examples of inspiring women. As Paphos will be the European capital of culture in 2017- the artist says her idea will highlight the inspiring stories about local women. The project will see a mosaic made of each of the heroines' faces with their story printed next to them.

A number of local community councils are also supporting the project - both Kouklia and Kallepeia in the Paphos district have donated funds to work with their village children on various ideas.

According to Chojnowski, a number of well known local female artists are already participating.

She said: "I visit the Paphos Day Centre on a weekly basis. Together with people suffering from a variety of psychological problems, we are making a mosaic to celebrate the renowned female naive artist Thraki Rossidou Jones. We chose her because she represents a Cypriot woman's success in art; her pictures are lovely colourful scenes of serene Cyprus."

Chojnowski added that she finds this artists life story interesting and along with all the female heroines- it will be featured as part of the final exhibition.
Other prominent females involved in the project include Leni Photi, a female environmental scientist and teacher, who Chojnowski says is an inspiring woman in her own right.

The artist also plans to work with the Margarita Liasidou Foundation which opened on September 15, 1992 and provides care and help for adults with disabilities. It was founded by Ismini Liasidou Saul, in memory of her disabled daughter Margarita. Ismini passed away last year, at the age of 92.
"Her story is a wonderful example of a woman's tenacity, deep instinct to care and determination to build this centre for Paphos. She is a well loved local figure and I'm hoping we might find a generous local sculptor to join us."

A number of other local artists and musicians are all offering support as well.

When completed, the work will be put on display for the public and donated to the community, so that it can remain on display indefinitely.

Chojnowski is inviting everyone who is interested to take part.

Contact: – Mary Chojnowski leighmary2@yahoo.com 99595385.



PAPHOS HEARTS OF GOLD AWARD 2013- deadline approaches

Nominations for this year's Paphos Hearts of Gold award 2013 will close on Friday December 6th. The annual community award is now in its seventh year and aims to recognise those who have shown tremendous courage, strength and determination, worked tirelessly within the community or for charities, overcome tragedies with a smile or simply been a great help and support to neighbours and friends. The award is open to everyone who is a resident of Paphos, of all ages and nationalities.

Each year all of the nominees are invited to attend the ceremony, which takes place at Paphos town hall each December. The awards are presented by the Patron, Paphos Mayor Savvas Vergas.

This year's ceremony will take place at the town hall on Friday December 13 at midday.
Successful nominees will be presented with their solid gold handmade heart- created and donated by Aphrodite Jeweller's – winner's certificate and a bouquet of flowers. There are two categories: the Junior Heart of Gold award for those under 18, and the Heart of Gold award for adults. All of the nominees are presented with a certificate and a flower.
Nominees are invited along with either members of their families or friends, to join members of the judging panel at the ceremony where the mayor will announce the winners.

Nominations can be made by members of the public via the email below. The award also has a dedicated Facebook page.
The annual award is supported by the Paphos municipality social welfare committee, Aphrodite jewellers, Massiva printing, Nektarios Photography, the Cyprus Mail, Paphos Post and Rock FM.

Nominations must be received by Friday December 6h and can be made by emailing: paphosheartsofgold@mail.com

The Paphos Hearts of Gold Facebook page is:
https://www.facebook.com/pages/Paphos-Hearts-of-Gold-Award/172641502817020?ref=hl


Road safety charity to open first shop

By Bejay Browne

A non-profit making charity committed to improving road safety on Cyprus' roads will open its first charity shop in Paphos in December.

RoADAR Cyprus is part of 'The Cyprus Advanced Driving and Road Safety Network,' a voluntary, non profit organisation made up of individuals and companies with specific skills. They aim to reduce fatalities and injuries on the islands roads through increased knowledge and driving awareness.

Steve Tucker, an advanced driving and riding examiner and tutor, of RoADAR, is a retired British traffic policeman (and advanced police driver) who worked in London. He says he was spurred to continue his passion for road safety in Cyprus after witnessing a number of horrific accidents in the UK, many of which could've been avoided by heightened driver awareness.

The charity has already worked alongside the Cyprus police as well as the road transport department other organisations committed to improving road safety, Tucker says he hopes this will continue in 2014, when budgets allow.

The ex policeman says that one of the main aims of RoADAR Cyprus is to continually be at the forefront of road safety initiatives by improving driving and riding skills. This will be achieved, he says, by offering road safety information on their website, educating school children through lectures and competitions and holding seminars and events for the public.

The charity shop will open on Monday 2nd December 2013 in Kissonerga, Paphos.

Further information is available on their facebook page or at
www.cyprusdriving.net Steve Tucker 97727635

To volunteer at the new shop or to donate items contact-Teresa 99030932.



Events breathe life into Paphos old town

By Bejay Browne

Two major streets in the heart of Paphos old town are being designated pedestrian only zones and the site for numerous cultural events for a few hours each Saturday up to the end of December.

According to a Paphos municipality spokesman the idea behind the scheme is to help to breathe new life back into the area and create a 'bazaar' type ambience.

He said: "Following a decision by the municipal council, Paphos obtained permission from the chief of Cyprus police to convert the traditional centre of Paphos for pedestrians only and a variety of cultural events, entertainment programmes, traditional stalls, Christmas bazaars and things for children."

Makariou Avenue and Evagoros street in Paphos old town will be closed to vehicles and a designated pedestrian only zone each Saturday from now until the end of December from 9am- 2pm.

The spokesman said that as far as he is aware, this is the first time that such an initiative has been undertaken- on a regular basis- by the municipality.

The action has been welcomed by locals, tourists and shopkeepers alike who say that although the imitative is helping to bring customers to the area, more needs to be done.

According to Paphos municipality, there is a master plan to rejuvenate the entire old town centre, which is one of the projects being considered to be put forward for funding from the EU.

The spokesman said : " I believe more must be done to bring life back into this important area of Paphos, motivation must be there for the abandoned shops to be reopened, we are going in the right direction but it is not easy. It may be possible to obtain money through structural funds of the EU and the project would be a cooperation between the two- as it's impossible for the municipally to fund the ambitious plan on its own."

The forthcoming events will include traditional food, art and music events, photo exhibitions and handicraft workshops.



Greens promote peace

By Bejay Browne

The Cyprus Green party presented an event to mark the work of a Turkish Cypriot peace pioneer in Paphos.

A documentary film by Panikos Neokleous titled, "Memories" highlights the life and work of Dr Ihsan Ali, who was born in 1904 in Vretsia in Paphos, was shown at the Paphos house of art and literature.

The screening was opened by Green party MP George Perdikis.

Linda Leblanc, Peyia councilor and green party member said: "Ihsan Ali was a medical doctor who was heavily involved in promoting peaceful dialogue and he was way ahead of his time. This documentary is bilingual- Greek and English- and is a free event which is open to the public."

She said of the visionary: "I believe that he worked closely with the Greek Cypriots and helped to save a number of them from the Turkish Cypriots, this was in the 1960's- before the troubles of 1974."

Ali died in 1978 but is still hailed as a pioneer of peace by many.

Leblanc said: "It's important to remember the people who believed in a peaceful community which would be of benefit to Cyprus as a whole. People now need this message more than ever, they need to know that progress is being made and that we are building on the great work that these pioneers did before."

After graduating the University of Geneva., Ali set up a medical practice in Paphos in 1934, where he worked for many years as a doctor. He was involved in politics and the local Paphos community, where he became a municipal councilor, the chairman of numerous clubs and also founded the Turkish Cypriot Cultural Society.

In 1970, the humanitarian was appointed by the late President Makarios adviser to the President and said that his ideal was to make Cyprus the 'Switzerland' of the Middle Eastern region- and a place where all 'Cypriots whatever language they spoke, religion and ethnic origin, considered their island as their home country.'
A gift of love this Christmas

By Bejay Browne

Two Paphos women are appealing to the public to help to fill hundreds of shoeboxes with Christmas gifts for needy children of the area. They also require knitters and quilters to help make baby blankets and jumpers, mostly for children.

The initiative is called 'A Gift of love' and is the idea of two Paphos based women, Jenny Kelly and Emma Yianni, acting on behalf of Solidarity charity of Paphos. The charity is currently struggling to feed hundreds families of the district, who without their support could starve.

Pavlina Patsalou (who heads up the charity with George Sofokleous) said that baby blankets and jumpers and woolens, mostly for kids were needed.
"We also need to try and collect shoeboxes for Christmas for about 300 children so far. There may be more by December," she said.

'Any help which the public can give will be really appreciated," she added.

The volunteers say they only have one month to collect as many decorated and filled boxes as possible before the beginning of December, when they will be handed over to the charity.

The pair says that giving a gift to these children will help to prevent them from feeling isolated and ensure they feel loved and cared for. The idea is to decorate a regular shoe box and lid and fill it with a selection of toys for children of three different age categories. Boxes must be clearly marked if they are for boys or girls and aged between 3-5 years, 6-11 years and 12–15 years.

Kelly said: "It's our aim to try and give each needy child a shoebox this Christmas to ensure that none of them go without."

She added: "I know that it's a lot to ask, but we are hoping that the community will come together and show these children that they are special and loved and get involved in the act of giving to a child."
The volunteer said: "Although Christmas is a Christian celebration, we see it as a chance to bring gifts to children of all faiths who would otherwise go without."

The shoe box needs to have a separate lid and each part needs to be decorated. Then, depending on the sex and age of the child, a few gifts are placed inside. People may obviously put in any appropriate gifts they want, but Kelly suggested that a box might contain, a toothbrush and toothpaste, soap and a flannel, a ball, doll or small game and a hat and gloves.
She said: "It might seem odd to suggest these basic toiletries, but for some people living in poverty- they are luxuries they usually have to share."

The volunteers will pick up the boxes from the designated drop off points around Paphos (a full list is available at their webpage) and check the contents before taking them to Solidarity charity for distribution.

"We want each box to be of a similar standard so it's fair for each child. We can't give one with a couple of things in it and others stuffed full of toys." She continued: "We would also suggest that only items which will bring joy are placed inside- no guns or other warfare items."

The volunteers have set up a webpage which explains about gift ideas for the children, decoration ideas for a shoebox and the appropriate downloadable labels for each box.
She said: "People who would like to take part in a gift of love can also download a copy of our instruction and information sheet."
As well as filling shoeboxes, people are also needed to knit blankets and sweaters. Quilters are being invited to join in as well.
She added: "We really believe that together we can make a difference."
Jenny Kelly 9762 9085; Emma Yianni 9918 2230 agiftoflovecyprus.org

Paphos heart of gold award 2013 - Nominations open

By Bejay Browne

The nomination process for the seventh annual Paphos Hearts of Gold award 2013 is now open.

Last year saw sixteen adults and seven children being nominated by members of the public. The winners of the Paphos Heart of Gold Award 2013 were a dedicated volunteer and a determined young boy.

Vasia Ioannou and Jason Bruce-Souster were chosen by a panel of judges, who said that the decision to pick just one winner in each section was extremely difficult.

Each year all of the nominees are invited to attend the ceremony, which takes place at Paphos town hall each December. The awards are presented by the Patron, Paphos Mayor Savvas Vergas.

The community based award, is now in its seventh year and aims to recognise those who have shown tremendous courage, strength and determination, worked tirelessly within the community or for charities, overcome tragedies with a smile or simply been a great help and support to neighbours and friends. The award is open to everyone who is a resident of Paphos, of all ages and nationalities.

This year's ceremony will take place at the town hall on Friday December 13th at midday.

Successful nominees will be presented with their solid gold handmade heart- created and donated by Aphrodite Jeweller's - winner's certificate and a bouquet of flowers. There are two categories: the Junior Heart of Gold award for those under 18, and the Heart of Gold award for adults. All of the nominees are presented with a certificate and a flower.

Organisers of the event said they wished to thank the supporters of the award, especially in the current economic climate.

"Without the tremendous support of Aphrodite Jewellers in Paphos, who are yet again handcrafting the two solid gold heart pin awards and donating them to us, Massiva printers for providing us with all of the certificates and also the support of the Paphos social welfare committee, who wholeheartedly support the award, it wouldn't be possible to show the community's thanks to the amazing people of Paphos."

Nominees are invited along with either members of their families or friends, to join members of the judging panel at the ceremony where the mayor will announce the winners.

Nominations can be made by members of the public via the email below. The award also has a dedicated facebook page.
"If you wish to nominate someone please send us the person's details which category they are in – either adult or junior- and why you are nominating them- in not more than 100 words. We will also need their contact details along with those of the person that is nominating them. All of the information passed onto us is confidential."

Event organisers say they hope that this year will see even more nominations being made, especially in the junior section.
"We really need the community to get involved, if an individuals name isn't put forward obviously they can't be considered for the award and this is a great way to say thank you to so many inspirational adults and children in Paphos."

The annual award is supported by the Paphos municipality social welfare committee, Aphrodite jewellers, Massiva printing, the Cyprus Mail, Paphos Post and Rock FM.

Nominations must be received by Friday December 6th and can be made by emailing: - paphosheartsofgold@mail.com

The Paphos Hearts of gold Facebook page is https://www.facebook.com/pages/Paphos-Hearts-of-Gold-Award/172641502817020?ref=hl


MARCH organises remembrance service

By Bejay Browne

The annual Peyia Remembrance Service will be held in November in Peyia in Paphos.

Organised by M.A.R.C.H (Military and Retired Cyprus Holidays) a Paphos based non profit scheme which operates holidays for injured or traumatized military serving or non serving personel.

M.A.R.C.H. was set up by Alan Wilson and wife Barbara in 2010 and has already welcomed more than 100 service men and women and their families and careers to the island. The Peyia Remembrance Service will be held as usual on the Peyia car park on Sunday November 10th at 10.30am.

Wilson said: "This year we are honoured to have Marianna Proietti attending. She will be speaking as a veteran from Iraq. I understand that she was the first non-commissioned female medic to serve there and the first female to be injured."

M.A.R.C.H has around forty Paphos properties of all types on its books which are donated by owners for the use of injured soldiers and service personnel and their families- in order to enjoy a holiday in Cyprus. The scheme is totally reliant on fundraising and donations and is made possible by a team or about twelve to fifteen volunteers.

The schemes coordinator added: "We would like to thank the homeowners for giving us their homes free of charge, and all of the people and organisations who have supported us this year. Without this type of support we couldn't carry on doing our bit for those who were prepared to give their all for our freedom."

The scheme is also holding a fund raising evening of music, song and dance along with a 3 course buffet dinner at the Pentaras Restaurant in Chlorakas in Paphos on Friday 15th November.

Wilson said: "We are privileged to have our Patron, Chris Mercer, singing for us. She is an international country and western and gospel singer and songwriter and really has a heart for helping our wounded. We would love to have the publics' support at a great evening."


Tickets for the musical evening and dinner on November 15th are priced at €25.
Alan / Barbara Wilson 99850355/99818640

www.march-cy.org

Friends hospice reopens

The Friends hospice in Paphos has reopened and has admitted its first patient after recently moving to a new location. The facility was licensed by the ministry of health in October.

"We are pleased to be able to provide hospice care for our first patient at the new location and we have such wonderful and dedicated staff, volunteers, fundraisers and supporters," Friends hospice spokesman Colm Connolly told the Paphos Post.

Chris Jones, President of the Hospice, added: "We have been very aware of the desperate need for palliative care in the Paphos region, so it's with a great sense of relief that we are now functioning again."
The Friends hospice, currently the only operational hospice in the district, had until recently been housed in a dedicated wing of the Evangelismos hospital in Paphos. Since its foundation in 2006, the hospice has provided palliative care for people with life limiting illnesses and their families. They have treated more than 750 patients.
The hospice is now situated in a self-contained, six-bedroom wing at St. George's clinic on Eleftheriou Venizelou Avenue in Paphos. The facility's services are free, which is made possible by cash donations, donations to the four charity shops and ongoing fund-raising events.

Fundraisers and volunteers are still urgently required in order to maintain the vital service.

A team of volunteers run the four charity shops in Chlorakas, Kato Paphos, Pissouri and Polis and individuals are being encouraged to hold their own events to help raise much needed cash.

www.paphoshospice.org
and the Facebook page is
www.facebook.com/FriendsHospicePaphos

'Green zone' location reconsidered

By Bejay Browne

Residents of homes found next to a new green zone in Moutallos in Paphos say they are relieved that the ministry of the interior has decided to reconsider its location.
Residents of homes close to the new green zone have been up in arms over the creation of the new dump, saying they knew nothing about the site until a few weeks ago.

Green zones are an alternative to illegal dumping and constitute designated areas where the public can take often bulky rubbish, such as refrigerators, furniture or broken toilets, which then get collected by local authorities. The government aims to set up 38 fenced-up green zones across Cyprus by 2015.

According to residents, more than 1,000 people live in the area on the west side of Mouttalos. The new green zone is 50 metres away from a high school, 200 metres from the Tombs of the Kings road- a popular tourist destination and the Tomb of the Kings – a protected UNESCO site- is also close by. It is also surrounded by houses.

The authorities have now agreed to consult with residents about the location of the green zones, but they have to be completed by 2015 so Cyprus does not lose access to EU social funds. The environment committee asked Environment Commissioner Ioanna Panayiotou to take on a significant role in the process of finding new sites.
Local church to open soup kitchen for needy

By Bejay Browne

A local church will start to operate a soup kitchen out of their new community centre in Paphos in the next couple of weeks.

Before this can happen, the church needs to source a catering sized gas cooker.

Pastor Allan Hodgson of Paphos Christian Fellowship International (PCFI) said as soon as a suitable cooker can be found, the project will be up and running.
"We are appealing to the public to help us find a cooker-it would be even better if we could get it at a reduced rate," he said.

The pastor added that the community centre would open on Sunday September 29th for their first worship: "and then, as soon as we can – and we have a cooker, we will start the soup kitchen," he said.

He said that along with the 50 or so congregation, a decision was made to trust that only people who were genuinely in need would come forward for help. "We don't want to have to check on people's circumstances. There may be those that take advantage, but we must try to do it this way."

The pastor said he hoped the centre's new more visible location would encourage people in need to come forward for help and will also provide a valuable outlet for selling produce from the community garden. The new project is housed in the old Welcome Inn in Kato Paphos.

The garden project, which has been underway in since February, is called 'Matthew 25', in reference to a chapter in the bible; and is manned by volunteers. They grow vegetables and work on the land and eat what they grow. They also give the produce to needy families.

"We need the help of a Cypriot to give us expert advice about when and how to plant our field. We need to get ready for growing potatoes now, which will also be used at the new soup kitchen," said Hodgson.
Some produce from the project will also be sold at the new premises, the proceeds of which will be used to help feed and clothe the poor. The pastor said that a tractor would have to be hired to plough the field for the winter and a pick-up truck was also needed to transport the produce.

"People have been very generous with cash donations and we thank them for that. Six people have also volunteered to help us with the soup kitchen and others have brought along donations of food," he said.

The new community centre will feed the hungry, sell produce from the community garden, hold sales and other events to raise money.

"We hope the new centre will be a place where everyone in the community is welcome, whether you worship with us or not."

The pastor added that donations and volunteers would be welcome.

For more information, contact Pastor Allan Hodgson on 96 217416 or allan1mh@yahoo.co.uk

Aegean announces new flights for Paphos

By Bejay Browne

Aegean airlines have announced that it will operate flights to and from Athens utilising Paphos International airport for the first time next year.

Head of the Paphos regional board of tourism, Nassos Hadjigeorgiou, welcomed the announcement, saying it could only mean good news for Paphos.
"This move is the outcome of many efforts and also by Aegean who recognised a business opportunity at Paphos airport."

According to Hadjigeorgiou, the flights will commence in April 2014.
"Initially the airline will operate two flights a week- this number will increase during the summer season."

The tourism chief said that the operation would help to contribute towards new job opportunities and help to extend the tourist season.

"Aegean's presence will also help the image of Paphos as well as the airport," he said.
The airline is the largest Greek airline and has been a Star Alliance member since June 2010. Aegeans' main base is Athens International Airport in Athens, with secondary hubs at Thessaloniki International Airport, Heraklion International Airport, and Larnaca International Airport.

In addition, Hadjigeorgiou said that the new flights in and out of Athens airport would provide an opportunity for third countries to use Athens airport as a connection to fly on to Paphos.
"This will be of particular benefit to travelers from tourist markets such as Germany and central Europe," he said.

The local tourist head said that the announcement comes at a critical time in the economy of the district.

He said: "We welcome Aegean to Paphos and collective efforts will ensure they experience a successful presence here. We also continue to strive to achieve our goals for penetration into new destinations, increase numbers of arrivals and further upgrade of Paphos airport- and the aim of significant year-round activity."

Hospice founder dies at home

By Bejay Browne

Stephen Willis, the retired chairman of the Friends hospice foundation Paphos died at home on September 26th after a short illness, his family was present.

Stephen, 84, was a driving force behind establishing Paphos' first operational hospice which opened in 2006. Until recently it was housed in a dedicated wing at the Evangelismos hospital. The hospice has now found a new location at St. George's hospital and will take its first patients in a couple of week's time.

The hospice provides free palliative and respite care for patients and their families-with life limiting illnessess.

An emotional Dr.Aristos Georghiou, clinical director of the facility said: "We owe Stephan a lot. Without him there would be no hospice; nine hundred people and their families are so grateful to him. He was a great person and a friend as well- a truly great man and we were very lucky to have him. We must all pray for his soul now."

He added: "I saw him last night before he died and as I held his hand; he told me 'I have been waiting for you.'
Chris Jones, the current president of the hospice said: "I am proud to have followed Stephen who was the founder president of the hospice .I am standing on the shoulders of a giant."

Stephen Murrell Willis was born in Hadleigh Suffolk in 1929. At the age of 8 he was accepted as a choir boy in Christ Church Cathedral, Oxford.

Here he developed his love of singing and Renaissance music. He later attended Bloxham school where he excelled at rugby football as well as Academic studies. After his National Service when he served in Germany as a cipher operative during the Berlin 'airlift' he studied to become a solicitor. He married and practised in Suffolk for several years during which time his three daughters and son were born.

Stephen sang in the Aldeburgh Festival Choir as a counter tenor, later forming a choir from its members. In 1960 he moved to Sussex as a partner in a successful Solicitor's firm and began his choir, The Prodigal Singers- a highly polished small chamber group who gave concerts in the district, sang at weddings of some famous people and even performed in the English church in Paris.

He also loved sailing and with his second wife, Doris whom he married in 1975, sailed each summer in the Mediterranean. In 1975 he was appointed one of the first solicitor Judges, a Recorder, a part time post, whilst continuing his office work. In 1985 he was made a full time circuit Judge. The couple retired to Paphos.

Here Stephen continued his musical activities, organising concerts in Paphos for the Italian Ambassador. For this he later was awarded the honour of 'Cavaliere, Second Class.

As well as singing in the local choirs he organised the Paphos Music Forum, a network to inform the public of musical events.
His family said: "His greatest achievement was to open, with the support of his strong committee, The Friends' Hospice, the first in Paphos."

Stephen had many other interests including walking, foreign travel, playing MahJong, collecting fine old drinking glasses and reading. He loved life, his family and his cellar.

He leaves his wife, four children, two step children, 11 grandchildren and 2 great grandchildren.

At the time of going to press, his funeral was due to take place at Ayia Kyriaki. St. Paul's Pillar at 11 am on Tuesday October 1st.

The family requested no flowers but all donations will go to the Friends' Hospice
Peyia water cuts

By Bejay Browne

Water supply to homes and businesses in Peyia which have outstanding bills are being cut, the municipality said.

According to Peyia councilor, Linda Leblanc, thousands of euros in unpaid water bills is still owed to the cash-strapped municipality.
"The accounts director confirmed last week that week water supply to those who have not paid their bills, will be cut off.," she said.
"Everyone who owed money was sent a letter and given time to pay. This isn't the first time that such a move has been taken; usually when their supply is stopped, people come into pay their bills."

Leblanc said even a number of municipality employees were recently found to have outstanding water bills.
"This is totally unacceptable," she said.

According to Leblanc, Peyia council recently voted unanimously to increase water rates by 50 per cent. This means that residential properties will see the standing cost increase from 15 to 20 euros every quarter. In addition, the tariff for 1-30 cubic metres will double from 20 euro cents to 40 euro cents.

There will also be smaller increases for the other bands."Even with these increases- the water supply in Peyia is still one of the cheapest on the island," said Leblanc. But Peyia municipality is also facing an outstanding water bill of its own, of more than €500,000.

"It's correct that the municipality owes over half a million to the water department. As yet, we don't have a payment plan but I'm sure one will be on the way soon," Leblanc said. "This is the case with most municipalities in Cyprus, they owe for water supply, and as the water board has to pay their staff.


Friends hospice to reopen

The Friends' Hospice will reopen in Paphos in the coming months. The hospice has found a new facility in Paphos to enable it to continue its palliative care for the entire region, it said.

A self-contained six bedroom wing has been offered by the Blue Cross Hospital in its St George's Clinic on Eleftheriou Venizelou Avenue for the hospice's free service. The hospice said that until sufficient numbers of trained nursing staff are in place to run the entire wing, the facility will probably initially offer three bed spaces to patients.

Nine nurses are needed to enable the hospice to operate effectively.

"We are delighted with the generous contract offered to us by the Blue Cross company. It will ensure longevity of tenure, enabling us to remain at the wing for at least five years," said Chris Jones, President of The Friends' Hospice Foundation. "St George's will also support us with their own doctors when necessary and will provide our patients with ancillary services such as x-rays at a very reasonable cost."

Earlier this year, the hospice vacated its dedicated wing at the Evangelismos Hospital. Founded in 2006, the hospice has provided palliative and respite care for hundreds of patients with life limiting illnesses.

www.paphoshospice.org

Kings Avenue Mall due to open in October

By Bejay Browne

As the latest jobless figures show that 48,000 people are now unemployed, Paphos, which has been hardest hit, is hoping that opening the biggest mall in Cyprus will breathe new life into the ailing coastal town.

The landmark project – Kings Avenue Mall – costing over €110 million to build is on track to open in by the end of October, creating hundreds of jobs in the process.

"The new mall will be the largest in Cyprus and it will also be a complete destination, allowing people to spend the entire day there, as it will contain absolutely everything," business development manager for the project Socrates Georgiades said.

The state-of-the art building is being developed by a joint venture, Athiari Commercial Ltd (Paphos) and is one of the largest commercial developments ever to be built on the island.

Georgiades said that the total investment would exceed €110 million and the mall would serve as the 'ultimate shopping experience.'
"Paphos is lacking in infrastructure and shops and outlets are spread out all over the place. In addition, it's hard to find places to park. At the new mall everything will be under one roof and there will also be enough underground parking spaces for 1,250 vehicles," he said.

There will be three full service restaurants, eight different fast food concepts and two cafes. There will be both indoor and outdoor seating areas and a covered verandah," said Georgiades.
Entertainment will be provided by six state-of-the-art cinemas, a video arcade and a kids' play-place (indoor and outdoor).

"The idea is to try to bring to Paphos the best services and products available to the Cypriot market, this is something lacking in Paphos, and what is there now is too spread out. Tourists will be able to walk from the harbour, for example, spend the day at the mall before returning to the harbour to continue their evening."
The business development manager said that the location for the project was ideal, as it is only a few hundred metres from the harbour, and numerous hotels and apartments.

"Approximately 100,000 residents of the region of Paphos and 800.000 tourists annually will have easy access. Also, especially during summer time, there will be a significant number of visitors coming from other areas of the island," said Georgiades.

The project is due for completion at the end of October.

In the meantime, some local Paphos businessmen and residents are voicing concerns that the new project will have an adverse affect on smaller businesses, forcing them to close down.

Stores due to open at the Kings Mall include: Zara, Zara Home, Jumbo, Bershka, Stradivarius, Lacoste, Swarovski, Pull and Bear, Beauty Line, Public and many more.

www.kingsavenuemall.com


Cat Park needs help

By Bejay Browne

Volunteers in Paphos are struggling to take care of close to two hundred cats and kittens at a dedicated cat park in Tala in Paphos and say the situation is getting out of hand as numbers are growing.

They not only feed and water the cats at Ayios Neophytos monastery Cat Park in Tala, but they also do their best to ensure all of the felines are in good health. But volunteers say this is getting harder due to the poor economic climate and the parks successful reputation.

In the last four months alone, more than one hundred kittens have been dumped at the park, according to volunteer Dawn Foote, who along with husband Mark has been involved in caring for the animals for the past two years.

Volunteers also take the animals to be spayed or neutered to a vet in Lemba in Paphos who gives a 'substantial' discount .But the park's ongoing success has also encouraged more people to dump animals there, says Foote.

The park has also become popular with visitors from both Cyprus and abroad with the monastery cats gaining recognition world wide.

Although volunteers are doing their best to keep numbers down and to re home the animals, tens of cats and kittens are being dumped at the cat park on an almost daily basis.

Foote said: "In the last two months we have managed to re- home about 40 kittens and 10 adult cats. We have some fantastic volunteers who are helping to foster or re home the cats as well."

The cat lover said, however, that volunteers are finding it hard to keep up with the costs involved with the cat parks upkeep and ensuring the animals are healthy.

The cats were moved to their current residence a while ago, which is further down the road from their initial home close to the car park of Ayios Neophytos monastery in Tala.
As numbers grew, the cats were moved for health and safety reasons, to an area about 50 meters away. The piece of land was provided by the monastery.
The cats are able to roam the park and have plenty of shade which is provided.

"We are in serious need volunteers to help us in a number of areas. We need people to help with fund raising in order to generate funds to cover medical bills and food costs. We also need help to provide foster care for the cats and also to help us feed them," said Foote.

Bedding, cushions and feeding bowls are always required, says the cat lover, as they need to be replaced at regular intervals.
She noted: "Food and other donations can be left in the hut on the right hand side of the feeding area. "

The majority of female cats have already been spayed. The volunteer says she always advise that adopted cats are taken to a vet for a check- up before introducing them to their new home.

"We don't charge people to adopt an animal, although people do usually like to give us donations to help us to continue what we are doing for the cats. But I urge people to contact us if they're interested in giving a home to one of the monastery cats. Please don't just take them. We have procedures which we follow and we worry if cats disappear, fearing the worst."

Dawn Foote 99253430
www.talamonasterycats.com
www.facebook.com/talamonasterycats

Russian budget airline Transaero has started daily flights to Paphos.
They are expected to bring around 37,000 Russian tourists to Cyprus in the coming months.

The daily flights, which are now underway, will continue until October 26 according to the head of the Cyprus Tourism Organisation (CTO) Alecos Oroundiotis. He said that by promoting an open skies policy, Cyprus would be able to further develop winter tourism.

Oroundiotis also noted that the CTO is in constant contact with travel agents in England, Germany and Russia.

He expressed the hope that by the end of the year tourism would pick up. "We will be able to reclaim the lost ground following the events in March and April regarding the economy," he said.

Police Report

Police confirmed that a 69-year-old British man died in Paphos after he was injured with an electric saw.

According to acting police spokesperson Nicoletta Tirimou, the man was fatally injured with an electric saw while he was carrying out gardening work.

The man suffered wounds to his groin area, Tirimou said.
The 69-year-old was taken to Paphos general hospital where doctors pronounced his death.


Police have warned young drivers to watch their speed in the wake of the arrest of two teenage boys aged 17 and 18.

Acting spokeswoman Nicoletta Tirimou said high speed is one of the main causes of road deaths among the under 25s.
The 18-year-old was arrested at 12.30am when he refused to stop for police after he was allegedly travelling at 181 km/h instead of 100 km/h on the Paphos to Limassol highway.

He was driving with a learner's licence and without any insurance coverage.
In Limassol a 17-year-old was arrested after failing to stop at a red light, crashing through a traffic island, and colliding with another car, Tirimou said.

He was driving without a driving licence, was not covered by insurance and the car he was driving did not have an MOT certificate.

Paphos gets gold
By Bejay Browne

Paphos was formally presented with a gold quality award, as one of the top 20 European destinations for sustainable tourism 2013.
The coastal town beat off competition from 1,000 applicants to be been chosen as one of only 20 winners in the European competition 'Quality Coast'.

According to the manager of the Paphos regional board of tourism, Nassos Hadjigeorgiou, representatives from the International committee of 'Quality Coast' presented the award to the chairman of the Paphos regional board of tourism, George Leptos, as well as the other parties involved in the successful venture at an event held at the Annabelle hotel in Paphos.

He said: "We are all very proud of this achievement and will continue to do everything we can to ensure Paphos' position as a quality destination."
Hadjigeorgiou pointed out that the Quality Coast awards commenced in 2009 and are presented to coastal municipalities and tourism organisations which share the same values and implement practices for the management of coastal areas, improving policies concerning the protection of the coastal environment, cultural heritage and social structures.

Paphos was marked on the categories of nature, environment and identity and culture- for which it received the highest score- host community and safety.
It is now included in the list of quality coastal destinations of Europe and gets promoted as a destination which ensures that the environment remains clean. It also follows practices for the protection and promotion of local identity and cultural heritage. "Paphos is a quality destination where visitors can combine a relaxing, but also safe holiday, complete with tradition and culture, nature and clean seas," said Hadjigeorgiou.

www.qualitycoast.info
Major sponsorship for Archangel Michael Hospice

By Bejay Browne

A generous sponsorship pledge will enable the funding of a wing and a bedroom of the Archangel Michael Hospice in Paphos, due to open in November, according to the facility's steering group

At present the only operational hospice in the district is the Friends hospice Paphos which is situated at the Evangelismos hospital.

George Sideras, an active member of the steering group for the last two years, along with wife Bridget, have offered two years funding of the children's area. According to the hospice-they have pledged a substantial sum and the wing will be named the 'Sideras Foundation Wing.'

Bridget Sideras unveiled a plaque dedicated to the memory of her parents, 'The Phillip and Margaret MacDonald room', which will also be sponsored for two years.

Although this donation has been gratefully accepted, the general manger of the facility, recently appointed Mona Skordi, said that more fundraising needs to be done before the hospice can open its doors to patients.

She said: "We are hoping to be open and accepting patients from November, this is to ensure that everything is furnished and that we have enough money to operate for a year."

Skordi added that a number of fundraising events will take place before that to garner more funds, such as, coffee mornings, a gala dinner and other dedicated events. She also noted that a fourth hospice shop will open in Polemi village in Paphos on July 1st.

The hospice steering group expressed their thanks to the numerous people who have purchased bricks, paid for doors and windows, and purchased symbolic keys to open the doors to the hospice.
A statement said: "These donations will be recognised nearer the opening time, as will the volunteers who man the hospice shops, they do tremendous work. We will also recognise all of the support we have received from the UK. "

According to the group, the hospice building is now complete. The facility will be fully furnished by late summer and will see the arrival of the beds which are being manufactured now. Other furnishings and medical equipment are currently being sourced and funds are in place for all of these items.

The statement noted that the hospice, which will open as a charitable trust, will offer free palliative and respite care, regardless of beliefs, nationality or type of illness. It will also house the first dedicated beds on the island for children.

Visitors are welcome at the facility and any individual, group or company who would like to view the facility or offer support can contact:
Mona Skordi on 99494140 or email, mona@archangel-michael-hospice.com.

www.archangel-michael-hospice.com

Family still living in stricken home

By Bejay Browne

A family of four is still defying a ban order by living at a stricken development in Armou in Paphos that is slipping down a hillside.

The luxury development is almost deserted and Simon Phillips and his family are the only permanent residents living there, despite a ban order which has been placed on all of the homes.
Phillips says he is prepared to be taken to court by the Paphos district office and would even see court action as positive move.

"At least it would be something-there is no viable alternative open to us at the moment and perhaps we would get a sympathetic judge."
Built by JNM developers, all of the houses, which were only built in 2004, have serious structural problems, from slanting floors, to the partial collapse of stairs, walls, swimming pools and patio areas. Outside drains are exposed in one garden and retaining walls have split.

JNM has never responded to any requests for a comment on the Armou homes, despite repeated telephone calls and email to do so.

A report by the president of Paphos' Architects and Civil Engineers Association, Chrysostomos Italos was completed in June 2012 and has been handed over to the legal advisers of the homeowners. Italos places the blame firmly on the developer.

Eight months ago homes had official notices placed on them stating the decree shall remain in force until such time as repair works deemed necessary by the District Officer are carried out. A day later, owners were informed that electricity supply to their homes would be cut but it is still connected.

The homeowner noted that no alternative accommodation has been offered and that if the family moves from their home they would end up on the street. They paid €250,000for their home outright and don't have a mortgage.
Phillips says that although he admits that there are dangers and hazards at his property, he doesn't believe that the house has moved at all in the last few months adding that he has been keeping a close eye on things.

The family bought the house for 250,000 euros and saysthat if JNM were to return their investment, or provide an alternative similar property of equal value they would be satisfied.
He said: "It is very stressful living like this. But as it has been going on for so long now, we have accepted it as part of every day life."

He added that the situation has a massive impact on his family's day to day life.



Thousands already sign petition to stop Limni development

By Bejay Browne

A petition to try to stop the luxury development of Limni, near Polis Chrysochous in Paphos has already garnered close to three thousand signatures.

The petition was started recently by nature lover Constantinos Nadiotis, 36, and is being sent to Minister of the Interior, Socratis Hasikos.
Nadiotis, a Limassol resident said : " I want my children- I have a son who is ten and a daughter of four- to be able to experience the beautiful area which is being destroyed. "

The project includes two 18-hole golf courses, a five star hotel, luxury villas, a wellness centre, a helipad, a museum and an information centre on the turtles, as well as cycle paths.

As an experienced free diver Nadiotis says he is always out and about and enjoys nothing more than diving with the turtles in the Limni area, the site of the now defunct copper mines.

"The next generation needs to be able to enjoy the beautiful nature we have here in Cyprus and have the best experiences possible. This area is supposed to be a nature reserve- but it's all about business and manipulation of the law by the relevant authorities."

The huge development is considered by some, including the local mayor, to be a welcome boost to the economy, but many nature lovers, environmentalists and locals are up in arms over the multi million euro development, which they say will cause harm and endanger the turtle population.
The area from Yialia to Polis is a major nesting site of the Loggerhead turtles and it has been included in the Natura 2000 network (known as the Polis-Yialia site).

The project is being undertaken by the Shacolas Group, the biggest private commercial group in Cyprus. It plans to develope about three million square metres at Limni.

Thousands of turtles come to breed in the area every year and lay their eggs in nests which stretch the length of the coastline- a protected area.

Nadiotis noted: "The area includes a 10 km long beach and the adjacent marine area. However, the terrestrial and marine areas included in the site have been reduced very significantly compared to the original proposals (500m), and the width of the coastal area now is on average about 100m and in some places less."

A spokesperson for the Shacolas group said: "We have nothing to add to previous comments regarding Limni at the moment, only to say that everything has been carried out according to the law. We may issue a further statement in the coming days."

To sign the petition visit:-

http://www.change.org/petitions/cyprus-minister-of-internal-affairs-mr-socratis-hasikos-stop-the-development-of-the-limni-site-for-the-golf-course-and-villas-complex?utm_campaign=share_button_mobile&utm_medium=facebook&utm_source=share_petition

Love your neighbour

Rock FM is appealing to listeners to help a local charity to feed hundreds of needy families of Paphos.

Station manager, Agapios Georgiou, said: "We are inviting people to come to the radio station on July 5th- to take part in a live show raising funds and donations for the Solidarity charity."

The registered charity provides food and clothing for more than 550 families in need. Rock FM decided to get involved to try and help the volunteers with the ever growing crisis in Paphos.

The radio stations' 'Love your neighbour' experience will be broadcast live during the weekday morning show 'The Bit in the Middle' on July 5th-which is broadcast on 98.5/106.7 FM, from 10-11am.

He added: "Following the success of the event 'Coffee with Love' which we held in aid of PASYKAF recently- presenters of the 'Bit in The Middle' show wanted to do more to help the community. So, we decided to host a live broadcast called 'Love your neighbour" on Friday July 5th in aid of this amazing charity."

Ongoing fundraising events for the charity are raising money, food and clothes to help the families who are not officially entitled to assistance as they fall outside municipal boundaries.

Pavlina Patsalou who heads up the group along with Paphos councillor George Sofokleous, have been feeding hundreds of Paphos families for 20 or so months. They started with 20 families, and now numbers are in excess of 550.

Patsalou said: "We have five hundred and fifty or so families from the Paphos villages coming to us for help, and the number is still growing on a daily basis. Most arrive at our doorstep on foot as they have no money for petrol to put in their cars, some don't have electricity or telephones. The situation is terrible."
She also estimates that by September the number of families they help will be in excess of 700.
Although the charity says that donations have been coming in thick and fast, more is still needed.

She said: "How can we raise enough money to feed more and more mouths? We urgently need everyone to give something, however small, it will make a real difference to someone's life. It could so easily be any of us without food or any money to pay our bills and cover our day to day needs."

Georgiou added : " We really need the public to help and would urge them to come to Rock FM between 10-11am on Friday July 5th.Please bring whatever you can spare- dry goods or a donation- everything will be greatly appreciated."

Items requested include all dry goods, rice, pasta, pulses, long life milk, tinned goods, and especially baby items such as nappies and baby milk, toiletries, toilet paper and adult diapers.

If you would like to join the radio presenters, please email : - admin@rockfm985.com, 26822073 or just turn up on the day- ROCK FM, 7, 203,Galateia Court, Galateias Street, Paphos.
www.rockfm985.com

www.solidaritypaphos.com

Brits set to lose winter fuel allowance
By Bejay Browne

British pensioners living in Cyprus look set to be stripped of their winter fuel allowance, after a decision made by the UK Chancellor.

British ex pats residing in warm climates- such as Cyprus- are set to lose their £300 winter fuel allowance- under measures announced by George Osbourne, who vowed he will crack down on the 'sunshine benefit'.

The move will affect thousands of ex-pats living in Cyprus, Greece, Spain, Malta, Portugal, France and Gibraltar, who now look set be lose their winter fuel benefit. The new 'temperature test' as it's been dubbed- will affect thousands of Brits residing in Cyprus -not least those in Paphos, a town which has the largest British ex pat community on the island.

The news has left Brits up in arms, furious over the UK government's decision, which they say is unfair and will leave them seriously out of pocket.

Chairman of the Paphos branch of the UKCA- the United Kingdom Citizen's Association- Steve Kay, 66, moved to Paphos five years ago and says that we do need the allowance here.

He said: "I don't think that the British government realise that although it's not as cold here as in the UK, the temperature does drop considerably and it does get cold."

According to the Cyprus meteorological service In July and August the average daytime temperature ranges between 29 C inland and 22 C on the Troodos mountains during July and August. In January, the average temperature is 10 C inland and 3 C in the Troodos Mountains, although it often becomes cooler.
Cyprus currently has the highest electricity prices in the European Union and no direct gas supply to homes.

The UKCA chairman pointed out that, like many others living in Cyprus, he has to purchase gas canisters for his living room fire, which are costly.Last winter, Kay says each gas cannister cost him 82 euros." So of course this payment comes in handy. Electricity prices are high in Cyprus and some people rely on air conditioners for heating as well as electric fires or blow heaters. It works out as very expensive."

Only last winter, Cyprus' meteorological office confirmed temperatures of minus 9 degrees celcius in Prodromos, whilst inland temperatures were around zero. Even lower temperatures have been recorded in the past.


More flights for Paphos
By Bejay Browne

Ryanair announces seven new destinations to their upcoming winter flight programme, a move which has been welcomed by local tourist officials.

The cost carrier's new winter schedule means Paphos will see twenty four incoming flights a week from eleven different airports.

Nassos Hadjigeorgiou, manager of the Paphos regional board of tourism said: "This is great news for Paphos and we are very happy to have Ryanair with a more enriched winter schedule for Paphos."

According to Hadjigeorgiou, the winter timetable will operate from the end of October until the end of March 2014.

He said: "We are especially pleased with flight connections between Paphos - Norway, Sweden, Brussels, Germany and the UK; these were a top priority for us."

The development will help to extend the Paphos tourist season and supports the initiatives to try to attract holidaymakers to other businesses such as restaurants and shops, said Hajigeorghiou.

The Ryanair winter flight schedule for Paphos 2013/2014 commences in October and includes the following routes: Norway Oslo-Rygge, Sweden-Skavsta Stockholm, Germany-Dusseldorf and Lithuania Kaunas- which will all have one flight.

Italys-Bergamo Milan will have two flights a week, along with Ciampino Rome, Belgium-Charleroi and Manchester. Chania is scheduled to have three flights a week and the new flight programme includes four flights a week from Stansted, and Thessaloniki in Greece will benefit form five flights a week.

The budget airline has two aircraft based in Paphos International Airport.

Book flights and check destinations at www.ryanair.com
Artificial reefs on way for Paphos

By Bejay Browne

The creation of an artificial reef is due to get underway in Paphos. The project will see sunken ships being used to enrich both marine life and the underwater environment. It will also aid in managing fishing resources, as well as attracting locals and visitors to dive or snorkel.

The first artificial reef in Cyprus was completed in 2009 and officials say the ongoing project will create reefs in the sea off the coast of Famagusta, Limassol and Paphos.
These constructions are placed 35 to 40 metres out from shore to protect sea life, and in areas which don't usually experience strong waves.

According to officials, technical studies have already been undertaken to see where the reefs are best placed and how the ships should be cleaned and utilised. The completed project aims to enhance the ecosystem and marine research will be able to be conducted. "As well as the public being made more aware of protecting marine life, divers will be also attracted to the reefs," said authorities.

As with Cyprus' first reef project, a large chunk of the cash needed for the funding of the installation will come from the EU fisheries programme. The Cyprus Tourism Organisation (CTO) and the Cyprus association of divers will also contribute.

The budget set for the Paphos reef is €214,500 and €294,500 for Limassol. In addition, the other reefs consist of two separate constructions in Ayia Napa and Paralimni. Each project has a budget of around €214,500.

The projects are expected to be completed by the end of 2013- or the start of 2014.
The most famous diving wreck in Cyprus is the Zenobia. The 12,000 tonne passenger roll-on roll-off ferry capsized off the coast of Larnaca 33 years ago. It is still widely regarded as one of the world's best wreck dives.

Thousands of dogs are being put to sleep in Cyprus every year

By Bejay Browne

Thousands of healthy dogs are being put to sleep in Cyprus as charities struggle to cope with the increasing numbers of abandoned and stray animals being picked up on the streets, according to a number of organisations and volunteers.

They say that many of the islands animal charities are now desperate as pounds are overflowing and many dogs have to be euthanized.

Niki Proctor, 35, is a British ex pat living in Oroklini. The businesswoman and animal charity volunteer says she aims to highlight the situation, which she says is becoming 'out of control.'

She said: "Hundreds of dogs are being abandoned and then from overflowing pounds they are sent on to be euthanized. I have personally witnessed this and visited the pounds to try to help to re-home these animals, it's tragic."

Proctor noted that more needs to be done by the authorities to educate people as well as starting a spaying and neutering plan.

Proctor is a volunteer with Pets2Adopt, an island wide charity.
Christiana Mandriotou of the charity said: "There has been a big increase in the number of animals being abandoned all over Cyprus recently. I think the economic crisis is being used as an excuse by some. If you have a family, surely there are left over's for the dog to eat?"

Mandriotou also put the increasing numbers down to people going on holiday and abandoning their dogs and the recent tragedy that saw a five-year-old boy die after he was bitten in the throat by an 'Akita', a large breed of dog originating in Japan.

She said: "Abandoned large dogs recently have included pure breeds such as Labradors as well as the smaller breeds. The dogs which are picked up will go to the pounds, and if after two weeks they do not find homes or aren't collected by their owners they are put to sleep."

Volunteers from Pets2Adopt regularly go around the pounds and take pictures of the dogs and post them on their website and Facebook page, to try to reunite them with their owners or to find them new homes.

According to Mandriotou, unwanted family pets, hunting dogs and litters of puppies are being left abandoned in the street, at the pound or tied up somewhere.
She said: "Last month alone, we found more than 50 puppies abandoned in boxes and refuse bins. We have managed to re-home or reunite more than 150 dogs from the beginning of the year until now. It may not seem like a large number in comparison to those being euthanized but at least these dogs have a second chance at life."

She says another 20,000 dogs are getting poisoned, killed, or abused each year. Last year the charity found new homes for 275 dogs and urgent foster homes are always needed.

There are numerous heartbreaking stories of abandoned pets according to the Pets2 Adopt charity.


Mary Anastasi, president of the Voice of the Animals organisation, recently told the House Environment Committee that around 170,000 dogs are abandoned in Cyprus every year.

She said: "Animal shelters cannot cope with this huge burden, which has unfortunately worsened with the economic crisis."
Anastasti said her organisation recommends a control, protection and public animal health service to be created in order to improve animal welfare.

Mandriotou added: "The authorities need to educate people and make the laws work. They have to fine people walking their dogs without leads- these often end up as lost dogs, they need to prosecute dog abuse and abandonment cases, as well as owners who fail to micro chip and register their dogs. This will set an example and stop people from behaving irresponsibly."

www.pets2adopt.com

TOP MARKS FOR CYPRUS SWIMMING SITES

Cyprus' 112 beaches have been found to enjoy excellent water quality, meaning that the island is at the top of the EU for bathing. Water off the beaches was tested for as part of a European initiative.

Whilst ninety-four per cent of bathing areas in the EU meet minimum standards for water quality, the European Environment Agency (EEA) found that Cyprus and Luxembourg have the highest quality bathing sites.

Both scored top marks in the report, with all 112 coastal bathing sites found to have "excellent" water quality. The EU average stands at 78 per cent, showing a two per cent increase on last year.

Water samples are taken at the start and end of the bathing season for each bathing water site and tested. The national authorities also prepare annual reports on occurrences of pollution, and events which have an impacting on bathing water quality.
This year's report also showed that around two per cent of bathing sites at beaches, lakes and rivers have poor water quality.


CHINESE UNDERTAKE MULTI MILLION EURO INVESTMENT IN PAPHOS

A massive Paphos based project has seen investors from Hong Kong stump up €290 million to purchase the Venus Rock Golf Resort in the Paphos district.

An announcement by Dolphin Capital Investors, a company associated with the Aristo development company, said that the project will include two golf courses, a five-star hotel, two large sport centres, a shopping mall and residential areas, such as luxury villas. They will be sold to Hong Kong based international organisations.

Managing Partner of Dolphin Capital Partners Limited, Miltos Kambourides said:
"In line with our strategic objectives for 2013, we are pleased to execute this landmark transaction, which has enormous benefits not only for Dolphin but also for the Cypriot economy in general."


Holiday at home this year urge tourism officials

By Bejay Browne

Tourism professionals are encouraging locals to holiday in Cyprus this year.
The head of the Paphos regional board of tourism, Nassos Hadjigeorgiou told the Paphos Post: "This year is a good opportunity for people to explore the island and stay in Cyprus and spend their money here."

The tourism chief pointed out that Paphos has so many areas of outstanding natural beauty, blue flagged beaches and so many other things to do and see.

He said: "There are a large number of hotels in Paphos which are offering special rates for domestic tourism and the brochure of many of these offers is available to download from our site."

One of the hotels offering special rates in the Paphos region is the Five- Star InterContinental Aphrodite Hills in Paphos.

Maria Demosthemous the marketing and communications manager of the luxury hotel said: "We are fully supporting locals holidaying in Cyprus and we have a number of special offers for the local market to retain tourism on the island."

Meanwhile, agrotourism officials are hoping that the financial crisis may encourage more locals to holiday at home. With a choice of more than ninety proprieties available online in fifty one villages all over Cyprus, the prices for a holiday in traditional Cypriot surroundings are very good, says Evie Panayioutou.

She said: "We need to garner more interest from the Cypriot market."
The Cyprus Agrotourism Company deals exclusively with holidays in the Cyprus countryside. These breaks are at traditional accommodation of historical value all over Cyprus.

Even smaller family run hotels are dropping prices to encourage more locals to visit during the summer season.

The Paradisos Hills Hotel in Lysos in Paphos is a quiet traditional hotel set in a stunning location overlooking a forest with views down to the sea. A popular destination with both locals and overseas visitors; it is the winner of the winner of the Travelers Choice Trip Advisor Award 2013 for service.

Phillip Michael of the family owned and run hotel said: "It's a difficult time for many people and we wanted to try and give the best prices that we can."

Michael said that the months of June and July, the hotel is offering a double room with breakfast for just 75 euros.(Per couple.)

The fifteen room hotel is within walking distance of the traditional mountain village of Lysos, and just a short drive away from the beaches of Polis Chrysochous and the Akamas Peninsula.


Coral bay beach in best condition for a decade

Coral bay beach in Paphos is in the best condition it's been for the last decade according to local officials.

Peyia councillor and head of the beaches committee, Nikos Konikkos said that the popular beach is in an 'excellent' condition.

"The beach is the best we've seen for at least a decade and there is plenty of sand this year. In fact, I believe that in the coming months we will see that the beach is ever bigger than usual, due to the sand which is being brought back onto the area by the tide."

The blue-flagged beach often loses thousands of metres of sand a year to the sea, and the winter of 2011 took its toll with some 10,000 cubic metres deposited in the water some 150 metres off shore.

Urgent intervention was needed with SEMESKO Ltd undertaking the project to reclaim the sand lost from Coral Bay at a cost of around €58,000.
Often described as the 'jewel' of Peyia municipality, Coral Bay, is a popular destination with both tourists and locals, who flock to the area to enjoy the blue-flagged sandy beach and sparkling waters.

But last years summer season was nearly a wash out with the beach only seeing sand replacement being completed by the end of July. Almost all of the sand had gone from the beach during particularly bad storms, causing devastation.
The damage to the beach was so severe that the once naturally sandy stretch was left mostly rock.

Annual flower festival celebrates tenth year

By Bejay Browne

THE annual flower festival at Ayia Kyriaki Chrysopolitissa church in Paphos is celebrating its tenth year in May with a focus on biblical proverbs.
Ayia Kyriaki - known locally as St. Paul's pillar church - is a beautiful setting for the festival and is a church which is steeped in history and tradition.
"This year we have decided to use the Book of Proverbs as our theme and we will create about 20 arrangements each depicting individual proverbs," said festival organiser Margaret Keeble.
The experienced flower arranger noted that the event is a joint effort between the Anglican church the local Catholic church, the Paphos flower club and friends.
The church of Ayia Kyriaki will be awash with colour and perfume of thousands of flowers for the three day festival in May, which attracts hundreds of visitors every year.
"I have been involved with this event for several years now and none of us are professional florists."
Nevertheless arrangements by participants displayed at the popular event are magnificent and of a high calibre.
Flowers used in the displays are all fresh and are mostly Cyprus grown.
"It is important to remember that the festival takes place in a beautiful Greek Orthodox Church, so we always try to have something with a biblical connection. The furthest we have strayed from these ideas was a theme of favourite hymns," she said.
Entry to the festival is free, but the public is able to leave a donation.
Funds collected at the event will be divided between the two churches and donated to local Cyprus charities; the Archangel Michael's Hospice, the Kidney Association and the Heart Association.
'Evenings of Music' will be held daily from 6.00 pm for the duration of the festival. Performances will include a local choir, a recital by the Anglican Church resident organist and an evening of choral music and readings from the combined choirs of the Anglican and Latin churches.
There will also be refreshments, such as light lunches and afternoon teas available all day at a restaurant next to the Anglican Church hall which is situated just up from Ayia Kyriaki church.
This year's Flower Festival at Ayia Kyriaki Church, Kato Paphos will take place on Wednesday, Thursday, Friday, May 15, 16 and 17 from 10.00am to 5.30pm. Admission is free.
For further information contact: Margaret Keeble-26 422 380 or 99 533 704
CHANGES TO BRITISH PASSPORT APPLICATION PROCESS

From April 15, the British government has changed the passport service for British nationals living overseas. The application process is now centralised and British nationals in Cyprus should submit their passport application to Identity and Passport Service (IPS) in the UK.
Before April 15, British nationals living in Cyprus submitted passport applications to a regional processing hub in Madrid, Spain. From 15 April, information on the UK Government website will advise British nationals on the new passport application process.
All the information required to make an application will be found at https://www.gov.uk/overseas-passports
Applicants will be required to send their applications to the Passport Customer Service Centre in Belfast. There will be no change to processing times.
Fees charged to British nationals applying overseas are based on the current costs of providing the service.

Writers group open to new members

By Bejay Browne

Every Thursday morning in Paphos people of all ages and from different backgrounds gather at the Paphos Writers Group meeting. A total of 17 authors from the Paphos Writers Group have had their work published, some even making it on to the Amazon best sellers list, and all credit the group with providing support, knowledge and the will to continue.
"I wasn't a writer when I went to them for help and guidance. The feedback from them was very positive and constructive; they were fantastic and supportive," says Nicola Simpson, whose recent book Abigail's Rainbow detailing her feelings – from agony to forgiveness - following the death of her teenage daughter has been well received internationally.

Other successes include Cyprus - A Taste of Yesterday by Eleni Protopapa - which takes a look at life in Cyprus more than seven decades ago - and Appointment in Zambia by Sara Dunn, a fascinating trans-African adventure.
However, all those attending the group are not hoping to be published. For some it's a hobby, while genres include travel, short stories and poetry.
Holloway is a well-known Paphos-based artist and photographer who says he joined the writers group "as he couldn't resist".
"I was experiencing a lull in my painting and I wanted to do something else which was creative so I joined the group about five years ago," he said. And although he has completed two novels, an autobiography and two children's books, he will not be following Nicola's path as he says he has no desire to see them in print.
"I wrote these books as more of a challenge to myself, to see if I could write something more substantial than a couple of thousand words."
The ethos behind the group is to "share experiences and help to develop writing skills," says its chairman John Goodwin. The initial idea to set it up was conceived in 1999 and six members held their first meeting in May 2000. A few years later, the members produced a compendium of short stories, articles and poems called Whispers from a Veranda, all proceeds from the sale of which were donated to local charities.
The meetings – which usually number between 20 and 30 people - are chaired by Goodwin who has recently published his first novel The Last Olympiad, a gripping tale of a disaffected British-born Muslim.
The group will also go through each other's work, proof reading it and correcting grammar.
Participants undertake writing exercises, such as speed writing. Goodwin says it keeps the ideas flowing.
Those who take part come from all walks of life but tend to be English or Cypriot although anyone is welcome as long as they have a good grasp of the English language.
For further information contact John Goodwin 99 203102, www.paphoswritersgroup.com

PAPHOS BANKS RE OPENED AMIDST AIR OF CALM

By Bejay Browne

Following their closure, banks in Cyprus re opened their doors to customers, after a preliminary accord between the government and the EU and IMF
Branches of Laiki and Bank of Cyprus in Paphos saw queues forming about an hour before opening, but for most other banks including Hellenic and Societe Generale, it was business as usual.
The anticipated angry scenes and violent outbursts were not forthcoming. Instead people were calm. "The atmosphere was generally one of resignation," said one Piraeus bank employee adding: "I'm very relieved as I have to admit I had been feeling anxious."
According to Paphos police, there were no reported problems at banks.
A spokesman for Societe General Bank who wished to remain unnamed said: "We have been preparing for reopening so everything went smoothly. And as we are not subject to a 'haircut' our position is clear-the bank is solid and the capital base excellent."
He added: "We have no crisis for the time being but we will all have to wait and see what the future will bring. The psychology of the people is not good, as the situation is recent and is on people's minds. Everybody will feel the change though - we need to return to normal as quickly as possible this way we will determine the actual damage. It's not just about numbers but also market sentiment and psychology."
British ex pat Matt Kendall said the queue at the main Laiki Bank was quite long and they didn't open until 12.30pm. But apart from a tense atmosphere, there wasn't any trouble. Some people hadn't been able to get any cash out as they didn't have debit cards. "All of the staff had a good attitude and were helpful. It was calm and orderly," Kendall said.
Maria Stavrou, a Bank of Cyprus customer had queued outside one Paphos branch since 11am. "We showed everyone today that we are a dignified nation and that we can remain calm even in these difficult times," she said.
"The world's media seem to want us to riot and behave like animals and although we are shocked and we face difficult times ahead, Cyprus is strong and we will rebuild our reputation again."
Paphos businesswoman Mandy Greenhall says she was now unsure of who to trust. "I don't know what to do. I don't think that I will pay any more money into my account than I have too, also suppliers are now being asked to be paid in cash, and so I will have to hold it back to pay them anyway. I will wait and see what happens in the coming days before I decide what to do."
Bank customers said that some Paphos banks only allowed a few customers in at a time despite queues outside, adding that these queues which had formed prior to opening petered out pretty quickly.
FRIENDS HOSPICE FORCED TO SCALE DOWN

By Bejay Browne

The Friends Hospice in Paphos has been forced to scale down its operation due to the deepening economic crisis.
The hospice is currently the only operational hospice in Paphos and is situated in a dedicated wing of the Evangelismos hospital. Since opening in 2006, the facility has expanded and now consists of a seven-bed unit which is solely run by donations, money raised by the shops and fundraising events.

According to a hospice spokesman, running a multi-bed facility is no longer an option. He said: "We can't continue as we are as we just can't bring in the €500,000 which is needed to operate the hospice every year."
"Sadly, the special wing in the hospice will be 'mothballed'- but we will operate two beds providing hospice and palliative care in the main part of the Evangelismos hospital. To run an entire wing with electricity and so on is something we can't afford to do at the moment."
Although nursing levels have been reduced, five of the six nurses have been kept on. The clinical manager and five carers were also let go.

Chris Jones, the President of the Friends Hospice foundation said: "We will continue to offer palliative care to patients in the area. Many solutions to the economic situation were considered; however, in the current difficult financial climate, this was the only practical response we could take in order to continue providing hospice care."
The hospice is run solely on donations, money raised by its charity shops, and through fundraising events. Around 500 people have been cared for at the hospice. Figures show an average occupancy of 70 per cent with most patients being Cypriot.

The two-bed facility will be able to take admissions immediately and there are hopes that if the economic climate changes, the hospice will be able to return to its own dedicated ward.
"The time had come to be realistic; we were hanging on by our fingernails. At least this way we can continue to help those in need of this specialist care," said Jones.

Many of the paid staff members who have had to be let go have said they would continue to work for the hospice on a voluntary basis.

The Friends Hospice has charity shops situated in Kato Paphos, Chlorokas, Polis and Pissouri. To volunteer at a shop or to donate goods contact the Friends Hospice support group chairwoman, Julia on 99 177 479.
www.paphoshospice.org
PAPHOS ROCKS FOR CHARITY

Paphos municipality staged a successful event to help feed the hundreds of needy families in Paphos.
Around 30 different acts from Cyprus and Greece entertained crowds and entrance to the event, which organisers say attracted hundreds was free.
People were asked to bring non perishable goods with them which were then passed out to those in need in Paphos, said a spokesman for the event.
Staple food and items required included: rice, pasta, sugar, flour, pulses, tinned food, shampoo, soap, washing and cleaning liquids, oil, cereal, baby food, nappies, juices, long life milk, toiletries and sweets and chocolate.

A spokesman from the social welfare department in Paphos municipality said they were receiving 10-15 new applications for help every day. "We just can't keep up with the demand. We have more than 500 families who are receiving food support and we are doing all that we can to help."
Volunteers manned the food stations at the charity concert which took place at the Paphos Town Hall Square.


MAIN POINTS OF EU/ IMF bailout agreement with Cyprus

1. Laiki bank will be resolved immediately - with full contribution of equity shareholders, bond holders and uninsured depositors - based on a decision by the Central Bank of Cyprus, using the newly adopted Bank Resolution Framework.

2. Laiki will be split into a good bank and a bad bank. The bad bank will be run down over time.

3. The good bank will be folded into Bank of Cyprus (BoC), using the Bank Resolution Framework, after having heard the Boards of Directors of BoC and Laiki. It will take 9 billion Euros of ELA with it. Only uninsured deposits in BoC will remain frozen until recapitalization has been effected, and may subsequently be subject to appropriate conditions.

4. The Governing Council of the ECB will provide liquidity to the BoC in line with applicable rules.

5. BoC will be recapitalized through a deposit/equity conversion of uninsured deposits with full contribution of equity shareholders and bond holders.

6. The conversion will be such that a capital ratio of 9 % is secured by the end of the program.

7. All insured depositors in all banks will be fully protected in accordance with the relevant EU legislation.

8. The program money (up to 10 billion Euros) will not be used to recapitalize Laiki and Bank of Cyprus.


Donate supermarket points to help the needy
By Bejay Browne

Paphos business-woman Pavlina Patsalou who heads up a group of volunteers which she started with Paphos councillor George Sofokleous to help what has now grown to over 400 needy families, said the news of bail out conditions has come as a terrible shock, and will jeopardize efforts to help those in need.

The immediate future for all Cyprus would be difficult in the coming weeks, Pataslou said.
"We are particularly concerned as to what will happen next; it will be a tough time for everyone. I'm fearful that we could end up with a lot more people without food and although we are trying very hard to help everyone I think it may be difficult for us to cope," she said.

Patsalou said more people are seeking help every day, and are now even being referred to the volunteer group, 'Solidarity Paphos' by the welfare department.
'Solidarity' is reliant on donations from the public, local businesses and fund raising events.
To help alleviate the burden of making cash donations from the public in such an uncertain time, a system has now been put in place where the public can donate their supermarket bonus points through an account set up at Papantonios supermarkets.

Alison Fudge joined the volunteers before Christmas with the aim of raising awareness of the problem to the English-speaking community
She has since set up a Facebook page, ' Aphrodite's Angels Paphos- Solidarity ' which lists goods most needed at any given time. The page also contains information on all of the fund-raising events which are taking place.
Fudge said: "We have now set up a Solidarity bonus card at Papantonios supermarkets. We realise that times are hard for everyone- but if people would like to donate points to us, which are accrued during a shopping trip they can now do so."

She added: "The points will add up quickly and the charity will cash them in for vouchers to buy items for the Paphos needy families. Together we can really make a difference."
Other than the new points' system, Solidarity still needs other forms of donations, specifically food and clothing. They also need more volunteers to help sort out the donations they have received.

Solidarity is asking for food donations, which include dried goods, such as rice, pasta, pulses and tinned goods. They also need blankets, nappies, baby food and powdered milk.
Shoppers at Papantonios supermarkets wishing to donate points should supply the telephone number -96337984- when t hey get to the till.

Contact Patsalou at 99-22-01-52 or Sofokleous at 99-54-23-43 for further information, Drop off points and directions can be found at : www.solidaritypaphos.com,
Facebook-Aphrodites-Angels-Paphos-Solidarity-Paphos

NO to new road
By Bejay Browne

Business owners and residents in Paphos are protesting against a 26-year-old plan to build a four-lane road and say the idea is outdated and has not taken account of changes to the surrounding infrastructure.

Michalis Michael, chairman of the Union of Tourist Businesses for the Tombs of the Kings Road said: "This dual carriageway was initially designed in 1987. The surrounding area was nothing like it is now - there were hardly any buildings then. You can't put a four-lane dual carriageway with double yellow lines each side and a four-metre wide central reservation here, it will kill the area."
Local businesses say they are fed up with their complaints falling on deaf ears and will demonstrate indefinitely against the planned new road by closing it at 11am every Saturday for half an hour.

Michael, who has operated a car-hire shop in the area for the past 15 years said the businesses want wide pavements created on both sides of the road if the plan is to go ahead. They also want room for pedestrians to walk and sit.

Despite the protests, the government, contractors and Paphos municipality recently signed the agreements for the project to go ahead.
"Who will want to sit outside a restaurant and eat next to a busy four lane road? We also don't want a division in the centre of the road, we need parking and lighting and to upgrade the area," said Michael.

The Tombs of the Kings road is a prime spot - situated close to the Paphos coast and home to many of the town's hotels and tourist complexes; in its heyday the area was buzzing with life. These days, pockets of well kept frontages are still proving popular with locals and visitors but a growing number of properties lie empty and unkempt.

Michael said the road would effectively carve up the area with some businesses and residents being situated between the new road and the sea, and the less fortunate would be 'trapped' between the four-lane road and Paphos town causing their property prices to depreciate.



EXTRA MEASURES FOR HOME SECURITY
By Bejay Browne

Home owners in Peyia in Paphos are being encouraged to install added security measures to try to curb burglaries in the district.
The warning comes in the wake of a spate of burglaries in the area despite Peyia having a neighbourhood watch scheme.

A police spokesman urged homeowners to take precautionary measures to protect themselves and their properties. He said doors and windows should be fitted with strong locks, and a light should be left on when the property is empty. Security lights fitted to the building exterior would also be a good idea and if possible a security system. He also suggested leaving the TV on when not at home.
Thousands of euros worth of jewellery, laptops and other electrical equipment have been taken from properties in recent days.
Keith Allen, chairman of the Peyia NHW (Neighbourhood Watch) management team explained would-be burglars break into homes fitted with regular door locks using a procedure called 'snapping'. But according the Peyia NHW chairman, there are new locks available on the market which are 'snap proof'. They are more expensive than normal locks but offer better protection. "I have now had these fitted to my property," he said.

Peyia's neighbourhood watch scheme was formally launched in September 2010, with close to 300 households participating. This number has now grown to more than 600. Peyia has a large number of British expat residents and second-home owners, which means numerous properties are often left empty.

A Peyia police officer confirmed that regular police patrols had been increased in the area some time ago.
He said: "We have police patrols in Peyia 24 hours a day - the number was increased a while ago, People should be careful not to leave valuable items in their vehicles, ensure all car doors and windows are locked and also be extra vigilant with home security."


NEW PRESIDENT- NEW CABINET

Nicos Anastasiades was elected as the seventh president of Cyprus is a run off vote in February. His party is the Democratic Rally-DISY.
Anastasiades was first elected to the House of Representatives in 1981 and has been leader of his party since 8 June 1997. He married Andri Moustakoudi in 1971 and had 2 daughters

The newly-elected President of the Republic of Cyprus, Nicos Anastasiades, was born in Pera Pedi village, in Limassol District on 27 September 1946.
He has studied Law at the National and Kapodistrian University of Athens and his postgraduate studies are in Shipping Law at the University College London of the University of London.

His new cabinet includes no women:-


Foreign Minister: Ioannis Kasoulides (DISY)
Born August 10, 1948, Kasoulides served as Foreign Minister in the Clerides government from 1997 until 2003. He was most recently an MEP

Finance Minister: Michalis Sarris
Born April 14, 1946, Sarris served as Finance Minister under late President Tassos Papadopoulos from 2005 until 2008. He also served as a member of the board of the Popular Bank.

Interior Minister: Socratis Hasikos (DISY)
Born in Nicosia April 12, 1956 he served as Defence Minister from 1999 until 2003 in the Glafcos Clerides administration. Hasikos took the post from EDEK's
Yiannakis Omirou in 1998 after the S-300 missiles scandal.

Defence Minister: Fotis Fotiou (DIKO)
Born in 1960 in Larnaca, he served as Agriculture Minister during the Papadopoulos administration between 2006 and 2008. He was serving as DIKO spokesman before his appointment.

Education Minister: Kyriacos Kenevezos (DIKO)
Born in Limassol in 1972, Kenevezos is the General Secretary of DIKO. He currently runs his own lawyer's office in Limassol.

Communications Minister: Tasos Mitsopoulos (DISY)
Born May 30, 1965, was serving as DISY party spokesman until his appointment to the cabinet. He served as a special advisor to the Greek Minister of Foreign affairs between 1989 and 1993.

Commerce Minister: Giorgos Lakkotrypis (DIKO)
Born May 30, 1970 Lakkotrypis was a public sector director and worked at Microsoft Central and Eastern Europe.

Agriculture Minister: Nicos Kouyialis (EVROKO)
Born in 1967 in Deftera, He worked as an electrical engineer for the EAC.

Labour Minister: Haris Georgiades (DISY)
Born in Nicosia on April 9, 1972 was a DISY party representative and was an MP for DISY in Nicosia, since May 2011.

Justice Minister: Ionas Nicolaou (DISY)
Born on January 21, 1963, Nicolaou has been vice-head of DISY and an MP since 2001.

Health Minister: Petros Petrides (DIKO)
Served as medical director of Nicosia General Hospital prior to his appointment.
Government Spokesman: Christos Stylianides (DISY)
Born in Nicosia June 26, 1958, he has been an MP for DISY since 2006 and served as government spokesman during the Clerides presidency from 1998 until 1999.

Also appointed: Undersecretary to the President: Constantinos Petrides
Presidential Commissioner: Katy Clerides
Environment Commissioner: Ioanna Panayiotou
Commissioner for Civil Service Reform: Emanuella Moushioutta Lambrianidou
Director of the President's Office: Panayiotis Antoniou


New Paphos hospice close to opening
By Bejay Browne

Archangel Michael Hospice has been an ongoing project for close to a decade. Once open, the hospice will offer free palliative care to people with any form of life-limiting illness such as cancer, motor neuron disease, heart failure, end stage respiratory disease and kidney disease.

The hospice in Mesa Chorio in Paphos is all but completed and will open its doors soon. Currently, the only functioning hospice in the coastal town is the Paphos Friends Hospice, which is situated in a dedicated wing of the Evangelismos hospital.

Spokesman of the new hospice, Cameron McDonald said: "We are a new island wide charitable trust and we are relying on the support of the community to open the hospice this year and keep our services open for patients and their families."
So far, supporters have raised €2.1 million. Initially, only the top floor of the facility consisting of nine double bedrooms will be in use.

It will cost close to €700,000 a year to run the hospice, which does not currently receive any state funding. The Archangel Michael Hospice will also house the only wing in Cyprus specifically for children.
McDonald added: "We also want to find funding for individual beds in the children's' wing, this would be an immense help."

For further information visit www.archangel-michael-hospice.com

Passengers furious over use of outdoor 'holding gates'
By Bejay Browne

Furious passengers have dubbed as 'holding pens' the outdoor areas at Paphos airport where they complain they have been left in all weathers, sometimes for more than an hour, before boarding their flights.
"It is disgraceful that in 2013 human beings are being treated worse than animals," said one passenger.

According to airport operator Hermes, many airlines have used these pre-boarding gates at Paphos airport, which frustrated customers refer to as 'holding pens' or 'cattle sheds'.
"The pre-boarding gates at Paphos airport are similar to many used at other international airports," said Adamos Aspris, Hermes spokesman. "Pre-boarding gates were created at Paphos to cater for the increasing demand by airlines for speedier boarding in view of the limited turnaround times of their aircraft."

Low cost carrier, easyJet, is one of a number of airlines currently using this boarding facility. They have also been used by Ryanair and British Airways, according to Hermes.
But numerous complaints referring to the pre-boarding gates have been made through easyJet's Facebook page in particular.
On the Facebook page, passenger John Cook complains of waiting at the pre-boarding gates for over an hour.
"On our flight back to Manchester in November, the EJ flight was the last flight out of Paphos airport. Before the incoming flight had even landed, we were called to the gate, and herded outside to the sheds, where we waited over an hour to board the plane," he said.
He said that in January the same thing happened, except it was for a shorter time, around 30 minutes. "However, it was a bitterly cold and windy night. Please, can this stop, and can you (easyJet) reinstate the buses to take us to the plane. It is already stopping people from flying with you."
The claims have been denied by airlines.

Polina Digaletos - easyJet's public relations office for Greece and Cyprus - disputed allegations that passengers were left standing prior to boarding for any longer than 17 minutes at a time.
"With our 40 minutes scheduled turn time, it is obvious that none of our passengers will 'stand' in the holding gate for more than 15 to 17 minutes," she said. "The stated timings are also confirmed by our 'on-time performance' at Paphos, which is close to 100 per cent."

She confirmed that the use of these boarding gates was part of the 'quick turnaround' process used by a number of airlines - including easyJet - in order to reduce turnaround times and costs. She also pointed out that Hermes airports designed this facility.

Aspris though stressed that the decision on whether to use the pre-boarding gate lay with the respective airline. He said that generally passengers were not required to wait for a period longer than 30 minutes in the pre-boarding areas.
According to easyJet, their aircraft arrive at the designated stand at Paphos airport and depart from the stand all within 40 minutes. As soon as the aircraft arrives at the stand, departing passengers moved to the pre boarding gate.

The spokeswoman said: "Between 15 to 17 minutes after arrival at the stand, the crew will release the cabin for boarding and the flow of departing passengers to the aircraft, will commence."

According to Aspris, pedestrian operations were first introduced at Paphos airport in 2011.They have since been used by many airlines.
"These airlines inspected the mentioned facilities and found them satisfactory. Over half a million passengers have used the facilities so far," he said.

Digaletos said: "EasyJet do appreciate that the holding gates need certain improvements, and we have already highlighted these to Hermes Airports for further action."

Paphos family living in limbo

By Bejay Browne

A family of four living at a stricken development in Armou in Paphos remain in limbo, unsure of their future, after their homes were declared unfit for habitation in November last year.

All of the houses, which were only built in 2004, have serious structural problems, from slanting floors, to the partial collapse of stairs, walls, swimming pools and patio areas. Outside drains are exposed in one garden and retaining walls have split.

In November, homes had official notices placed on them stating the decree shall remain in force until such time as repair works deemed necessary by the District Officer are carried out.
A day later, owners were informed that electricity supply to their homes would be cut but it is still connected.
Simon Phillips, his wife Jen and their two children are the only family still living at the development. They say they are unable to move due to financial restrictions and the prospect of homelessness hangs over them.
Phillips said: "We don't earn enough to take out a mortgage or to rent another property. I would only be able to afford a tiny apartment."
He said he was also fearful of the possibility of looting if his home were left empty.

"Chucking a family of four out on the street surely can't be a solution. I want to be compensated with a property of equal value and similar to mine. We paid for it outright and don't have a mortgage. It cost us €250,000," said Phillips.
He said that although several people had kindly offered temporary use of their holiday homes or empty properties that was no way to live. "It's impractical and impossible. We all need some peace and relief from this terrible situation."
But he said if the electricity was cut off, as threatened, the family would be forced to move.

A report by the president of Paphos' architects and civil engineers association, Chrysostomos Italos was completed in June 2012 and has been handed over to the legal advisers of the homeowners.

Paphos community rallies to support local needy
By Bejay Browne

Members of the Paphos community have come out in a show of support for hundreds of needy local families. Over 400 plates of hot food donated by local restaurants were handed out to families in Paphos for the first time.

The initiative was organised by a local priest Father Stylianos Sofokleous, who is also trying to establish a soup kitchen for the district, in conjunction with a group of local volunteers who have now officially registered as a charity with the name 'Solidarity'.

Pavlina Patsalou who heads up the group along with Paphos councillor George Sofokleous, have been feeding hundreds of Paphos families for the last 18 months. They started with 20 families, which grew to 250 and now numbers are in excess of 400.
Patsalou said the priest approached the group with the offer of help.
'Solidartity' has now moved their operation to a three bedroom house close to Pavlinas' shop, which has been donated by her landlord. She said:" We are offering the food support out of these premises and, for the first time Father Stylianou offered 400 plates of hot food."

The volunteers are asking for food donations, which include dried goods, such as rice, pasta, pulses and tinned goods. They also need clothes and blankets. Patsalou said some families asking for help had young children or babies to look after.
"We urgently need all things associated with young children such as nappies, baby food, powdered milk, blankets and clothes," she said.

Ongoing fundraising events are raising money, food and clothes to help the families who are not officially entitled to assistance as they fall outside municipal boundaries.
The appeal has also brought forward a medical doctor, Dr Dorel Dimcea, who is now offering his services free to the genuinely needy.

A coffee morning held at Tommy Tuckers restaurant in Paphos raised €424 as well as clothes, food and blankets.
Local website designer Phillipa Demitriades has offered her services free and is now in the process of setting up an official dedicated website.
In addition, Justin Devonshire and Jason Smith of Bodyshape Fitness hosted a charity fitness workout to raise funds and donations.
Paul Clarke aka Cycling Cyprus, has already organised two events where he rode a static bike outside supermarkets Paphos to encourage shoppers to donate food. A third is planned for this month.

Volunteer Ali Fudge- also organised an event called 'Together we can' at DT's bar in Paphos.

Patsalou said: "There just isn't enough money to go around from the government services, so people are turning to us in desperation."

To find out what items are urgently needed or for directions to the charity food bank-contact Pavlina Patsalou at 99-22-01-52 or George Sofokleous at 99-54-23-43

Information and events listed at Aphrodites Angels Paphos- facebook page or Ali Fudge 99377321.

Dr Dorel Dimcea: www.drdimcea.com
Charity fitness workout bodyshapebootcamp@gmail.com or at 966 588 13
Father Stylianos Sofokleous - (Greek speakers only) at 96671440. English speakers should call Socrates at 99371183

Passengers complain about pre boarding gates at Paphos airport
By Bejay Browne

Passengers using Paphos airport are complaining about the use of outdoor pre- boarding gates- saying they have been left standing exposed to the elements for up to an hour prior to embarking the aircraft. This claim is denied by airlines using the facility.

According to airport operator Hermes, many airlines have used these pre boarding gates at Paphos airport, which frustrated customers refer to as 'holding pens' or 'cattle sheds'.

Adamos Aspris, spokesman of Hermes airports said: "The pre- boarding gates at Paphos airport are similar to many used at other international airports. Pre-boarding gates were created at Paphos to cater for the increasing demand by airlines for speedier boarding in view of the limited turnaround times of their aircraft."

Low cost carrier, Easyjet, is one of a number of airlines currently using this boarding facility. They have also been used by Ryan air and British airways, according to Hermes.

Polina Digaletos- EasyJet's public relations office for Greece and Cyprus- disputes claims that passengers are being left standing prior to boarding-for any longer than 17 minutes at a time.
She said: "With our 40 minutes scheduled turn time; it is obvious that no passengers will 'stand' in the holding gate for more than 15 to 17 minutes. The stated timings are also confirmed by our 'ontime performance' at Paphos, which is close to 100%."

She confirmed that the use of these boarding gates is part of the 'quick turnaround' process used by a number of airlines- including EasyJet- in order to reduce turnaround times and costs. She also pointed out that Hermes airports designed this facility.
Aspris stressed that the decision of whether an airline uses these pre-boarding gates or not, lies with the respective airline. He said that generally passengers are not required to wait for a period longer than 30 minutes in these pre-boarding areas.

"Ground handling formalities of passengers lie under the responsibility of the appointed local ground handling company," he said.

According to Aspris, pedestrian operations were first introduced at Paphos airport in 2011.They have since been used by many airlines.

Digaletos said: "EasyJet do appreciate that the holding gates need certain improvements, and we have already highlighted these to Hermes Airports for the further actions."

POKER IN PAPHOS

By Bejay Browne
Paphos is due to host the prestigious 2013 Nations Cup poker tournament in April according to the vice president of the Cyprus Poker Association (CPA).

Antonis Theophanides also said he was pleasantly surprised at the level of support shown by the mayor, Savvas Vergas.

The CPA and its members have faced a number of problems with the Cyprus police. In July last year, police raided two venues in Larnaca and Limassol and arrested 31 CPA members on various charges relating to illegal gambling. Players insisted they were taking part in initial tryouts for the national team and that they weren't playing for money which is illegal in Cyprus.

In the arrests last year police also seized equipment and cash, which the CPA said had been collected for membership fees. The arrests shocked CPA members because they had previously been allowed to hold similar tryouts in Nicosia.

Twelve teams of six players will take part in the 2013 Nations Cup. These include the top six teams, Estonia, Lithuania, Serbia, Poland, Hungary and Bosnia from a recent qualifying event held in Vienna.

In addition, six seeded teams potentially from the UK, Germany, France, the Netherlands, Denmark or Spain and Cyprus as the host nation, will also participate. If the budget permits, this may be increased to sixteen participating teams.

For further information:-Antonis Theophanides: 97672392


Paphos author pens first book
By Bejay Browne

Village bread, olive oil and a grandmother's blessings is a unique book written by first time author Elena Demetriou.

The book is entertaining and draws the reader into life in a large Cypriot family, by combining honest memoirs, Cypriot traditions, stunning photos and a final chapter full of easy to make favourite family recipes. This allows the reader to create the tastes and smells of traditional Cyprus in their home, wherever that may be.

The book has a catchy title is easy to read and surprisingly well written. Personal family events, honest observations and a wealth of Cyprus tradition draw the reader in.

Elena was born in Lysos, a small Paphos village, and immigrated to South Africa with her parents at the age of six. She adapted to life in a new country, which involved a traditional Greek Cypriot upbringing. She qualified as a dental surgeon in South Africa and moved back to Paphos where she now runs a well known practice in Kato Paphos.

Now married and in her thirties, Elena is proud of her Greek-Cypriot heritage.She says that there are three things that you should find in every Greek-Cypriot home; fresh village bread, virgin olive oil, and at least one faithful yiayia, a grandmother, who constantly prays and gives everyone her blessings. She says that she wishes every child in this world could grow up with these things.

She admits: "Some parts of this book are quite personal. I tried not to write anything too negative in the book but it is a memoir so you have to be truthful to yourself. She added: "It's realistic, I try and be positive and write all of the good memories, as well as being honest and positive. Life is full of good times and some bad times, its how you deal with them that matters and what you keep in your mind."

Available at Herne's book store in Coral Bay Paphos, Moufflon bookshop in Nicosia, Steni museum in Polis and as a Kindle download at amazon.co.uk

http://www.elenademet.blogspot.com/
Paphos heart of gold award 2012 winners

By Bejay Browne

The winners of this year's Paphos Heart of Gold Award 2012 are a dedicated female volunteer and a determined young boy with cerebral palsy.
Vasia Ioannou and Jason Bruce-Souster were chosen by a panel of judges, who said that the decision to pick just one winner in each section was extremely difficult.

Ioannou volunteers at the old people's home in Chlorakas, with the PASYKAF cancer support association, the Kivotos centre for children with special needs, child welfare, and also organises collections of old toys and clothes which are distributed among various other charities in need. She also cares for her own disabled son.

Jason Bruce-Souster was this year's winner of the junior section. Jason is 13 and has cerebral palsy. He started playing football last year and is described by his coaches as an inspiration and a truly brave boy.

The two winners were presented with a solid gold handcrafted pin, created and donated every year by Aphrodite jewellers, by the patron of the award, Paphos Mayor, Savvas Vergas. The presentation took place at Paphos town hall.

Vergas said: "I want to pass on my congratulations to all of you for everything that you are doing in your day to day lives here in Paphos. So many of you are undertaking volunteering and fundraising which is of such a great help to the community. And well done to all of you who are coping with difficulties in your lives with a positive attitude."
Nominees, their families and friends, members of the judging panel, and representatives of some of the schools of Paphos were all present at the packed ceremony.

Both of the winners were delighted to be chosen out of 16 adult and seven younger nominees.
The community based award is now in its sixth year and aims to recognise those who have shown tremendous courage, strength and determination, worked tirelessly within the community or for charities, overcome tragedies with a smile or simply been a great help and support to neighbours and friends.

All the nominees were presented with a certificate and a flower by Maria Zavrou, the president of the municipality social welfare committee, which also provided refreshments, and Christina Smith from the British High Commission.

The annual award is supported by the Paphos municipality social welfare committee, Aphrodite jewellers, Massiva printing, the Cyprus Mail, Paphos Post, Rock FM and Nektarios Photography.

Information and photographs of the ceremony are available at the Paphos Heart of Gold Award Facebook page.


Paphos helps those in need

By Bejay Browne

Paphos authorities, businesses and members of the public joined forces to ensure needy families in the district weren't left hungry.

A Paphos municipality social welfare committee programme to help needy families started in April with 150 families receiving some sort of food support. That number has now grown to more than 500.

President of the Paphos municipality social welfare committee Maria Zavrou said the response from individuals, businesses, supermarkets and associations wanting to help, is overwhelming.

In December, thye handed out special Christmas food parcels to about five hundred and fifty needy families in Paphos.

According to the social welfare fund, the size of the family and the numbers of children denoted whether food parcels were double or even triple the size of the regular boxes, as there were no further grocery boxes given again until January 7th.

She said: "The Christmas parcels included all the usual staple products such as cooking oil, pasta sugar, flour, long life milk, rice, pulses and coffee, as well as extra groceries such as fruit and chickens which were donated by the Paphos municipality."

In addition, the families in need will be given coupons for meat which they were able to redeem at local supermarkets.

Zavrou said she had been touched by the generosity of the general public: "Only this morning a Norwegian man and his wife, both residents of Paphos, bought in a cash donation of two thousand five hundred euros which will be put towards buying groceries for the families in need."

"We can only thank everyone for pulling together to help each other through these difficult times."

The mayor of Yeroskipou said that for the first time families in his municipality were in need of food assistance.

Michael Pavlides said: "We have now implemented an assistance programme called 'food with love'- and have handed out money, food, clothing and toys to seventy needy families in Yeroskipou."

Pavlides added that the municipality is aiming to continue the programme on a regular basis and offer support to the families which are facing huge financial difficulties.

Meanwhile Peyia Municipality collected donations of food at the municipality as part of a programme. The donations went to help twenty needy families in Peyia.

Donations included pasta, beans, rice, children's food, sugar, biscuits, oil, flour, nuts, cereal, canned goods, milk and conserves.

Mayor of Polis Chrysochous, Angelos Georghiou said that close to fifty families were in need of food assistance in the municipality.

Georghiou said that if possible, the municipality would try to continue to offer food assistance to the needy after the festive period.


Big shave off raises thousands for Paphos Friends hospice
By Bejay Browne

November or 'Movember' as it's now known- is the 'month of the big moustache'.
The aim of the worldwide initiative is to help raise funds, and increase awareness of men's health issues as part of the worldwide 'Movember' campaign.

This year funds were being raised in support of the Paphos Friends hospice, and 'Movember' was organised by St George's Football Club.
Men taking part in the event gathered sponsorship to grow their moustaches for the month and then shave them off.

In December, during a live radio broadcast on Rock FM, chairman of the Friends' Hospice, Chris Jones was presented with a cheque for over three thousand euros, by Pete Jenkins, a Peyia barber, who along with St.Georges' football club, organised the fundraising event.

The big shave off took place at the Frog and Toad pub at the end of November and money for the hospice was also pledged by listeners during a live broadcast of the 'Bit in the middle' show on Rock FM.

Chris Jones said he was astonished at the amount raise and the support given by the radio station, the football club and the Frog & Toad pub in Coral Bay.
"I am especially grateful to the people of the Peyia and Paphos who donated so much for the Movember event," he said.

During the month, the Movember men act as a walking advertisement highlighting the necessity of regular medical checkups for prostate and testicular cancers.

The Friends hospice is currently the only operational hospice in Paphos and is situated in a special wing of the Evangelismos hospital.

Around 500 people have been cared for at the hospice which provides palliative care for people suffering with life limiting illness and support for them and their families.


Police report

Paphos district court issued an eight-day remand for the 56-year-old woman who was arrested for the alleged attempted murder of her brother-in-law, 75, from Paphos.
The suspect denies that she had meant to kill her brother-in- law. According to police she attacked him with two kitchen knives after 'she took his teasing the wrong way'.
The victim was taken to Paphos general hospital where he underwent surgery for injuries to his abdomen and arms.

Paphos flooding

Cyprus' second largest dam at Asprokremmos overflowed in December.
The dam can hold 52.4 million cubic metres, according to the water development department's Fedros Roussis. The dams of Argaka Pomos and Arminou also overflowed.

The dams at Evretou and Kanaviou, which hold 24 million cubic metres and 17.2 million cubic metres respectively, are also expected to overflow while the biggest, the Kouris dam, which can hold 115 million cubic metres, may overflow by early January, Roussis said.

In the meantime, Paphos police urged people not to try and visit overflowing dams in the district as it was dangerous as long as the rains continued.

"There are too many vehicles being driven to the area by curious motorists. I would ask the public not to go to this and other dams at the moment as it could be dangerous," said police spokesman Nicos Tsappis

Torrential rain in Paphos closed roads and caused severe damage in some areas, particularly in Latchi.
Tsappis added that a landslide also caused the Paphos to Polis road to be closed for a short time on, a bridge and a house were badly damaged in Polis Chrysochous and the small dam in Argaka also overflowed, flooding a nearby house.

A torrent of water poured over the Coral Bay road flooding a professional gym on the ground floor of a house and causing thousands of euros worth of damage.

Ian and Patricia Dobson who live on a boat at the Latchi marina said: "Residents of the marina have no vehicle access whatsoever, and if you are unlucky enough to be berthed on the harbour exit wall (as we are) - getting out of the marina by foot looks impossible as well."
They said the municipality have had repeated complaints from residents and businesses since last year, "but decided it wasn't a high enough priority"

Buy a Christmas star for charity
By Bejay Browne

People who wish to support the Paphos Friends Hospice can buy star space on a Christmas tree.
A large fir tree, called the 'Tree of Love', will be placed in the reception area of the Evangelismos hospital in Paphos, where the hospice operates out of a dedicated wing. People will be able to buy stars and write the names of their loved ones on them and fix the stars on the tree. All the money will go towards the hospice.
"As far as I know this is the first time such an idea has been undertaken in Paphos. Of course people may want to purchase a star for a loved one who is no longer here, but the idea behind it is a celebration of life," hospice spokesman Colm Connolly said:
"We are particularly hoping that the names of new born babies are added. We are aiming to sell hundreds of stars and this is a lovely way to make a donation to the hospice."
The Friends Hospice is currently the only operational hospice in Paphos and since opening in 2006, the facility has grown and now consists of a seven bed unit which is solely run by donations, money raised by the shops and fundraising events.
"All money raised from the sale of the stars, which will cost 5 euros each, will be donated to the hospice," he added.
The inauguration of the 'Tree of Love' will take place at the Evangelismos hospital on December 7 at 10am.It will be a festive event with mince pies and coffee being served.Stars will be on sale between 10-11am.
In addition, musicians Harry Hawkins and Mark Thompson will add to the atmosphere with Christmas songs and melodies.
Around 500 people have been cared for at the hospice which provides palliative care for people suffering with life limiting illness and support for them and their families. The hospice figures show an average occupancy of 70 per cent with most patients being Cypriot. It costs around half a million euros to operate the facility each year.
Help for hungry Paphos children

By Bejay Browne

Hundreds of Paphos school children which are no longer able to purchase school breakfasts are being offered assistance by local authorities to ensure they don't go hungry.

President of the Paphos municipality social welfare committee Maria Zavrou said: "I am currently visiting a high school of Paphos and the head teacher has informed me that there are twenty five children at the school from families who are no longer in a position to give them money for school breakfasts."

The head of the social welfare fund assured that there is a programme in place to help any affected families for as long as is necessary. She pointed out that –obviously- the crisis is affecting children of all nationalities and not just Cypriots.

She said: "We are going into schools to try and help children whose families are struggling due to the ramifications of the economic crisis. Because of the economic climate, many parents have lost their jobs. This means very little money to make ends meet and they don't have the funds to give their children to purchase sandwiches from the school shops or canteens."

According to Zavrou, students are at school from 7.30am until 1.40pm on weekdays, and usually have a sandwich for breakfast break time at 10.45am.

"Children can't go without, this is a long time to go without food," she said.

The education ministry, the local education authority and the heads of schools recognised that there was a problem in Paphos, with many families needing help due to the increasing unemployment rate and the economic crisis.

Stavrou said: "The parents association at this high school, as is the case with other schools, is trying to take measures to help these children. Some are making sandwiches for free and others are paying money to the school shops for these snacks."

She added that families finding themselves in this position can contact the head of the school to try and see what help is available.

She noted: "There is help for everyone, no children will go without."

Zavrou said that the crisis had brought out a caring side in many of the children.

"I know that on a daily basis, some of the children are breaking their sandwiches into half and sharing it with the other children," she said.

Charity supporters strip off

By Bejay Browne

Two separate Paphos based organisations decided to shed their clothes to raise funds for different charities this year.
A group of Peyia women formed the 'CalenDare Girls' and have taken off their clothes in aid of the Cancer Patients Support Group-CPSG. They have produced a calendar, similar to that of the original UK Calendar Girls and all proceeds from the sales will be donated to the charity.

In the meantime, Paphos based amateur dramatics group Stage One are shedding their clothes for a global charity drive by performing the renowned play 'Calendar Girls' and have also posed for an accompanying calendar, in support of the charity Leukemia Research.

The Cancer patients support group was set up in 1995 with the aim of helping the Association of Cancer Patients and Friends (PASYKAF) the support group established a homecare nursing service in Paphos. This provides help and support to all cancer patients and their families regardless of race or religion.

The charity calendar was photographed by female wedding photographer Nicky Kirby. "All of the women taking part have had their lives touched by cancer in some way, either by friends or family members being diagnosed with the disease," she said.

The charity calendar is on sale for €10 and is available from many outlets across Paphos. Kirby said: "We really need the public's help to reach our target of selling 1,000 calendars by the end of the year."
For information: Nicky Kirby 99681735
Power cuts hit ninety in one month

The Electricity Authority of Cyprus (EAC) has promised to look into ways of informing customers of major power supply faults after residents of a number of Paphos villages experienced around 90 power cuts in a month.
Simou resident Nick Newton and his wife Anne reached desperation point after they were subjected to 89 power cuts between October 9 and November 11.
"This has been a nightmare for my friends and I as well as my neighbours, both in our village and surrounding villages. We have proof of the number of cuts which have been taking place as some of us have burglar alarms that send text messages when power is lost to the house," Newton said.

Acting EAC spokesman Yiannis Tsouloftas confirmed the number of cuts and put them down to technical problem that had been very difficult to detect, "connected with the overhead line which supplies these villages".
"The problem became apparent every time there was bad weather," he said, adding that staff had tried to solve the problem as soon as they became aware of it but the "tricky technical fault was well hidden".

According to Newton some of the cuts were of a short duration but others were for as long as eleven hours.
"It is not only the disruptions and inconvenience that these interruptions cause but also the damage caused to computers, internet radios, central heating control units, hard disc drives, food in freezers and so on. Can you imagine resetting the electronic clocks in the house 90 times in one month?"
Tsouloftas said on November 11, the area was hit by a power cut again, "so we visited the area to thoroughly inspect the overhead line. Each and every insulator and piece of equipment was checked, we had to interrupt the supply for safety reasons." Since then, he said, there has been no further cut to supply.

Paphos councillor looks to cut wages

A Paphos councilor has suggested municipality staff in Paphos have overtime and bonuses reduced, in order to save €200,000 a year.
"In 2011, we paid far too much in overtime and bonuses - it was close to €400,000," Nikos Konnikos said.
He stressed it was important for the municipality to cut these costs, which last year reached €370,000.
"I am suggesting on the issue of overtime 50 per cent would be given to staff as a day off and fifty per cent would be with pay. This is on top of the twenty five percent cut in overtime across the board, which we have decided to implement."

The councilor has also proposed the notion of outsourcing some jobs, which he says will help to give more people employment, such as parking stewards for events at the harbour who are usually municipality staff. "Anyone can do this job," he said and most of those doing so at the moment are paid overtime for it.

He said there are other "bad practices" which need to be stamped out.
A vote on the proposals will be taken at the next meeting of the personnel committee of the municipality of Paphos in the coming weeks.

Paphos Heart of Gold Award 2012

The nomination process for the annual Paphos Heart of Gold Awards is now open.

The community based award will be presented by the Patron, the mayor of Paphos Savvas Vergas, at an event to be held at the town hall on Friday December 7th.

There are two awards to be handed out, the Junior Heart of Gold which is for those under eighteen and the Heart of Gold Award for adults.

The award is open to all residents of the Paphos district of all ages and nationalities and aims to recognise those individuals who are extra special in some way.

In the past, nominees have shown tremendous courage and determination in the face of adversity, worked tirelessly within the community or for charities, overcome tragedies with a smile or simply been a great help and support to neighbours and friends.

Successful nominees will be presented with their solid gold handmade heart and certificate by Savvas Vergas, at an event to be held at the Town Hall.

Members of the public are able to nominate deserving individuals in Paphos and a limited number of places will be available to the public for the ceremony in December.

Along with the unique hand-crafted solid gold heart, winners also receive a certificate in recognition of their efforts, and a bouquet of flowers. All of the nominees are presented with a certificate.

If you would like to nominate someone in Paphos, please send a short description of the person you're nominating and the reasons for their nomination, along with your name and contact details to the address below.

The panel of judges, whose decision is final, will choose the recipients. The mayor will present the 2012 awards at a ceremony in December.

paphosheartsofgold@mail.com
New Hospice shop open in Paphos
By Bejay Browne
The mayor of Paphos officially opened the forth Paphos Friends hospice shop in the area.
Savvas Vergas inaugurated the outlet and said: "By being part of this team, you are contributing to a really worthwhile cause which makes a difference to the lives of people of many nationalities in the city, when and where they need it the most."
Cutting the ribbon at the premises in Ikarou Street, Kato Paphos- the Mayor promised a donation of 500 Euros to the charity. The Municipality supports the hospice with an annual grant from the social fund.

"This charity shop raises money for a noble cause but it also encourages all of us to give," he said. "I believe we owe special thanks to those who have made this possible - the volunteers and all of those who have donated goods."

The Friends hospice is currently the only operational hospice in Paphos and is situated in a dedicated wing of the Evangelismos hospital.
Since opening in 2006, the facility has grown and now consists of a seven bed unit which is solely run by donations, money raised by the shops and fundraising events.
Around five hundred people have been cared for at the hospice which provides palliative care for people suffering with life limiting illness and support for them and their families.
Julia Search, the chairperson of the Friends Hospice Support Group, said :"We are still looking to receive donations of goods and also for volunteers to enable us to extend our opening hours."
The shop will initially be open Monday to Friday from 10am- 2pm.
Goods such as clothing for men, women and children, as well as bric a brac, books and furniture DVD's, CD's and jewellery items are urgently needed. And as the new shop has adequate storage facilities on site, they are able to take substantial amounts of donations.
The Friends hospice also has shops situated in the Paphos district in Chlorokas, Polis and Pissouri. The new shop will be the first which has opened in Paphos itself.
The hospice figures show an average of 70 % occupancy, with most patients being Cypriot. The remainder are British and other nationalities.
"A substantial amount of the funding for the hospice is generated by the shops and this year the operation of the hospice will cost close to half a million euros," she added.
To volunteer or to donate goods contact the Friends Hospice support group chairwoman -Julia search on 99 177 479.
Mosquitoes blight Paphos

An emergency meeting was held in Paphos to address the problem of mosquitoes which are causing problems for residents in large area of the town.

According to Filaktis Constantinides, the president of the health and cleaning department of Paphos municipality, the meeting will also examine the future role of the health services department concerned.

Constantinides said that although a number of complaints had been received about troublesome mosquitoes in Paphos, an area in the town centre which stretches from the new government buildings down towards Debenhams roundabout- seems to be worst affected.

He said: "Although this is my first year on the council, I can see that most of the complaints from residents of Paphos seem to be from this specific area."

In addition, improvements also look set to be made to the department possible for pest control, which has faced a number of problems and criticisms in the past.

Ahead of the meeting, Constantinides stressed that various options would be discussed as how to make the services offered by the department better and more effective.

He said: "We will have to examine how we can do this. There are currently a number of inspectors and four workers in this department. They deal with pest control amongst other things."

Constantinides noted: "We are not happy with the way things are currently being done. I have spoken openly about it and I can assure you that we will find ways which will better organise this department."

The president of the health and cleaning department noted that solutions may involve using more people or buying in services from the public sector.

Constantinides said that a couple of areas in central Paphos which were found to be holding stagnant water had already been identified and sprayed.

He noted: "The problem areas need to be sprayed regularly and this is something that we will sort out. I can assure you that it won't be left as it is."

Bugler wanted for annual Remembrance Day service

A bugler is needed to play The Last Post/Reveille at a Remembrance Day service being held to remember the war fallen in Peyia in November.

Coordinated by Alan Wilson, who is also involved with MARCH -Military and Retired Cyprus Holidays for Heroes – the service will be held on Sunday November 11 in the Peyia Municipal Car Park.

Wilson said: "We are hoping to find a bugler for the service; one has yet to confirm but even if we have two that would be great."
.
The 'Peyia Remembrance Service' is now in its fifth year and attracted around six hundred people last year, despite rainy weather.
Wilson said:" What makes the whole thing so special is the three hundred or so ex serviceman and women who turn out in their berets and medals. We are hoping that even more people will attend this year."

The service is held in Peyia car park, which is situated just below the church. Poppies will be on sale and Wilson has also distributed many to fourteen outlets across Paphos. The event takes the form of a traditional Remembrance Day service.

Wilson, an ex serviceman who served for twelve years in the British army has lived in Cyprus for the past twenty one years, said: "This year we are being helped by the New Testament Community Church, although the service is open to all nationalities and religions who wish to pay their respects to people who have died in conflicts and terrorism."

The Remembrance Day service will be held on Sunday November 11 in the Peyia Municipal Car Park at 10.30am

For further information call Alan Wilson on – 99850355

Award winning theatre group call for new members

AN ageing award winning theatre group based in Paphos is on the look out for new members.

Stage one theatre groups' production manger Caroline Harman- Smith said: "We are getting on a bit as a group and urgently need an infusion of younger people- 30's and 40's- to enable us to broaden the scope of our productions."

According to Harman- Smith, members have been leaving Cyprus at a steady trickle for the past few years and few young people have joined.

The group consists of mostly British ex pats- many who have decided to leave Cyprus to return home or to live in other countries.
Harman- Smith said: "Reasons for leaving include deteriorating health, economics and missing family members. We have also had a number of deaths."

Stage One, which was established in 1985 by Freda Worsnop, put on their first performance in a back garden. They moved to Emba theatre in 1987. Since then it has grown to include well over two hundred members and they now present regular performances at the 240 seat venue.

The amateur dramatic group's production manager stressed: "We desperately need to inject some younger blood into our group. We want to continually improve the quality of our productions and having younger members will enable us to expand our repertoire. Obviously, because most of our actors are from the older generation, this limits the kind of plays which we can put on."

She added: "The audience wants to see different faces as well and it would be great if we could find people with singing and dancing skills."

A large part of Stage One is the social side with regular club nights being held at the theatre every month.
"We have in house entertainment and we also go on regular trips , there is also a book and DVD swap and a monthly newsletter."

The next auditions are to be held in November for the production, 'The Love of Four Colonels' by Peter Ustinov.

For further information contact Caroline 26911641 or Andy on 97613914.

Myth of Plato's cave filmed in Paphos

A renowned Cypriot film maker has shot his latest offering in Paphos, inspired by the myth of Plato's cave.

The short film titled, 'Adventure of the soul,' recently 'wrapped' in Paphos.

The short movie is directed and written by Stavros Papageorghiou of Tetraktys Films, which is based in Nicosia and was established in 1994.

Plato's Cave is an allegorical story centering on a group of people who have lived their entire lives chained up and facing a wall. They are unable to turn their heads and their reality is the shadows on the wall in front of them, which are created by people passing by a huge fire behind them.

Papageorghiou said: "We will now be in post production for about two months and the film should be ready by the end of September."

Telling the myth of Plato's cave, the short film has been shot without dialogue, making it more accessible to International audiences, including school children around the globe.

"I promised myself that I would make a film about the myth one day and I believe although the story is an old one, the message is still relevant today" said Papageorghiou.

He continued, "It's about the pursuit of truth and is relevant to the values of the media these days."

The entire movie has been shot in the district of Paphos, locations included the Tomb of the Kings, a well know cave in Kato Paphos, areas of the Akamas and a location close to Tzelefos Bridge.

When completed, the film will run for about 8-10 minutes and will play at film festivals around the world.
The leading characters of 'Adventure of the soul' are played by professional actors Nicos Nicandros Savvides and his co star Lea Maleni.

Tetraktys said: "The supporting cast is made up of actors from the Paphos area, one is a professional actress and some others are dancers."

The film was made in cooperation with the Paphos regional board of tourism and Paphos municipality.

Body of missing British woman found

The body of missing Briton Nancy Johnson was found in the Tsada area of Paphos on Sunday 29th July, almost six weeks after she left home in the village for the last time.
Johnson, 73, who suffered from Alzheimer's, went missing on June 19 while her husband was taking a nap.

Despite days of intensive searches by the police, and weeks of further searching by her family, friends and neighbours, she was found by someone passing by a ravine in a secluded area of the village at around 6.20am on July 29th.

Her concerned family had even set up a website dedicated to finding her but there had been no firm sightings of her confirmed since the day of her disappearance.

Nancys' husband George- known to his friends as John- and her family wish to pass on their thanks to the people of Paphos for their help and continuing support.

Paphos benefits from domestic tourism

During the month of August occupancy of Paphos hotels reached 95 per cent, boosted by Cypriots and Russian tourists, according to tourism officials.
The chairman of the Paphos hoteliers' association, Themis Philipides said: "The arrival of Russian tourists continues and is quite satisfactory."

Arrivals from Russia increased by 40.7 per cent in July- compared with the same period last year. This helped to cover the 9.1 per cent fall in the islands main tourist market, which is traditionally from the UK.
Paphos also seems to have benefited from locals' decision not to travel abroad this year because of the economic downturn.
"A lot of Cypriots who used to holiday abroad have limited their travel plans, due to the economic crisis, opting to come to our town," Philipides said. "I can say that domestic tourism is at a peak. It is the first year we have so many people from other districts."

Philipides also noted that hotels have not raised their prices, despite the increase in overheads.

But the rise in tourist arrivals in the coastal town has also caused an increase in the number of cases at Paphos general hospital emergency department, placing a strain on resources.
According to the hospital director, in only one week, 1,692 people received treatment for a variety of problems, including accidents, gastroenteritis and heart attacks.
"The large number of local and foreign visitors to Paphos for the summer holidays also resulted in an increase of emergency room incidents," he confirmed.

Pilot scheme to produce power imminent

A pilot scheme by the energy Regulatory Authority (CERA) will soon get underway in Cyprus. The net metering scheme will see the installation of small photovoltaic systems on homes to produce power.

According to CERA vice chairman Constantinos Iliopoulos, the scheme will be tested on 125 volunteer homes for a year. It will then be apparent if its implementation in all households would be sustainable. If so, the aim is to install the systems on all interested homes in Cyprus from 2014 onwards.

The cost of the installation will be paid for by consumers. It will cost around €6,000 for a 3KW system - but from there on, their electricity supply will be virtually free.
But Iliopoulos said that CERA first needed to ensure the electricity supply network – the Electricity Authority (EAC) – would not be adversely affected financially.
"The system will be implemented in homes for a year on a pilot basis, to see the consequences it will have on the entire system and the aim is to implement it more generally later," Iliopoulos said during a radio interview.
According to the CERA official, the system is being tested as a pilot programme in only two other EU countries to date- Denmark and Italy.

An EAC spokesman said the authority was not against such schemes, as long as it was compensated for the subsidiary services it provides.

Also, he argued, solar power was unreliable. "If for two or three days a year there are clouds and no solar production, we can't say we didn't make any provisions as we thought there would be sun. We can't depend on the sun, so we have to have the system ready in case it is needed."


Tala monastery cats to be relocated again

By Bejay Browne

A group of feral cats living in Tala in Paphos- being cared for by a team of volunteers- will have to find a new home after the local council say they have received numerous complaints from nearby residents.

Cathi Delaney, a member of the Tala community board said: "Primarily the cats will have to be moved for their own safety and well being. Many are being knocked down on the nearby road, and others are straying from their current home and venturing further down the hillside into people's gardens."

Delaney said that some residents had complained, adding that the village council was concerned for the cats safety.

"Personally I love cats, but some people are not fond of them. If they are perceived to be a nuisance then we could have spate of poisoning on our hands and no one wants that. It's in the best interests of the cats that they are moved to a more suitable home."

Only about a year ago, the cats were moved to their current residence which is further down the road from their initial home, close to the car park of Ayios Neofytos monastery in Tala.

As numbers grew, the cats were moved for health and safety reasons, to an area about 50 meters further down the road. The piece of land was provided by the monastery.

The animals are fed and cared for by a group of local volunteers who are now desperate to find a suitable and cheap piece of land in the area, to which the cats will be moved too.

The team of volunteers purchase food for the animals with their own money and also uses the assistance of local animal charities, PARC and Paphiakos when required.

A recent statement by the group said: "After recent meetings with those in authority locally, we can now confirm that we have no option but to relocate all of our beautiful feral cats if we wish to continue caring for and feeding them."

They added: "We desperately need to find a suitable plot of land to rent –cheaply- on a long term basis."

The volunteers say that the land needs to have running water- and an existing electricity supply, although not essential would be preferable.


The volunteers' stress that people should not dump unwanted cats at the monastery. Instead they should contact Paphiakos which specialises in finding animals new and loving homes.

They say: "Not only is it dangerous to bring new cats into the pack as they can bring with them disease, but they may also be attacked by the other animals."

The volunteer group has more than 315 supporters on their Facebook page.

For further information, or if you can help to find the animals a new home: info@talamonasterycats.com or message the volunteers via their Facebook page, 'Tala Monastery cats.'

Two Paphos women still missing

At the time of going to print, local police confirmed they are investigating a number leads into the disappearance of two women in the Paphos district, but new evidence has yet to be confirmed.

Briton Nancy Johnson, 73, has been missing since June 19th and Thekla Christou, 68, was reported missing on June 21st. Police say they do not believe the two cases are connected.

Paphos police spokesman Nicos Tsapis confirmed that information provided by the general public regarding the two cases was being thoroughly investigated.

He said, "These are both ongoing cases and we have had a number of alleged reported sightings of the women from the public and we are investigating each one. But we have no news as yet."

Nancy was last seen in Tsada where she lives with her husband George, 76, and Thekla, a well known face in Paphos, was reported missing by her family in Chlorokas.

The Cypriot woman's family filed a missing persons report and said that she often goes for walks to collect used tin cans and containers. A police search of the surrounding areas in Chlorokas proved fruitless.

Nancy was reported missing by her husband George, 76, on Tuesday June 19th after saying she was going for a walk at around 2pm. She suffers from Alzheimer's. There were two sightings of the missing woman within two hours of leaving her house on Tuesday, one at 3pm and another at 4pm. Since then, police have been unable to find any trace of her.

Her son Richard, 42, arrived on the island from the UK to help with the search.

He said: "My father and I along with friends and relatives have blanketed Paphos and the surrounding villages with posters in Greek and English of my mother in the hope that it will give us some leads as to her whereabouts."

He added, "I know that the police is continuing to search for her but I believe the operation has been scaled down."

Nancy Johnson is approximately 1.5m tall, weighing around 50kg, and has short grey wavy hair. She speaks English only.

Nancy Johnson's facebook page is https://www.facebook.com/pages/MISSING-PERSON-Nancy-Johnson-Tsada-Cyprus/122046024603045.

According to police, Thekla Christou, is about 1.6m in height of a slight build and has grey curly collar length hair. She was wearing a black dress.

Police are urging anyone with any information relating to either of the missing women to contact the nearest police station or the citizen's line on 1460, where information can be given anonymously.


Contributors sought for fund raising book

Contributors are being sought for a fund raising poetry book which will form part of the Paphos bid to gain the title of the European Capital of Culture 2017.

Paphos has already succeeded in going forward to the second part of the process along with a joint Larnaca/Nicosia bid and the judging will take place in September 2012.

As this project is designed to appeal to and involve all sections of the Paphos community, the Friends' Hospice has been invited to participate. The hospice provides palliative care for patients and support for families of people suffering from life limiting illness such as cancer.

The hospice cares for people of all nationalities and religions from all over Cyprus.

As part of the collaboration, a book is being compiled titled, "The Little Book of Love".

The book aims to offer a collection of poems and short prose written by people with life limiting illness- their friends and family and those connected with caring for people in these circumstances. The book will also contain illustrations by contributors. It will help to raise funds and awareness of life limiting illnesses and highlight how people cope with living with disease.

As well as providing a cathartic experience for the contributors- the book will also leave a positive feeling with the reader and show that love gives strength and hope, and that through love, we are all connected as one.

Compilers of the book said, "We can all feel someone's joy and pain, no matter what our nationality or personal beliefs. Love has no boundaries and sadly neither does disease. The Little Book of Love will unite and encourage people to identify with one another through the poems."

It is hoped that as many people as possible will contribute to this project as the experiences of serious illness, loss and love touch everyone's lives in one way or another.

If you have written poetry or a short piece of prose under such circumstances and have found it a positive way of coping, or have drawn or painted as a way of expressing feelings, organisers say they would be delighted to hear from you.

You can send your contribution to hospice@evangelismos-hospital.com or littlebookoflove@mail.com


For further information about the Paphos bid: - www.pafos2017.eu


New flights for Paphos

Charter flights connecting Paphos and Lebanon are due to commence this month.
According to the Paphos regional board of tourism, this is the first time that charter flights will connect the two destinations.

The inaugural flight will be on July 13 and ahead of the event, a television crew from MTV Lebanon will film extensively in the Paphos district. The documentary style film will highlight the most appealing aspects of the coastal town, its advantages and what's offer to visitors from Lebanon.

A Paphos regional tourist board spokesman said, "Along with the local board, Paphos hoteliers, Lebanese tour agents, the CTO, Hermes airports and tourist organisation AEOLOS, recently completed the necessary procedures to enable the flights to commence and the new schedule will begin on July 13 and continue until mid-September."

There will be two flights a week on Mondays and Fridays.

The spokesman said, "This development is very positive for Paphos and we will make every effort to ensure the success of this program. There will be opportunities for further action in the Lebanese market and we are taking specific actions to achieve this in the near future. in particular, we are aiming to expand schedules and develope the market."

As well as Lebanese travel agents, Paphos has also hosted a group of more than 25 tour operators from Italy. The industry professional were show audiovisual presentations and given promotional material concerning Paphos.


Justice for Ivan

Friends and colleagues of murder victim Ivan Krastev Yovkov have joined forces with the Bulgarian community, vowing to campaign until his killer is brought to justice.

Yovkov's supporters recently organised a peaceful protest in the harbour in Paphos and have already collected more than 200 signatures.

Yovkov, a Bulgarian national, was shot in the chest on his doorstep in Tala village in Paphos at around 7.30am on February 8.

Neophytos Constantinou, a retired policeman in his mid-sixties, was the only suspect for the premeditated murder of Yovkov, the fiancé of Tasoula Constantinou, his former daughter-in-law.

Constantinou was exonerated by Paphos Criminal Court last month on May 23, a decision which Attorney General Petros Clerides is now appealing.

The protest letter states that,' the Bulgarian community of Cyprus together with relatives and friends of the murdered victim would like to exercise our right as EU citizens in an EU member state by expressing our unanimous disapproval of this unjust decision, and insist on conducting an immediate and fair judicial process.'

A successful appeal would allow the prosecution - in this case the state - to put Constantinou back on trial, but does not in any way bear on his guilt or innocence.
Yovkov is described in the protest letter as a decent and upstanding member of society who was murdered in the 'prime of his youth.'

If you would like to add your signature to the Protest letter, which is available in Greek, Bulgarian and English please e-mail: za_pravata@abv.bg


New lifesaving equipment for Paphos

Paphos beaches look set to be even safer this year according to the Paphos regional board of tourism.

New lifesaving equipment has been supplied to Paphos lifeguards, which the manager of the local regional board of tourism says will ensure high levels of safety.

Nassos Hadjigeorgiou said, "We have purchased a wide range of new equipment ranging from rescue boats and lines, to first aid kits, diving masks, binoculars, whistles, water proof wireless communication systems ( walkie talkies) and a jet ski."

He added, "The Paphos lifeguards are now all fully equipped .There are new recruits and the lifeguards have all been retrained this year and will be able to provide a superior level of safety."

Paphos district currently has thirty two life guard stations and equipment for thirty five has been purchased, leaving three spare.

According to Hadjigeorgiou, the local tourism board and the Paphos lifeguards association- 'KINYRAS'- requested funding from the Cyprus Tourism Organisation- CTO- last year. The action was approved in November 2011 and the equipment was bought in time for the current summer season.

The tourism chief noted that on duty life guards are currently working between the hours of 11am- 5.30pm, from the months of May until September.
He said, "If we are fortunate, some beaches are covered until October, but we are requesting on duty guards from the beginning of April until late November."

In addition, the regional board of tourism and KINYRAS is requesting an extension to working hours.
"There needs to be two shifts of lifeguards in order to fill the gaps. For example, the second shift would provide cover on Paphos beaches from 8am until 11am and then from 5.30pm until 8pm."


Power failure sorted in Stroumpi

Residents of Pano Stroumpi in Paphos say they have complained of ongoing power cuts for more than a decade, with one resident experiencing forty one in just one day.

According to a British ex pat resident who moved to Cyprus ten years ago with his wife, and wishes to remain unnamed, the problem reached a critical stage in May, with more than one hundred households being regularly affected.

Although he says some of the interruptions to the supply were only for a matter of seconds, others were for far longer.

George Pistentis, the Vice Chairman of the EAC- Electricity Authority of Cyprus- assured that the problem had now been fixed.

He said, "On May 2nd, I can confirm that there was a big problem in the area of Pano Stroumpi, which lasted for most of the day. According to our technicians, it was a jumper fault (which connects one electricity supply to another) which has now been mended."

The Vice Chairman explained that this fault is a tricky one to find but underlined that the problem had been attended too.

This will be welcome news for the frustrated resident who says until now, that no one from the EAC has been able to give him a straight answer.

The Vice Chairman of the EAC said, "There shouldn't be any more problems with the supply here and in addition, a large substation is being built in Stroumpi which will mean a much higher level of efficiency. It will be operational by the end of the year," he said.


Coral bay targeted for noise pollution

In just one night, fourteen venues in Coral Bay in Paphos were handed out noise violations by police.

Coral Bay is the latest area in Paphos district targeted by police in an attempt to curb problems with sound pollution.

A recent police campaign to reduce noise levels in Ayiou Antoniou Street in Kato Paphos ended up in a huge fracas which left three police officers injured, and the same number of men in custody.

The non use of decibel meters in Cyprus has long been the subject of debate, with music venues pushing for changes to the law. They say this would help both venue owners and police to keep music at an acceptable level. Currently, police in Cyprus are not furnished with meters, although many owners do use them to keep track of levels.

Demitris Koutroukides, an Environmental Officer of the Department of the environment said.
"I'm on a committee, along with the Ministry of the Interior, who are responsible for this issue. The 2007 law concerning the use of decibel meters is currently being updated. The initial law was very basic and is taking some time to update."
Koutroukides noted, "It's very easy to draft a law but the difficulties occur over implementation. We need all parties to cooperate; the police and the local authorities and also the venue owners."

The Environmental Officer said the committee is currently determining the methods of measuring with a decibel meter and how to categorize the different sorts of venues, such as open or enclosed venues.

The committee member said the intention is not to economically impact the economy but added that a foremost priority is the health, well being and quality of life of people affected.

He said, "Specific measures are being discussed, such as how to use the meter, how high to hold it, how long to record for and so on. This all has to be laid down in a detailed law. I expect the earliest it could be completed would be by the end of this year."


Solution discussed for Coral Bay

A proposal to solve the dire problem of a lack of sand at Coral Bay Beach in Paphos was discussed by officials, in the wake of a raft of complaints by visitors to the area.

Peyia councillor Linda Leblanc said, "We have already received complaints from tourists about the lack of sand on Coral Bay Beach. About 80 per cent of the sand has now gone; but it's still in the area, about 100 meters out to sea."

The once naturally sandy beach of Coral Bay in Peyia Paphos is the 'jewel' of Peyia municipality. Coral Bay is a popular destination with both tourists and locals, who flock to the area to enjoy the blue-flagged sandy beach and sparkling waters.

But, Leblanc explained that heavy storms and unusual waves during the winter period have apparently contributed to the dire situation.
She added, "As well as the terrible weather over the winter, we are now paying the price of bulldozing the cliffs and doing other works in the area. We have disrespected the environment for decades and now we see the consequences."

According to the councillor a study is currently underway to see what action should be taken to address the problem which is now critical.
"We need to make sure that any work we do will be right, we don't want to make the problem worse."

One possible solution which was due to be examined at last nights council meeting is a proposal from a company to pump the sand which has been washed away back onto the beach.
"This will cost around 100,000 euros, which is a lot of money and the municipality is strapped for cash at the moment," she said.

"But we need to do something and it has to be the correct course of action," she underlined.



Tourism industry determined to see increase in Paphos

Despite the current decrease in the numbers of tourist arrivals to Paphos, industry professionals believe they can turn figures around and are making concerted efforts, even though the summer season is already here.

Manager of the Paphos regional board of tourism Nassos Hadjigeorgiou said industry professionals were determined to turn figures around, boosting them to show at least a slight increase on last years arrival numbers for the same summer period.

He said, "Even now at this late stage we are trying to do everything possible to help the market and generate traffic to Paphos.

He added, "There is positive interest in Paphos from the Norwegian market and next summer we hope that the airline will start flights to Paphos."

The tourist board manager said that officials were being 'pro active' so that if the flight commenced, some awareness would have already been created.

Also, according to Hadjigeorgiou, two TV crews from Lebanon will film in Paphos for a travel programme; this will support a Beirut- Paphos flight which will hopefully commence in July.

Following this there will be a shoot for the new Ryanair calendar for 2013.

Hadjigeorgiou noted, "Ryanair has a charity calendar and the 2013 edition will be shot in Paphos." In mid June photographers and models will arrive in the seaside town,
"It all helps with promotion," said Hadjigeorgiou.

He added, "Hoteliers, the Cyprus Tourism Organisation-CTO- and the Paphos regional board are doing a lot. We are all doing anything and everything we can to have a positive outcome and increase the tourist flow to Paphos."

The tourist professional added that they are aiming to increase numbers by the end of the season, compared with the same time last year, even if the increase is only a slight one.

He admitted, "There is a decrease in the markets of UK, Germany, The Netherlands, Belgium and Luxembourg."

He said that reservations and bookings made for the same period last year from the UK are showing a 15 % drop.
However, the Russian market in Cyprus is doing well and Paphos gets a considerable number of these visitors.
As well as indications of growth from Russia there is also growth in markets furnished by Ryanair, such as Italy, the Nordic countries and others.

He said, "The occupancies have seen a shift of clients between hotels and from one region to another. Overall, to date this year there has been a decrease but I think that next month there will be a turnaround."


Police attacked in Paphos

Three men have been arrested after attacking police officers, as they attempted to confiscate a sound system from a venue in Paphos.

According to Paphos police spokesman, Nicos Tsapis, three members of the police were taken to Paphos general hospital where they received treatment for light injuries sustained during the fracas.

He said, "The members of Paphos police were hurt during an incident which took place in Ayiou Antoniou Street in Kato Paphos soon after midnight . They were not seriously injured."

Two of the arrested men are the owners of a popular bar on Paphos' nightlife street where the incident took place. The third is believed to be a customer, who attempted to help the proprietors prevent police from removing the sound system.

Tsapis said, "Following complaints about the high levels of sound being emitted from a Paphos bar on Saturday night, we organised a police operation which consisted of ten officers, both uniform and plain clothes who visited the premises."

Tsapis said the team visited the venue at around 12pm, and gave the bar owners a written warning that the sound levels were too high, and told them to turn it down. They then left but returned around 15 minutes later.

"The music was still too loud and so the officers attempted to confiscate the sound equipment."

According to police, the bar owners took umbrage at the police removing the loud speakers and sound system and tried to prevent it.

Tsapis said, "The bar owners and customers reacted to police and attacked them causing injury. The owners and a third man were arrested."

The police spokesman also said that the venue did not currently hold a liquor or music license.

He noted, "We are entering the summer season and as is usually the case, we will continue operations to ensure venues aren't playing their music too loud. We often get complaints about sound levels at this time of year."

The non use of decibel meters in Cyprus has long been the subject of debate, with music venues pushing for changes to the law to ensure that the meters will be legally used by police and other officials. They say this would help both venue owners and police to keep music at an acceptable level. Currently, police in Cyprus are not furnished with meters, although many owners do use them to keep track of levels.

Asked to comment on how police currently measure sound levels, Tsapis said, "If music can be heard in a public place outside a venue, it's illegal."


Taxi inspections update

Inspections of all taxis at Paphos airport are underway following a raft of complaints related to overcharging, the head of the road transport department said.
Soteris Kolettas said: "We are currently making inspections of all taxis at Paphos airport and these checks are being intensified. This will be an ongoing process."

He added, "I am unable to comment if any violations by taxi drivers have been discovered so far, as I have yet to receive a report. I expect to have it soon."

In addition, Kolettas said that information leaflets mainly aimed at visitors to Cyprus are currently being prepared.
He noted, "These will be handed out to visitors and they will contain information and instructions including, checking the taxi meter is operating and so on. Also, it will explain what to do if they have a complaint."

Recent complaints include an increase in the numbers of alleged overcharging by taxis at the airport and the failure to use the taxi fare meters.

Kolettas pointed out that these checks by inspectors are usually undertaken at Paphos airport, but that they have been stepped up in recent days due to the number of complaints. The campaign is being run in cooperation with the traffic police.
The inspection will include checking that all vehicles have operational meters, which are in regular use and in compliance with the law.

According to the transport chief, inspectors are also present at destinations, such as hotels. Their duties include checking that the taxi meter is on and operating correctly and that the passenger is charged the correct amount for their journey.

Clarification needed over 'yellow slip'

Confusion as to what documents are required by non Cypriots residing in Cyprus is still rife.
Last April the government scrapped all ID cards for non-Cypriots, because they were against EU directives on nationality.
Relevant sections of the Civil Registry and Migration Department's website concerning the subject are still out of date and incomplete.

According to Anny Shakalli, the head of the migration department, the correct document, ( apart from a passport) - for non-Cypriots to use on a day to day basis, is the alien's registration certificate, also known as an Alien Card. EU citizens still need to register in Cyprus though, according to an official from the migration department.

EU nationals intending to live in Cyprus for longer than three months are required to register with immigration. They will fill in form MEU1A –also known as a yellow slip and provide all of the relevant documents. Application fees cost €8.54. Failure to register carries a fine of €2,563.
EU citizens now only need to register once – (it used to be every five years) to bring Cyprus in line with EU directives.

The British High Commission website, however, says British nationals residing in Cyprus should go to the nearest immigration office and register unless they hold a brown card and/or a yellow slip without an expiry date.

The British High Commission has asked for clarification from the Cyprus government as the situation is very confusing.
"We are urgently seeking written clarification on residency rules," a British High Commission announcement stated last week.

To get a yellow slip you can download the form from:
http://www.moi.gov.cy/images/stories/PDF_FILES/TAPM/FORMMEU1.pdf
Houses continue to slip in Armou

The promise of help from the Paphos District office has been welcomed by residents of a stricken development in Armou, but it has come too late for one couple who have already decided to move back to the UK.

Six houses which make up a recently built development in the picturesque village in Paphos have continued to move down the hillside, despite the warmer weather.

The estate is in imminent danger of collapse after it was constructed on land locals had long been warned was unsafe.

In just one week on, one of the access roads to the estate has dropped a further 7cm.
Two of the access roads to the development are currently impassable with giant gaps in both, the third is barely useable, and may also be out of action at any time.
A number of the homeowners have issued court proceedings against the developer.

Geoff Higgs, one of the homeowners said, "We don't feel safe here anymore and my wife Maggie is now too frightened to stay. We are worried that we could wake up one morning half way down the ravine."

In just over a week, cracks have appeared in the interior walls of the couples dream home, the front retaining wall is cracked from top to bottom and the rear retaining wall which backs onto a steep ravine has split apart with a gap of about 1 foot.

The pool pump house is above the retaining wall and according to Higgs, there is a possibility that the wall will give way taking the pump house and the pool- which weighs about 50 tonnes-down the ravine with it.

The president of Paphos' architects and civil engineers association, Chrysostomos Italos was contacted by a number of the home owners to prepare a report, which he is currently completing.

It appears as if the area where their houses were built, just below the church in the picturesque village, was well-known among locals as being unsafe.
According to Italos the area where the houses have been constructed is at the bottom of the village of Armou and it is of soft clay.


Founder of the Margarita Liasidou foundation dies

By Bejay Browne

Tributes have been pouring in for Ismini Liasidou Saul, the much loved founder of the Margartia Liasidou Foundation for disabled children and adults, who died peacefully in her sleep at the Iasis clinic in Paphos on March 15th.

At the grand old age of 92, Ismini was a well-known figure not just in Paphos but all over the island for her tireless work to help those 'less fortunate than herself.'

Ismini set up the non governmental organisation in memory of her disabled daughter Margarita, who she described as 'beautiful'

Ismini said she wanted to keep her daughters memory alive by establishing the school, which will now remain under the guidance of a committee, Ismini had been the president.
Ismini often spoke of the difficulties she encountered and described the setting up of the school as 'an uphill struggle' but she was a fiercely determined woman who said she gained strength from god and a massive amount of support from her second husband Mervyn Saul, a Welshman.
The Margarita Liasidou Foundation is now a well established facility, which provides help and care for children and adults with disabilities.
The foundation stone for the project was laid on the 24th October 1990 by the Minister of Labour in Koloni village in Paphos. The land was donated by the church.
Ismini started the project with fifty thousand Cyprus pounds of her own money, and with help from the government of Cyprus, the church, numerous organistions, clubs and private donations, she was able to realise her dream.
The Margarita Liasidou School opened on the 15th September 1992 and since then has helped tens of children and adults.
An accomplished concert pianist, Ismini regularly played in public to help to raise funds for the foundation.
The manager of the school Maria Argyrou was Ismini's right hand and she has been greatly saddened by her death.
She said, "I saw her just a couple of hours before she died, but she didn't open her eyes and she was breathing heavily. Nurses spoke to her shortly before she died and she said she just wanted to sleep."
Ismini experienced a fall in August 2011 which left her bed bound. She was admitted into the clinic a week before her death.
Savvas Vergas, the mayor of Paphos, paid tribute to the schools founder when he presented her with the Paphos heart of gold award in 2007.Descibing her as an 'incredible woman, with boundless energy,' he said that she was 'greatly admired by many and that he was proud and honoured' to present her with the award.
Argyrou added, "Ismini was an amazing women and so dynamic, I feel lonely without her. She was adamant that her work must continue after her death, and as the foundation relies on donations and fund raising, her biggest fear was that the school wouldn't carry on."
She noted, "She loved all of the children at the school and its only through her persistence and vitality that the school was founded at all.
Ismini's funeral was held at Ayios Theodoros cathedral in the centre of Paphos.
Volunteers needed to help monastery cats
By Bejay Browne

A meeting was held in Tala in Paphos, to try to come up with a plan to raise funds to help to feed a group of close to one hundred stray 'monastery' cats which have recently been moved to a new site.

Volunteer Carol Harvey said, "There are a group of ladies, of which I am one, who all pay to feed this group of cats from our own pockets. But times are tough and although we all love the cats, we need to find a way forward to be able to feed them all."

Until recently, the cats were living in the grounds of Ayios Neophytos monastery in Tala, but when the café at the site changed hands over a year ago, the decision was taken to move them.

"The cats were bothering customers of the café and some were feeding them, it was becoming a problem," said Harvey.

According to the monks of Ayios Neophytos kindly donated a piece of land further down the road, which the cats have been moved too and concreted sections of it. There are now also three separate sheds, all of which have been donated and provide shelter for the animals.

"The problem is that even though we are trying to get as many of the female cats spayed as we can, people keep leaving unwanted cats and kittens at the site and we have to stop them from doing this."

Harvey stressed that the area is not an animal shelter, nor is it a charity, but that it was set up solely to provide a home and food for the cats from the local monastery.

For further information look at www.talamonasterycats.com
Police Report

Eight people, including one woman, were arrested by police in a drugs bust which took place in Paphos.

Paphos polices spokesman Nicos Tsappis said, "Police arrested seven men and one woman at a café in Moutallos in Paphos, acting on information given to officers."

He added, "The suspects are being charged with illegal possession of drugs with intent to supply, illegal drug use, conspiracy to commit a felony, and allowing the premises to be used as a place to deal drugs."

According to the police spokesman, officers found 27 grammes of cannabis which had been sorted out into 23 separate bags, at the premises.

The 47 year old female café owner was arrested along with six Cypriot men and one Bulgarian, all aged between 33- 34 years of age.

The eight appeared before Paphos district court. All of the male suspects were placed on a five day remand order. The female café owner was given a two day remand order.

Police have launched their annual Easter campaign to prevent and combat the use of firecrackers and the control of bonfires.
The campaign, will inform young people about the dangers, prior to Easter on April 15. According to the police, they are stressing that the materials used to make a fire could cause the loss of sight or a limb or even death.
Police will also increase patrols during Holy Week, especially outside churches, they said.

Random electricity cuts in Paphos continue

By Bejay Browne

Rolling power cuts are still underway across Cyprus in the wake of the explosion at the Evangelos Florakis naval base in Limassol, which all but destroyed one of the main power stations on the island and claimed twelve lives, a thirteenth victim later succumbing to his injuries.

Most areas of Paphos are having supply cut for only a two hour period at any one time, with power later being resumed.
But an announcement that cuts would be limited to once a day in Paphos seems not to be the case, with power to some areas of the district still being cut up to three times a day.

A member of staff of the Cyprus Telecommunications Authority, CYTA, confirmed that the ongoing loss of supply was causing a headache to technical teams.

Local Paphos businesses are also facing difficulties in their day to day operations caused by the sporadic electricity supply, not least banks and hairdressers along with many others.

An employee of the EAC said that at present it was 'impossible to follow the timetable of cuts' which is posted daily to the company's web page. He also confirmed that the situation is expected to continue until at least the end of September.

Frustration is mounting among Paphos residents who, whilst aware of the tragic situation behind the cuts, are experiencing many problems.

Most are appealing to the authorities to try to work out a system where they inform users when and how long cuts will last for, and to keep to the timetable. A number of areas of the district have also had a constant power supply since the day after the fatal blast, which has left those experiencing daily cuts feeling disgruntled.


More cuts to Paphos flights.

Paphos has been dealt yet another blow as Cyprus Airways confirmed the suspension of the Paphos to Heathrow flight from October 29th , just days after announcing the cancellation of their long standing Paphos to Thessaloniki flight as from September 5th.

In addition they will cut their twice weekly Paphos to Amsterdam flight down to just one.

A Cyprus Airways spokesman said, "We fly from Paphos to Heathrow every Tuesday but we will suspend this route as of October 29th.We may reinstate in again for the next summer period."

In addition, the airline spokesman said that either the Tuesday or Friday flights from Paphos to Amsterdam will be canceled as of October 29th, but no decision had yet been made as to which one.

The motive behind these cuts was given as financial reasons.

The move comes after the national carrier announced the cancellation of flights from Paphos to Brussels and Gatwick and now Paphos officials fear the airline may abandon the use of Paphos International airport altogether.

In addition, local officials are still waiting for a study by the carrier into the viability of using Paphos International airport as a base.

The CY spokesman also said that the viability study into using Paphos International airport as a base for the airline 'is not in our priorities at the moment."


Alethea Ayres passes away

By Bejay Browne

Tributes continue to pour in for a brave Paphos mum, who recently died and who had touched the hearts of many across the island with the tremendous courage she showed in her battle against nine brain tumours, the result of a malignant melanoma.

Alethea Ayres, 35, had been the inspiration for many, as she documented her journey since being diagnosed with cancer with complete honesty, on her personal blog and on the social network site facebook.

The young woman also brought together the whole community of Paphos who joined forces to raise money for her to send her for what was hoped to be life saving treatment in Germany.


Just weeks ago after undergoing radiation treatment in Germany, Alethea returned to Paphos and expressed her heartfelt thanks to the people of Paphos, who came together and in a matter of days managed to raise the thousands of euros needed for her treatment.

Despite living with a terrible disease which was ravaging her body, Alethea had a positive approach to her predicament and a determination which enabled her to remain dignified during her course of grueling treatment, and which made her the inspiration for many other people coping with similar situations.

Alethea was also helped by the strong love and support of her family and friends and her determination to be back in Cyprus after treatment, for her son Christians second birthday was an aspiration which came true.
She said it was 'wonderful to hold him in her arms once more'.

After the intensive radiotherapy, Alethea returned home to continue chemotherapy and rehabilitation treatment as her mobility had been affected by the treatment and the tumours putting pressure on her brain.
She retained her positive attitude and sense of humour throughout, despite bravely admitting she found it hard coping with the changes in her body and appearance caused by the drugs.

Her mother Hilda, explained that her daughter's health had deteriorated quite quickly.

"The tumours appeared to have shrunk and doctors were reducing Aletheas cortisone intake, we thought she was doing well."
But she then began to suffer with stomach pains.

Aletheas cancer had spread to her stomach and just two weeks ago she was admitted to the Paphos friend's hospice where she later died.
Hilda once again expressed the thanks of all of Alethea's family for the help and support shown to them by the people of Paphos and Alethea's funeral was held at the main church in Mesoyi in Paphos.


Two white lion cubs arrive in Paphos

By Bejay Browne

Two seven month old lion cubs arrived at Paphos animal and Bird Park after a sixteen hour flight from South Africa and according to the parks founder, have settled into their new home straight away.

Dias and Hera now reside in a specially constructed 800 square metre enclosure, which includes trees, rocks, wood and a water feature. They also have a specially constructed room in which to feed and sleep, complete with a ceramic tiled floor, to ensure it's easy for their keepers to clean.

Park owner Christos Christoforou said, "They are very beautiful creatures and we now have our first cats at the park," he said adding, "We will get some more lions from a zoo in Denmark, they will be arriving in the middle of September."

The parks founder said that he believed the climate of Cyprus is excellent for the lions as it is so similar to that of Africa. They will be fed beef, goat and chicken daily, as well as cow's liver with added vitamins and calcium.

Christoforou admits that although all of the birds and animals at the park are 'like his children,' his first love is his extensive collection of birds which is the third largest in Europe.

Construction of a large elephant house and enclosure is currently underway, in which two new female Indian elephants will soon be living.

In addition, the pair of zebras which reside at the park have just produced a male and he has been named him Apollo.


New craze comes to Paphos

The newest craze to sweep the streets of London has just arrived in Cyprus. The multi 'party' bike is being hailed as the latest fun and eco friendly way to get about.

With no emissions and an electric system powered by special solar panels, the 'party bike' is a great fun way to enjoy a novelty experience with your friends.

The open structure is sturdily built, and seats eight. A platform at the back provides room for two more passengers. The fully trained driver stands at the front, in charge of the steering and braking systems.

The first party bike to hit the island has taken to the streets of Paphos and is already proving popular with both tourists and locals alike.

Billed in Paphos as the 'Party pedaler,' the party bike was brought to Paphos just two weeks ago by British ex pat resident Eamonn Deller, who has the exclusive rights for Cyprus.

The 57 year old has lived in Peyia in Paphos for the last seven years and on a recent trip to Germany, a similar version of the party bike caught his eye.

The structure which is best described as a type of multi person cycle has already transported dozens of happy passengers on numerous trips.
The multicycle layout is similar to that of a dinner party, as the two rows of four chairs are facing each other. The driver is provided and soft drinks are available on board.


Sixth annual International Beach volley again in Paphos

The women's International CEV beach volley tournament got underway again in Paphos.
Fifty eight women from eighteen different countries competed in the sixth tournament to be held at Yeroskipou municipal beach.
Organisers said it had been an amazing event which gets better every year.

They also said the Paphos tournament had 'become an important event on the International beach volley calendar and that twenty nine teams would be competing for a place in the finals and cash prizes.'

This year, well known Greek TV presenter Nikki Hadjivassiliou, who presents the poplar Greek TV show 'Pame Paketo' which is shown on channel Alpha, also took part in one of the Greek teams.

The mayor of Yerioskipou Tassos Kousopos,said that he was pleased that the International event was once again taking place at Yeroskipou beach in the municipality which had an excellent reputation for hosting mayor sporting events.
Kousopos added that the beach volley court was of a high standard as is the quality of participants at this year's event.

Teams from countries such as Greece, Bulgaria, the Czech Republic, Italy, Slovakia, the Netherlands, Norway, Poland and Sweden all took part.


Appeal for young amputee

A Paphos based non profit making holiday scheme for injured or traumatised military personnel is appealing to the public for accommodation for a young amputee.

Founder and coordinator, Alan Wilson told the Paphos Post, "we have a young soldier coming to Paphos in June and we are hoping that someone has a 3 or 4 bedroom ground floor apartment or villa they would be willing to donate for two weeks."

Wilson says the young soldier lost both his legs above the knee and sustained other injuries in Afghanistan.
He will be a guest of the scheme which is run by M.A.R.C.H. - Military and Retired Cyprus Holidays for heroes-in Paphos for the last two weeks of June.

The scheme was founded in 2010 by Paphos residents Alan Wilson, an ex military man himself, and his wife Barbara

The scheme coordinator said that if nobody donates a property free of charge, supporters are able to make a donation via the MARCH website-www.march-cy.org- so that a property could be rented for the wounded soldier, his family and carers.


Call for young cheerleaders

The Paphos Warriors, an Arsenal affiliated soccer school, has put a call out for would be cheerleaders to attend try outs for a new squad.

Warrior's spokesperson and cheerleading coach Cathy Alexandrou said, "We are looking for girls with a great personality, enthusiasm and commitment."

Also working as a professional dancer, Alexandrou and two more professional dancers will hold the try outs which will start with a warm up and then light routines.
According to Alexandrou, it's not necessary to be a great dancer to be a cheerleader, and unlike dance, size and experience doesn't matter.

Alexandrou stressed, "The personality of the girl is the most important thing, as well as a huge amount of enthusiasm."
The practice sessions will commence in September and girls are being invited to come along and discover what being a cheerleader involves.

The age range for the squad is 10-20 years old and a junior and senior group will be formed.
"The girls will support the players at away games as well as home games," she said.

For further information contact Cathy Alexandrou on 97773804


FIABCI Congress held in Paphos

The Cyprus International Real Estate Federation- FIABCI Cyprus – hosted a five day property conference in Paphos.

The conference, which took place in English, saw thousands of FIABCI representatives from more than sixty different countries come together, to exchange ideas and information.

The event was held at the Coral Beach Hotel in Paphos.

The FIABCI Cyprus Honorary President, Nicolas Lemonaris, of Lemonaris developers explained that the conference presentd an opportunity for professionals in the property market in Cyprus, to meet up with their counterparts from all over the globe.

Cyprus was up against Russia and Italy to hold this year's event, but according to Lemonaris,. Italy withdrew its intention and Russia eventually supported the Cyprus proposal.

The International Real Estate Federation FIABCI is a business club of real estate professionals in 60 countries; and a Federation of 100 national real estate associations. It has a special consultant with NGO status to the Economic and Social Council of the United Nations Organisation -ECOSOC.

The federation was founded in 1945, in France as a business club for real estate professionals and now has a membership of over 1.5 million.

The event in Paphos was the 62nd annual world congress of the International Real Estate Federation.


Successful play due to be filmed

Award winning Scottish born actress and playwright Kathleen Ruddy who penned the smash hit 'Sex, Chips and Ouzo,' which is due to be turned into a movie, has moved back to Paphos .

The movie offer comes in the wake of the successes at the Edinburgh festival of her previous plays, 'Glasgow Hard Tickets' and 'Check Your Coupon'. Ruddys' company Rubber Ear Productions will also stage the popular play at venues across the island from September.
The playwright and actress has just moved back to Paphos with her husband and two children and said she was thrilled at the prospect that Sex, chips and Ouzo will hit the big screen.

Ruddy was approached by Soundsmove Films-Director/producer David Goodall. He currently has two films being presented at International film festivals. His movies, 'Crush' and 'Changed days', have already been screened at Sundance, the New York Film Festival, the Swansea Film Festival and Cannes.
Fast paced comedy, Sex, chips and Ouzo centers around four characters and is set in 1978 in post war Cyprus.

She recently wrapped filming for a new Chanel four film titled, "Football Macbeth, " and a film she acted in last year called, ' A spanking in paradise" has just signed a distribution deal with one of the biggest distributers in New York and will be out in cinemas soon.

Sex, chips and Ouzo premiered at the Edinburgh film festival and went onto win the BT comedy award. The play then successfully toured the UK for a year and a half to rave reviews, before being presented in Cyprus.

Two successful runs of the show across the island in 2003 and 2004 surprised the playwright.

Ruddy is currently writing another play, "The Devil wears Primark," which will premier in Paphos following the run of Sex, chips and Ouzo.


Groundbreaking care for the elderly

A new groundbreaking project in Paphos will see a four star hotel turned into an assisted living venture.
The Laura Beach hotel in Paphos will close in November and undergo a number of essential changes to turn the site into a residence tailor made to meet the requirements of the older generation. The project is being undertaken by Hestia Living an Anglo-Cypriot group with over 30 years experience in hospitality and healthcare.
Sales and marketing director Duncan Wills said, "this is a big project and the idea was formed after it was identified that there is a lack of continuing care and age care facilities in Cyprus."The Laura Beach Residence in Paphos will be the first Hestia Living Community. The company identified the 307 roomed 4 star hotel as the perfect site for the venture and an ideal property to be refitted.
Hestia living will open the refurbished hotel in May 2012 after it has been carefully designed with the seniors in mind.

Road closed in protest

Activists against a proposed dual carriageway in Paphos closed a road in protest.

The move came after a meeting between the Union of tourist businesses for the Tombs of the Kings road and the mayor of Paphos Savvas Vergas, where plans to start construction on the road were put back until November 1st, but this move didn't go far enough to appease protesters according to one local bar owner.

Ben Hinton of Ben's bar, which is set on the busy tourist road, is a member of the union and said that building a four lane dual carriageway will wreak havoc for local trade and is an unnecessary expense.
.
He said that construction of the road- to form part of the ring road being built around the town- will be a disaster for already ailing businesses which line the busy tourist hub.
Work in the area will take at least 18 months to complete and Hinton says he fears this will mean many businesses will be forced to shut up shop.
Local shop owners say they have been informed no compensation will be offered to them and they believe the project will be the final blow to trade.

Hinton stressed that owner's want the area to be upgraded and tidied up, but that building four lanes was senseless.


Paphos Youth Theatre scoops two prizes

The Paphos Youth Theater scooped two prizes at the 25th annual 'Rosebowl' Cyprus festival.
Although the main prize, the 'Rosebowl,' an engraved crystal bowl, was awarded to Stage one youth group, the Paphos youth theatre walked away with the 'Rosebud' and 'Best Performer'.

Youth theatre founder and director Michelle Tross Nonyelu said she was thrilled with the result.

"This is the third year that we have entered a play into this competition and it's the first time our efforts have been recognised in this way, it's a real achievement for the kids and we are all over the moon."

The Rosebowl drama festival 2011 is celebrating a quarter of a century in existence and took place in Episkopi.

In the last 25 years, 136 plays have been staged with more than eight hundred actors taking part.

As well as the Rosebud prize, the award for best performer.
Nonyelu will be running a theatre summer school during the school holidays from Monday June 27th-July 29th.and places are still available.

For further information -99878521



News

The neighbourhood watch initiative which has been operating in Peyia in Paphos since last September is being hailed as a success.

The scheme which sees friends and neighbours reporting any suspicious instances or people in the area to coordinators, who then pass on the information to police, is a pilot scheme and the first of its kind on the island.
"I think it would be good for other communities and areas to implement similar schemes in their area, "said Press Officer Colm Connolly, "It is working very well for us."

According to Connolly, Peyia is enjoying a period of relative calm where previously house burglaries and thefts had been sharply increasing.
"We have just been given the go ahead by the local council to place warning signs at the three main roads which are the entrances to Peyia," he said.
They will be of a similar size to 'stop' signs and will read, 'Beware, neighbourhood watch" in both Greek and English.
There are fifteen coordinators who are each responsible for a slice of the Peyia municipality.




Three new telephone hotline numbers which may be used to report instances of touting and other offences which affect the main tourist hub of Paphos have been announced by the town's police.

Nassos Hadjigeorgiou, the tourist manager of the Paphos regional board of tourism promised a couple of months ago that he would 'fight to clear our streets,' and true to his word, his efforts have now come to fruition.
Callers will be able to report any of these types of incidents and according to Hadjigeorgiou, the police will respond immediately and send officers to investigate.
He said, "The whole idea is to ensure that Paphos keeps its reputation as a low crime and high security level area. I know of so many complaints by visitors to Paphos, who have been hassled by touts trying to sell them timeshare and other packages. This is terrible for the image of Paphos and some of these people will never come back again."
The tourist board manager said that his department had joined forces with the municipality of Paphos and other concerned bodies and approached the police for help.
"Their response was positive and they have now given us these three numbers 199, 26806060 and 26806049."
Hadjigeorgiou said that callers should request to speak with the officer on duty to lodge their complaint and that it would be dealt with swiftly.




Development in Peyia in Paphos has been described by one local councilor as comparable the 'wild west' where everyone does what they want without adhering to the law.
Linda Leblanc, a Canadian born naturialised Cypriot, is a Green party member and was elected onto Peyia council as a representative of the coalition of independents.

Following a recent intrusion into the coastal area of Peyia, which is part of a sizeable multi million euro property devolvement, Leblanc has been fighting for her right to be given copies of the building permits which have been issued. Authorities are insisting that the development is all above board and that all permits have been issued according to the law. But so far, Leblanc has been unable to get hold of copies of the permits for her perusal.

Green Party MP George Perdikis recently visited the area and confirmed that the cliff side work appeared to be a violation of the coastal protection zone, also pointing out that Leblanc had a right to a photocopy of planning permits.
Perdikis has written to the Minister of the Interior and the Ombudswomen requesting an investigation into Pegeia Council's refusal to give copies of the planning permits the councillor.

News Bites.

Three year old Marialena Georgiou was rushed to intensive care at the Nicosia General Hospital after she ran out from behind a parked car on hearing an ice cream truck in Paphos.
The little girl was knocked down by a 19-year-old national guardsman. Police say she managed to break away from her parents and ran to cross the road to get to an ice-cream.
She was transferred from Paphos General Hospital to Nicosia General due to the critical nature of her head injuries.

A British man, Stephen David Carbine, aged 34, was killed in a road accident in Latsi after when his motorcycle collided with a car driven by a 28-year-old man.
He was rushed to Polis Chrysochous hospital where he was pronounced dead on arrival.
The 28-year-old driver of the other vehicle involved in the crash was arrested after failing two alcohol tests.

A 600KG shark was caught by a fisherman Michalakis Ioannou off the coast of Latsi in Paphos. The shark was snared 300m from shore in shallow waters of 10m, which is a rare occurance.He was then towed back to the harbour at Latsi.


Polis campsite opening unsure

It is still unclear whether the popular campsite in Polis Chrysochous will open this year.
According to Takis Tsintides, the Chief Forestry Conservationist, the person who has been managing the site until last year finally handed it back on April 20th.

"We are waiting for the signing of the new contract between ourselves and the municipality of Polis Chrysochous," he said.

According to Tsintides, the new agreement will be valid for a term of 15 years with the option to continue for two further 15 year periods.
"I'm not yet sure if the municipality will open the site at all this year, but we must let the people know what the decision is as soon as possible."

Tsintindes said that the site was officially handed back to the Cyprus Tourism Organisation (CTO) just over a couple of weeks ago.
The state forest was leased CTO, which in turn leased the site to the private individual who had fought all efforts to remove him form the campsite, despite the fact that his contract was terminated last year.
The forestry department terminated the contract with the CTO in February 2010; to enable it to be rented to the municipality of Polis. They have plans to keep it as a campsite, but also to upgrade it.

Mayor of Polis Chrysochous added," I am waiting for a new contract to be signed between the municipality and the forestry department, and I am trying to find ways in which the site will remain open for this summer. Some small works need to be undertaken but no major upgrading will take place in time for the summer."

London Welsh voice choir to perform in Cyprus

Following the success of her recent appearance with the Morlais male choir during their trip to Cyprus, a Paphos businesswomen has been invited to sing with the London Welsh Male Voice Choir when they perform on the island in May.

Judith Evans- Davies said, "I will be singing two or three songs with the choir and I'm absolutely thrilled. I feel quite overwhelmed and really excited."

Evans- Davies performed in March with the Morlais male voice; and is now gaining an International reputation. She was recently approached by Mike Charlesworth of the male choir after a recommendation following her recent performance.

"It will be a fantastic opportunity to sing with so many voices," said Evans- Davies.
Originally from Wales, the Paphos resident is a classically trained singer and has performed in Cyprus on previous occasions, after making her debut performance in the Welsh National Opera "Madame Butterfly"

The choir, who have twice appeared at the Royal Variety Command Performance and at the Prince of Wales fiftieth Birthday celebrations, arrive on the island on May 28th.

During their visit to Paphos, the choir will perform three concerts in aid of the Army Benevolent Fund and the Friends Hospice of Paphos.Evans-Davies has been invited to sing at all three venues.
On Monday 30 May –the first performance will take place at the Akamas theatre at the Coral Beach Hotel in aid of the hospice. This will be followed by a performance at Pissouri Amphitheatre on Wednesday June 1 for the Army Benevolent fund, and a final performance at the castle in Paphos harbour on Friday June 3rd.
Royal wedding comes to Paphos

The much anticipated royal wedding of Prince William and Kate Middleton on April 29, saw many British ex pats living in Paphos celebrate the event in style.

Paphos has the biggest population of resident Brits on the island and prior to the event most were getting into the spirit of the occasion by organising street parties and gatherings with family and friends.

Sue Keats along with her husband and children organised a traditional British style street party in their cul-de-sac in Peyia village in Paphos, and invited neighbours and friends to join them to celebrate the wedding.
Prior to the event Sue said, "We are all dressing up in red, white and blue and we are expecting lots of people to come."
Family, friends and neighbours have all clubbed together to supply a dish of food each and donated nine euros per head for drinks.
"I'm really excited; this kind of event makes you proud to be British. I know the country has gone downhill a bit, but this wedding is the kind of thing that brings everyone together," she said.
Sue and husband Darren, along with the help of friends, are arranging tables and chairs, traditional red, white and blue bunting, balloons and flags to line the street outside their home. They will all also watching the event live on a projector screen, supplied by another friend.
"It's such a lovely occasion," she said.
The Paphos branch of the UKCA also held a street party on the day of the royal wedding, but chose to host it indoors.
One of the organisers Steve Kay said. "We will watch the event on three TV screens and we have traditional British street party food like, sausages, sandwiches, and cheese and pineapple on sticks."
Be careful of snakes

As the weather warms up snakes in Cyprus are emerging from hibernation and this period is the when most snake bites can occur.
David Roach, a Paphos resident, has worked closely with Snake George- Hans-Jorg Wiedl- a Cyprus snake and reptile specialist-who is currently in Austria.
He says spring is the most common time to see snakes as they are waking up.
"Snakes are coming out of hibernation now and as the temperature isn't very high they are docile and lethargic, as they get energy from the sun and it warms up their blood."
This means the creatures aren't moving as swiftly as they will during the warmer months.
He advised, "If you are gardening there are some basic things to bear in mind. Snakes like to shelter under rocks and in long grass and you may even find one which has been hibernating in a garden shed."
He continued, "If you are turning over rocks do so carefully tilting the rock slowly towards you, giving a chance for a snake to go away."
According to research carried out by Snake George there are six types of snakes in the Republic of Cyprus, three of these are poisonous. The blunt-nosed viper is the most venomous. The other two are the Cat snake and the Montpellier snake. Roach said, "If you are bitten by any snake you must get medical help straight away. Even if the bite is not venomous you must have a tetanus jab."

Local News
The Cyprus Hoteliers Association (PASYXE) has hit back at SEK trade union claims that hotels in Paphos were implementing a policy of firing Cypriot employees in favour of using cheaper EU labour, saying the matter had been blown up out of proportion.
Neophytos Xenofontos, the Paphos district secretary for SEK claimed 10 hotels in the town had sent redundancy letters to dozens of their Cypriot employees just ahead of the start of the summer season. He also claimed that procedures were underway to employ EU workers in their place.
But Evripides Louzides, a spokesman for the Cyprus Hoteliers Association (PASYXE) refuted this.
Louzides confirmed that three hotels in Paphos had been contemplating cutting staff to ensure survival, but that no decisions had yet been made.
Two of the three Paphos hotels which are contemplating staff cuts are not members of PASYXE.
Paphos has been worst hit by the global financial crisis of all the towns in Cyprus as its economy is reliant on tourism and construction as the main sources of income.


A decision by the Ministry of the Interior means that foreign nationals are no longer being issued Cyprus ID cards. The move came without warning or notification.
EU nationals are not permitted to use Cypriot ID cards for travel, the same as a Cypriot national living in another EU member state with an ID issued in that country could not use the card for travel. Only EU nationals with ID cards issued in their country of origin are able to use them for travelling within the EU. According to airport officials, the ID card travel issue was a problem. But, as many Cyprus ID cards are valid for ten years, the issue could continue to be a problem, especially as the authorities appear not to have taken any steps to inform the public that the cards will no longer be issued as they are not valid for travel.
Apparently, the interior ministry is examining the possibility of introducing a new type of card replacement. It will be called a residence card and will appear similar to that of an ID card. In addition, the new residence permits with biometric data should be in place by the end of the year.


President Demetris Christofias officially inaugurated the citizens' service centre (SSC) in Paphos.
Speaking at the ceremony to celebrate the centre's opening a year ago, Christofias said the centre demonstrated the government's twin objectives of responding to the demands of society and building a relationship between the state and the citizen.
Christofias said: "Any modern state has an obligation to provide high quality, prompt and effective services. Citizens are entitled to receive prompt service and reliable information, even if they live away from the capital and the headquarters of the Ministries, Departments and Services."
He added that the creation of SSCs was part of a wider government strategy to offer decentralised and better services to the public, which is set to include an advice call centre, a code of conduct for civil servants and a 'Common Assessment Framework' to identify administrative weaknesses.The SSC offer 64 services from six different government departments, including road transport, social insurance, civil registry and migration, the health ministry and the land and surveys department.

Opposition to plans for a dual carriageway

Businesses on the busy tourist road of the Tomb of the Kings in Paphos have formed a union opposed to plans to turn it into a dual carriageway. They have also sent a letter to the mayor appealing to him to reconsider the move.

They have gone so far as to threaten to close for good if construction work on the dual carriageway goes ahead, saying it will ruin their trade.

Paphos Mayor Savvas Vergas has said construction of the road - to form part of the ring road being built around the town - would commence this June or July this year, taking 18 months to complete.
Ben Hinton of Ben's bar said: "A lot of businesses on the strip have already closed down due to the recession and a lack of tourism; this road could be a final blow".
Hinton added that business owners had asked Vergas what sort of compensation would be offered to those adversely affected by the disruption caused by construction.
"We were told there would be none at all," he said, pointing out that businesses were given no idea as to the construction's schedule or how long any disruption to each area would last.
"We all agree the Tomb of the Kings road needs tidying up, but we are against the construction of a dual carriageway. The road will be widened to two lanes each way, a bicycle lane and the continuation of the central reservation, which at present is only in place at the entrance to the strip."
He also questioned the sense behind placing a dual carriageway through the middle of a busy tourist area.
"It will be difficult for traffic to stop, even though the plans show that a number of car parks would be built… Here we have masses of accommodation and I wonder how tourists will be expected to cross a dual carriageway."
Hinton said that the design could be changed so that the road remained as one lane each way, complete with a bicycle lane. He continued that locals had no problem with the central reservation being built and new lighting and plants would also help to smarten up the street.
The bar owner along with eight other Cypriot business people opposing the construction recently formed a union - the Union of Tourist Business of the Tomb of the Kings road, which will attempt to prevent the planned construction.
It's carnival time!

This year's carnival parade in Paphos looked on track to break all records and be the biggest the town has ever seen, said mayor Savvas Vergas.
More than 50 groups had signed up to participate in the procession prior to the event.

The theme for this year's King of the Carnival is Dionysius, who represents wine and entertainment – which is what this year's celebrations are all about, according to the mayor.
"We have many events planned in the city" he said.

The carnival's main event, as usual, is the parade through the centre of Paphos.
"After this there is a free concert to which everyone is invited," he said. Nickole and Greek band Melisses will perform.

He said that while the economic crisis had taken its toll on Paphos, everyone should take advantage of this 10-day period to try to enjoy themselves, leave their homes and attend the municipal events. Vergas pointed out that the carnival period will help improve Paphians' morale, bringing some enjoyment their way.

Grand carnival parade: Saturday March 5, 3pm, Grivas Digenis Avenue; 5pm concert by Nickole and Melisses
Youth carnival fiesta: Sunday March 6, 10pm, Otto Dieci bar, DJ and costume contest
Green Monday: Monday March 7, 12pm, Faros beach. Traditional dances, food, games and kite contest.
Ailing airline could close in weeks

The minister of finance has said that national carrier Cyprus Airways-CY- could be closed before April, if the government does not give the nod to the €20 million compensation the airline say they desperately need. This payout is for compensation over Turkeys ban to use its airspace.

Charilaos Stavrakis added that even if the funding went ahead, this gave no guarantees that the ailing state airline could be kept afloat. He cited many 'outside factors' and said that the government must try to keep the airline going, as its closure would deal a devastating blow to the Cyprus economy.

It's as yet unclear if the EU will allow for the payout to go ahead, even if it's approved. Under European Union law, member states are not permitted to shore up public or private companies, unless they have the specific permission of the EU.

The government has yet to officially apply for permission, a fact which has brought much criticism from MP's. The minister of finance said if funds were to be approved; the cash injection would be passed onto the airline immediately. He added that Turkeys position of banning the airline from using its airspace was 'unjust' and had adversely affected the state carrier's ability to compete in the market.

Stavrakis said, "If we don't give this money, the airline will close by April, the latest. For now, the aim is to save the company, which is in immediate danger of collapse."

Up to now, only ruling political party AKEL has voted in favour of handing over the payment to the airline.


Storms wreak havoc at Paphos seafront

Yet again storms and bad weather have lashed the recently upgraded area of Poseidonos avenue in Kato Paphos, throwing up rocks and debris onto the road, rendering it impassable.

According to locals the road had to be closed to enable municipality workers to clear the rubbish away.

This occurrence is an ongoing problem every winter and the mayor and the local council are pushing the government to erect 'much needed' wave breakers, which would not be visible, in the sea.

A small wall which had been in place for years was not replaced during the multi million euro upgrade of the street, but according the local council and shop owners this offered little or no protection.
Paphos councilor Vassos Demetriou said that the government must do the necessary works in the sea to prevent this from happening again.
He said, "We have spent a lot of money on upgrading Poseidonos avenue and we are still experiencing problems with the sea and the waves."

Demetriou said that architects responsible for drawing up the plans of the upgrading work had not taken into consideration the effects which storms and bad weather would have.
"But even if the small wall which had been there was replaced this would not solve the problem," he said. "The main problem is that the government should do the necessary works into the sea to protect the seashore otherwise we will have this problem every year."



News Bites

Following huge delays in the process to revamp the public swimming pool in Paphos, tenders for the project have finally been declared.Work on the site is expected to commence soon and will be completed by next summer.Panicos Charalambos, the president of the Paphos municipality youth and social welfare committee, said that he hoped that KOA, the Cyprus athletics association, would provide further athletic instalations to enable the municipality to offer a better sports service.
A meeting between the muktah of Konia, Kyriakos Kyrikou, and the special co ordinating committee which are examining places for the new C and D waste disposal site has taken place.The study followed EU regulations and guidelines , so as not to be disputed by any of the parties involved. The descision to create the tip in the space to the north of HYTA has already been taken. All local representatives and authorities will be informed of the study,given explanations as to the decisions taken and why the particular spot has been chosen.

The ice rink which had been set up by the municipality of Paphos in the town hall gardens as part of the Christmas village melted due to the unseasonably high temperatures.Whilst holiday makers enjoyed beach weather in December, many locals, children and adults alike were disappointed by the fact that the ice was melting which made it unsafe to skate on.The ice is kept cool by a generator but the temperture needed to be at 12 degrees in order for the ice to freeze completely.The ice had been covered with water which obviously meant that no-one could skate there.Colder weather though, did help and skaters finally took to the ice for the first time in Paphos.

Hundreds of restaurants in Paphos closed for 24 hours to highlight problems they say they are facing. Fitos Thrassivoulou the President of the restaurateurs association said that all-inclusive holiday are killing the trade. In addition, he said it lowed the quality of tourism and added that overheads and taxes facing these businesses such as VAT are very high. A meeting also took place between tourism officials and the restaurateurs association to discuss the problems and to attempt to find solutions to ease the pressure.

Yiorgos Michaelides, a member of the management committee of the Paphos Aphrodite festival announced that at a meeting the proposal from the opera of Prague to undertake next years performance had been accepted. He pointed out that although the initial figure put forward by the company had been €355,000 the final price came out at €480,000. Michaelides said that the opera was of a very high quality adding that the standards would be raised and that the committee was sure that it would attract thousands of visitors in 2011.

Tenders for upgrading work to be carried put at the Aphrodite sports centre in Paphos will be offered in January.Work to revamp the sports ground will get underway in Februaury.KOA and local councillors are supporting the plans which will enable the cenre to host the renowned Pan European under 21 Tae Kwondo games, which are due to take place in November next year.

The mayor of Paphos Savvas Vergas has announced that President Chrystofias presented an award to the municipality of Paphos. The award has been granted for work carried out on the walkway, which has been constructed from the area of Faros beach along to the harbour in Kato Paphos. Vergas said that the project used simple natural materials to ensure that it fitted in with the surrounding landscapes and didn't become an eyesore. The mayor said that the promenade is unique and will create enthusiasm and appreciation with everyone that uses it.


British High Commissioner in Paphos

The British High Commissioner, Matthew Kidd, visited Paphos town hall and met with the mayor of Paphos Savvas Vergas. Vergas said that he wanted the British High Commission and the ex pat community to support Paphos' attempt to gain the nomination for the title of the '2017 cultural capital of Europe.' The mayor, local officials and other interested parties are determined to secure the prestigious title for the historic town, believing that it will provide a much-needed boost to the flagging local economy.

The mayor added that, "the local authorities have close ties and contact with the British ex pat community, as well as the various organisations of Paphos."
In the meantime, the High Commissioner said that due to a recent decision to move all British passport applications and renewals from Nicosia to the high commission in Madrid in Spain, his office would now have more time to dedicate to the community.

The Commissioner said that of next spring a programme of 'road shows' would get underway to highlight specific problems and give helpful advice to British ex-pats. Subjects, which will be covered, include the latest information on pensions, which is of particular concern to a number of British residents in Paphos, as they are retirees.


Raw sewerage in Yeroskipou

Raw sewerage is being pumped out onto open areas of Yeroskipou village in Paphos and is creating a dangerous health hazard. Residents of the area say that the problem has been ongoing for the past five years and enough is enough.

Andreas Seymenis, a 72-year-old retired policeman said that he just wants the problem solved as soon as possible.
According to Seymenis the problem lies with his neighbours properties and the stench from the sewerage is disgusting." They have a very big building and a small septic tank and every day when the materials inside reach a certain level, an automatic system pumps the waste out."

According to Doxoulla Panayioutou, the vice district secretary of the Paphos Green party the resident's dilemma is acute." I went to the area to see if I could help these people and the smell being emitted from the waste is disgusting," she said.
Panayioutou said that the Greens had written to the mayor of Yeroskipou Tassos Kousapos to explain the problem and point out that they need to be connected to the main line sewerage of SAPPA.
She said that there are a further seven buildings in Yeroskipou which are facing similar problems and that all of them desperately need to be connected to the mainline sewerage. As yet, there has been no answer forthcoming from SAPPA.


Small claims court needed

A Paphos man fed up with the Cyprus justice system is hoping to start an online petition to initiate an extra judicial small claims court.

Paphos businessman and Konia community board member Andy Georgiou said that after a couple of nasty personal experiences he had realised there is a real need to establish a small claims court in Cyprus.

Georgiou says that if he receives support from other residents in favour of his proposal he will start on line petition and lobby the government to implement a direct, fast track system for cases involving claims of up to €5,000.

Georgiou says that the first case he became unwittingly involved in was adjourned by the Paphos court fifteen times before it was heard before a judge, costing him up to €300 every time in fees due to his solicitor.

Georgiou says that eventually, after the case dragging on for three years, the Paphos court found him innocent, but not until he had made fifteen court appearances and forked out more than €2,500 in solicitors fees.

To show your support for Andy Georgious' petition, he may be contacted at andystele@cytanet.com.cy.


News

Twenty three shop owners in Cyprus are facing prosecution after refusing to comply with a law banning out-of-season sales, after six weeks of police crackdowns.Officers investigated 788 shops between September 1 and October 15, iand uncovered 362 violations. Most repremanded stores ended their sales; but twenty three refused; they will now go to court. Nicosia came out worse with 178 violations of which four were reported. Limassol had 117, of which five were reported. Larnaca had 20 violations with 12 reported and Paphos had 47 violations with two reported.

Following testing on water samples from areas of Cyprus,including Paphos,traces of medicine have been discovered in some water reserves in Cyprus. Reasearch was carried out by the Technological University-TEPAK-on underground water reserves, dam water, potable water and re-cycled water.The traces uncovered included anti-biotics, analgesics, anti-depressents and hormones.Most were found in re-cycled water and a small ammount in drinking water.The district water engineer of Paphos,Vassos Socratous assured that the main source of these traces were from farms and other other places which used antibiotics and pesticides.He added that measures were being taken to stop the contamination of underground water.
He stressed that water in Paphos is safe to drink, adding that water from the Aspro Kremmnos dam in Paphos and the de-salination unit at Kouklia was also safe to drink.Socratous said that water from the de-salination plant was tested every four hours.

Residents from Emba village in Paphos are embroiled in a disagreement with the community leader over the proposed site of the new cemetery to serve the village.
A number of angry residents of the area aired their views a live local radio show, stating that they didn't understand the insistence of the Muktah, Antonakis Nikiforou to create the cemetery on a particular green area, which borders the communities of Tala and Tremithousa.
The residents pointed out that despite the negative views of all of the government bodies on the subject, who also consider the area unsuitable for the creation of a cemetery, that the Muktah is still standing firm.
They say the main reason for the government's view that the land is not suitable, is based on the fact that the ground in the area is made up of rock, which would make it difficult to dig the plots required for burial.
Answering his critics the Muktah said that people shouldn't be so concerned by the matter as ' we will all end up there anyway'- referring to the cemetery. He also said that the cemetery would still be a 'green and peaceful area without any disturbance.'
Nikiforou said that he had the signatures of two and a half thousand people who are in favour of placing the new cemetery at his preferred site, whereas opposition to the plans had only managed to collect the support of two hundred signatures.


Municipality News.

Paphos and Yeroskipou municipalities have both announced expansions to their re-cycling efforts. Mayor of Paphos Savvas Vergas said that a programme to recycle clothes is being applied by the municipality. He advised that lilac coloured bins will be placed next to the Green dot bins, which currently collect glass, paper and plastic, and the public will be able to deposit any unwanted items of clothing inside.
In the meantime mayor of Peyia, Neofitos Akourshiotis said that two large bins are being placed in the centre of Peyia at the primary school and the public park. These will be collection points for shoes, bags and items of clothes.

Angelos Odysseous the mayor of Polis Chrysochous has announced that tenders are to be offered for the upgrading project of Latsi harbour.Odysseous added that work would begin on the project next March.
The mayor said the work would enhance the whole area and encourage tourist flow.He pointed out that he had worked hard to achieve this end, visiting Nicosia on a regular basis,sometimes twice a week.
He stressed that the project would be financed through a loan which had already been approved. Also included in this amount is the cost of the proposed West circular ring road around Polis.

The mayor of Paphos Savvas Vergas has announced that a new cooperation between the municipality and the Paphos transport company will see the creation of 120 new roofs for bus stops around the town.This move brings to an end the association with another company which Vergas says was not financially viable and did not 'serve the financial interests of the municipality'.The mayor pointed out that the new bus stop roofs would contribute towards the improvement of the general picture of the town.

Mayor of Yeroskipou Tassos Kousoupos has said that he will be reviewing upgrading work carried out so far in the municipality by the sewerage board of SAPPA.
The mayor added that he had received assurances from the contractor that they will commence placing pre- mix on roads where nesseccary, in an effort to solve the current problems with the road surfaces.
Kousopos pointed out that in some areas contractors are working ahead of schedule whilst in others they are lagging behind.
He said that work being carried out underground had encountered some unforseen difficulties, which have justified the delays to completion of work in these areas.



Police news

Turkish soldiers manning an enclave near Pyrgos fired shots at two fishermen.No one was injured during the incident.The two fishermen, 62-year-old Stathis Karsoumas and his son Michalis, 40, were fishing 800 metres off the Kokkina enclave at 5pm, when around 10 shots were fired from a Turkish guard post.Police said the shots were at a distance and no one was hit.
A 28- year- old and a 32- year- old, both from Romania were placed on an 8 day remand order suspected of theft.The 28- yea-r old man attempted to break into a 63- year- old Cypriot mans house in Yeroskipou - but cut his hand during the attempt.The home owner heard the intruder, who then fled the scene.Acting on a tip off police searched the suspects home, which he shared with his 32- year -old flatmate.Police discovered huge quantities of jewellery, shoes, clothes and old Cypriot pounds, all of which they believe to be stolen.The 28- year- old admitted to police that he had attempted to break and enter the Yeroskipou house.

According to a report in a British daily paper,a cat was thrown off a second floor balcony and a 64-year-old British woman was allegedly glassed in the face by British soldiers in an incident at a Paphos hotel.According to the paper, soldiers from the Duke of Lancaster Regiment were partying at a hotel in Paphos when one of them threw a cat off a second floor balcony. A group of tourists confronted the men and a woman was attacked with a glass.Spokesman for the British bases, Captain James Mansell said,"We are investigating an alleged incident which occurred in Paphos. We are taking this incident very seriously, however I cannot release any further information as we are still investigation."

A 35- year- old Georgian man has been arrested on suspicion of setting a fire in a car belongong to a 47- year- old compatriot.The fire caused extensive damage to the vehicle which was outside close to the area of Dipla Kaja at night.The fire was spotted and the fire brigade were contacted.Firemen manage to extinguish the blaze before the car was completely burnt out.Members of the police crime squad found a small tank inside the vehicle which officers believed to have been full of petrol and used to start the fire.A police spokeman said they had been given information that the 35- year- old had argued with the owner of the vehicle earlier in the day, over financial differences.

The Paphos fire services were called to blaze at 4am at a flat in Adamandios Korais street in Kato Paphos.Police examinig the scene, discovered that the fire had broken out simultaneously in four different places.Police said that the two English Cypriots who are renting the appartment were not present at the property at the time of the incident.The fire brigade extinguished the blaze while thecost of the damage has not yet been estimated.

A special constable serving at the Paphos road transport department was arrested on suspicion of obtaining money under false pretences. The 34-year-old handed himself in after police said that he was wanted for taking down payments for cars on auction at the Limassol port.He allegedly promised people he would buy the cars on their behalf but vanished after being given the money, then failed to answer their phone calls.In one case, the suspect allegedly received €5,500 from hopeful buyers.Limassol police said he had been suspened previously for his alleged involvement in similar cases in Nicosia and Paphos. Those cases are due in court.

Victory for Paphos villager

A one-woman crusader is victorious after preventing a seemingly illegal rock grinding facility from operating after a 'year of hell.'
Moyra Blackie, a Paphos residents of Tremithusa village, said the plant, which is thought to have been operating on private land without permission or a licence for the last year, is now quiet.
The 60 year old, who had hip replacement surgery in March last year said,' there is an area close to my house, where continual rock grinding has been taking place from 8am until 8pm for the last year, and its been driving me mad.' Blackie who has been living in Cyprus for the past twelve years had been enjoying the peace and quiet of the surroundings of her village home, until three huge caterpillar machines and an array of trucks, lorries and grinding equipment set up in a nearby field.
The determined woman wrote to the Paphos District officer and spoke to the Muktah of the village and other officials, who all promised that they would help, but nothing was done.
'I even blocked the road by myself to protest what was going on next to me and stopped all the traffic, this was just after my hip replacement.'
Blackie and a neighbour had been having breathing problems, which they believes have been caused by the fine dust particles in the air.' It had got to the state where we couldn't even hang our washing outside as there was just too much dirt.'
She decided to then telephone the Nicosia office of the Director of the Department of Labour inspection, Leandros Nicolaides, and continued until he returned her call.
She stressed, 'I have to pass on my huge thanks to him as he listened to me for hours and was very sympathetic. He said he was coming to Paphos and promised to do something about the plant.'
After that the noise and activity at the plant ceased.
In addition, the three large caterpillar machines have been removed, and all that now remains of the facility are three larges piles of different types of fine ground material.
'I feel like a new person and it's all down to Mr. Nicolaides, so a big thank you to him from all of us.'

Paphos Flights
Cyprus Airways has buckled under pressure from Paphos officials and local MP's and backed down on cutting the twice weekly Paphos to Heathrow flight for the time being. Although, the matter is to be discussed further.This move came after the airline cancelled another Paphos-UK flight, suspending the weekly Paphos–Birmingham route.Local MP Costas Costantinou said there was "continued provocation" by CY towards Paphos, and if they want to improve their economic situation, the airline should start from another point and not by cutting flights to and from Paphos airport."
Meanwhile,hundreds of air passengers out of Paphos airport were affected when 12 flights were halted over a ground-handlers' dispute that briefly spread to Larnaca airport.The strike began in Paphos when the two ground services' companies made 33 employees redundant. The companies later revoked the 33 redundancy letters after the strike had spread to Larnaca airport. The employees had refused to accept a change in their employment terms.All 33 had formerly been government employed when airport operations were privatised in 2006 but had stayed on under the new management.

A big boost for Paphos looks set to get underway with the state giving green light on a number of construction projects. Mayor of Paphos Savvas Vergas said he had left the meeting with the ministers of the interior and transport and works very satisfied.
Vergas confirmed that two projects, the creation of a new roundabout in the area of Viofos and a road connecting the airport with the tourist area of Kato Paphos would go to tender on October 30th.In addition, on November 5th, the declaration of tenders for the building of a bridge connecting the North circular road with the industrial are would be announced. Along side this tenders for the re-construction of the tourist Avenue, the Tombs of the Kings would also be offered. Vergas said that he had also received assurances that the construction of the West circular road, the revamping of the traditional trade centre of Paphos, which will occur in Phases, and the reconstruction of the central avenue Griva Digeni, would also go ahead.


Breaks for servicemen and women

A British ex-serviceman living in Paphos has set up a holiday scheme for serving military personnel and is looking for properties to be donated for one or two weeks of the year.Alan Wilson is looking for apartments of villas and already have seven properties which have been donated.Wilson said that the purpose of the scheme is to provide a break for serving personal or those who have been medically discharged, and their families.
Wilson is co operating with a number of other schemes and said he is also hoping to work alongside the SBA here in Cyprus.
Wilson, who is now 60 years old, spent 12 years in the army serving in Northern Ireland, Cyprus, Kenya and Canada..He said ,'These breaks are so important as they give the service personnel time away from their bases to recouperate and recharge their batteries.
Wilson has also been responsible for organising the annual Remembrance Day service in Peyia, which he started two years ago.
'Its along the lines of the service which is held at the cenotaph in London every year,' he said. 'This year there will also be a bugler from the bases playing the last post.'
Last year the services collection was split equally between the Cyprus Veterans, and Help for Heroes.Wilson said, ' everyone is welcome to attend the service on November 14th which will be held in Peyia car park at 10.30am.'For further information or to donate a property call Alan Wilson on 99 850 355

Opera records losses

Despite reported losses of €25,000 the Paphos Aphrodite opera committee have said they are satisfied with the outcome of this years performance.According to local Paphos councillor, Akis Chrysomilos, who said the difficult economic climate must be considered and taken into account; the overall outcome was, 'satisfactory.'He said, 'Even though the opera made a loss of €25,000 the production was well received and had a great response from both local and foreign audiences.'The annual operatic events draws an audience of thousands for all over the world and has now established itself as a prestigious event not only for Paphos, but also for Cyprus
Chrysomilos said, 'As far as preparations for the 2011 performance is concerned, instructions have already been given to a specialist team, which will act as an advisory body to help the Aphrodite committee to chose the next opera company.'This team has already made contact with two different companies who are said to be favourites to stage the operatic performance next year.The local councillor said, 'Initial contact has already been made with the selected companies by the opera team. They are the National Opera of Prague and the Opera Picolo of Milan.
He confirmed that by the start of November the choice as to who would be staging next year's opera would be made.As for 2012, he said this had to be something 'extra special' as Cyprus would be hosting its turn at the rotating EU presidency.


Drugs awareness events at Paphos School

Parents, students and teachers were educated about the harmful effects of drugs in at a drugs awareness week held at the International School of Paphos.
The progamme included presentations from UK based Elizabeth Burton Phillips the founder of drugFAM, a UK based support service set up to help families suffering through drug abuse.
Tragically, Phillips own son Nick, a twin, died as a result of drug abuse in February 2004, and since making the story of her family public, she has become well known and now provides advice and support for other families in similar situations to hers.
Phillips visit to the International school was perpetuated by one of the Mum's, Lydia Carseras, whose twin boys are year eight pupils.
Carseras a Paphos based mother read Phillips book, 'Mum can you lend me twenty quid, 'which graphically depicts the effects drugs had on her family.
'I was fascinated,' she said. 'The trouble is that families believe that drug abuse can't happen to them, but drugs can knock on anyone's door.
Phillips admitted that she had found out from Cypriot children that families are very close knit and that it's quite a stigma to speak about the problem of drug abuse.
Phillipis is joined on her trip to the island by Gail Pitts whose son died after taking of a cocktail of drink and drugs at a party three years ago.
The devastated Mum joined drugFAM and says the process has helped her to come to terms with her sons' death.
Pitts added, 'We don't want people to see us as two tragic mums or pity us, but we are about getting the message out there that we represent ordinary families and this situation can happen to anybody.'
The duo brought with them advice and guidance sheets for parents which include the tell tale signs to look out for in your child's demeanor, appearance and behavior and what to do if you think your child may be taking drugs.

www.drugfam.co.uk.


Municipality news

The mayor of Yeroskipou, Tassos Kousapos has announced that the 2011 budget will allow for the construction of a medical centre for the municipality. The mayor added that along with the aid of the ministry of health, they will acquire a piece of land and go ahead with construction and operational plans immediately.

The minister of agriculture, Demitris Iliades, attended an event in Polis Chrysochous, to promote a healthy eating campaign for children and which marked the end of the school year. The campaign, which has been implemented in primary schools in Polis, saw kids being given free fruit and veg for their lunch breaks twice a week. The project has been successfully implemented at 16,000 schools in Larnaca and Paphos. The project will be extended to other areas of Cyprus during the next school year, and the minister pointed out that the aim of the scheme is to educate children from a young age about healthy eating and to reduce the number of kids suffering from obesity.

The municipality of Yeroskipou has implemented a water saving campaign in co-operation with the Water Development Department. An information stand has been erected in Yeroskipou Square with available literature to inform local residents about ways in which water can be saved and used sparingly.
Savvas Vergas, the mayor of Paphos, visited St. Petersburg in Russia to try to drum up tourism interest and cultural issues. Vergas said that there should be more direct flights between Paphos and Russia as there is currently only a once a week flight operated by EuroCypria. The mayor stressed that Russian visitors must be encouraged to come to Paphos and stronger ties built. In addition, Vergas met with the Marinski theatre to discuss them performing at next years Aphrodite festival in August. He underlined that next years opera must be something very special as at that time a meeting of all of the EU foreign Ministers will be taking place in Cyprus, and they should be provided with some grand entertainment.

Yeroskipou Municipality is planning to attract more sport tourism to the area. They are proposing to expand the athletics grounds to include six tennis courts, basketball courts and more spaces. The site is close to the sea front and at present is home to the Olympic-sized swimming pool, football pitches and beach-volley courts. The municipality will use EU funding, sports grants and loans to complete the project, which is expected to get underway next year.

A team of local Paphos councillors handling matters concerning the upgrading proposals for Kato Paphos harbour have said that both plans put forward by the Cyprus tourism organisation-the CTO- and the Port Authority are not in line with instructions given by the municipality. The councillors went onto say that they have urged the state to clarify who is actually responsible for the area and who has the right to the final say for plans for the area. The team believe that even if the municipality are not recognised as the financial beneficiaries of the area that they should at least have the right to overrule measures affecting the harbour, which they do not agree with. The councillors stressed that they are determined to keep a traditional picture for the harbour and added that they will announce their findings from both proposals in the next few days.
Sun worshippers may have an extra luxury on offer at beaches this summer as Paphos municipality is considering backing a massage service. A massage parlour in Nicosia has put forward a proposal to set up a kiosk on one of the municipal beaches, offering a relaxing massage. "If the municipality's governing council decides in favour of the proposal then we might give them a spot on one of the beaches this year to start with," said Mayor of Paphos, Savvas Vergas. The massage service is set to open its doors for business on June 1, and prices will be closely monitored by the local municipality, as they do with the rental of sun loungers and umbrellas.
The mayor of Yeroskipou, Tassos Kousopos, presented evidence to answer questions on financial matters leveled at the management of funds, put forward by councilor Andreas Michael. The Yeroskipou councilor had said that the local authority would be unable to pay staff wages in the coming months. The mayor of Yeroskipou Tassos Kousapos hotly denied these claims .Michael said the local authority as well as being committed to huge bank loans, also recorded a loss at the end of the 2008 financial year, €600,000- but this had been covered by various overdraft facilities. Kousapos replied that the municipality of Yeroskipou always paid staff and met its obligations, as well as payments on loans.
The Muktah of Konia, Kyriacos Kyriacou announced that demonstrators would line the Paphos to Limassol highway close to the Konia roundabout, in protest about the lack of action by the government over their complaints. These include problems concerning the large pig farm and the rubbish dump both situated in the area. According to Kyriacou, residents of Konia and nearby village of Armou, Marathounda, and Yeroskipou decided to hold the demonstration, as they have now lost patience with the lack of action. According to the Muktah, the purpose of the demo was to put pressure on all of the relevant authorities, and he called on the ministry of the interior to start negotiating with the pig farm owner to arrange for its removal from the area. The committee spokesman for the farms relocation, Yeroskipou councillor Nicos Palios, called on all the people affected by these two matters to take part in the demonstration, so as to send a clear strong message to the authorities. He underlined that the sticking point of negotiations between the pig farm owner and the government seems to be the amount of compensation which would be paid out.

Police news
A 64-year-old woman was seriously injured in a road traffic accident in the early hours of the morning. Gouli Zelibartidou, a Paphos resident originally from Georgia was knocked down whilst crossing Ayios Agapinoros street at 5.40 am. A car being driven by a 23-year-old motorist hit her. The woman was rushed to Paphos general hospital where doctors discovered she had suffered severe head injuries. The victim was transferred to Nicosia general hospital where she remains in a critical condition on a life support machine in intensive care.

A 44-year-old woman and a fireman attending the scene were injured in a blaze in Paphos. Andri Yianokkou, suffered first and second degree burns, and a fire sergeant suffered respiratory problems. The blaze is thought to have been caused by an exploding gas cylinder. The fireman was attending the fire when a second explosion occurred and resulted in him being injured. He was taken to Paphos general hospital with breathing difficulties but is out of danger. Meanwhile, Yianokkou was rushed to Paphos general hospital but due to the seriousness of her injuries she was transferred to Nicosia general hospital.

Two 25 year old Jordanian Paphos residents were remanded in custody after they were caught with 500g of cannabis and almost $10,000 of counterfeit money.The duo were arrested after a tip-off that they were transporting a kilo of cannabis and $20,000 in fake bills to Nicosia.


Airport closures
Rumours have been flying around Paphos concerning the possible closure of the new multi million-euro airport during the winter months and at night time.
The situation was highlighted after comments made by Hermes Chairman Nicolas Shacolas and Communications, transport and works minister Erato Kozakou- Marcoullis , were reported as suggesting major changes at the airport.
But the Minister underlined that she had not specified if and when any such move would be made.
In addition, the Hermes Chairman said that the subject of changes at Paphos airport, including the operating hours of the airport, would be examined in the autumn and if any changes were to be made they would only be to make the operation more economically sound.
Hermes airport spokesman Adam Aspris said 'no such decision has been taken up until now as regards changes at Paphos airport, but all of the companies are looking to increase profit and should be open to new suggestion.'
Hermes, recently invested €130 million euros for constructing the modern terminal.
Swimming pools must comply
Concerns that Paphos municipality are about to serve writs on shared swimming pool owners if they do not comply with a long ignored law passed in 1992, are at present unfounded.But, according to the head of Paphos planning department,Savvas Savva, who is responsible for handing out one of the required licenses for these pools, it could happen in the near future.The law states all shared swimming pools as subject to the same regulations as public pools.There is confusion over what is a public pool. Shared pools are for the use of resident owners and their guests and are not open to the general public.According to the Ministry of the Interior, a pool owned by more than two familes is considered a communal or public pool.But in the laws and regulations, a public pool must measure more than 200m2.
In addition, shared pools must comply with specific regulations such as providing a lifeguard, separate male and female toilets, showers and footbaths. Without an operating licence, a housing complex will not be issued a completion certificate and thus no title deeds.A report in 2008 listed 267 in Paphos of which only 54 are licensed.

Paphos aquarium closed for good

By Bejay Browne

One of Paphos' well known and established attractions has closed its doors to visitors for the last time.
Paphos Aquarium Chairman Takis Tsiolis said that the business was no longer viable.

'We have been losing money hand over fist for the last two years and we can no longer sustain these kinds of losses. It's a very sad situation.'

Fourteen years after it opened in Paphos at an initial cost of half a million Cyprus pounds, the aquarium closed on March 1st.
The aquarium was privately owned and had proved popular with visitors since it opened in 1996.Tsolis underlined that a large amount of money had been invested in creating a natural environment for fish and marine life from oceans, seas and rivers, which lived in the specially designed and filtered tanks.

Along with a crocodile tank, seventy-two other tanks held many types of creatures.

Tsiolis said, 'Most of the aquariums in other places are supported by the municipalities or the authorities, but we are a private family run company. We have asked for help from the mayor and the municipality and other bodies, but no one came forward to help us.'

The Paphos businessman said he presented a tender for the En Plo gallery, which is situated in the harbour area of Kato Paphos two years ago.
'That would have been a perfect solution for us,' he commented. 'The port authority gave us the tender but the municipality refused to grant the licence, they didn't give us a reason,' he said.

According to Tsiolis, this blow along with a decline in holiday makers to Paphos, which is reliant on tourism, along with continuous construction projects have meant that visitor numbers have dwindled.

'Poor access to the aquarium finished us off,' said Tsiolis.
As well as a huge collection of fish and other sea creatures, the aquarium was also home to a number of sharks and crocodiles. More than eighty per cent of the animals have already been sold to private buyers and a number will now be on show at the Ocean Aquarium in Ayia Napa.


Petrol crisis latest

Paphos residents suffered in the recent face-off between the Commerce Minister and petrol station owners, who shut up shop over a freeze in petrol prices.Many motorists were down to the last drops of fuel in their tanks, with no way of filling up.Not a single petrol station was open in Paphos, with locals resorting to carpooling and skipping work altogether, rather than running out of petrol.Paphos seemed to be forgotten, with at least two stations open in the rest of the island's major towns. At a meeting of petrol station owners in Paphos during the crisis, regional president Andreas Kommados said he felt sorry for the people of Paphos as it's the only town where all stations are closed."There is nothing we can do about it," he said. "I'm upset that there are many stations open in other towns such as Nicosia, Larnaca and Limassol, breaking the embargo."He added that petrol station owners in Paphos fully supported the stance of their president Stefanos Stefanou, who ordered the strike and had demanded that the eight-day price cap on fuel be lifted before any sort of negotiation could take place. An agreement between the parties came none too soon for Paphos residents, and the matter at least for the time being, has been resolved, with stations now fully operational. In the meantime, local petrol stations increased their prices in line with rises in the price of crude oil. EKO and Exxon Mobil were the first to implement the price hike , followed by Lukoil and Petrolina .
EKOs' 98 petrol went up by 3.3 cents, 95 by 2.7 cents and diesel by 2.1 cents. Exxon Mobil-behind the islands' Esso petrol stations put 98 petrol up by 2.2 cents, 95 by 2.7 cents,and diesel by 2.2 cents.


Pope Benedict 16TH will visit Cyprus on June 4th arriving on the island at Paphos airport. The 82-year-old pontiff will be welcomed by President of the Republic of Cyprus Demitris Christofias, Archbishop Chrysostomos and other dignitaries. Pope Benedict will visit Ayia Kyriaki church-also known as St. Pauls' pillar church- where he will conduct a church service. This will be followed by a visit to the UNESCO sites in Paphos harbour. The Pope will then leave for Nicosia. He will leave Cyprus on June 6th.

Local Paphos councillor Vassos Demitriou has accused SABBA engineers of not looking after the sewerage works project underway in Paphos properly, and in the interests of the organisation. His serious accusations are being added to the growing list of complaints expressed by other members of the council and the general public against the second phase of the sewerage works taking place in the town. A multitude of complaints have been levelled at engineers and contractors, who are facing a list of gripes ranging from not filling in holes and trenches properly to inadequate safety measures and signage and slow progress. In addition to Demetriou, local councillor and SABBA committee member, Polis Polydorou has urged the speeding up of the red tape procedures for employing a manager for the project, a decision that was taken months ago. Polydorou said, 'if it takes much longer it will be silly if we employ a manager at a later stage, when the contrast will be nearing completion.'

New flights for Paphos airport.

Easyjet and Jet2 airlines are both starting new flights to Paphos for the coming summer season. As of April 14, easyJet will begin flights from Bristol to Paphos four times a week and Edinburgh to Paphos twice a week. The budget airline already flies to and from Cyprus, from Paphos to Gatwick, and Stansted and Manchester.Jet2's new twice weekly flights will commence the beginning of May from Paphos to East Midlands and Newscastle until October 31.According to the airline, they will carry 82,400 passengers to Cyprus this year compared to 37,000 in 2009, while Easyjet will transport 225,000 passengers compared to 155,000 in 2009. In addition, German budget airline, Condor, is operating flights between Paphos and Munich and Frankfurt from April until the end of October. Eurocypria will also commence flights from Moscow. The state-owned airline also plans to launch flights between Paphos and Siberian airports this summer.Recent statistics for 2009 showed an 11 per cent fall in arrivals, and a 17 per cent decrease in revenue.

A memorial and blood donation was held at the cathedral of Ayios Theodoros in Paphos. The ceremony was in memorial of jornalists from Paphos and those who supported Cyprus free radio, the first of its kind on the island.The radio was the idea of Nicos Nicolaides and it is still on the airwaves in a more modern day form of Radio Pafos. Cyprus free radio broadcast the now infamous speech of Archbishop Makarios who spoke from Paphos, informing the people that he had survived the military coup and to take up arms and fight during the 1974 invasion of Cyprus byTurkish troops.The memorial was attended by ministers, politicians, media members and other dignitaries as well as the families of those being remembered.They were Nicos Nicolaides,Andreas Omirou,Fedros Galadopoulos,Stephanos AyiFotities,Andros Polynikis,Sotiris and Maria Milthiadou,Yiannis Tsakkies,Savvakis Giorkatsos,Andreas Klitou,Nicolas Iliades,Christos Mais and Vasso Orthonos.

Speaker of the House of Representatives, Marios Garoyan, opened an educational exhibition in Paphos. The event took place at the Youth centre of Paphos, where higher education representatives from Cyprus, the UK, Hungary and Malta are took part.

Following recent heavy rains in the district of Paphos, Kannaviou dam overflowed -the first time since the structure was built.The dam is able to hold 17.1m cubic metres of water and is full to capacity.Other dams in the area also benefitted from heavy rain showers. Asprokremos dam has 35.3 million cubic meters of water, Evretou dam contains 17.8m, and Kouris Dam contains a total of 17million cubic meters.


Municipality News

Nicos Similides the president of the Paphos beaches committee has said it's his aim to retain all of the blue flags awarded to coastal areas last season. He underlined the importance of attention to detail at beaches and coastal areas, especially during the current economic crisis where visitors are 'precious.' Similides said that an effort to advertise coastal areas at an International level has been supported by Paphos municipality, CYMEPA, and the CTO. He added that although district offices permit beaches to be licensed and open in May, the municipality has already submitted an application to open three beaches from the beginning of April in an effort to please visitors and locals. He also pointed out that both the beaches committee and the municipality would like the central bathing area of 'Ta Bania' in Kato Paphos to be open all year round.

The mayor of Polis Chrysochous Angelos Odysseus has said that he is very satisfied with his meeting with Minister of justice, the manger of the fire services, Andreas Nicolaou, and the chief of Paphos police Demitris Tsokkas, regarding staffing of the new police and fire station, which will come into operation in the district in the summer. He also noted that the building of the municipality police needs upgrading. According to the minister, this request will be discussed at a later date.

Mayor of Paphos Savvas Vergas inspected the works projects currently underway in Paphos following numerous complaints from residents. In particular SABBA sewerage work has been causing mayhem on the roads, as trenches, diversions and potholes litter the streets. Vergas pointed out that the bad weather has now passed and contractors do not have any excuse to delay finishing work. He has given instructions for strict inspections of the sites, and underlined the need to keep to timetables and ordered quality checks of all the work being carried out .In addition to SABBA works, there is also an ambitious plan underway for the second part of the north circular ring road, which he admitted was experiencing number of problems. Although Vergas did say he believed that within the next two months, part of the road would be open to two way traffic and in operation. He also visited the main seafront road in Kato Paphos, Poseidonos Avenue where upgrading work has also been taking place, and inspected new zebra crossings, street lighting and a new cycle lane.



Church and municipality continue row over Town hall garden
By Bejay Browne


The row between the municipality of Paphos and the Bishopric has taken yet another new twist.
Following a cleaning team from the municipality entering the gardens, the Bishopric announced their 'displeasure' and went onto say, 'we protest the action of the Paphos Municipality to enter the property of the Holy Metropolis of Paphos without consent'.
In reply, the Mayor of Paphos, Savvas Vergas said, 'The Park belongs to the people and it is the municipality's job to look after it.

The gardens of the town hall have been left to deteriorate with trees, shrubs and plants on their last legs. Bizarrely, it now seems both parties are insisting they want to clean it up.
The disagreement began after the public gardens were returned to the owners, the Church, when the long-term agreement expired. The church had rented it to the municipality on a long lease and instead of continuing the agreement, as the municipality had hoped, Bishop of Paphos Giorgios, expressed is desire to build a cathedral in the grounds instead.
The matter is now being assessed by the committee for granting derogations, which prepares a final report for the cabinet.
According to the Bishop of Paphos, whilst cleaners sent by the church were attending to the garden,' there was an invasion of thirty municipality employees, who insisted they should take over cleaning the garden.'
The Bishop said that despite a warning by his cleaners not to intervene, the secretary of Paphos municipality, Themis Philipides, insisted that the work be carried out by municipality employees, as they were 'following instructions.'
He added that the church would resolve the matter legally and that they are protected on many points by the Cyprus constitution.
In the meantime, the mayor of Paphos said that he had already requested permission from the Bishop to clean up the area, in a letter regarding the matter.
Vergas said,' instead of a response to the letter, the answer we got was the Bishop asking the police to intervene so that our cleaning teams would be unable to do their work.'
The mayor continued,' we could see the trees dying, and this is why its' necessary to send the workers in to do something about it.
'I can't win,' he said,' I would've also been critisised if the trees had died.'


Ex-Presidents body found

The remains of former president Tassos Papadopoulos were found and re-buried, after police received a tip off. The body of Papadopoulos was discovered at Strovolos cemetery in Nicosia. A police Spokesman confirmed that DNA testing had established that the body was that of the former president. Papadopoulos' body was dug up and stolen from his grave at the Deftera cemetery on December 11, 2009 on the eve of the first anniversary of his death.The corpse was removed in torrential rain, leaving the coffin behind.

Paphos Heart of Gold 2009 award

The Mayor of Paphos, Savvas Vergas, who is the Patron of the scheme presented the 2009 Heart of Gold award to two well deserving recipients at the town hall in January.

The winners were an outstanding teenager and an animal welfare charity founder.
Edie-May Turner Barling aged 17 years and Christine Panayiotou were presented their solid gold heart shaped pins and award certificates.

The nominees were also presented certificates in recognition of their courage, determination or community work from the Chairman of the municipality sports, youth and social welfare committee Panicos Charlambous, and Paphos councillors, Polys Polydorou, Chrysanthous Savvides, Katerina Charalambidou and Maria Zavrou.

Edie –May helped raise funds to send Jasmitha Marharajasingh, who was 6 years old at the time, for life saving treatment in Israel and looked after her Grandmother before she died. She was described as having an outstanding kind and caring nature and as a young girl who 'always puts others before herself.'

Christine Panayiotou has dedicated the last 25 years of her life to saving animals and helping to change attitudes to animal care in Cyprus. She dedicated her award to all of her fellow animal lovers at Pafiakos and CCP animal welfare.

It was an emotional event, not least when one of the nominees for the junior hearts of gold award Andreas Chrystafides, who is suffering from a rare disease called Angel man syndrome, walked down the aisle to collect his certificate.
His mother said that after years of physiotherapy, the young boy had just learnt how to take his first steps.
Marcus Theodosiou who is also four, looked well and happy despite undergoing treatment for Leukaemia. The brave little boy was accompanied by his parents and his nominator.

Young Jasmitha Marharajasingh, the recipient of last years junior heart of gold award was presented by a bouquet of flowers by the mayor, who was eager to meet the 'angle of Cyprus' as she is known by doctors in Israel. The 9 year old girl was unable to collect her award last year as she had been receiving treatment for a brain tumour and was undergoing gruelling procedures including a heart operation at the time of last years award.

The nominees included, Ben Hinton who overpowered a bank robber and saved the life of the manageress of the Tomb of the Kings Branch of the Hellenic Bank, Christine Jackson, herself a cancer patient, has raised over €40,000 for the Friends Hospice of Paphos, and Gina Ghillyer and Lousie Van Roijj have done much to raise the awareness of breast cancer, and started a pioneering SMS service called the sunflower campaign.


No-Smoking Laws introduced

Some clubs, bars and restaurants in Paphos are complaining that the newly applied anti- smoking laws are having a negative impact on their businesses. It's now illegal to smoke in a public covered area and some clubs are saying the law will finish then off in an already difficult economic climate. Fitos Thrassivoulou the head of the restaurant owners' federation of Paphos explained that this is the reason behind recent calls to close all nightlife venues as a measure of their reaction. He concluded that many businessmen want changes to the current law which holds the venue primarily responsible for the smoker, imposing hefty fines or up to €2,000.Thrassivouliu said that the smoker should be responsible and held accountable for his actions in the first instance, and then the venue owner.


Traffic News

Paphos traffic is backing up during peak times and holidays but according to the chief of traffic police,Zinnon Psathities,along with the help of local authorities they are tackling the problem.Psathities agreed that the problem occurs mostly during the morning and lunchtime ruch hour,but that the situation has been somewhat eased through the re-adjustment of traffic lights.He also underlined that Paphos drivers must be held partially to blame as the attitude of local road users can be haphazard and insensitive.
The mayor of Paphos Savvas Vergas commented that the completion of the second and third phases of the ring road around the town would go a long way towards easing the traffic flow problem,as would the construction of a roundabout in the area of Petrida.The mayor stressed that this would solve the problem for drivers using the 'viofos' junction,which is of particular concern to residents of Mesoyi,Emba and Tala communities.This junction is often backed up with traffic and is a slow moving exit onto the main mesoyi road which connects central Paphos with Polis Chrysochous.


Paphos airport voted number one.
Paphos International airport has come out top of the major European airports. Hermes Airports spokesman Adam Aspris told the Paphos Post that in a poll held by Thomson Airways, their passengers ranked Pafos International Airport as the first major airport of Europe. The poll concerned all airports used in the Thomson Airways network during the 2009 summer period. More than one quarter of passengers who use the airport are customers of Thomson. Paphos Airport received the highest percentage of votes and was chosen as the airport, which leaves the most favourable impression on travellers and at the same time offers exceptional service to the travelling public. "This is the first time that an airport of the Cyprus Republic has occupied such an honoured position and has been awarded "Best Resort Airport in Europe" by the travelling public", said Aspris. The multi million-euro airport has been opened for just over a year and deals with thousands of passengers on a daily basis.


Cyprus coin wins first prize.
The Central Bank of Cyprus announced that the Cyprus 2 euro coin has won first prize, of "Best Trade Coin 2009" at a competition organised by Krause Publications, the publisher of "World Coin News". The winning coin is the usual 2-euro coin, which is in circulation. It depicts a cross shaped idol dating back to 3000 BC. It is an example of Cyprus' prehistoric art and civilisation. The award will be presented on 30 January at a ceremony at the World Money Fair in Berlin.


Thousands treated at Paphos hospital

More than 182,000 sick people were treated as out patients at Paphos general hospital during 2009,according to the manager Filaktis Constantinides. The emergency department dealt with over 72,000 of these cases.
Constantinides said that the aim of the hospital management and staff is to, 'continue services offered', and to 'improve the way in which they are provided.' The manager added that improvements to the ophthalmic and ENT clinics would get underway, with the employment of a second doctor as well as another orthopaedic doctor and the extension of the hospital building.
Constantinides pointed out that a lot was achieved by the hospital in the past year, including the expansion of the gynaecological clinic-it now operates three surgery's-the expansion and revamping of the emergency department, the creation of a cardiology unit, the expansion of the orthopaedic clinic, and the acquisition of another life support machine.
Constantinides also said that the installation of early fire detection equipment is also nearing completion. New x-ray equipment is also in use at the hospital and radiologists have also been employed for its operation.2009 also saw a new car parking area being created.
Constantinides concluded that the next step is to improve the hospital kitchens, which will commence after tenders for the job have been examined.


Taxi drivers angry.
Taxi drivers in Paphos are threatening to take dynamic action,if what they refer to as illegal drivers,are not dealt with.They say that overseas permanent residents of the town are using their private vehicles to transport tourists to and from Paphos airport and this is resulting in them losing business.They are saying their income has dropped steeply due to this factor.The drivers are also angry that collegues based in other towns such as Limassol and Nicosia are collecting people from Paphos airport, and so taking away the local drivers trade.
Meanwhile,a police spokesman said that Paphos officers have charged foreign resident drivers who are providing a service to and from the airport for money,and the matter is being dealt with.

Police Report
Following the death of a young motorcyclist who was involved in a head-on collision with an elderly drunk driver in Paphos, Zinnon Psathites the head of the local traffic police-has reported that numerous citizens have complained about pensioners bad driving.
According to Psathities, Paphos drivers have voiced their concerns about terrible driving standards of some of the elderly behind the wheel. The head of traffic assured that he would inform police head-quaters in Nicosia of the issue and apply to the ministry of transport to find a way to re-examine the allocation of driving licenses of this group of people.
Paphos drivers have requested that pensioners displaying poor driving skills should have their license taken away.
The president of the parliamentary committee for transport, Antonis Antoniou, said that the committee had already dealt with the matter and a decision was taken for the medical examination of any driver over the age of 70 years. He added that these exams would be carried out every two to three years. Antoniou added that as the matter had again arisen, it will once more be discussed and any additional adjustments applied as required.
Psathities expressed his satisfaction that motorists have shown the initiative to visit the traffic police to shown their concern over the issue.

President in Paphos

The President of the Republic, Demitris Chrystofias officially inaugurated the multi youth centre in Paphos. Despite being beset with problems the centre is successfully up and running. It provides programmes for the youth of Paphos covering the areas of computers, music and fitness. It also has a large space, which youngsters can use for exhibitions. According to Chrysanthos Savvides, the president of the youth council, the centre aims to provide facilities for kids to help them stay out of trouble and focus their minds.


President Chystofias assured that projects for Paphos would get underway soon,during his second visit to Paphos in a couple of weeks.The President stressed that he is aware of the problems facing the coastal town which have been created by the economic crisis.Chrystofias said that in areas where the government is involved,projects would be pushed to start immediately. However,he warned that in cases where the government has 'no say' and procedures must be followed, this may cause a small delay.It is believed that the subject of Paphos projects may be discussed at a special meeting of the Council of Ministers to discuss the ecomomic crisis and its affect on Cyprus
Rivers will flow freely

Construction of building in riverbeds and streams, which causes flooding during winter, is to be outlawed.
The parliamentary environmental committee discussed the problem of building in riverbeds and related problems caused by preventing the usual flow of water, at a meeting in Nicosia.
The president of the committee, Andres Facontis, underlined that the problem is prevalent in the district of Paphos.
The main cause of concern is the improper registration of river tributaries and streams, many of which do not show up at all on government plans. This means that in many cases, permission has been granted for construction and development to go ahead on ravines and in riverbeds. This has caused major problems during the winter when rainfall is at a maximum. The committee will now attempt to register all of the waterways in Paphos however small, in an attempt to prevent further problems.
Building in these conditions has created untold problem and caused misery for many homeowners who end up with severe flooding of their properties during the winter months.


Paphos dam to re-open

Renovation work to take place in an old Paphos dam has been given the go ahead. The minister of the interior, Neoclis Silikiotis, has announced that renovations of the dam, which operated for three decades, will commence next year. The dam is situated north of the village of Ayia Marinouthda and work on the project will be completed by 2012.
Silikiotis confirmed that he signed an agreement for the works on May 5TH 2009 along with all the necessary documents to ensure engineers overseeing the work would also provide after care of the ambitious project.
The contract duration is for a 32-month period, in which time an 8-month study will be taken, prior to upgrading work getting underway. The project is being realised by the allocation of funds from the European Union.


Peyia to get mainline sewerage

SABBA-Paphos sewerage board- has finally given the approval for Peyia to be included in the Paphos sewerage system, and the ministry of the interior has now approved the move.
Peyia councillor Linda Leblanc said, 'The council of Peyia fully support this move, although It does mean that a sewerage tax will be implemented in Peyia, and figures as to cost are not yet available.
The first phase will be the coastal area and pipes will be laid in September 2010. Then upper Peyia will follow and eventually the system will stretch further out. The EU states that by 2012 all coastal areas of 1000 residents and over must have a coastal sewerage treatment facility. Residents have expressed their concerns about the cost of the project. 5,000 permanent residents in Peyia are using septic tanks, and as the soil is chalky, clay or bedrock, there is no proper seepage for the sewerage.


Friedreich's ataxia disease under spotlight

The government implemented a programme concerned with the prevention of Friedreich's ataxia, a debilitating nervous system disease, for which there is no cure. There is a concentration of carriers in Paphos. Friedreich's ataxia is inherited and causes damage to the nervous system, muscle weakness, speech problems and heart disease. There are an estimated one hundred carriers in Paphos and fifteen sufferers. The ministry of health and the institute of neurology will run the scheme, which will see Paphos couples receiving blood tests before they marry.


Pig farm looks set to stay-for now

The pig farm in Marathounda village in Paphos looks set to continue operating despite a court order and pleas by locals to close it down. Local Paphos deputy Antonis Antoniou said, 'it stays until it goes.'
His comments came following a meeting in Nicosia between the parliamentary committee for the environment, the owners of the pig farm and representatives of the affected Paphos communities.
Residents have long complained about the foul stench being emitted from the farm, which they say is at times unbearable.
But, confusingly the farm is operating with a proper building permit and planning permission has already been granted for the creation of a biological unit, which would limit the pollution of the area.
The pig farmers are asking for compensation of €3 million to move the farm,
George Perdikis said the Greens believe the continued operation of the farm,' is an injustice towards the communities,' and 'we demand the immediate removal of the pig farm to another area.'


Roads in Paphos causing misery

Numerous main roads in Paphos are either closed to traffic, full of potholes or the site of major road works and diversions, much to the annoyance of motorists and local officials. The problems have been made worse by torrential rain and storms. Many of the road works are a result of major upgrades to the town's sewerage system. Local councilor Polis Polydorou, who is also a member of SABBA, the sewerage board committee responsible for the works, said "I have personally raised the issue of the problems with the roads at the last meeting of the committee, and stressed that there is a serious problem with finishing the road after works," he said. A large part of the problem, said Polydorou, is that contractors are not filling the holes in the roads properly. "Or if they do, they are leaving them open for excessive amounts of time first." There are four different major contractors undertaking phase two of the extensive sewerage project, and they in turn have employed numerous sub contractors. The work will cost an estimated €120 million.

Supporters strip off for charity.

Staff and volunteers of PAWS dog shelter in Paphos have 'bared all' for a charity fund raising calendar. All the proceeds from the calendar will go towards the upkeep of the one hundred and sixty canine residents. One such animal is 'Bambi', a display of whom is being used to highlight the plight of many animals who arrive at the shelter in dire need of medical attention, food and water, and love and care. The calendars are priced at €6 and all of the proceeds will go towards to the shelter. PAWS moved to the new site in Achaelia in Paphos, on December 5th 2007.

News bites

Evgenios Neofitou, the general secretary of Man and the Environment, has accused private vessels of dumping their rubbish in the sea and called on the government to take action. He suggested that the council of Ministers should appoint a ministerial committee to solve the problem. He pointed out that they would be able to prevent vessels from dumping rubbish in ports, marinas and mooring areas.

A 53-year-old Cypriot man, who died suddenly in Paphos, whilst a spectator at a football match was buried in Episkopi village. Andreas Klytou was watching the match between Paphos and Doxa at the Pafiakos stadium when he was taken ill during the second half. He became unconscious and was rushed to Paphos general hospital where doctors pronounced him dead. They believe Klytou suffered a ruptured aorta. The victim was a respected employee of Paphos municipality, and had also worked in local media. Mayor of Paphos Savvas Vergas expressed his sorrow and condolences for Klytous' family. He also underlined the need for medical equipment to be in place at the stadium.

The general secretary of the farmers union, Andreas Miltiadous, has warned that grape production could be severely affected unless wineries offer better deals to grape growers. Miltiadous added that the situation is so bad that's its not worth producers while to cultivate and deliver grapes to wine factories, as prices given are so poor.
He stressed that he has pointed out to wineries many times in the past, that if they wish to have large quantities of grapes, then they must discuss prices, which would encourage growers to grow and deliver their product. He added that even though grapes have been successfully grown, despite an outbreak of Peronosperos disease and other economic factors, that there's a real danger many of the grapes will not be cut and delivered, as prices are so low.

George Michalides, the president of Paphos municipalities' committee for foreign relations and tourism, has been speaking of the strong ties being formed between Paphos municipality and the municipality of Hania in Crete. The mayors of the two towns came together, and Michalides said that previous meetings between them had helped forge a bond over the last few years. He pointed out that this had been facilitated by talks with the Greek foreign minister Dora Bakoyianis who is also from Hania.
The first part of the towns' twinning will take place on December 1st,a date that is symbolic, as it's connected with the liberation of Crete and its union with Greece. In June next year, the second part of the official twinning will include a special ceremony, underlining the common issues between the new partners.

The mayor of Paphos Savvas Vergas, the mayor of Yeroskipou Tassos Kousapos, and the president of the Institute of Cyprus visited the old colonial district governors' house in Paphos, to inspect work underway there. The house will be used as a department for EKETA, the research centre for science and technology in archaeology. The house will be preserved, but upgrading work such as the creation of a basement lecture hall will take place. One of the lecturers of the Institute of Cyprus, Lucas Kalispries, mentioned that work on the project is in the second phase and will move quickly. This stage of the project will involve repairing the interior and exterior walls of the building, whilst preserving the house as a whole. He assured that whatever work would be carried out would satisfy the needs of EKETA. Seminars, public information forums and summer educational lessons are all planned for the upgraded venue.
As delays to the commencement of work on the new Paphos to Polis highway continue, member of parliament, Antonis Facontis, has again assured that it is an aim of the current government to begin construction of the road as soon as possible, but without being hit by excessively high costs. Facontis pointed out that whatever delays have been observed so far, are due to economic differences with the Kiniras consortium that had been chosen as the company to build the highway. They have been demanding an extra €200 million euros citing the economic crisis and rising prices as the reasons behind the additional costs.

Yiangos Andreaou the secretary of the Paphos taxi drivers association has admitted that they have been hard hit by the economic crisis in the last few months. He added that drivers believe a further two taxi ranks should be created in central Paphos, which would encourage business and make drivers more visible to the public.

Michalis Efthimiou, the Muktah of Killi village in Paphos, has been elected as President of the pancyprian association of community leaders. Efthimiou said that at this is the first time that a Paphos Muktah has held the position, and that it would help to push forward solution to various problems being faced by local communities. He said he aims to modernise the laws relating to local communities, as well as obtaining funds to help villages become self sufficient in areas such as, designing and executing various construction projects, thus avoiding unnecessary delays. He concluded by thanking the members of the community association for their support.

Peyia councilor, Stelios Konnikos, has expressed his concerns over two accident hotspots in the municipality, underlining that more must be done to ensure the road network is safe. The councilor pointed out that the Coral Bay to Saint Georges road, and Michalaki Kyprianou Avenue are both still posing a danger to drivers. Konnikos said that although the Saint George's road has recently had two small roundabouts and wide raised road bumps installed, that the situation is only temporary. These measure have been put in place until the restructuring of the road network of the area will commence. He added that work on widening Michalaki Kyprianou Avenue had ground to a halt, after local landowners raised objections, and made a formal complaint. Konnikos said that this has now left wide open ditches at the side of the road, which pose a threat to passing traffic.

A lavish wedding took place in Paphos at the Almyra hotel. The identity of the couple remained shrouded in mystery, but its believed they were a Swedish Duchess and the son of the H and M clothing line mogul. The Annabelle and the Almyra hotels, owned by the Thanos Hotels Group, catered for about 300 guests who arrived from across the world. A private security company closely guarded both hotels and kept the throngs of Paparazzi photographers at bay. Eighteen containers of wedding supplies arrived on the island on Tuesday. Paphos mayor Savvas Vergas conducted the ceremony. The partying went on for three days.

Paphos will hold the 2011 Atlantic World Bowls Championship, securing the town as one of the top bowls destinations in Europe.
"We were approached by the world bowls association who had been very impressed with our greens and the facilities in Paphos," said Norris Forster PR executive officer for Bowls Cyprus. The seventh European Bowling Union team championships, which takes place every two years were recently held in Paphos. Union officials were in the coastal town during this period, and Forster said they were very impressed by the venue and the commendable views of the players."
The event will be in 2011, as the governing body, work on schedules two years in advance. Bowlers in Cyprus are also determined to take the national team further, by competing in the 2010 Commonwealth Games in New Delhi, India


Police Report

Counterfeit money was again discovered in Paphos and police are warning consumers and business owners to check notes are not forgeries. A 56 year old British tourist and his 21 year old daughter were caught passing a €50 note to a small supermarket owner on the Tombs of the Kings road. The goods purchased amounted to €32.80 and the duo paid using a fake note, which was detected by a verification machine.
Members of Paphos CID also found another forgery in the mans' possession. The duo, when questioned, claimed that the money belonged to a third foreign national, who had recently visited Turkey and Barcelona, and that the notes were change from payments made previously in two shops with larger value notes. Meanwhile, a hotel receptionist reported that a forged €50 note had been used in a Paphos hotel. Police are also investigating this incident.


A car belonging to a British permanent resident of Paphos was purposefully set alight in the early hours of the morning. The BMW belonging to the man was parked outside his home in the Universal area of Paphos. The car was valued at €19,000 and has been destroyed. According to the police, the vehicle was sprayed with petrol and then set alight. The fire services swiftly attended the scene an extinguished the blaze.


A resident of Paphos village has reported that two of his hunting dogs with a total value of €15,000 have been stolen from their metal cage at home. The incident took place overnight and the dogs are both pointers. Anyone with information relating to the incident should contact Peyia police station immediately.

A shoplifter was arrested in a Paphos supermarket, after a security guard spotted the 41-year-old Paphos man removing toiletries from their boxes, and stuffing them up his shirt. The guard stopped the man as he attempted to leave the premises, and the police were called. The culprit screamed and shouted, but police were able to arrest him. A search of the mans' home revealed a further 147 items, which the suspect could not account for.


Dumping in central Paphos blocks riverbed

The dry riverbed of Limnaria, which runs from Konia roundabout down to the Debenhams store, is almost completely backed up with rubbish. Local councillor Vassos Demitriou has stressed that court action should be taken against the irresponsible people who are illegally dumping and fly tipping here. He said the general picture of the surrounding area is a 'disaster'.
In the dry riverbed construction and demolition waste as well as various other rubbish has drastically reduced the width of the river. The once deep river runs down from Konia at 80meter across, but is only 5 meters in width in some areas due to the amount of rubbish.
Demetriou pointed out that this area should be a place where people could enjoy walks as well as an area for children to play in, but he added that it is now an ecological disaster. He underlined that he hoped measures would be taken to correct the illegal actions so as to allow the free running of water in the river.

Tyre re-cycling initiative
A long-awaited tyre-recycling programme is yet to gain finance, but Environment Commissioner Charalambous Theopemtou remains determined to see it implemented. "The first thing I did as commissioner was to ensure that vehicle tyres are collected separately and the second was to implement a system for them to be recycled," he told the Paphos Post. There is a huge problem in Cyprus with people throwing tyres down ravines, into fields and leaving them at waste dumps. Thousands of tyres blight the landscape, and some people have been known to set fires to piles of them, which then give off thick plumes of toxic smoke. Many landfill sites, such as the dump in Marathounda in Paphos, are part of a scheme financed by the Interior Ministry and now they need to transport tyres to the recycling factory or the cement factory where they can be recycled. A regular collection and transportation scheme now needs to take place. Theopemptou and the authorities are considering levying a €0.80 surcharge on tyres, which are being imported into Cyprus. "These fees would help generate an income, which could in turn be used for the recycling programme," he said.
Unwanted used tyres in Cyprus have been creating problems for many years. There are about 500,000 tyres thrown around the countryside every year.


New zoning and opening hours on the cards for Kato Paphos

Christos Athinodourou, a member of the board of the port authority in Paphos, has underlined the need to specify if the harbour area in Kato Paphos is designated as a tourist area or not. He pointed out that shop owners in the area are paying high rents and added that the ministry of commerce should solve the problem, and not leave it up to the businessmen of the area. He outlined that the position of the port authority, in the area as the leading authority should be cleared up. Meanwhile, mayor of Paphos Savvas Vergas said that the local authority is in favour of implementing a universal tourist timetable of opening hours. He stressed that this would not only cover the harbour area, but the wider tourist area of Kato Paphos. Vergas said that this area receives visitors throughout the day, and therefore its necessary to have a specific schedule of closing hours to offer the best possible service for local and overseas visitors, as well as supporting the shop owners. The mayor concluded that the local authority and the port authority would take the same stance to excerpt pressure on the relevant ministry to ensure the necessary changes take place.



Bar street needs a facelift

Visitors to Ayiou Antoniou Street-Bar Street- in Kato Paphos have been lamenting on what a dump the street has become. Bar and club owners of the area are aware of the dire situation and have been concerned to know how to move forward. Following a summer season fraught with problems, Costas Arsinas, the President of the Bar and club owners of the street said that they had taken matters into their own hands. "We decided to take action, as we need the backing of the authorities to solve the problems we're facing. We are inviting the mayor of Paphos, the police, the Cyprus tourism organisation, the district office and the tourism department of the chamber of commerce to meet with us, and listen to our suggestions. We have many ideas on how to improve matters," he said. Arsinas believes that constant negative publicity has had a severely adverse effect on his business. But that the situation can still be turned around and the street can be as it was before, popular, vibrant and alive. Paphos' bar street runs parallel to the newly upgraded seafront road, which has just undergone a multi million-euro upgrade.

Polis road to go ahead

The ministry of transport has confirmed they will push through final plans for the Paphos to Polis Chrysochous road, after the proposed project has been hampered by a series of delays. The announcement was made following a meeting between the Minister of transport and works, Nicos Nicolaides, and SEKO, the association of political parties. The Paphos president of SEKO is local mayor Savvas Vergas, who had strongly critisised the lengthy wait for the contractor, prior to the meeting, threatening the possibility of direct action if further delays, or a halt to the project, went ahead. SEKO had made an appeal to the ministry to push for the project to begin. Nicolaides assured that the road would go ahead, as it would be "of a great benefit not only to Paphos but also for the whole of Cyprus."
The proposed contractor increasing the original price for the completed project has hampered the plan. The minister noted that either the first contractor or a second company, who would be asked to give a price for the job, would undertake the project. Nicolaides underlined that if an economic solution cannot be found, then the government would find ways in which to obtain funds to enable the project to commence.

Explosions destroy area of natural beauty.
Rocks being blasted out of a Turkish Cypriot village in Paphos are being used to form wave breakers in Latsi, according to Androlikou campaigner Yiannis Taliotis. He confirmed that he had been given the information by one of the owners of the mining company responsible for the blasts." One of the owners of the quarry company called me and confirmed that rocks are being blasted apart to form the wave barriers, which are being erected in the sea off the Latsi coastline. I told him it's not right to destroy a natural beauty spot and then throw these rocks in the sea," he said.
The campaigner was told by the miner that "there is no alternative and development must go on". The Cyprus Mining Authorities have recently given extension of mining rights to four companies in the proposed Akamas National Park in the village of Androlikou. The government last month had suspended this quarrying and Taliotis has expressed his dismay at the resumption of blasting. This area is well inside the Natura 2000 project and is listed as "an area of outstanding natural beauty".
This village is unique, as it is the only place in the republic where the majority of the local council is Turkish Cypriot. Taliotis believes the daily explosions and heavy excavations to be illegal as the village is Turkish Cypriot owned. Taliotis is now asking people to sign a petition to stop this action. If you would like to add your support call 99-553277.

Dumping in Peyia
Angry and frustrated residents of Peyia voiced their concerns over continued dumping of building waste down a ravine, which has a riverbed at the bottom. Francoise Debieuvre, is a 73-year-old permanent resident who had a traditional stone house built in Peyia, a number of years ago.
He said, "they are dumping here daily now and I have identified three different trucks. I think all the large developers and private building companies from the surrounding areas are using this site."
Debieuvre has written to the mayor or Peyia, Neofitos Akourshiotis to complain, but has yet to receive a response. According to the Frenchman the tipping has been steadily getting worse.
Residents are concerned with the legality of the dumping, as it may hinder the flow of water in the area, especially with dry riverbeds. These may become blocked with waste creating a problem during winter months. A couple of years ago two people died in Paphos when their car was swept away by a torrent of water, which had built up due to rubbish in the river beds and waterways.
The environmental Commissioner for Cyprus, Charalambous Theopemtou said, "in order to have a legal site, a permit from Paphos district office would be required. I find this peculiar as the site is obviously so close to residents. I can't see how the district officer would give his permission in this instance."
The Paphos district office confirmed they would look into the case to see what permits, if any had been granted.
Yeroskipou refuse Primetel cable system

Yeroskipou municipality has finally refused to grant a building permit to communications provider Primetel after a six-month wait. Telecoms and communications provider PrimeTel in co-operation with Reliance Globalcom, had already proceeded with the landing of the submarine 'Hawk' fibre optics cable system. The 'HAWK' cable system is part of the world's biggest submarine fibre optics cable system network around the globe.
Theodoros Loucaides, the outside plant network manager of PrimeTel, said," we have received communication stating that the local council has rejected approval for building permission for plot number 50 in Yeroskipou," they don't try and justify this decision, and do not give any reasons."
The mayor of Yeroskipou said in a brief press statement that the municipality had decided to reject the application, following an outcry from local residents concerned over health fears, and the adverse affect a landing station may have on the price of land.
There are only 3 areas designated suitable for landing stations by the government of Cyprus for the installation of sea cables in Cyprus. The one for the Paphos region is in Yeroskipou.
Loucaides said," the technical department of the municipality has informed the local council that there is no base for this rejection, and advice from two legal sources, the municipality lawyer and an independent lawyer, were favourable to us, and yet they are still rejecting the application."
Primetel stressed that although they understood the concerns of the locals, numerous environmental studies undertaken all over the world have concluded this type of landing station is not dangerous to human health. According to PrimeTel the system is fibre optic and transmits light through glass, which is not harmful. The project is part of a wider global programme.

April 2009 Articles:
Take More Care of Your Dogs - Say Police

DOG OWNERS have been called on by the Police to abide by the Law and take better care of their dogs as there has been a worrying increase in the number of stray dogs.
The police have released a statement reminding dog owners of the provisions in the law on dogs, which state that it is against the law for an owner to abandon their do and that they are obliged to take adequate measure to prevent their dog(s) from escaping.
It is also against the law for a dog-owner or carer to allow the dog to walk freely in a public place without a lead. Owners are also obliged to register their dogs, obtain and update their medical treatment and get their dog's microchipped.
The police have also warned owners that non-compliance with he laws on dogs can mean penalties can mean heavy fins or even imprisonment.


Is anyone out there listening?

TOURISM HAS once again become a focus of attention for the Cyprus government. They have been criticised at a conference of tourist specialists for not listening top what the industry is saying.
"There is some effort and attention and action by the government but it is not co-ordinated action. The point is that the effort should be efficient. Are the resources such as advertising being invested in the right areas to make any difference to industry operators."? This was the question posed by Ioannis Pantelides, who is Senior Lecturer in Tourism and Hospitality Management at London Metropolitan University at the conference.
A warning also came from Savvas Adamides, Director of the College of Tourism and Hotel Management in Cyprus.
"The global crisis may be a wake-up call but it doesn't mean that we have to accept defeat. His is the time the golden opportunities and do really well," he added.
"I am sure we will not succeed in maintaining the number of tourists that come to Cyprus for a number of reasons but mainly because the government is not talking the right action at the right time."

Take more old cars off the road say DISY

THE WITHDRAWAL Scheme for old cars should be expanded. That is the view of opposition party DISY, who called on the government to expand the state's old car withdrawal scheme and also repeated its call to totally scrap road tax.
Lefteris Christoforou, who is Chairman of the House Commerce Committee, said he was expecting that the response from the Communications Ministry on DISY's proposals would include a policy to deal with the crisis that was affecting the motoring industry.
The Committee had met to discus the significance of withdrawing old cars from the islands' roads both from environmental and financial viewpoints. The system ends this month (April).
"We feel that this measure should continue and indeed be reinforced further, especially taking the European Union's proposal at a recent summit, which called for members to speed up the process of withdrawing cars with offered incentives. This would benefit the state's economy and car owners," said Christoforou.

Do we ever learn?

SO WHAT have we learned in two millennia? Evidently not a lot if this quote is anything to go by.
"The budget should be balanced, the Treasury should be refilled, public debt should be reduced, the arrogance of officialdom should be tempered and controlled and the assistance to foreign lands should be curtailed lest (the nation) becomes bankrupt. People must again learn to work, instead of living on public assistance."
UK Prime Minister Gordon Brown in March 2009? NO...Cicero, Rome 55 BC.

Bank Governor Says 'Be Prepared'

THE GOVERNOR of the Central Bank and ECB Member, Athanasios Orpanides, could be forgiven for stating the obvious when he warned that Cyprus should be prepared for any eventuality in the current financial crisis.
Speaking at a discussion organised by the Cyprus University of Technology and the Association of Social Reform, he said: "In our country the consequences of the crisis seem relatively limited and our banking system remains sound. The uncertainty, however, is too great and we cannot rule out a further significant deterioration in domestic economic activity.
"Therefore it would be wise to be prepared for any eventuality."
Now talk about hedging your bets!

Some Goods Should Be Cheaper - Not Dearer, Says Minister!

"THERE IS no excuse for rip-off prices. Not only should products not be expensive – they should be cheaper." That was the message from Commerce Minister, Antonis Paschalides, in a speech to mark World Consumer Rights Day last month.
He also stated that in some cases consumers were being charged prices that were as much as 10% over what they should be. He promised that his ministry would take firm action to combat profiteering by retailers, although pointing out that this was difficult in a free market.
"The only legal provisions currently available for controlling prices relate to fuel and gas. However, we are seriously examining the issue and have asked for the law to be amended so that the ministry can issue ordinances for basic goods," said Pasechalides.
He said he was not happy with the fact that milk on Cyprus was the dearest in Europe and promised that the government would - "show its teeth" - on this issue, first of all by framing an amendment to the law to raise the levels of statuary fines as a deterrent.
He said that the current level of complaints against retailers showed that consumers in Cyprus were learning to insist more on their rights, something that the European Commission took very seriously.

All Doom & Gloom for Property and Car Sales

BOTH CAR and property sales plunged in the first two months of this year.
Property sales slumped despite the government's economic stimulation package. Figures from the Land Registry Office indicated that the construction and real estate sector is in stagnation despite the banks offer of cheaper loans. According to title deeds submitted by the Land Registry Department property sales in February plunged 65%, which follows huge drops in the previous three months.
The total registration of new motor vehicles declined by nearly 24% in the first two months of this year.

January 2009 Articles:
Is Cyprus safe from the crisis?
It seems that everyone is affected by the 'Credit Crunch'

By Chris Mills

IT'S BEEN dubbed the Credit Crunch and the alarm bells are ringing out all over the world as recession looms in every corner. The ordinary individual is baffled as the financial experts fight over soaring interest rates and bail-out proposals that run into billions but the reality is that we are all having to tighten our belts.

Cyprus a Safe Haven?

AT FIRST the message was that Cyprus was something of a safe haven and could weather the storm that raged around it. But this proved to be a mixture of government hype and media speculation with the reality being that no one is safe from this global recession and the credit crunch will inevitably affect the island's economy in some ways - maybe not as bad as others.
The government has had to bailout banking with a €1.4 billion booster in treasury notes for the banking sector's liquidity problem that may not benefit the consumer at all.
It has benefits in that the government will be able to service its debt at a lower rate of interest, as it would be more expensive to borrow from abroad, and the commercial banks will get their money back taking out a loan from the European Central Bank (ECB) at 2.5% interest rate, using the notes as collateral with the ECB.
At last the Finance Minister, Chariaos Stavrakis, has finally agreed that Cyprus will be affected by the current global crisis but as most people had realised this, it came as no great secret.
The global crisis has had a big effect on the island's ex-pat communities, especially in the Paphos District, where the largest majority of ex-pats live.
Those that I have talked to have all made the same complaint. It's not just a case of protecting investments it is when you come to exchange the money made from those investments (interest) or from pensions that the crunch comes.
"It really begins to bite then," said a couple from Mandria. "When you have no other source of income you have to make what little you have stretch even farther. The way things are going it's almost certain that we will have to return to the UK next year out of sheer necessity"
Another couple I spoke to said that, while their investments were safe, having secured them on a fixed rate of interest for five years, it was again when they came to withdraw money that they realised just how much the amount had been cut back by the sterling-Euro crisis.
This message is repeated by many other ex-pats who are just not getting the same returns for their money that they did two months ago even.
And a friend of mine from Coral Bay told me then when he went back to the UK for a short visit in December, he noticed just how much better food prices were in his local ASDA than in his local supermarket here.
"Food prices are better in the UK than Cyprus," he added.

UK Pound nosedives against the Euro
The pound is still heading downwards. It has already dropped over 13% against the €uro as the Bank of England cut interest rates as a bid to stave off a deep and prolonged recession.
It means that the €uro is becoming favourite in the money markets, which causes hardship for those holidaymakers wishing to come here
The pound (sterling) has tumbled to new lows against the €uro, even in some instances falling below parity levels to 90 cents.
The financial experts are advising expats to keep their savings in sterling for now; buy goods and services in sterling and use Internet shopping to buy in sterling - as three ways to beat the currency crunch.
At least if you still have a home in the UK, you always have something to go back to.
It is also predicted that retail prices will fall in Cyprus, although it may take some time. The advice here is to choose a retailer with the ability to offer value for money. Other than that, spend cautiously and look for bargains...prices are bound to fall!

Slowdown in construction and tourism
Already representatives of the island's two main industries - construction and tourism - have complained about soaring bank rates, a loan freeze and the fact that many ex-pats are selling their properties and quitting the country.
The banks have stopped lending and many ex-Pats, who bought their second homes here, are selling up in order to stave off their financial problems in their own country, which means that demand for new housing has been drastically reduced. It also means that the number of available properties has increased and it is likely that many of the new properties will remain empty for some time to come.
These facts all goes to prove just how worried real estate professionals have become, although it is even more worrying for developers, who reaped something of a golden harvest for the last few years.
Developers are not planning new projects for the next few years as they have enough problems selling properties on their current projects.
Some would say that they will be a monument to developers' greed!
There are some who believe that the current situation can have benefits in the long run. The sky high prices will stabilise and give some control over development. The better professionals will survive and be able to continue and make the market a better place for those to come.
If the alarm bells were ringing out for the construction industry they were positively clanging for the tourism sector.
There has been nothing but doom and gloom predicted for this year's influx of tourists with predictions that the numbers could be slashed by over 20% from last year.
Said one hotelier: "The only change on the horizon is an even bleaker outlook for 2009."
It is simply a case that tour operators will decide which destinations to go for in the summer of this year and the key will be cost, which means that Cyprus tourism would face a bleak future. The problem again lies with the British market, which has slumped dramatically due to the collapse of sterling; this makes anyone in the eurozone a very doubtful prospect.
But then the number of tourists to the island has been steadily dropping since 2001 so it's not entirely surprising.
Ever the eternal optimist I find that it's best to remember that the sun shines for 320 days at least in Cyprus and the UK has just experienced its coldest December for decades!

Halved road safety budget causes uproar!

THE GOVERNMENT has been called on to explain why it has almost halved its road safety budget for 2009 when it is nowhere near meeting the EU goal of reducing road deaths of the island by 50% for 2010.
Members of the House Communications Committee were said to be appalled when they heard that the funds had been reduced.
"In an area where the state should be paying special emphasis, it is economising," said Committee chairman, Zacharias Koulias (DIKO).
Finance Ministry spokeswoman, Anna Aristotelous, stated that the Communications Ministry had applied for over €8m for road safety of which €6.5m has been approved.
According to statistics the worst year on the roads was 2004 when there were 121 fatal accidents hat resulted in the deaths of 133 people. In 2007 there were 89 deaths from 88 accidents, while up to the end of November 2008 there were 72 fatal accidents resulting in 75 deaths.
The Health Ministry has announced plans to upgrade the Cyrus ambulance service with 10 new vehicles in a bid to help achieve the EU's vision of a 50% decrease in road fatalities by the end of 2010.
"Apart from policing and precautionary measures we need to improve our system, especially with regard to patients' care and their quick transportation to hospital, said Health Minister, Christos Patsalides.

November 2008 Articles:
'Tales of the Unexpected' - Aircraft crash delays start of first trial at the new Paphos airport

I WAS once told that you should always expect the unexpected but I'm sure that Hermes did not imagine in their planning of the trial runs at the new Paphos International Airport that a light aircraft would crash on the runway seconds before takeoff and just a few minutes before the start of the first new airport trial.
The aftermath of the crash of the Cessna 150 luckily saw the two people aboard only suffer broken bones but there was an hours delay before the other 99 people plus myself were allowed to continue on our 'journeys'.
There were 100 people for the first trial run and I was interested journalistically to see how it would all run.
Having picked up our baggage (two per person) from in front of the airport we were ready to begin when the announcements were made regarding the crash and apologies made for our wait. As we were all free agents with nothing much else to do the banter was light-hearted and nobody quite seemed to mind the delay.
What would have happened if this was after the airport opened, might have been a different matter.

Three Destinations
There were three different destinations chosen with tickets from one of them in the pack handed out at the beginning. I was to fly to London (Gatwick) - the other two destinations being Amman and Glasgow.
We march into the departure hall to find our checking points - mine happened to be at the very end - and we queued as normal with our baggage.
Obviously, it was a bit slow at the start but it warmed up very quickly and I was soon at the front dropping my bags on the belt weigher prior to the bags disappearing for loading on the imaginary plane.
I should imagine, although I didn't time it precisely, that we were an hour before facing the ordeal of the security check. This was a normal thorough operation with the usual unsmiling operators quickly examining your hand-baggage etc; (I made the mistake once of jesting with a security officer at Gatwick when flying over to Cyprus and was punished by having to go through it all again. So now I don't smile either!)
Then it was on to the departure lounge past the unfinished shops, which hopefully will add a little warmth and colour to the rather dull vast buildings. The departure lounge was full of the usual uncomfortable metal-seats, although ergonomically designed for your body, here we were given a sandwich pack, which contained two sandwiches, and apple, a bag of crisps and a bottle of water.

PA System problems
The PA System reminded me of the average British Rail station with the announcers sounding like they had blocked noses or adenoids problems. Barely distinguishable but was thankfully in English.
Then it was onto a bus, quick circuit of part of the runway and into arrivals, passports in hand. This seemed a simple operation and I was looked on by the young Cypriot with no real suspicion that I might not be who I was.
Then the usual push and shove to get a pole position of the baggage reclaim before picking up two cases somewhat similar (they might even have been the same) and through Customs to the outside world again.
I have often wondered why I feel so furtive faced with the 'Nothing to Declare' sign even when I do genuinely have nothing to declare.
I had no real complaints - except for an improvement in the PA System, which seem endemic with establishments of travel and the new airport is certainly a big improvement on the old one - now looking slightly decadent.
The exercises that concluded on Monday October 27 with the return of all those who had taken part in the three previous trials as part of staff training programmes, which Hermes Airports hope will ensure smooth travel experiences for passengers using the new airport when it opens November.
All those taking part in one trial and on the final day are being offered EUR50's worth of shopping coupons from Debenhams and Super Home Centre and in addition each participant will also be entered for a draw for EUR5,000, held on the final rehearsal day.
Whatever the outcome, I will always be able to repeat the immortal words of the Welsh comedian, Max Boyce, - "I was there."

Smoking Ban Law in Cyprus needs better implementation - says EU

THE EUROPEAN Union's ban on smoking is being flouted regularly in Cyprus and the EU's Health Commissioner has order the government's Health Minster to tighten the law up.
The EU's Health Commissioner, Androulla Vassiliou has expressed her disapproval regarding the failure of Cyprus to implement the ban properly.
The government's Health Minister, Christos Patsalides examined the current law's shortcomings and sent a letter to the Justice Minister, Kypros Chrysostomides asking for a stricter implementation of the law for no smoking in public areas.
The current fines for breaking the ban are €34 fine in nightclubs and €85 on public vehicles, which Patsalides says are inadequate and do not act as a deterrent.
The 2002-2004 Protection of Health (smoking) unified Laws prohibit smoking in all public places, including nightclubs, cafes and restaurants, in all government buildings, public transport and in private cars carrying passengers under the age of 16.
Each individual bar, nightclub or restaurant has the right to designate a well-ventilated smoking area.
Of the nearly 21,400 checks carry out by the police on nightclubs since the beginning of the year, 1,066 were reported for not implementing the law's provisions.
Leftover money to fund Paphos-Polis highway!

MONEY LEFT over from projects that were budgeted for but didn't go ahead last year will be used to help fund the construction of the Paphos to Polis Chrysochous highway, which will start in mid-2009.
This was revealed when the Communications Minister, Nikos Nikolaides, presented his ministry's 2009 budget to the House Finance Committee. He told deputies that he planned to use EUR40m to fund expropriations next year.
His procedure, he said, would be complete by the middle of next year, when the road's long awaited construction will finally begin.
Said Nikolaides: "The favoured investor has been chosen and from September 9 this year, negotiations began to achieve and sign an agreement by the beginning of 2009. He added that the whole construction would cost an estimated 275 million.
The main highway will be 30.5 kilometres long and will include byroads for Polis Chrysochous to Pomos and Latchi as well as a connection to Mesogi around eight metres long.
The Communications budget also provides for - an upgrade of the construction of connecting roads between a number of communities including Ayios Nicolaos and Mandria.


Accident Death Toll Close to Last Year's Total

WITH THE deaths of two men taking the total toll on the island this year to 66 since the beginning of the year, the number is now dangerously close to last year's total at the same time.
There had been a slight fall in the number of fatalities but the latest figures again highlight how badly Cyprus compares with other EU countries.
The main problem is, as the latest accidents indicate, that speeding, dangerous driving and not wearing seatbelts cause the majority of accidents. It seems that despite yearly awareness campaigns and increased police clampdowns on speeding and drinking drivers, nothing seems to make any great impact on road deaths.
"Cyprus, unfortunately, is very much deprived of the proper road safety standards of other European countries," says Communications Minister, Nikos Nicolaides.
(Editor's note: Many would also argue that it is due to a poor standard of driving, particularly among the younger drivers, and also a lack of concentrated police presence. To enforce the Law requires Law Enforcement.)

October 2008 Articles:
Handed Over - On Time - and not a day over!

A proud boast - but will it all work on the day?

The construction of the new Pafos International Airport and all its installations and systems has been completed - on time and on budget - and was handed over to Hermes at the beginning of September and the launch day set for November 17. By then it should be working like clockwork. The big question is - WILL IT?

What you don't expect to go wrong - often does!

TRUE - there are still a few teething problems to iron out but with equipment and construction at around 126 million Euros you might expect that a few hitches will occur before the day despite every effort to ensure that it all goes right on the day.
All the systems have been checked and verified by the constructing company Bouygues Batiment International of France, its associates and all the various sub-contractors working on the project, and a lot of time will be spent from handing over day to when it opens training all the personnel who will work the new installations and sophisticated technical equipment.
The new building, which has an area of 18,500 sq.m, has 24 check-in counters, systems that supply information to the travelling public, three conveyor belts, four security arcades, a VIP room, specially equipped room for businessmen and closed circuit television and 800 parking spaces outside.
It will employ around 1,800 people and should service some 2.7 million people annually.
The underlying architectural theme of the airport that makes it pleasing to the eye is the well-known Cyprus goddess, Aphrodite, with wall mosaics giving it an artistic touch.
"We want passengers to feel that they are in Cyprus by promoting the heritage of the country which is so rich," said Michel Hochet, managing director of the Cyprus branch of Bouygues Batiment International, the French company responsible for the project.
"Everything from beginning to end, from the first design to the build was to reflect our concept," added the art curator, Yiannis Toumazis.
"From the colours we have used to the materials, we wanted to reflect Cyprus and its history."
The whole area from check-in counters, the stone floor and the local pebble mosaics, provide a pleasing appearance and contrast to the present terminal. The sculpture of the goddess Aphrodite at the entrance and the space that portrays the history of Cyprus all add a certain ambience to keep passengers in the right mood.
You get the feeling that every effort has been made to provide comfort while being functional and it certainly has a Cypriot feel about it.

I toured a Paphos beach and talked to some of the holidaymakers here about what they hoped from the new airport.
"I just want to be able to get through and away as quickly as possible when I go home with the minimum of delay. If there is a delay I like to have somewhere comfortable to sit and wait," a holidaymaker from Essex told me.
"Information about what's going on is very important," said a Manchester lady. "If there are delays and something is going wrong you need to be told, so that you can prepare and relax. Nothing is worse than not knowing what's going on."
"I just want to see a few smiling faces. Pretty girls always make me feel happier," said one teenage boy from Bristol.
At least when Paphos has been tried and tested the information gathered can be passed on to official of the building at Larnaca Airport, which is scheduled to open on time in November 2009.
Dummy runs for the new Paphos Airport first scheduled for last month will take place this month. Passengers will be used to give a real test of the airport's readiness to begin operation for business.

* ONE difference that has already emerged between the two airports is the shuttle service that has been operated so successfully at Larnaca airport. There now seems little chance that this will be operated at Paphos. The explanation would appear to be that Paphos Airport is so close to the town itself that the service it is deemed unnecessary. The most likely reason is the vehement protest by the airport's taxi-drivers, who were angry over the perceived competition for their services.

Collapsed airline – The mess that gets left behind

THE COLLAPSE of an airline company is nothing new - it seems to happen at regular intervals. The collapse of an airline catches the headlines but it the mess that it leaves behind that causes the heartaches.
Although a pretty comprehensive rescue package was mounted from the UK to all points that the XL airline reached, the collapse left stranded passengers in many locations. The after-effects were that it would also have an impact on the island's already beleaguered hotel industry.
XL was the UK's third-largest package holiday group and XL Airways operated eight flights per week to both Larnaca and Paphos airports from Heathrow, Gatwick, Luton and Heathrow. In all, they were bringing around 2,000 passengers to Cyprus each week.
Around 80,000 passengers were stranded in various locations abroad and aviation authorities faced a daunting task in flying them back home with around 450 flights needed to complete the task.
Many thousands, not covered by protected packages, had to find their own way home.
The backlash was the fact that some €200,000 would be lost to Cyprus hotels in lost bookings.

Paphos polluters must clear up or be fined

"OH! WHAT a circus. Oh! What a MESS!" Seems to be the cry from Paphos residents as they survey the once very pretty municipality.
Sure, there have been improvements in recent times but renovations, road works and the continuing construction of the concrete jungle haven't improved its overall appearance. However, the main problem that remains is the continuing indiscriminate tipping and littering.
A Paphos councillor said: "It's a general problem here in Paphos but there is a law which we, as councillors, voted in. This allows for people fly tipping or littering to be fined.
"Unfortunately, to date this hasn't been exercised properly by local authority employees," he added.
Many would agree that Paphos is a cleaner place but it still needs to be improved and one way to do that would be to enforce more penalties for dumping rubbish. And, they cannot keep relying on volunteers to clear up the rubbish, as happened recently.
The main problem is the dumping of old cars, tyres and household goods, which isn't helped by the fact that Paphos, and indeed Cyprus in general, has no proper recycling processes.
The other problem is the many building sites that abound in the area. There is a huge amount of building work in progress at the moment and many of the sites are left with rubbish that needs to be cleared away and dumped on a landfill site.
Questions must be asked when the various councils of the district meet and action must be taken.

August 2008 Articles:
Is Cyprus still the island paradise to be living on or are ex-Pats better off going back to the UK?

DESPITE ALL the brochure talk of Cyprus still being one of Europe's top property spots and places to live is it really still continuing to grow in popularity for overseas buyers or are we seeing a backlash to the dramatic price rises in just about every commodity here since the advent of the Euro?
Yet all as most ex-Pats know, it's not so much the Euro but the dramatic drop in the value of sterling that is affecting them here.

An Island Paradise where the sun and the Mediterranean meet

SOME OF the ex-Pats that thought Cyprus was the place where they wanted to 'end their days' are considering whether or not to pack up and return to the UK. Some have already done just that even after being here for several years!
But is it the lure of wanting to be 'back home' or just that Cyprus has now become expensive?
There is no doubt that prices have risen over he last decade and those rises have accelerated sharply in the last year. Recent surveys have revealed that prices of 'essential' goods have increased by nearly eight percent in the last 12 months.
Let's be clear about one thing - in many ways Cyprus is no longer a cheap place to live. However, it could be argued that it is still cheaper than the UK and what ex-Pats are suffering from now is the oncoming of a recession in the UK.
Their investments have lost value due to the drop in sterling (one man told he had lost £20,000 on his investments in the last six months) and their pensions have a lower value due to the exchange rate of sterling again the Euro.
The advice I received when I came to Cyrus four years ago was to make sure that my financial position was secure not just then, but for the future. If you have the cash resources to offset any future price rises, you should be OK, my financial adviser told me.
The move into the Eurozone at the beginning of the year has been largely welcomed by all except those with money still invested in the UK. The big drop in value of Sterling has meant that the conversion rate from the English pound to the Cyprus Euro has dramatically dropped.

Is a return to the UK a good move?
So for those who want to return - what are they returning to?
A very unpopular government, which seems to be lumbering from one crisis to another, and an opposition that has no real ideas but is riding high on the government's unpopularity. Those returning will face higher domestic fuel bills and petrol charges. If you think that petrol is getting dear over here (and the good news is that the two biggest petrol companies on the island EKO and Petrolina have both announced cuts in both diesel and unleaded) than try buying the commodity in the UK.
Most importantly, can they afford the ubiquitous Council Tax charges again?
Another couple I met told me that they were giving Cyprus a 12-month trial and then they would decide whether or not to stay or go home.
"It's very much a case that our money back home is worth less but prices here keep increasing. We are very much caught in a trap," they told me.
One lady told me that she was only returning because she missed her family and particularly hr grandchildren.
"They can't afford to come here because the air-fares are so pricey so I am, in some ways, reluctantly returning to the UK, although my husband is not so sure that we are doing the right thing," she said.

Crime rate here is still low compared to UK
Cyprus has always boasted a low crime rate and when I first came here 16 years ago it was almost unheard of but, while there is an increase - particularly in the worrying area of juvenile crime, it is nothing compared to what goes on in the UK.
True, we make joke about Cypriot drivers with their constant breaking of traffic laws - speeding, shooting lights at red, not using seat-belts, using mobile-phones while driving, and motor-cyclists without safety-helmets but at least he motorway roads are clear and you can drive from Paphos to Ayia Napa –- a distance of around 170 kilometres - in under two hours.
I have always said that to enforce the law, you need law enforcement – and Cyprus just doesn't seem to have a big enough police force. The problem is that booking a few speeding motorists will not change the attitudes of most islanders.
The motoring laws only apply to other people.
There is no doubt that there is more freedom here than in the UK. The 'big brother' state has yet to make an impact over here. Life is so much easier and more relaxed.
We all know about the beauty of the island. The forests of the Troodos, the lovely beaches at Ayia Napa, the wild life and flowers and the fruit trees. And there is a lot more that makes this island the paradise it is.
In Cyprus you have an excellent variety of fresh food - good fish and meat, good vegetables and a wide variety of fruit. If you stick to a healthy diet, which includes olive oil and lemon juice dressing, according to many, you will live longer!
I have had four very happy years here and hopefully will enjoy many more on this island where the sun shines most of the time. I personally, have no desire to return to the cold, wet land of my birth. There is nothing there that I can't get here and I feel that there is much more here than I can get there.
Don't become what the Aussies love to call us - 'whinging poms- - believe you me this beautiful island is still the place to be - you are far better off here!

Police to get tough on teenage crime and the reasons for crime


A RECENT spate of incidents involving youth crime has sparked off a debate on how to deal with the problem of the rise in juvenile offenders.
In the last two years the number of juvenile offenders has risen dramatically and, although figures dropped last year from 2006, they are still well above what they were three years ago.
It has also been noted that in the past two years there has been a steady increase in the number of girls involved in juvenile crime.
Among the more serious offences were; grievous bodily harm, burglary, arson and malicious damage, firearms and drugs, while minor offences included disturbing the peace, property damage and conspiracies to commit crimes.
A group of seven academics have submitted a report to the Education Ministry suggesting ways to combat the rise in crime amongst young people in the short and long term but even they admit that it is a complex issue.
"Such a complex social problem has to be tackled on many fronts at the same time," said Professor Andreas Kapardis, who was commissioned to write the report. Kapardis pointed out that one of the main issues was the lack of respect displayed by young people to those in authority.
"They no longer see a priest, teacher or police-officer and even parents to some extent, as role models," he added.
The recent spate of teenage vandalism has seen thefts, abuse and beatings causing in some cases a lot of damage. Three teenagers were arrested in Paphos for a series of break-ins and arsonists set fire to the town's new youth centre just weeks before it was due to be opened.
Nearly 60 extra police officers are to be deployed in the Paphos district to try and stem this rising tide of crime. Police Chief Iacovos Papacostas, who visited the area in July, said that 47 special police will be sent to Paphos to reinforce security at Paphos Airport and the General Hospital, while 30 officers would be sent to the town station after they had finished their training at the Police Academy.
It has also been announced that Kato Paphos is to get a new police station to meet the needs and problems of the area. It is hoped that the police will then be able to deal more effectively with such things as timeshare and holiday club touting, thefts from hotels and apartments and bag snatching in the streets.

Motorists watch out - those dreaded speed cameras may soon be back!

IF MOTORISTS in Cyprus thought that they had seen and heard the last of traffic cameras then they must think again.
A new traffic camera system is expected to be in operation within the first six months of 2009 after the green light was given for tenders to be submitted. The government intend to install 440 cameras (400 fixed and 40 mobile) in three stages over the next five years.
The Director of the Police Traffic Unit, Theodoros Achilleos, said that fixed cameras will be put at junctions where it is proven that accidents take place, while mobile ones will be used at areas classed as 'high risks'.
During the 10 months that the traffic-cameras were in action under the previous system, accidents were reduced by 70%. The old system was deactivated last September due to a dispute with the supplier over technical problems.

British tourism on the slide and next year it could be a lot worse!

TOURIST ARRIVALS from the UK have always amounted to over half of the total visitors to the island and this market has for a long time been the mainstay of the Cyprus Tourist industry.
The British market may have reached saturation point now and has dipped considerably over the last five years but it still managed to account for 55% of tourists last year. To a degree it has held it's own this year because many people will have booked their holidays before global prices began to spiral out of control.
But the future for next year looks bleak as the credit crunch hits the UK with as much as £250 being added to the price of some package holidays.
The British market, which has seen a downturn of 3.7% this year, is unlikely to recover for next year as both flights and hotel prices increase.
Only Ayia Napa seems to have escaped the downturn with Limassol, Larnaca and Paphos down and Polis occupancy numbers falling to a third of the average - its worst year in living memory.
The entry of Cyprus into the eurozone has done little to lure British holidaymakers as the exchange rate between the Euro and sterling is very unfavourable for UK holidaymakers.
There are some in the industry who believe that Cyprus should wean itself off the UK market and look more to other areas such as Russia and Scandinavia.
The roadworks outside several Paphos hotels have not improved matters with hoteliers complaining that it has lost them business. They say that works in the harbour areas may have cost them up to 10% of arrivals.
Paphos Mayor, Savvas Vergas, has said that the work is on target and the seafront will open again on September 15.

Water farce as Kourris Dam nears empty

WHAT A FARCE the pumping of water from Greece seems to be turning out to be.
At first it was expected that the Greek water would be flowing before the weekend of July 19 but by the following Wednesday it still hadn't begun to flow and Limassol Water Board called a crisis meeting with the Agriculture Minister.
"If the Greek water doesn't begin to flow by the beginning of August, the Kourris Dam will not be able to supply the urban area of Limassol as the dam's resources will have run out," said Socrates Metaxas, Director of the Limassol Water Board.
There are 50,000 tons of the precious liquid in a tanker anchored off Limassol and only 2m tons left in the Kourris Dam. Kourris is the island's biggest dam with a capacity of 115m tons.
Yet the island has a long history of water shortages and this isn't the worst drought that it has had to survive. Based on historical evidence around 306 AD the island was almost deserted through lack of water. Islanders have had to find various means to deal with water shortages over the years, mainly from drilling wells, and when there was British rule in 1878 the Royal Corps of Engineers repaired many irrigation works.
However, the British policy of drilling boreholes led to a serious depletion of water supplies in the main water-bearing areas of Famagusta, Morphou and Akrotiri.
The impact of climate change also means that snow in summer on the Troodos is a thing of the past, yet another factor in the troubled history of water supplies on the island.
So it appears that water cuts could be here to stay unless new giant drills can go deep enough to find more supplies. And, as if to compound the problem, temperatures in June were two degrees above the normal with a high of 41 degrees C - seven percent above the summer average.

July 2008 Articles:
CTO Chief urges all Cypriots to SMILE…to save tourism!
…And he wants more action from the Government

By Chris Mills

"Light up your face with gladness; Hide every trace of sadness - Smile, what's the use of crying; You'll find that life is still worthwhile...If you just smile."

THOSE WORDS from the song 'Smile', which had actor/comedian Charlie Chaplin as one of its three lyric writers, appears to have inspired Cyprus Tourism Organisation (CTO) chairman Panos Englezos to wax lyrical.
He told delegates at the Cyprus Hotel Association's AGM that all Cypriots should be nice to visitors because the island was in danger of losing its traditional hospitality.
"We as a people have to go back to our genuineness. We must show more respect to our visitors. We are all responsible through profiteering, a lack of consciousness and awareness and a bad environment."
The fact that the majority of hotels workers are no longer Cypriots but lower-paid workers from Eastern Europe wasn't mentioned nor were many of the other causes of the decline in tourism from its near 25% contribution to GPD to the present 12%.
Tourism globally rose by six percent last year. In Cyprus it was below one percent. The biggest loss came from the British market that declined 15%.
The plain truth is that Cyprus has lost its edge competitively. It has become an expensive destination with high airfares, higher hotel-bills and higher restaurant charges. In fact, higher prices all round.
Hotel Association chairman, Haris Loizides, has told the President Demetris Christofias, that they are looking forward to a new chapter from his government.
"We will be making proposals - not demands. But we have lost time and now it is the time for decisions. We have lost a lot of time discussing what should be done. The government now needs to simplify procedures and find ways out of all the bureaucratic traps.
"Occupancy has dropped to 42 percent in the winter leading to many hotels suspending their operations, although indications for 2008 look more positive."
The fact that many private villas were being rented out illegally doesn't help, he added.
Although there are more hotels being built in Paphos its position as the number one holiday destination on the island has dropped behind Ayia Napa and Protaras.
One senior hotelier has said that the poor road infrastructure, dirty open spaces, messy building sites and work in the harbour have all contributed to the decline. Numbers are also very low in Polis prompting calls for the proposed road from Paphos to Polis to be constructed urgently.
The news that the government has set aside a budget of €12m over the next three years to promote winter tourism has been welcomed by the CTO and the Institute of Travel & Tourism (ITT) has placed itself fully behind the efforts to bring Cyprus back as an up-market destination.
However, fuel price hikes have added to the ticket prices for Cyprus Airways with fuel cost now the airlines largest expense ahead of labour costs.
"Since the beginning of this year we have paid out an extra €25m on fuel costs," said CY spokesman Kyriacos Kyriacou. "We have had no alternative but to pass these costs on to passengers. And the fuel costs keep on going up."

New Marina for Paphos - Is about to happen?

A LEAKED email from a UK financial services consultants to its clients suggesting that buying property in the Peyia area will pay dividends now that the contract to build the new Paphos 1000 yacht marina has been awarded, is causing some speculation.
In fact, owners of land surrounding the site for the new marina have seen its value triple since the decision to build the new marina was taken.
The EUR70million+ contract has been awarded to a consortium headed by the Leptos Group and includes - Cybarco, JNP Avax, Francoudi and Stephano, Athena and KAT - and the winning group will have to pay the government an annual rent of €4 for the next 19 years.
The announcement of the award was made by government Commerce Minister Antonis Patsalides for the project in Potima, Paphos.
Competition for the project was said to be 'stiff' with four consortiums concerned and work will start immediately and must be completed in three years.
The Marina will have moorings for 1000 boats, slipways and a boatyard. There will also be further leisure facilities, including a restaurant, bar and parking.


Water from Greece will ease pressure on island supplies
By Chris Mills
PRESSURE on the very depleted water stocks on the island may soon be eased with the final preparations for bringing water from Greece being close to completion after some complex infrastructural logistics.
Construction workers have been working round the clock to lay pipes along the dry Yermasoyia riverbed to be eventually connected to the Yermasoyia Dam - part of the Limassol Water Board reservoirs.
The water will arrive at Yermasoyia in tankers that have sailed from Elefsina in Greece. The six tankers being used had previously carried foodstuff and agricultural products but have now been specially adapted to carry water.
The EUR35 million contract was signed on April 21 between the Water Development Board and Ocean Tankers Holding Public Company Ltd. It provides for six tankers carrying 50,000 sq.mtrs of water every day.
The estimated total of water transported over a period of six months is said to be eight million sq.mtrs. The current shortage of water on the island is said to be 16 million sq.mtrs
The project has involved the co-ordinated efforts of the Ministry of Agriculture; Athens Pireas Water Company (who will check the water quality before it leaves Greece), the State Lab, Port Authority and Ocean Tankers.
Besides the imported water from Greece, the island's two desalination plants will be upgraded to increase production capacity and new desalination projects, including a portable one, are also being implemented.
Water cuts have been introduced in all areas but there are fears that more leaks can occur when water is switched back on, especially during hot weather.
The cuts imposed by the government haven't pleased the Mayor of Paphos, Savvas Vergas. He had resisted turning ff supplies in the firm belief that Paphos could get by on its own underground water supplies and three dams in the area.
Said Vergas: "We cut supplies from our dams but continued with uninterrupted supplies from the underground sources."
Others were worried about the effect that a cut in supplies would have on the already diminished tourist trade.

Overseas Promotions Campaign Increased by CTO

IN A BID to encourage tourists to the island, the Cyprus Tourism Organisation (CTO) has increased its promotion and advertising campaign budget abroad with more focused strategies.
Said the CTO's director general, Phoebe Katsouri: "For this year we have an increased budget which is being allocated in a more focussed way in the hope of bringing tangible results."
She explained that they were organising nationwide campaigns in 14 countries and using such international media as Euronews and CNN. The CTO is also the only sponsor of BBC World's prestigious tourism programme - 'Fast Track' , which gives Cyprus extensive cover internationally.
"We hope that with our expertise we have achieved better cooperation agreements and campaigns that are being staged now, which will be repeated in the autumn, will be in time for the winter tourism," she added.
The CTO had also, she stated, achieved effective cooperation agreements with tour operators and travel agents abroad.

*AIR TRAFFIC in and out Cyprus increased by 12% in 2007 and is expected to rise by roughly the same amount during 2008. This is according to forecasts by Eurocontrol, the EU's organisation for the safety of air navigation. They also predict that after a period of stagnation, growth of air traffic in Cyprus would average five per cent over the next five years.

Are Improvements in Harbour Going to prove counter-productive?

Is summer the right time to upset tourists?

IT WAS ALWAYS a source of great amusement to some and annoyance to others in the UK when, three weeks after a road had been dug up for new telephone cables and had carefully been tarmaced over again afterwards, along came the workers from the local sewerage to dig it all up again and make a further mess, writes Chris Mills.
Crazy - you would say - why didn't they do it all at once! But it was yet another example of town hall departments simply not working together.
For any town in England - cue Cyprus and Paphos. The old harbour of Paphos - one of its great tourist attractions with its medieval fort and many restaurants – has been in a mess for some time now but you would have thought that come the tourist season work would be suspended for a while - especially in view of the diminishing number of tourists and the need to impress those that are here.
But work on phase two of the seafront project began on May 19 and will continue for the next six months.
Hotel owners in the area - such as the Almyra, Annabel and Alexander the Great - are naturally up in arms because they say it is ruining their summer business.
Paphos Municipality's consultant civil engineer, Diofantos Hadjimitsis, said: "It is a problem as the work follows the coastline and will affect the hotels in the area. Apart from creating a new look for the coastline in front of these hotels, this phase includes an extra construction of three vertical walkways and we admit it will cause some disruption to some hotels."

"Disruption could cause end of Paphos Tourist industry"

This area has seen a great deal of upgrading work in the last few months which Paphos mayor Savvas Vergas thinks was necessary and will be completed by April 2009.
"The work will only cause disruption for two winters and one summer," he commented.
Although the hotel owners agree that the work is necessary, they find it difficult to believe that they're had to be one in June and will not be finished until next year.
With tourist arrivals for May three percent down, particularly British numbers that have dropped sharply, it seems foolish to put visitors off even more by turning the area into a building site.
Said Natasha Michaelides, the communications manager of the Thanos group of hotels who own both the prestigious Almyra and Annabel hotels:
"Some tour operators are already fed up with Paphos because of the previous work and if they have to start paying compensation to disgruntled customers, they will soon drop the venue. People want, among other things, good quality pavements and beaches. Once the word gets round about the present state, they will not come.
"I think carry on this construction work during the summer will cause far more damage than having to pay out more money. It could be the end of the tourist industry for Paphos."
Spend, spend, spend - it seems the only way to be in Cyprus!

By Chris Mills

LET'S FACE IT - Cyrus isn't a cheap place anymore. Cheaper than the UK in many respects still, yet prices for many things keep rising - and now we are told that higher prices are here to stay.
So I suppose we better get used to it.
Prices have been creeping upwards for the past few years but have certainly accelerated this year - dearer petrol, dearer food, dearer utility costs and it can't be blamed on the change to the Euro.
OK! Many will point to world prices - especially that of crude oil that has reached nearly $1.50 per barrel - this pushes up the cost of everything - and wheat prices that push up the cost of that most essential of foods - bread.
There will be profiteers who will take advantage of this but in the main, the extra prices can be justified if not appreciated.
Many older folk, like myself will remember, sunny Jim Callaghan when British prime minister in the mid-70s saying during a currency crisis - "Crisis, what crisis?" - and it appears that this is also the Cypriot view of the current situation.
They have now got used to a certain 'well-off' style of life and intend to keep it up. Cypriot households are €17 billion in debt, which is the highest figure ever, while at the same time inflation stands at nearly five percent.
You would think that now was the time for cutbacks.
But no, petrol sales are five percent up, holiday sales are five percent up, while food prices have risen six percent, electricity 13 percent, petrol 16 percent and even the cost of having a meal in a restaurant is nearly eight percent dearer.
It appears that the locals may watch what is happening in the rest of Europe - demonstrations against higher prices and belt-tightening all round - but with little overall interest and all that just seems to be accepted.
As long as the banks are lading out money, just get deeper into debt and don't worry. It is when the banks start to call in the loans that the worry will start. And there are always the good old pieces of plastic – the credit card. Between January and May this year nearly €760 million was spent on Cypriot credit cards – a rise of 25% over the same period last year.
Perhaps my old Granny was right - 'Neither borrower or lender be!'

Louis Tourist Agency step in to aid Road Safety

THERE HAVE been 36 deaths of the roads of Cyprus this year and now a leading tourism organisation – the Louis Group – has announced a road safety plan to try and reduce the number of death
They have decided to name 2008 as the 'Year for Road Safety Awareness' as part of its corporate social responsibility policy. The action plan will be part of the EU's European Road Safety Charter, which Louis has signed.
Louis will print leaflets to be handed out to all passengers checking in for their return flights home along with their boarding-passes. (Louis Tourist Agency deals with more than 30 airlines in both Larnaca and Paphos airports.)

* THE BIGGEST tragedy is the number of motorcyclists killed - most not wearing crash helmets. Yet daily on the roads you will see motor-cyclist riding along with no helmets, many off them over the handlebars or strapped to the back of the bike – not on their heads where they should be and the police seemingly do nothing about it.
Protect the Grass Snake or face action says EU

LET'S FACE it - snakes - have never had a particularly good press.
Often portrayed as deadly, dangerous, slimy and crafty creatures they have never had the love and affection that other animals get. And now Cyprus is in trouble with the European Commission (EU) for not giving one of its eight species - the grass snake - adequate protection.
The EU has now given the island two months to take action on protecting the snake - the most endangered of the eight species to be found here or face court action.
The Commission had warned Cyprus that it had not followed European directives regarding the protection of Natrix natrix cypriaca, which is classed as an endemic species, on this matter when told and must now act or face the consequences.
The main interest centres around Paralimni Lakes, which is the most important habitat of the snake and is a designated Protected Habitat area. The north side of the lake has undergone lot of development in recent times.
Latest figures estimate that the remaining number of the species may only be around 50 and this may have been reduced still further in the last four years. The species was first recognised in Cyprus in 1787.


Call for Smoking Ban to be implemented properly!

Two top judges have made a CALL for the full implementation of the current Anti-Smoking Law and a total ban on smoking in public areas.
In an open letter, Supreme Court judges, Takis Eliades and Demetris Hadjihambis, have said that the law banning smoking in public places was passed by the House in June 2002 but was not being implemented.
"According to the provisions of the law, smoking is banned in areas that include restaurants, cinemas, theatres, hospitals, private clinics, doctor's offices, dentists, concert halls, galleries, government or semi-government offices, banks, factories and other places where foodstuff is prepared or sold, common areas of government buildings, closed sports centres, airports, ports, vehicles of private use and cars of public use in which there are passengers under 16," the judges have said.
The law also states that in areas where smoking is banned, smoking can only be allowed in designated areas that have been specifically set aside and which have adequate ventilation systems.
Also at the workplace, employers can only allow smoking in designated areas.
According to the two judges, for smoking in recreation centres such as restaurants, cafeterias, bars, coffee shops, disco and dance centres, there must be a specially regulated area for smokers and nobody should smoke in no-smoking areas.
They added by saying that owners of recreational centres have flouted the law by putting up signs saying - 'Smoking Permitted' - claiming that they were obeying the law! Also, no police action was being taken to 'warn or arrest smokers'.
The judge's conclusion was that a total ban on smoking should be implemented in all public areas.
Other countries in the EU such as France, Italy and the UK, where there were many keen smokers, had implemented such laws with quite severe penalties for non-compliance.
The judges were also concerned that not enough was being done to warn smokers of the dangers of smoking. Official statistics for Cyprus show that 650 people die every year as a result of smoking, compared with around 90 in road accidents and 17 from drug related causes.
There were also the dangers of passive smoking to be taken into consideration because non-smokers inhale double the amount of nicotine that smokers do.

* GO INTO any taverna or bar in Paphos and you will find many smokers just puffing away merrily ignoring signs with little attempt by managements to point out the non-smoking ban. Among the worst are some ex-Pats who, along with fellow Cypriots, seem to think that the law doesn't apply to them!

Progress on target for the new Paphos air terminal

PAPHOS International Airport at present handles over 1.5 million passengers per year but in November this year when it opens its new terminal and runway extension it will eventually be able to handle 2.7 million per year.
The plans to expand both Paphos and Larnaca airports were first put forward in 1988 and the upgraded project master plan prepared in 1993. The new terminal and runway extension, which is based on those original plans, will be able to handle two million passengers in the first phase and a further 0.7 million after the second and be able to handle even the largest aircraft like the Airbus A321.
Passenger growth is expected to be around 3.5-4%.
The concession for the new airport has been given to Hermes Airports for a period of 25 years.
Work is approaching completion with construction scheduled to be finished by the end of June when the testing phase will begin. The Paphos Airport will have 20,000 sq.m of floor space, 24 check-in desks (currently 16), six security-screening positions, three baggage reclaim carousels and an 800-space (currently 150) car park.
The airport runway is being extended from its current 2,700m to 3,100m allowing it to handle even the largest aircraft.
Outside a four-lane highway is to be constructed to link the airport to the town of Paphos 10 kilometres away.
Cost for work at both Paphos and Larnaca is estimated at EUR645m.
Action on Animal Cruelty

CRUELTY TO animals is something that most people don't want to tolerate and this island has in the past come in for its fair share of criticism on the way it treats its animals.
"Whether its dogs, cats, horses or donkeys, we repeatedly see examples of mistreatment," says Stella Stylianou, who is secretary of Cyprus Voice for Animals (CVA).
It appears that the biggest problem, according to the CVA's President Mary Anastasi is 'ignorance'.
"A lot of people don't know how to treat animals or how they should be kept. They don't necessarly mean to harm the animal but it gets harmed because they don't know any better," she added.
But the organisation has now had a meeting with government officials, representatives from the Ministry of Agriculture, Interior & Justice, the Police and others, which was chaired by the Agriculture Ministries Permanent Secretary, Panicos Pouros.
The two women said afterwards that the outcome had been extremely positive.
"It looks very promising. For the first time everyone involved showed a will to try and solve the problems" said Anastasi.
One of the first suggestions is the setting up of dog pounds for stray dogs. Animal welfare organisations have also been asking for the construction of more sanctuaries and increased grants.
"The Law is strict but nobody seems to be enforcing it," added Anastasi.

Rise in Car Registrations

CAR REGISTRATIONS in the first quarter of the year increased by 4.3% over the same period last year. The total registration of motor vehicles from January to March this year increased to 17,024 from 16,325 in 2007.
Ironically, the sales of used cars outnumbered the sales of new cars. Private saloon car sales rose 3% from 12,262 in January 2007 to 12,625 this January. Out of the total of private saloon cars over 53% were second-hand, while nearly 47% were new.
Vehicles for commercial use increased by 5.3%, light good vehicles by 2.2% and heavy goods vehicles by 16%.
Registration was also up for motorbikes and mopeds. They increased by nearly 5% compared with registration up to January 2007.

Don't they know there's a water shortage?

THE CONTROVERSY over the watering and the setting-up of private desalination plants for golf courses runs on. And, getting the blame for setting this up is the Cabinet of the former President - Tassos Papadopoulos.
It appears that his cabinet bypassed a ruling by the Building Relaxations Council and went ahead with the moves. This was in violation of a decision of the Council and effectively stripped it of its powers provided by town-planning laws for the approval of private desalination units for watering golf courses.
And it couldn't have happened at a worse time with the island going through a severe shortage of water, as well as the financial burden of increasing oil prices, electricity prices and the delay in importing natural gas.
Because desalinisation plants are Category B industrial developments, applicants can only get permission to build through town planning and an exemption from the Relaxations Council (an independent body made up of people in the development business which approves exceptions to local development plans under a strict criteria).
The Relaxation opposed applications in 2007 but at the same time the Cabinet approved a proposal by the Agriculture Ministry to exempt businessmen who wished to build desalination plants for golf course from having to go through the Council.
This was at a time when the Government was offering generous incentives for the creation of golf courses as a means to improve tourism.

June 2008 Articles:
Could cremation happen in Cyprus?
Law to allow for the building of a crematorium in place soon?
DEATH COMES to us all in the finish - besides birth it's one of the only certainties of life! Today, while it is still a sombre occasion, a funeral is more often the celebration of a life than of the death itself.
Here in Cyprus there is only one form of dealing with a body and that is a burial. There are no facilities for what is more popular in some other EU countries - cremation. But that could be all about to change as Government officials have said that there is a possibility of offering this service within a year.
Nobody is quite sure why the legislation to build the island's first crematorium has dragged on so long as it was first drafted and presented to parliament eight years ago by the current MEP Marios Matsakis.
While the legislation is still not yet in place, government officials are predicting that a crematorium could be up and running by next summer.
The Interior Ministry's permanent secretary, Lazaros Savides, is quoted as saying that Law Commissioner, Leda Koursoumba, was gathering the information and canvassing different ministries for their views. He said that his ministry and the Church had answered in favour of the proposal
"I cannot give a timeline due to several unknown parameters but my best estimate would be that we may see a crematorium built on the island in a year's time."
A recent petition with over 4,000 signatures asking for the building of a crematorium - many of the signatures from young Cypriots - is still on the table. As the island only allows for burial, those wishing to be cremated have to be embalmed and sent to a country that allows for cremation.
This applies to Expats, many of whom are used to this type of burial, which is commonplace in the UK, and have probably stated their desire for cremation in their wills.
Is 12-month timeline too ambitious?
But many feel that the 12-month timeline is far too ambitious and are fearful that opposition from the Greek Orthodox Church and from the government can still slow down the process. Also the cost of building a crematorium is fairly high, considered to be near four million for land, building and all the equipment, even if a license was granted.
Keith McCready is the businessman who wants to build the first crematorium in the Paphos District near to the Paphos International Airport and he has said that it could be 'up and running' in 18 months time if the government gave the green light by issuing the appropriate licence.
He also reckoned that a full cremation service with ashes in a memorial garden could be done for under CYP500. To embalm a body, put it in a lead container and ship it to another country, for instance the UK, is around CYP2,500, with the costs of storage, removal and final service to be added on. If the ashes are then sent back to Cyprus, that's an additional cost.
Cremation has been commonplace in many countries for centuries. The funeral pyre was actually most popular in ancient Greece and has always been practised in India. They have even found burial vessels associated with cremation from the 11th century BC at Kourion on the island.
The thoughts of many people here is that the Republic of Cyprus should allow people to have their bodies disposed of in the way that they choose and that steps must be taken now to amend the law so that permission is granted for cremations to take place.
Record-breaker dies in tragic crash
A PAPHOS man who flew in a micro-light aircraft from St. Albans in the UK to Cyprus in record time in 2006 to raise money for children's charities was tragically killed when the power-glider he was piloting crashed in the Ayios Efrem area, near to Lemonas village.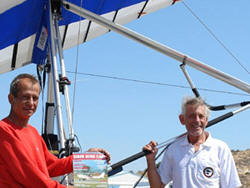 David Armstrong (71), who lived in Tala, had taken off from Paphos International Airport at around 9.45am in the morning but 10 minutes later contacted the control-tower to report severe turbulence.
He then reported shortly afterwards that he had engine trouble but the control-tower then lost contact and he came down around 10.30 am.
According to witnesses he had tried to land the micro-light glider in a field but it came down erratically, first striking a tree and then plummeting down an embankment. Residents nearby arrived quickly at the scene and an ambulance and fire engine were also dispatched but he was already dead as a result of massive injuries.
His funeral was held at the Ayia Kyriaki Church with burial at Mesa Chorio.
Armstrong hit the headlines in 2006 when, along with co-pilot Jason Madhavani, they finished an eight-day, 2,700km journey from St. Albans to Paphos in 42 flying hours, which was believed to be a world record.
The Cyprus Air Accidents Committee is investigating the circumstances of the crash and has reported that the micro-light-s engine was new and the pilot experienced.
Heart Attacks and drinking warm water....

IT HAS BEEN found advisable to drink warm water after meals to help prevent heart attacks. This makes sense as the Chinese and Japanese drink hot tea with their meals so maybe it is time to adopt their drinking habits whilst eating!!!
It is also applicable to those who like to drink cold water. While it is nice to have a cold drink after a meal, cold water will solidify the oily stuff that you have just consumed. It will slow down the digestion. Once this 'sludge' reacts with the acid, it will break down and be absorbed by the intestine faster than the solid food. It will line the intestine. Very soon, this will turn into fats and lead to cancer so it is best to drink hot soup or warm water after a meal.
A serious note about heart attacks:
You should know that not every heart attack symptom is going to be where the left arm is hurting also be aware of intense pain in the jaw. You may never have the first chest pain during the course of a heart attack. Nausea and intense sweating are also common symptoms.
It is a fact that 60% of people who have a heart attack while they are asleep do not wake up. Pain in the jaw can wake you from a sound sleep. So it pays to be careful and be aware. The more you know, the better chance that you could survive.


Tigers need new sponsor

PAPHOS TIGERS - the town's rugby club - are looking for a new sponsor.
Last year's sponsor - Chillingtons - has decided to withdraw leaving the Tigers the summer to find both a sponsor and settle on a ground.
At the first meeting of the new committee, hopes were expressed that the Tigers could win back the league title and with the Colts now providing a strong backing the new season could be faced with some enthusiasm.
If you would like to be next season's sponsor for the Tigers contact secretary Ron James on - tisron@cytanet.com.cy - he will be delighted to hear from you.


Square Pub takes to the round board

THE SQUARE PUB in Timi has taken to Darts.
They have now put in a board and oche for regular sessions on Tuesday nights. This has already attracted a group of local Brits, who hope to put out a team in the second division of the Paphos Darts League for the next winter season.
The Pub played its first friendly fixture against Seahorse and, while they were completely overwhelmed by a much more experienced team, it gave all a chance to get together.